10 Fun Things To Do in Toronto
From food tours to festivals, there's so much to see and do in Toronto!
Still don't know what to do in the city? Then stick around and read our list about the most fun things people do in Toronto to get an idea.
1. Ride the roller coasters at Canada's Wonderland
Address: 1 Canada's Wonderland Drive, Vaughan, ON L6A 1S6, Canada
Operating Hours: 
Canada's Wonderland is Toronto's answer to Disneyland. Expect numerous rides, food, and exciting attractions.
This theme park will have you screaming your head off with giant roller coasters like the Behemoth. You should also try FlightDeck which will have you zooming through loops at 80 kph; or Vortex, the park's suspended roller coaster! 
Pro tip:

Snoopy Zone is a great place to visit if you're with kids. We suggest a ride on Snoopy's Racing Railway, the newest kid-friendly rollercoaster that goes at 50 km/h.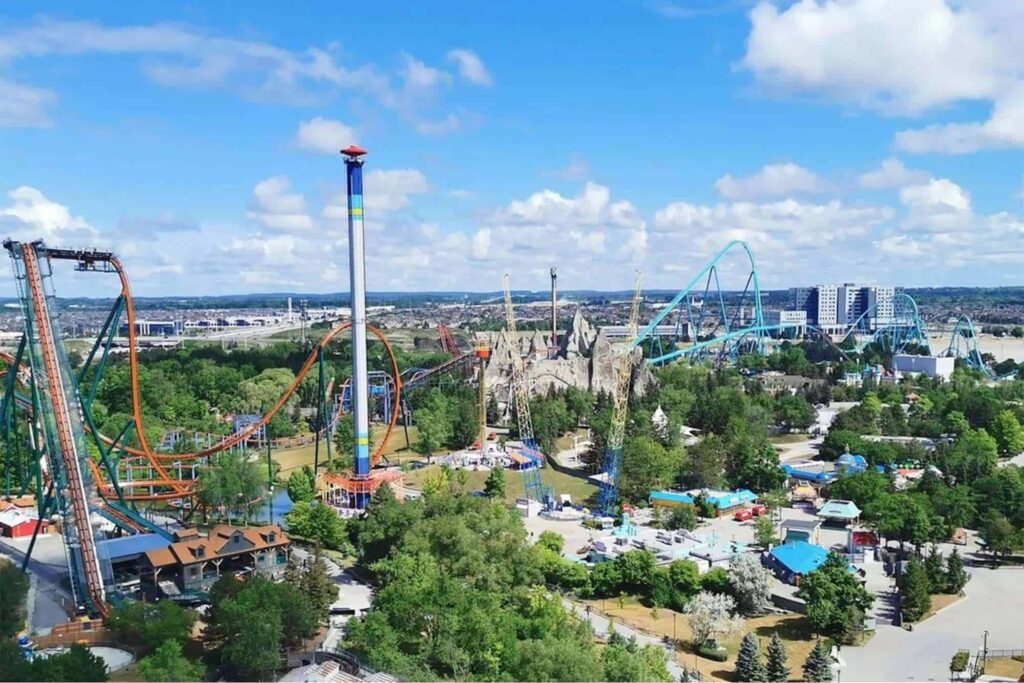 Monday – Thursday, Sunday: 10:00AM – 8:00PM
Friday – Saturday: 10:00AM – 10:00PM
2. Get to know furry friends at Toronto Zoo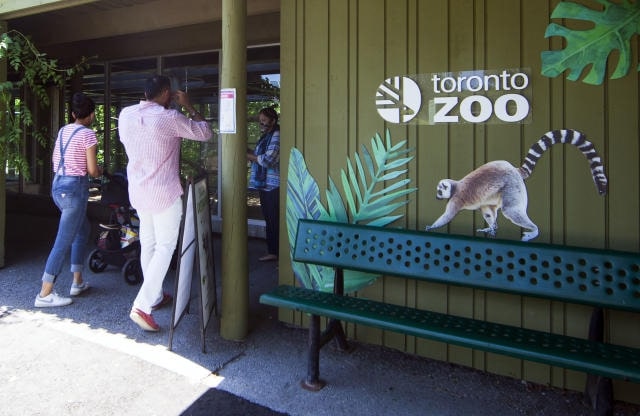 Address: 2000 Meadowvale Rd, Toronto, ON M1B 5K7, Canada
Operating hours: Monday – Sunday: 9:30AM – 7:00PM 
Toronto Zoo is the largest zoo in Canada and is home to 5,000 animals from across the world! It boasts 7 "regions" that have different environments suitable for different animals, which leaves lots to see.
The main highlight of the zoo are the lions and pythons, but there are other animals worth seeing like Tasmanian devils. 
Pro tip:

Head to Tundra Trek if you want to see polar penguins, arctic wolves, and deer. This is the only part of the zoo built for cold environments that can cater to rare and endangered arctic animals like polar bears. 
3. Go shopping at Eaton Centre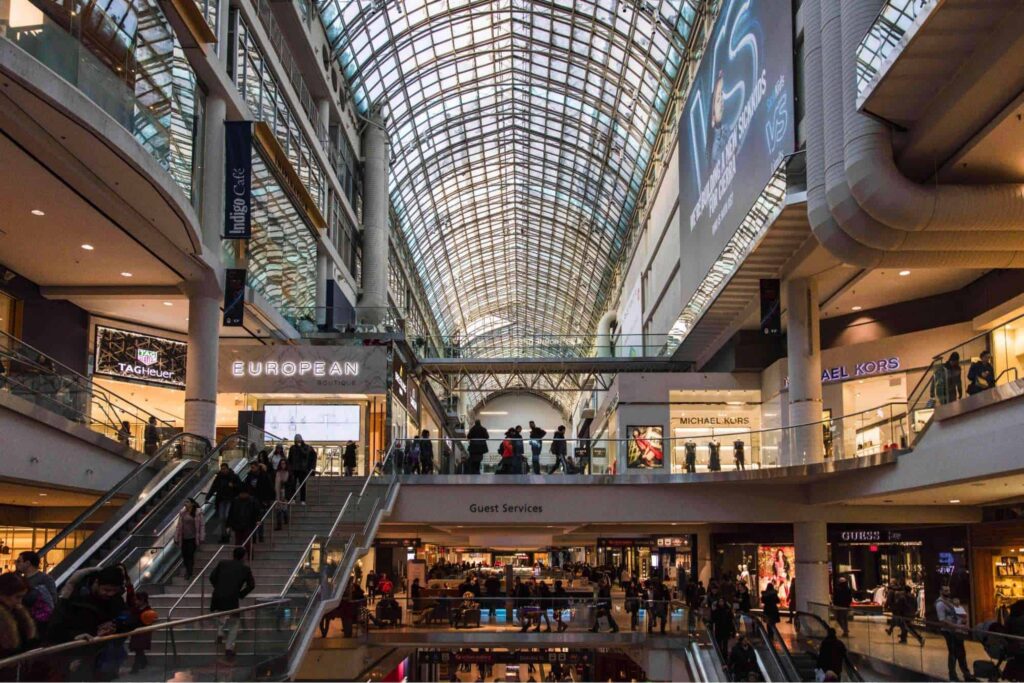 Address: 220 Yonge St, Toronto, ON M5B 2H1, Canada
Operating hours: Monday – Sunday: 10:00AM – 9:00PM
Nothing beats Eaton Centre when it comes to shopping options. This huge mall spans 2 downtown blocks and has over 200 retailers and stores – talk about literally shopping 'till you drop!
Eaton Centre also has great dining options like the Jazz Bistro which has live jazz music shows often and serves some really great cocktails. There's also Lena Restaurante, which serves Southern American cuisine with Spanish and Italian influences!
Pro tip:

Try Big Smoke Burger's juicy Pulled Pork Burger at the Urban Eatery. It's loved by locals for its sweet but savory barbecue sauce and juicy pulled pork toppings.
4. Enjoy a relaxing stroll at Martin Goodman Trail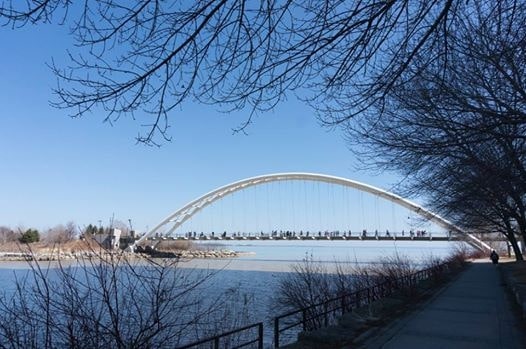 A great place for a stroll is the Martin Goodman Trail, which runs along the lakeshore. This serene trail offers scenic views of the city and passes by notable locations like Cherry Beach.
The trail is quite long so you're bound to come across interesting scenes of everyday life in the city, like planes taking off from the airport and cute animals roaming around.
Pro tip:

Take a photo of the Humber Arch Bridge, one of the worthwhile sights on this trail known for its beautiful architecture and interesting vista of the lake.
5. Join the Toronto Tall Ship Boat Cruise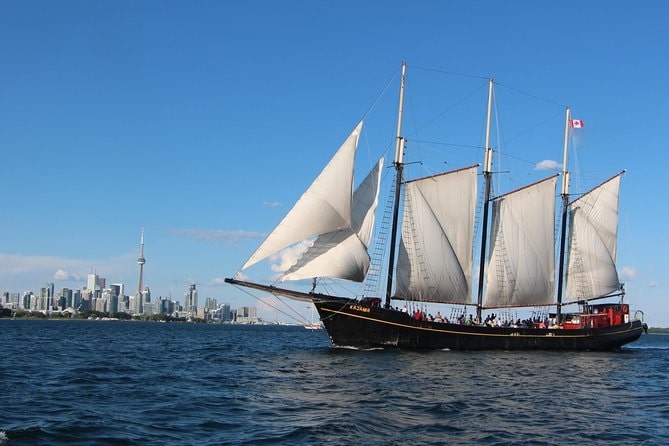 Address: 235 Queens Quay W, Toronto, ON M5J 2B8, Canada
Operating hours: 
Monday – Wednesday: 11:30AM – 9:30PM
Thursday – Friday: 11:30AM – 10:00PM
Saturday – Sunday: 11:00PM – 10:00PM
Riding a boat on Lake Ontario is a great experience, but cruising on a 165 foot Schooner boat is even better! Toronto Tall Ship Boat Cruise is an awesome way to experience the beauty of the city while boarding a boat from the 1930s.
This fun cruise provides some of the best panoramic views of the city. To spice things up a bit, the crew sings old shanties that will give you  the full pirate experience. 
Pro tip:

Food and drinks available on this cruise! Try their cheesy poutine or smoked beef brisket sandwich if you're feeling peckish.
6. Stop and smell the flowers at Toronto Botanical Garden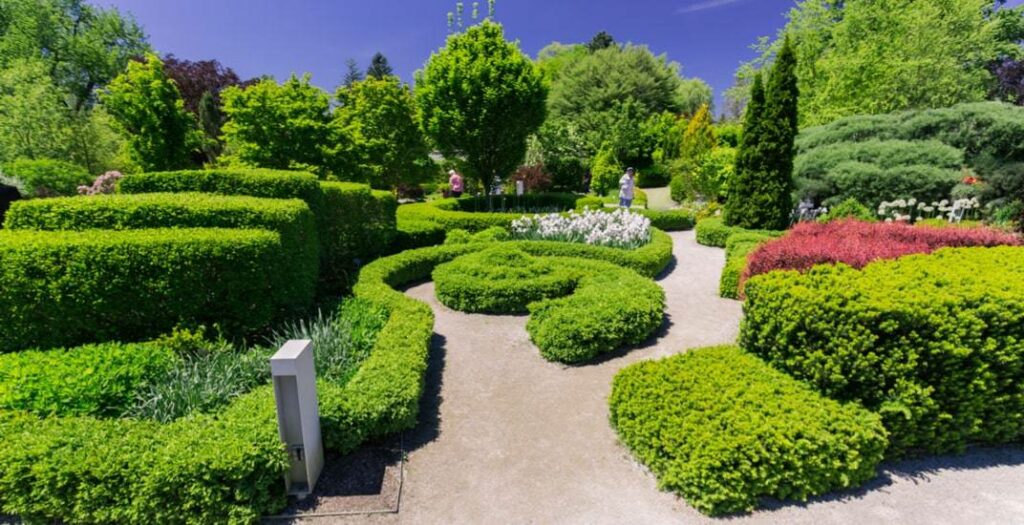 Address: 777 Lawrence Ave E, Toronto, ON M3C 1P2, Canada
Operating hours: Monday – Sunday: 9:00AM – 5:00PM
With 17 distinct gardens, there's a variety of plants and flowers to be discovered and appreciated at Toronto Botanical Garden, such as the rare Hoary Vervain and Smokebush.
The peaceful atmosphere makes a stroll through the garden's plant collection an unforgettable experience. Kids can also learn about plants at the teaching garden. 
Pro tip:

Make sure to visit the newest garden called "Woodland Walk," featuring native trees, shrubs, and beautiful wildflowers. 
7. Have a laugh at The Second City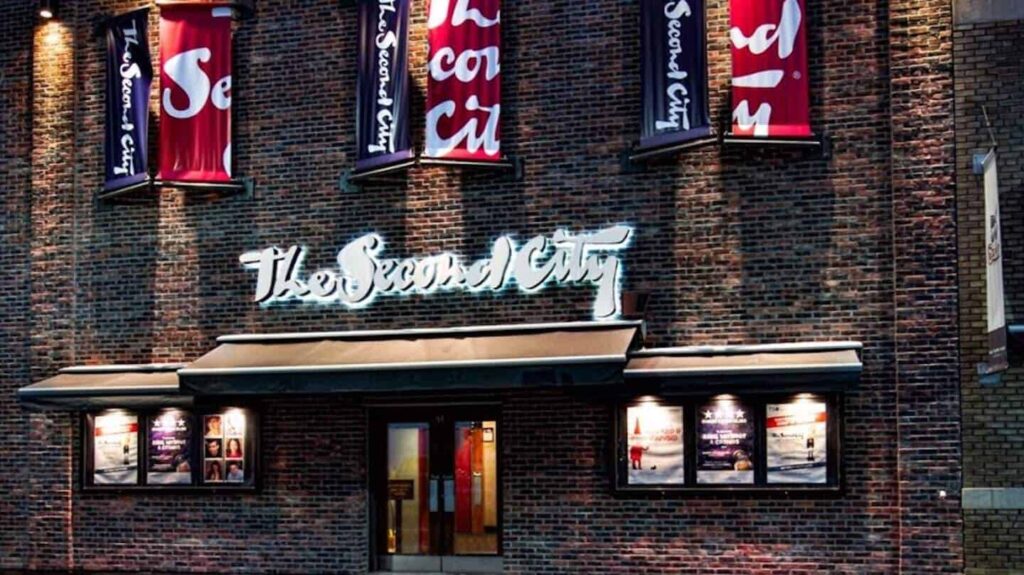 Address: One York Street, 110 Harbour St, Toronto, ON M5J 0B6, Canada
Operating hours: Monday – Sunday: 9:00AM – 11:00PM
One of the most enjoyable things to do in Toronto with friends is watching a comedy show at The Second City and laughing your pants off.
Second City Toronto always delivers on the laughs with performances from comedians like Mike Myers and Gilda Radner, as well as shows like "50 Years of Funny" and "Take Me Out to the Improv", so expect a grand time here!
Pro tip:

This place serves food from Wayne Gretzky's for you to enjoy while watching the show. Try their Smokehouse BBQ Ribs and Gretzky's salad!
8. See Toronto from a helicopter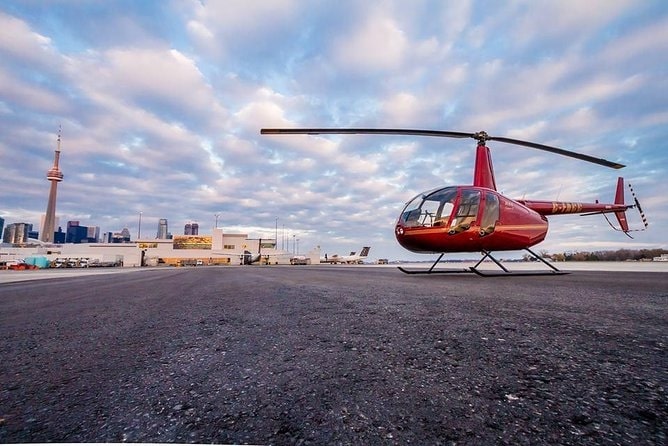 Address: Billy Bishop Toronto City Airport Hangar 1, 2 Eireann Quay, Toronto, ON M5V 1A1, Canada
Operating hours: 
Monday – Tuesday: Closed
Wednesday – Sunday: 12:00PM – 6:00PM
If you ever wanted to see Toronto's bustling streets from a different light, then hop on this 14-minute helicopter tour by Toronto Heli Tours. This tour is the whole package, taking you to iconic landmarks like Rogers Centre, Casa Loma, and even the CN Tower. 
Aside from the extensive locations the tour covers, there are insightful narrations about the city's history, culture, and landmarks. It's a fun way to explore the city in style! 
Pro tip:

One of the best things about this tour is being able to see the Rogers Centre with an open roof. The viewpoint from the sky is the only way to see the exposed field of the Rogers Centre with its roof open from the outside.  
9. Explore Centre Island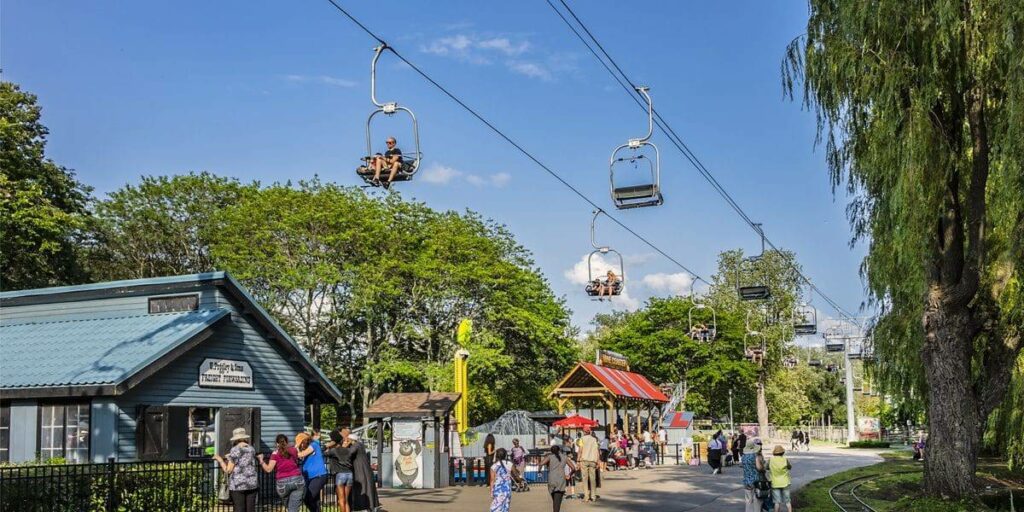 Address: 9 Queen's Quay West, Toronto, Ontario, M5J 2H3
Operating Hours: Monday – Sunday: 10:30AM – 5:00PM
Unbeknownst to most, Toronto is composed of several islands – and Centre Island, in particular, is where the magic is. The island is packed with lots to explore, with tonnes of picnic tables and beaches surrounded by nature.
Head over to Franklin's Children's Garden with your kids for some fun around the playground or visit the Center Island Amusement park for a ride on a small ferris wheel!
Pro tip:

On a good day, soak up the sun at  the Centre Island Beach, which is known for its shallow, warm, and calm waters!  
10. Check out interesting shoes at The Bata Shoe Museum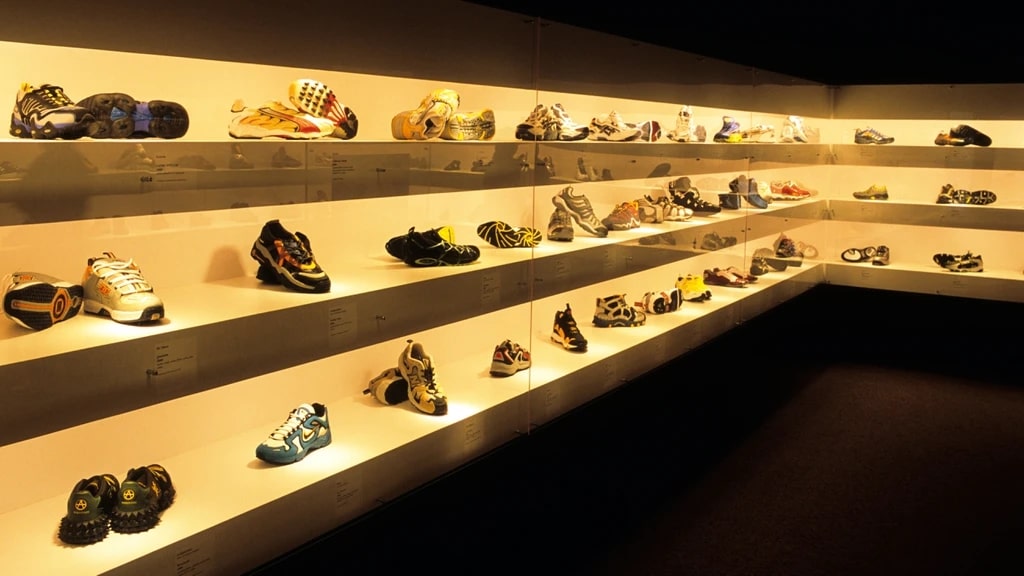 Address: 327 Bloor Street West; Toronto, Ontario, Canada
Operating hours: 
Monday – Saturday: 10:00AM – 5:00PM
Sunday: 12:00PM – 5:00PM
Bata Shoe Museum is home to thousands of shoes, divided into several exhibits.
Using shoes, the museum demonstrates the unique lifestyles of different cultures and their traditions, such as Elvis Presley's loafers and Queen Victoria's silk slippers. It's a great destination for fashion and history lovers. 
Pro tip:

Don't miss Napoleon Bonaparte's silk socks from 1821, elegantly displayed with beautiful lights. It serves as a reminder of the biggest figure who influenced the French colonial history of Canada and our identity today!