A Guide to the Best Self Storage in Toronto
If your garage or shed no longer has enough space for your belongings, maybe now's the right time to get your hands on the best self storage in Toronto. Luckily for you, we're to help you with that!
We combed through the entire Greater Toronto Area in search of safe, secure, and clean self-storage facilities for all types of storage purposes.
Before we share what we found, we'll go over the expenses of getting self storage in Toronto first. Should you have any questions about them, we'll answer them later on in the article!
Understanding the Costs of Self Storage in Toronto
We're going to start by admitting that renting a self-storage unit in Toronto is rarely cheap. You're going to pay for a lot of things, not just the storage space itself.
As per the 2020 Self-Storage Almanac, the average unit size in North America is 10' x 10', which has an average cost of $190-$395 a month in Toronto.
If you're renting one in Mississauga, however, a storage unit of the same size will only be about $195-$260.
It's clear that location can affect the rates of self-storage units. We suggest to take these average costs with a grain of salt because the rates different significantly based on a lot of factors.
Hence, when looking for self-storage facilities in your area, don't forget to ask about the contract, terms, and services included, regardless of type of storage.
Anyway, here are some of the factors that affect the price of self-storage units in Toronto:
Location
It's no secret that the cost of apartment and condominium rentals in major and populated cities run higher because of the high demand for real estate, compared to units in provincial areas.
In the same manner, self-storage facilities in major cities like Toronto and Vancouver tend to be pricier over locations further out such as Mississauga and Oakville, so deciding where to store your items will influence your storage expenses.
Time and duration
Most rental prices are advertised based on monthly storage unit fees, making it easier for customers to make direct comparisons between self-storage facilities.
If you're looking for a way to reduce expenses, then we recommend going with storage facilities that require minimum time commitments.
Renting a storage space for a minimum of twelve months with must of these will be a lot cheaper than renting it for only three or six months.
Storage unit size
Obviously, the larger the unit, the higher the cost. It's important to know the number of items that you're planning to keep inside the storage unit in order to maximize the cost of the space.
If you're planning to rent only to declutter your home and garage, then we think that standard-sized storage units would be enough. You don't want to end up getting an enormous storage space with not enough items to throw inside it.
Insurance
Some storage facilities require customers to sign up for any type of insurance for extra protection of their properties. It's definitely an added cost, but it insures your belongings in case of emergencies.
After all, storage facilities aren't immune to natural disasters such as fire, earthquake, and floods, so having insurance could mean getting reimbursed in case any of your items get damaged during calamities.
The Best Self Storage in Toronto
After explaining the cost of renting self storage in Toronto, it's time to reveal which storage facilities we think worth your attention. Check them out below to see which ones offer the type of storage that you're searching for.
1. XYZ Storage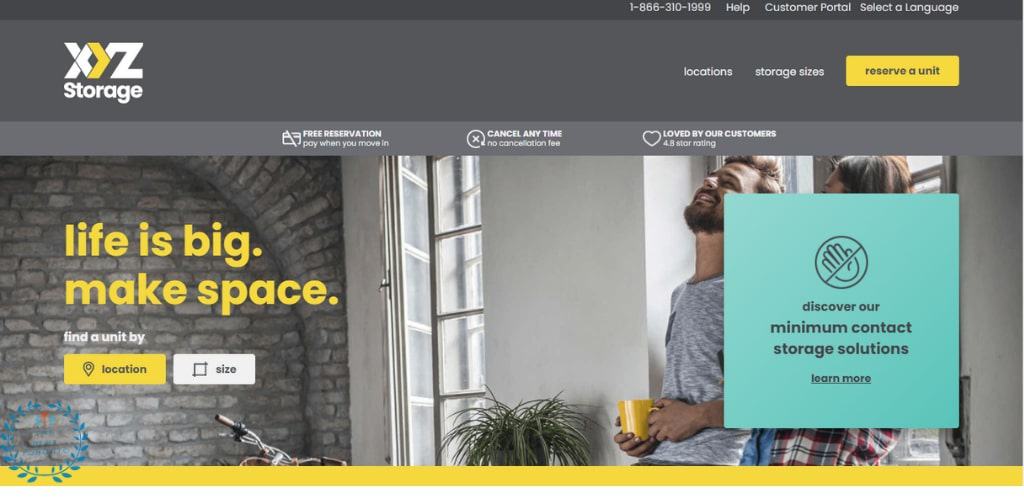 | | |
| --- | --- |
| BEST FOR | Personal and business storage units |
| STORAGE TYPES | Compact: 12 – 25 square ft Small: 25 – 50 square ft Medium: 75 – 150 square ft Large: 150 – 300+ square ft |
| WEBSITE | https://www.xyzstorage.com/ |
| ADDRESS | 207 Weston Rd #100, Toronto, ON M6N 4Z3, Canada |
| CONTACT DETAILS | 416-604-0404 |
| ACCESS HOURS | Monday – Friday: 9:00 AM – 7:00 PM Saturday – Sunday: 9:00 AM – 5:00 PM |
If you're looking for a storage facility with both personal and commercial storage units, then look no further than XYZ Storage. It offers different sizes of self-storage units as well, from mini storage lockers to garage-sized storage units.
As one of the sources of the best self storage in Toronto, we found that XYZ Storage is one of the top-rated storage unit facilities in the area, boasting an average rating of 4.9 out 5. Most of its past and current customers have nothing but praise for its safe and secure units.
What makes it stand out from other storage unit facilities is the free reservation policy that only requires customers to pay upon moving in their items. It helps customers secure their slots without shelling out any money – useful given that storage units are in-demand in Toronto.
In case you no longer want to use its storage units, you can cancel anytime without paying any cancellation fee, even if it's only been two months.
No reservation fee
No cancellation free
Serves clients outside Toronto
Questionable customer service
Customer Reviews
XYZ Toronto has received mostly positive feedback from its clients. Here are some comments we found on Google Reviews:
"I had a great experience with the facility and staff at XYZ. In particular, Lela was incredibly helpful. She was great help to me all the way from creating my booking to putting my belongings away. Lela was able to pull up my booking right away even when I didn't have my order number ready. When it came to moving, she showed me everything I needed and helped me with a cart. I highly recommend XYZ storage for anyone looking to put their stuff away!"
"I had a fantastic experience at the XYZ Weston storage location. The services were all easy to use & accommodable. The staff was friendly, experienced, & helped to provide the best experience possible. Juddie specifically was such a blessing! Made our experience memorable. Thank you!"
2. Access Storage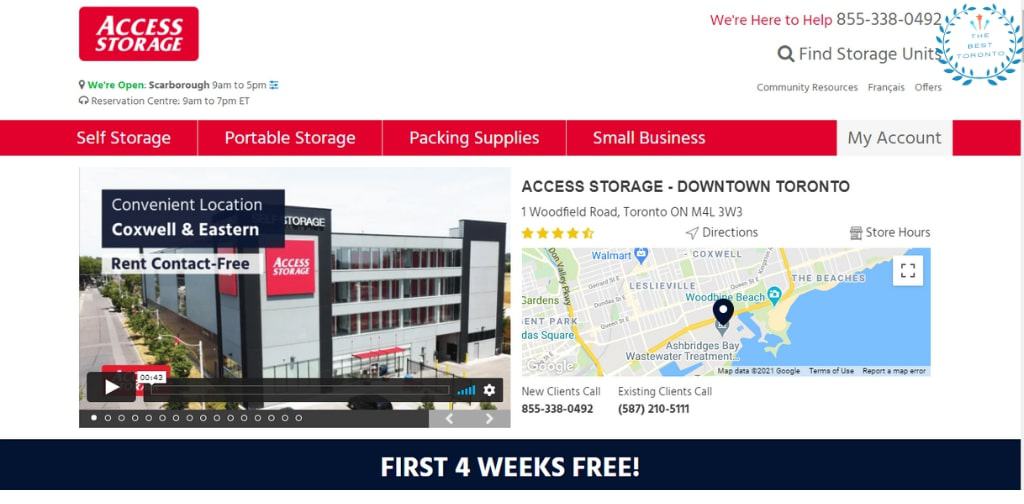 | | |
| --- | --- |
| BEST FOR | Short-term rentals |
| STORAGE TYPES | Portable storage units, compact storage units, medium storage units, and large storage units |
| WEBSITE | https://www.accessstorage.ca/ |
| ADDRESS | 1 Woodfield Rd, Toronto, ON M4L 2W1, Canada |
| CONTACT DETAILS | 587-210-5111 |
| ACCESS HOURS | 24/7 access |
Access Storage makes it easier for storage owners to access their units any time of day, even during the wee hours of night. Its office hours are only from 8am to 10pm, but storage owners are free to drop by anytime.
It offers different sizes of storage units that can be used for personal, business, and moving purposes. Each self-storage unit comes with features such as 24-hour security, regular maintenance, outdoor parking, a climate-controlled facility, and alarms.
Access Storage's storage units are open to customers across the Greater Toronto Area looking for affordable and secure self-storage units. New customers will be entitled to 4 weeks' worth of free rent as well.
If other storage facilities tend to tie customers to long contracts, consider Access Storage different. You can rent any of its self-storage units for as short as 4 weeks long.
Aside from keeping your belongings safe, Access Storage offers truck rentals, packing supplies, and mailbox rentals for those who are in the process of moving house. If you need a hand in transporting your items, it can even refer you to a reliable moving company.
Competitive rates
Free rent during the first month
For personal, business, and moving purposes
Ideal mainly for short-term rental
Customer Reviews
Access Storage Toronto boasts an average rating of 4.7 out of 5 on Google Reviews, based on over 200 reviews. Take a look at some of the comments left by its customers:
"I have recently used Access Storage and I have to say that I have been nothing but impressed with my experience. The staff are friendly, knowledgeable and always willing to assist me with my unit. The facility is very clean, the hallways and the units are well lit and there is lots of loading and parking space. I would definitely recommend this storage facility to anyone."
"I was in a position where I needed a unit ASAP for my business. Getting a unit was very quick, everything was explained very clearly. Altaf from Access Storage was always happy and polite and accommodating and I had the best customer service experience ever.They even had merchandise available right in the office- packing tape, locks for units, boxes, bed bags & paper to wrap delicate items. It was a seamless process and I am so thankful it was very close to my community. The unit was very clean and easily accessible."
3. Apple Self Storage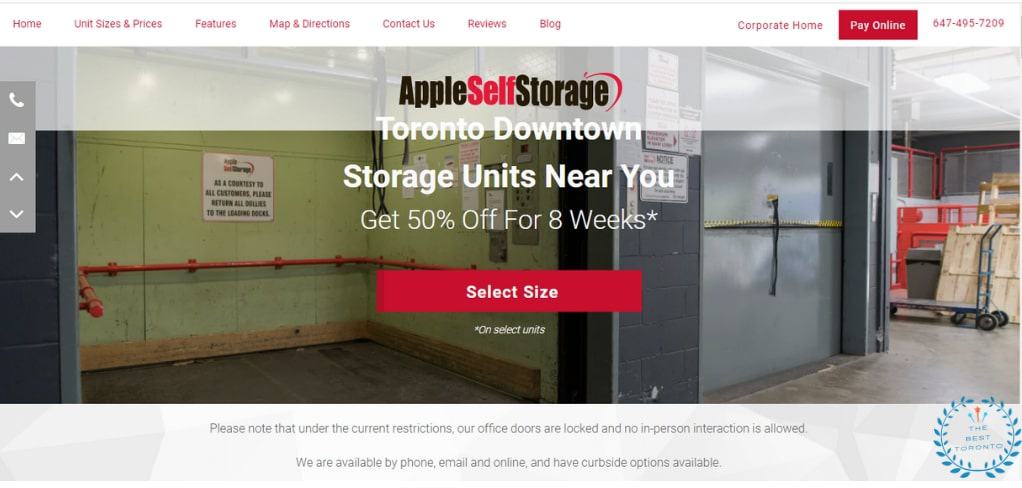 | | |
| --- | --- |
| BEST FOR | Personal and business storage units |
| STORAGE TYPES | self-storage units, portable storage units, business storage units, garage storage units, and mailbox rentals |
| WEBSITE | https://www.applestorage.com/ |
| ADDRESS | 530 Adelaide St W, Toronto, ON M5V 1T5, Canada |
| CONTACT DETAILS | 647-495-7209 |
| ACCESS HOURS | Monday to Sunday: 6:00am – 10:00pm |
However small or large your storage needs may be, Apple Self Storage has you covered. As one of the top storage facilities in Toronto, it offers a variety of storage unit sizes, from units as small as 5×5 to enormous ones measuring 15×25.
Some of the benefits that its storage owners enjoy are well-lit facilities, 24-hour surveillance, packing and moving supplies, individually alarm-rigged units, and all-week access. It doesn't allow 24-hour access, but owners may drop by from 6am to 10pm any day of the week.
Another reason we included it in our list of options for the best self storage in Toronto is its temperature-controlled units where furniture, computers, electronic devices, paintings, antiques, and medical supplies can be safely stored.
On top of that, some storage units come with a discount of 50% if rented for a minimum of two months, which is good news for those looking for long-term rentals.
Discounts for long-term rentals
Ideally located in downtown Toronto
Customer Reviews
As one of the sources of the best self storage in Toronto, Apple Self Storage has gained hundreds of positive reviews from its clientele. Here's what some of them had to say:
"My experience with Apple Self Storage has been really great! Logistically, I love the great location downtown, and ease of access to my unit. It is so convenient to drive in, and loading and unloading is a breeze. The downtown location is just so perfect and ideal. But I think what made the experience better is the great customer service. The staff members are very attentive (and kind during these difficult covid times), answering all my questions and queries, whether in person, over the phone, or e-mail. Anita has been especially helpful with my billing questions and accommodating the many changes I had to make."
"Amazing amenities struck us at our first visit to this site. Staff were very professional and attentive to our needs. Anita was especially fantastic as she took the time to explain everything patiently to us. I like the fact they have four loading bays on site. Anita also answered all of our questions with a tremendously positive attitude. I recommend this location in the highest rating."
4. Green Storage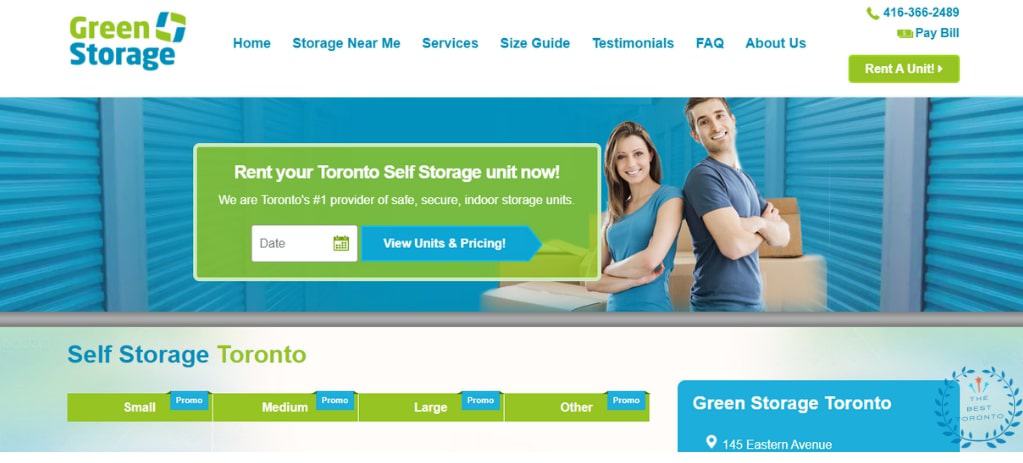 | | |
| --- | --- |
| BEST FOR | Short-term and long-term rentals |
| STORAGE TYPES | Self-storage units, personal storage units, business storage units, and vehicle storage units |
| WEBSITE | https://www.greenstorage.ca/ |
| ADDRESS | 145 Eastern Ave, Toronto, ON M5A 1H7, Canada |
| CONTACT DETAILS | 416-366-2489 |
| ACCESS HOURS | 24/7 access |
Established 15 years ago, Green Storage has grown into one of the most trusted sources of storage units for personal and business use. It's built several massive storage facilities with over a thousand units all over the Ontario area, including Toronto, Ajax, and Aurora, among others.
Some of the features of its storage units are 24-hour surveillance, charging stations, LED lighting, packing and moving supplies, individual fire and smoke alarms, heated storage facilities, and free Internet and coffee for customers.
For extra protection of its clients' belongings, Green Storage offers insurance for both personal and business storage units, with a coverage of $5,000 and $2,500, respectively. It can offer full coverage insurance as well, if that's what the customer wants.
During the process of moving in, Green Storage's team will assist clients from the beginning until the end to ensure a hassle-free and convenient experience. If you need a hand in transporting your items to your new home, you may ask for a moving company referral from them.
Insured storage units
Advanced security features
Free packing and moving supplies
Monthly rates tend to be pricey
Customer Reviews
Here are some customer reviews proving that Green Storage is an excellent and reliable self storage facility:
"We have been using this facility for 6+ months now and have been very happy with their services. The set up was very easy, shout out to Frank for his professionalism and exceptional client services. We originally booked a unit that was too small, when the movers arrived, they quickly accommodated an upsizing of our unit so the movers did not have to wait around. The hallways are all very well lit and I always feel very secure when accessing my unit."
"Who knew needing a storage space would lead to a great experience. When I think of storage units I expect a dark and dirty place like in the movies. Not here with Green Storage. Everything is bright and clean. I had the pleasure to deal with Frank and I don't mean that lightly. Frank was kind and professional from the start. He made sure I understood everything before I left. This place feels like a family and I love that about this place."
5. Bluebird Self Storage
| | |
| --- | --- |
| BEST FOR | High-tech security and support |
| STORAGE TYPES | Personal storage units, business storage units, and self-storage units |
| WEBSITE | https://bluebirdstorage.ca/ |
| ADDRESS | 19 Esandar Dr, Toronto, ON M4G 4C5, Canada |
| CONTACT DETAILS | 416-421-6378 888-427-1869 |
| ACCESS HOURS | Monday to Sunday: 6:00am – 11:00pm |
Another top-rated storage facility in the Greater Toronto Area is Bluebird Self Storage, carrying a perfect rating of 5 out of 5 on Google Reviews. Most of its customers praised its well-maintained facility, convenient access, and topnotch security features.
Bluebird Self Storage offers mainly storage units for personal and business purposes, ranging from compact units to garage-sized spaces. Its storage units can be used for seasonal storage, residential storage, and even storage for business inventory.
In terms of location, Bluebird Self Storage is found at the center of the Greater Toronto Area, making it easy for storage owners to access their units any time. It doesn't allow 24/7 access, but customers may visit every day from 6am to 11pm.
Bluebird Self Storage offers units that are air conditioned in the summer and heated in the winter, which are perfect for storing temperature-sensitive items. Each storage unit is equipped with 24-hour surveillance and advanced security technology.
No reservation fees
Climate-controlled room
Clean and safe storage facility
Doesn't allow 24/7 access
Rates tend to be pricey
Customer Reviews
Here are some of comments posted by past customers on TrustPilot:
"The Bluebird facility at 19 Esander is higher priced than one that's closer to me, but after I checked out the cheaper one, it was no contest. I went to see both facilities before deciding, and the cheaper one was actually a bit scary! But at Esander: outstanding cleanliness, modern facility with temperature control, excellent security, ability to load in on one level with no elevator and not even a bump over a door jamb! The first person who took me through was a great rep for Bluebird. When I came to seal the deal, the manager AND the rep (different than first) were really good to deal with. I feel confident that the goods I'm storing there will be as safe as if they were still in my basement. (And I'm thrilled to have my basement space back!!!)"
"Helpful and very friendly staff, they genuinely care about their customers. Andras, the manager was very polite and thorough, he helped us choose the right size unit, he went over and beyond our expectations. I would highly recommend this place to everyone."
6. Cabbagetown Self Storage

BEST FOR
Customer Service and Storage Sizes
STORAGE TYPES
Storage units of various sizes
WEBSITE
https://www.cabbagetownstorage.com
ADDRESS
431 Parliament Street
Toronto, ON M5A 3A1
CONTACT DETAILS
Email: [email protected]
Phone: +14169670700
ACCESS HOURS
Sunday 8:00 AM – 6:00 PM
Monday 7:00 AM – 7:00 PM
Tuesday 7:00 AM – 7:00 PM
Wednesday 7:00 AM – 7:00 PM
Thursday 7:00 AM – 7:00 PM
Friday 7:00 AM – 7:00 PM
Saturday 8:00 AM – 6:00 PM
Next on our list is, once again, another highly regarded self-storage company in Toronto.
Cabbagetown Storage is most known for the variety of unit sizes it has to offer to its clients. With the size options, those who are looking for personal or business storage spaces need not look further than Cabbagetown.
Aside from the size options, Cabbagetown Storage is also known for the facilities available on-site. Those who are just moving in can do so easily and comfortably thanks to Cabbagetown's drive-up access and freight elevator, the latter of which can handle weights of any size.
The site also has one of the best securities on this list, featuring digital video surveillance alongside onsite security, which is available seven days a week.
Unfortunately, there is no 24/7 access, but storage space owners are welcome to come by any day of the week to access their storage spaces.
Can be found in a residential/commercial neighbourhood
Features climate control
Drive-up access and freight elevator available
Digital video surveillance and onsite security
Variety of unit sizes available
Doesn't allow 24/7 access
7. Q Self Storage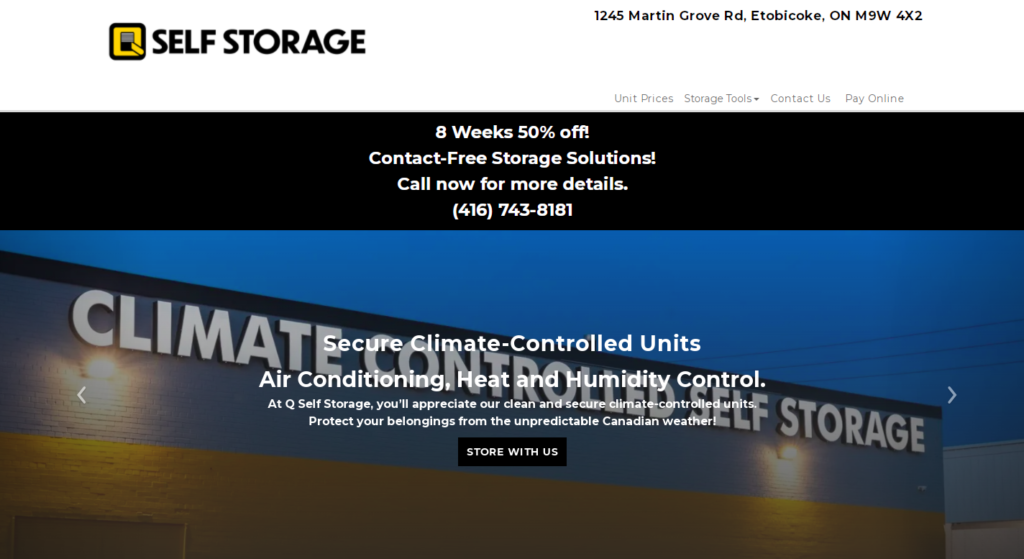 BEST FOR
Self-Storage Units and Customer Service
STORAGE TYPES
Storage units of various sizes, Boats storage, RV Parking Slots
WEBSITE
https://www.qselfstorage.ca/
ADDRESS
1245 Martin Grove Rd, Etobicoke, ON M9W 4X2
CONTACT DETAILS
Email: [email protected]
Phone: (416)743-8181
ACCESS HOURS
Monday – Friday: 9:00am – 6:00pm
Saturday: 10:00am – 5:00pm
Sunday: 10:00am – 4:00pm

Available by phone after hours for any inquiries.

Keypad Access Hours: 6:00am – 10:00pm
Q Self Storage provides storage solutions in Etobicoke, Ontario. They can also accommodate both residents and businesses located in Vaughan, Toronto, Milton, Rexdale, and several other surrounding areas.
You can rest assured that your belongings will be secured since Q Self Storage has advanced 24-hour video surveillance, an alarm system and keypad coded access. When you rent a unit at their facility, you will also have access to reasonably priced storage supplies, dollies, and handcarts if you need them .
Q Self Storage has different sized units reaching up to 450 square feet and all are on the ground level. They also offer parking slots to store your RV and unit sizes specially made for boats and watercraft.
What we like best about Q Self Storage is that they have a Size Guide Calculator on their website that allows you to estimate how big of a space you'll need. You simply select what kind of items you're interested in storing and you'll receive an instant size suggestion.
Climate controlled units
Has options for boat storage
Offers parking storage for RVs

Onsite security

and keypad access
Doesn't allow 24/7 access
8. Vaultra Storage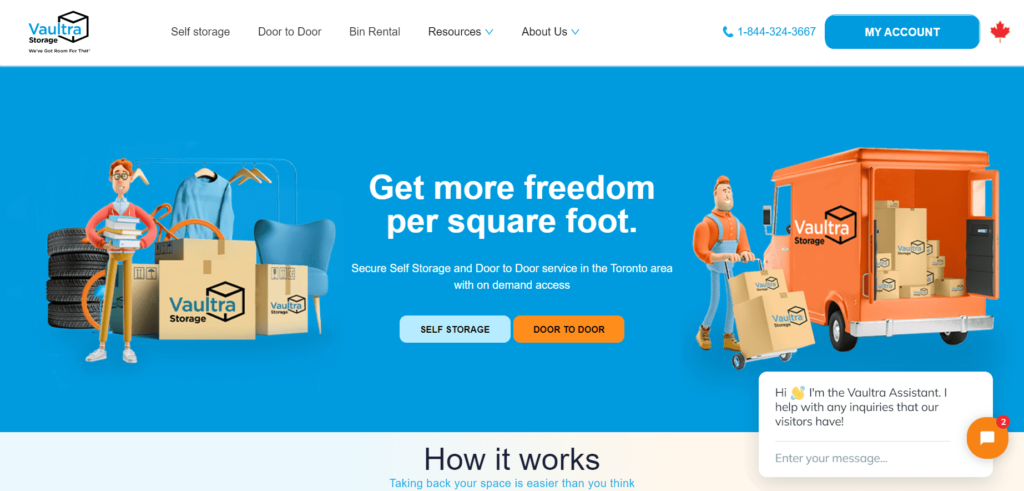 Vaultra Storage understands that everyone needs a place to store their items while they're moving or they need more space. If you're looking for a place to put extra items, Vaultra Storage has a solution for you!
Vaultra Storage offers secure storage facilities that provide you peace of mind to store your items safely and securely. They are a 100% Canadian company, so the safety and security of your belongings are ensured.
They have a huge network of facilities that are safe, clean, and accessible to locals. Moreover, they offer customized services to fit each customer. They have a wide range of units that range from small to large. You can place anything in them, too!
Vaultra Storage also offers 3rd party auditing service for storage facilities. They place logistics and other materials in areas optimal for your needs so that you may benefit from economies of scale when it comes to purchasing supplies.
Their expert staff also helps you take care of all logistical concerns so that, with their help, all you have to concentrate on are the individual pieces of your business. So if you're looking for a reputable and reliable storage service in Toronto, Vaultra Storage is an absolute must-try.
Flexible pricing
24/7 Access
Temperature-controlled environment
Customer Reviews
State of the art facility
"State of the art storage facility. Clean, well-lighted and spacious areas. Temperature and humidity controls allow your contents to remain in perfect condition. Excellent customer service, everyone is well informed, ready and willing to assist you with your storage space needs, whether you connect with them over the phone, on line or in person. Our overall experience with Vaultra has been wonderful." – Norma Alvarado
Great security measures
"Very nice facility with 24/7 keypad access. You can drive into the facility and unload your stuff without being affected by the weather. They provide heavy-duty carts to move your stuff to your unit. You'll need to buy a cylinder lock in order to lock your unit; a regular padlock won't work. The facility is very clean and well maintained, and the staff is helpful and courteous. Management is quick to respond to emails. I've rented for eight months with no issues. Highly recommended." – Joshua Broughton
9.   Outback Storage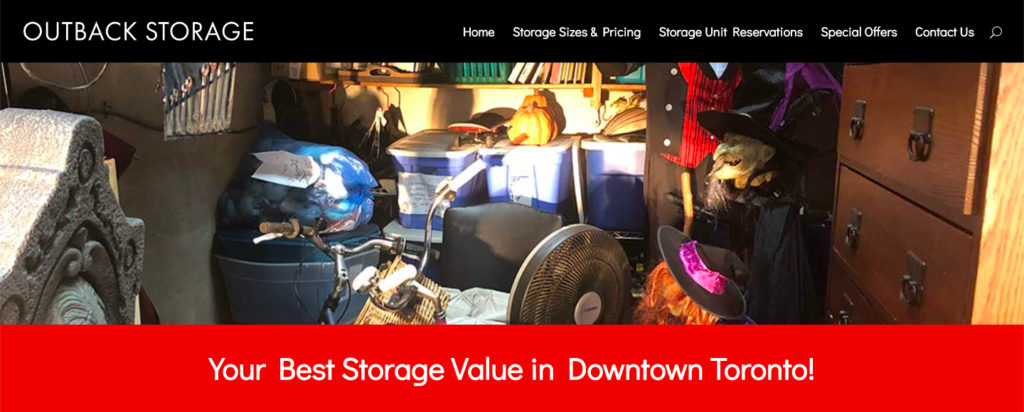 BEST FOR
Self Storage
STORAGE TYPES
Small storage: 448 cubic ft (8ft tall x 8ft deep x 7ft wide)
Medium storage: 640 cubic ft (8ft tall x 8ft deep x 10ft wide)
Large storage: 1280 cubic ft (8ft tall x 8ft deep x 20ft wide)
WEBSITE
https://outbackstorage.org/
ADDRESS
318 Greenwood Ave., Toronto ON M4L 2R8
CONTACT DETAILS
416.560.8000


[email protected]

ACCESS HOURS
24/7
Another self storage company we'd like to recommend is Outback Storage.
One thing we find great about them is that you get 24/7 access for 365 days a year. They also have no contract and no minimum.
In terms of security, they have motion-activated night lighting and DVD security.
We, along with their other customers, like how they offer competitive pricing and have the lowest storage prices in downtown Toronto.
Given all these, we think that this is perfect if you're looking for a convenient place to safely store your belongings.
Lowest storage rates in downtown Toronto
24/7 Access
Great customer service
According to a review, it's not climate controlled
Customer Reviews
"Solid place to store your possessions. Being basically downtown Toronto the rates are cheaper than anything withing a 25 km radius.
24 hr acsess and the clean lot were appealing to me . After meeting like and being treated with respect I chose to use this company. Been almost 4 years now and have been happy and worry free with my belongings. A+5stars!"
FAQs about Self Storage in Toronto
---
And with that, we conclude our list of the best self storage in Toronto. If you've already decided which storage facility to rent from, don't hesitate to share it with us.
By the way, if you know other storage facilities around the area that should've been included in our list, tell us their names so we can check if they're worthy of being added to this roster.