THE BEST BADMINTON COACHES IN TORONTO
In a sports hub like Toronto, there is no shortage of talented badminton coaches who have carved a niche for themselves in the training arena—from former professional players to seasoned mentors with a track record of producing champions.
So take a swing, soar to new heights, and seize the chance to be trained by the best badminton coaches in Toronto.
How We Chose the Best Badminton Coaches in Toronto
How Much Does a Badminton Coach Cost in Toronto?
Badminton coaches in Toronto charge anywhere from $30 to $60 per hour. The fee depends on the coach's experience, location, and the type of training provided.
1. Coach William Wang – Ontario Badminton Academy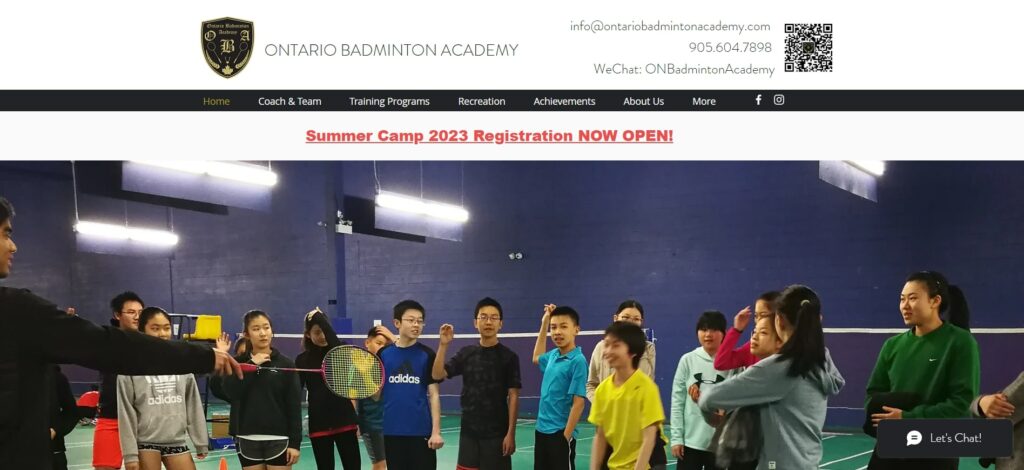 Test
Info
WEBSITE
https://www.ontariobadmintonacademy.com/
ADDRESS
7400 Woodbine Ave #4, Markham, ON L3R 1A5
SOCIAL MEDIA
INSTAGRAM
CONTACT DETAILS
PHONE: (905) 604-7898
OPERATING HOURS
Monday - Friday: 3:00 pm - 10:00 pm

Saturday - Sunday: 10:00 am - 9:00 pm
At the helm of the Ontario Badminton Academy (OBA) coaching team is William Wang, a professional coach certified by NCCP Badminton Canada.
Having been coaching in Canada since 2001, Wang boasts an impressive coaching background, with experience training the Chinese National Junior Team, the Swedish National Team, the Thai National Team, and China's Sichuan Provincial Team.
His coaching approach effectively prioritises fundamental skills, techniques tailored for young players, and advanced-stage physical training.
OBA and Coach Wang offer various team programs, including pre-team, pre-provincial, provincial B, provincial A, elite, and national and international levels.
For those looking to drop in, courts 1 and 2 are available, allowing a maximum stay of 3 hours. However, drop-in players must check-in and pay at the front desk before playing.
20+ years of experience
Accepts drop-in players
Climate-controlled facilities
Team programs require membership 
Super clean and maintained
"Nice venue for the Scarborough Shooting Stars. Great vibe and great fans supporting their local team. Super clean and maintained. Free parking for the games as well. Would recommend coming down and supporting your Shooting Stars!"
Michael Bernardo, Google Review
Comfortable climate-controlled environment
"What a great facility! At scheduled times the community can drop in to walk, jog or run the track for free. A perfect way to get some steady state exercise in a comfortable climate-controlled environment."
Jim Kang, Google Review
2. Coach Raymond Koh – K.C.Badminton Club Markham Campus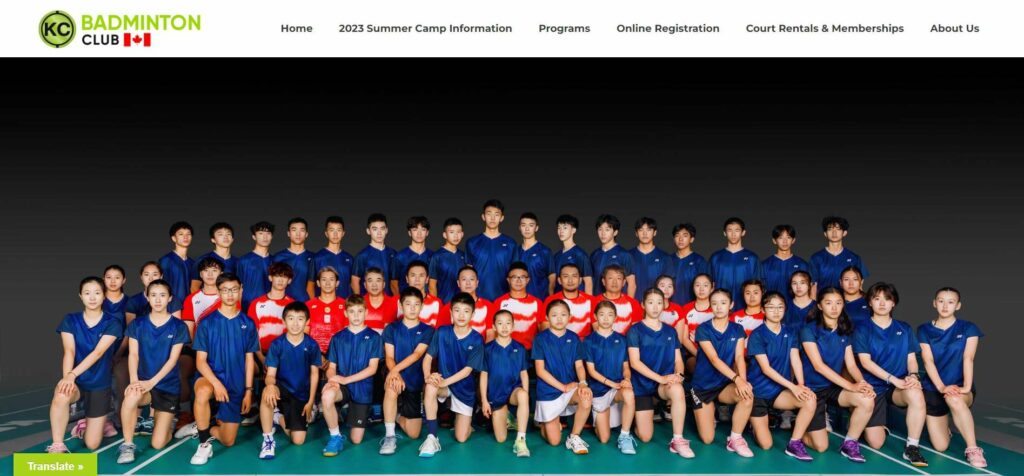 Test
Info
WEBSITE
https://kcbadmintonclub.com/
ADDRESS
2680 14th Ave #3-8, Markham, ON L3R 5B2
SOCIAL MEDIA
INSTAGRAM
CONTACT DETAILS
PHONE: (905) 766-4561
OPERATING HOURS
Monday - Friday: 10:00 am - 12:00 am

Saturday - Sunday: 8:00 am - 1:00 am
Coach Raymond Koh, a former member of the Malaysian National Badminton Team, specialises in guiding high-performance players from ages 10-up, aiming for success at provincial, national, and international levels.
Some of his notable achievements include being the 2011 Pesta International Open Men's Double Runner-Up, securing the 2009 SUKPEN Men's Double title, and triumphing in the SUKPEN Men's Singles division the same year.
He also won at the 2009 NTPM Individual Open and Taiping Open in the mixed doubles category. Raymond's coaching impact is reflected through repeated victories in the Malaysia Circuit U-18 men's doubles and success in the PBA Penang Closed Championships.
He offers a Junior Introduction Group for newcomers aged five to ten in collaboration with the KC Badminton Club. This initiative maintains a low 1 coach: 8 students ratio.
Specialises in high-performance training
Former Malaysian National Badminton Team player
Longer operating hours
Pricier than other facilities 
Many world-class top coaches
"Great badminton club for kids high level badminton training and adults group playing. My two kids have been trained here for years. Many world class top coaches, such as coach Kevin, coach Raymond, coach Alrie, and coach Wei etc., teach and train kids professionally and encourage them to a higher level, which not only promote better physical health but also a boost to their mental health. The training is amazing even it is hard and challenging. But it is worthy. I started to play badminton and joined an adult group training recently. Coach Colleen and Coach Zheng are very patient and know how to teach adults. It is very fun."
Lynn Lin, Google Review
Their reception is amazing
"Professional coaches, parking lot is spacious, their reception is amazing!!! Their whole lobby and bathrooms look nice! Daniel is a really nice guy and Miss Yang is a great person! I would definitely recommend KC for Badminton training!"
Jessica Grey, Google Review
3. Coach Jennifer Lee – Lee's Badminton Training Centre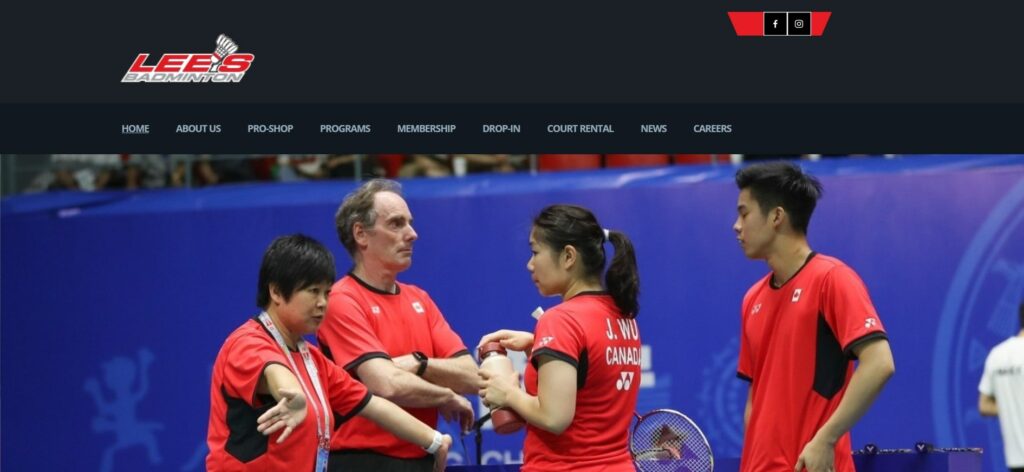 Test
Info
WEBSITE
https://www.leesbadminton.ca/
ADDRESS
80 Centurian Dr Unit 3, Markham, ON L3R 8C1
SOCIAL MEDIA
INSTAGRAM
CONTACT DETAILS
PHONE: (905) 940-0703
OPERATING HOURS
Monday - Friday: 10:00 am - 10:00 pm

Saturday - Sunday: 9:30 am - 9:00 pm
Jennifer Lee started playing badminton at 9, won several medals, and represented Hong Kong in international competitions. In 1985, she immigrated to Canada and represented the British Columbia Provincial Team.
After a significant injury in 1993, Jennifer transitioned to become a coach. In 1995, she founded Lee's Badminton Training Centre in Toronto with a mission to develop athletes not only in skills but also in attitude and character.
She earned her coaching certifications and has since trained numerous provincial and national champions, including Michelle Li and Alex Bruce, who achieved historic results for Canada in badminton, including the 2012 London Olympics.
Her training centre offers comprehensive badminton programs for recreational and elite players. They encourage family memberships and warmly welcome junior players. Membership options include annual or pay-as-you-go arrangements, and visitors are invited to experience the excellent facilities they provide.
Coach Lee trained Olympic players
Pay-as-you-go options
Advance court bookings
Group lessons for kids and adults   
Can get crowded during peak times 
Very convenient location
"Fantastic Experience at Lee's! My son trains there and I play socially! Coaching staff are all fantastic and the members very friendly! It also has a very convenient location! The strict shoe policy is great as it keeps the playing courts from being marked up which I found very annoying at other clubs!"
Jason C, Google Review
Excellent coaches
"My son has been enrolled in the competitive program for the past 4 years. I credit the club and its roster of excellent coaches for the passion and skill he has developed for the sport, along with the strong friendships with his teammates. Jennifer Lee and her team develop athletes into skilled players as well as encouraging the life skills and character development that one gets out of competitive sports. I highly recommend Lee's Badminton to both athletes and their parents."
John Sawler, Google Review
4. Coach Harrison Choy – C2 Badminton Club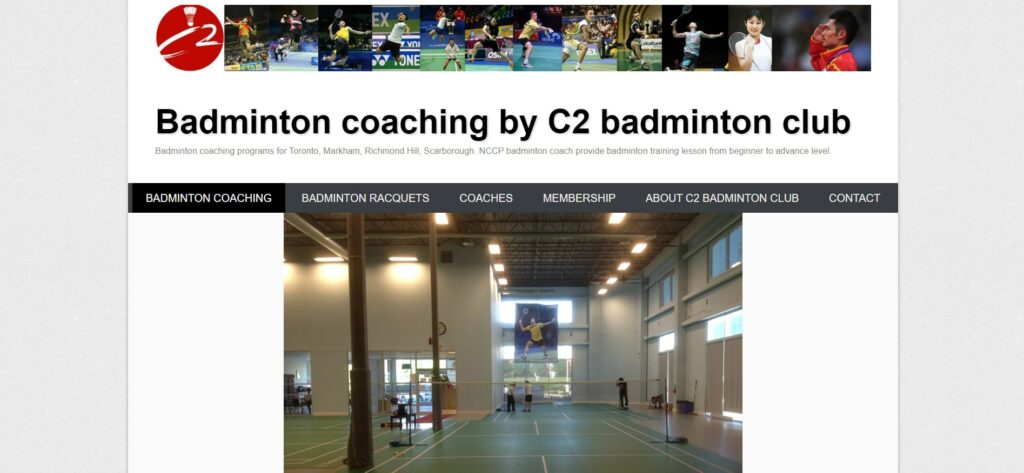 Test
Info
WEBSITE
https://thebadmintoncoaching.ca/
ADDRESS
1300 Rodick Rd Unit D, Markham, ON L3R 8C3
SOCIAL MEDIA
FACEBOOK
CONTACT DETAILS
PHONE: (289) 818-2327
OPERATING HOURS
Monday - Friday: 10:00 am - 12:00 am

Saturday - Sunday: 9:00 am - 11:00 pm
Coach Harrison Choy is a distinguished figure in Toronto's badminton coaching scene, backed by 18 years of experience. His achievements include being a former member of the Hong Kong Youth Team and the Li Ning Badminton Team.
With NCCP certification, he has guided numerous junior players to become provincial and national champions. He has also served as the Badminton Ontario High-Performance Director and the Toronto and District Coaching Director.
Coach Choy's own successes as a National Men's Doubles Champion and five-time Provincial Champion underscore his in-depth knowledge of the sport.
He is currently the head coach at C2 Badminton Club, accommodating beginner, intermediate, or advanced players through private, semi-private, and group lessons. Students can also choose their membership plan from annual payments, daytime passes, hourly court rentals, or drop-in rates.
5-time provincial champion
High ceilings
Good grip on the courts
Flexible payment options
Can get crowded during peak times 
Great coaches
"Very well-ventilated. Popular choices in Markham area. It's good for group play. You'll need to book in advance. Lots of regular group player book all the good times.
Love it. Great coaches. Fantastic people"
Marco Chan, Google Review
Great grip on the courts
"Great place, clean space and friendly faces. Always a pleasure to book and play here. High ceilings so don't have to worry about clears. Great grip on the courts. I've been told by friends that they have/had drop in but unsure if it's still ongoing after 2020. I personally prefer booking courts and playing with friends anyways. Book an hr or two at a time and you've got yourself plenty of exercise. 11/10*!!"
Derrick Wong, Google Review
5. Coach Chen Kang – Mandarin Badminton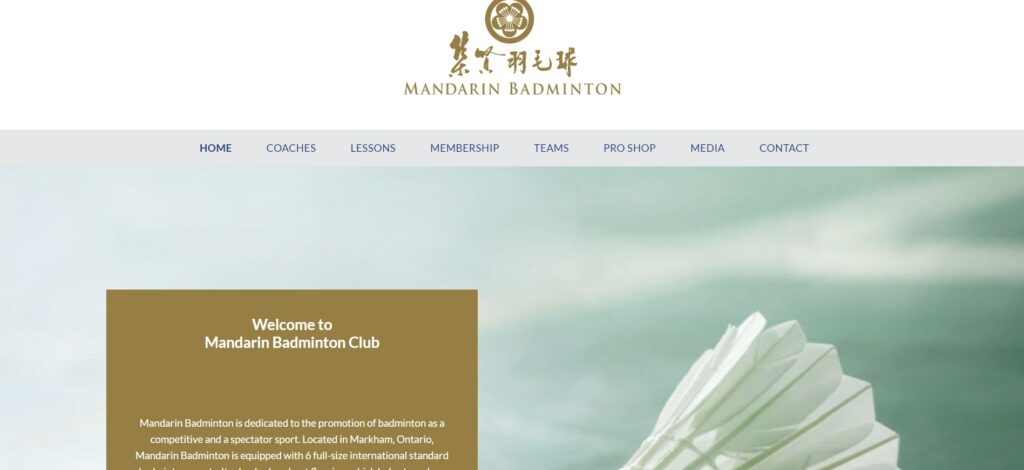 Test
Info
WEBSITE
http://mandarinbadminton.com/
ADDRESS
500 Esna Park Dr, Markham, ON L3R 1H5
SOCIAL MEDIA
INSTAGRAM
CONTACT DETAILS
PHONE: (905) 940-0600
OPERATING HOURS
Monday - Friday: 10:00 am - 12:00 am

Saturday - Sunday: 10:00 am - 6:00 pm
Coach Chen Kang joined Mandarin Badminton as a full-time Director of Player Developments in October 2021. He boasts an impressive badminton career, having been a former player for the China National Team and securing accolades such as the Asian Games Men's Doubles Gold Medal and the World Championship Men's Doubles Silver Medal.
His representation of China in the 1992 Barcelona Olympics and a successful stint as the lead coach for doubles in the Hong Kong National Team, spanning three Olympics—London, Rio, and Tokyo—further underscore his prowess as a coach.
His leadership led to Hong Kong's mixed doubles pair, Tse Ying-suet, and Tang Chun-man, reaching the semi-finals in the recent Tokyo Olympics.
In partnership with Mandarin Badminton, Coach Chen provides year-round group lessons and private lessons for kids and adults. They also conduct level assessments to ensure a personalised learning approach for both seasoned players and beginners.
Coach Chen played for the Olympics
International standard-sized courts 
Affordable membership rates
 Reports of communication issues
Coaches are also really friendly
"TI've been to mandarin Badminton for almost 1 year and I've noticed some very good things about them. With the new renovation in mid-june the sitting area looks very nice and comforting if you want to watch your kid play. As a student a mandarin I've noticed that every time I arrive the receptionist would say hello to me unless she's on the phone. The coaches are also really friendly because they would gladly help you if you can't to a certain shot. They would also do exercises to improve your stroke. I love this badminton club, the coaches, and the environment"
Nicholas Gin, Google Review
Courts are nicely spaced
"Temperatures are always just right, which is a rarity amongst badminton clubs; courts are nicely spaced; large and comfortable waiting/viewing area; competent instructors."
Edward Yap, Google Review
---