A Review of the 6 Best Audiologists in Toronto
Loss of hearing, ear wax build-up, or serious tinnitus? You need an audiology expert to diagnose the problem fast and give you the appropriate solution.
This review of the best audiologists in Toronto covers important information about their audiology services. We'll start with the typical costs of this service with and without insurance before moving on to the main reviews.
Top Audiologists in Toronto
To evaluate the best audiologists in Toronto, we used the following metrics:
The Cost of Seeing an Audiologist in Toronto
There are a lot of considerations that go into the final cost of the services. In some cases, you may be covered by OHIP, your private insurance, or other funding options.
Let's start with the average out-of-pocket costs first without insurance. See the table below:
| Service | Estimated Costs |
| --- | --- |
| Child Hearing Test | $95 |
| Adult Hearing Test | $65 |
| Senior Hearing Test | $45 |
| Hearing Aids (and other related services) | $1,000 - $3,400 per ear |
Now, OHIP does not cover hearing tests anymore but there are certain exceptions. One of these is if your hearing test is done by an ear nose and throat specialist (ENT) or otolaryngologist (they can bill OHIP for the testing).
Another option is your private insurance, including the one provided by your employer (if any). Just make sure that you have the right coverage to reimburse the money you spent.
As per hearing aids, you get partial coverage if you are a resident of Ontario (which we assume so) through the Assistive Devices Program (ADP). But, you can only be granted $500 per ear, once every 2-5 years.
For more funding options for your hearing aid needs, you can look into the following organizations in the city:
First Nations and Inuit Health​
Workplace Safety and Insurance Board​
Ontario Works
Ontario Disability Support Program​
Department of Veteran's Affairs​
1. The Ear and Audiology Clinic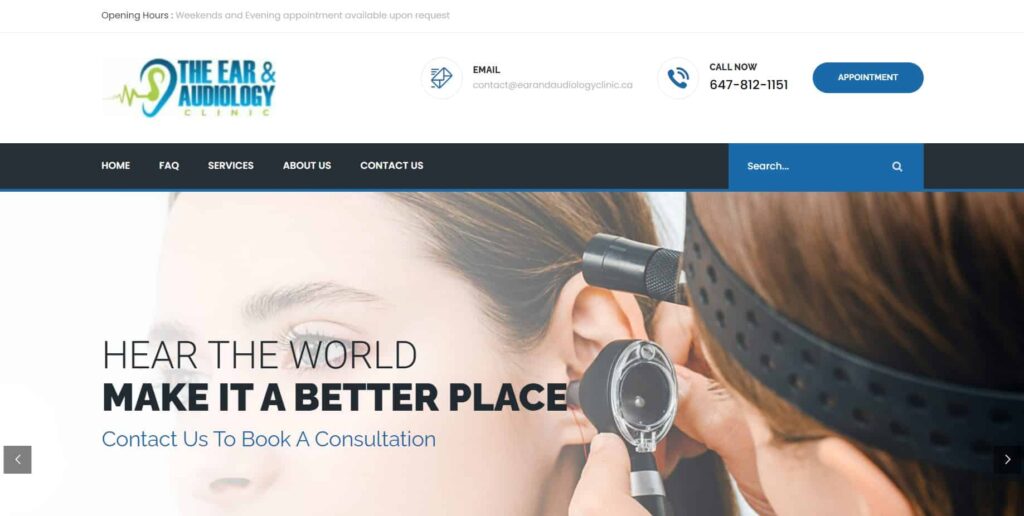 | Test | Info |
| --- | --- |
| SERVICES | Hearing assessment, Hearing aid fitting, Ear wax removal, Custom ear plugs/molds, Hearing aid evaluation, Hearing aid repair, Tinnitus management, Assistive listening devices, and Paediatric hearing evaluation |
| WEBSITE | https://www.earandaudiologyclinic.ca |
| ADDRESS | 3630 Lawrence Ave E, Unit 201, Scarborough, M1G 1P6, ON |
| CONTACT DETAILS | 647-812-1151 / [email protected] |
| OPERATING HOURS | Monday to Friday 9:00 AM – 5:00 PM |
Total Scores
| | |
| --- | --- |
| Credentials, qualifications, and experience | ★★★★★ |
| Customer service | ★★★★★ |
| Technology and technique | ★★★★★ |
| Location and availability | ★★★★☆ |
| Hearing aids and related services | ★★★★★ |
The Ear & Audiology Clinic is a facility that provides its clients with patient-centric and quality hearing aid treatments and evaluations among other hearing-related services.
From assistive listening devices to tinnitus and cerumen management, we like that their services are approached in a way that directly tailors to the needs of the client alongside their specific condition as well.
This clinic provides most of the ear & hearing-related services under one roof. The Ear & Audiology clinic is not owned by any manufacturers or corporate/retail chains, it is a family-operated, run & managed by healthcare professionals. They carry the latest technology hearing aids & amplification devices in all styles from all the manufacturers available in Canada.  They provide Guidance for DVA/WSIB/ODSP/OW/NIHB/IFHP and other insurance funding for amplification devices. 
Aside from this, their clinic is also well-equipped when it comes to handling such services wherein not only do they have adequate products and equipment but also an exemplary team of health care professionals to better assist clients.
Assistive and accommodating personnel
High-quality hearing products offered
Customized and individualized services and support
3 locations within the GTA region
In-house minor repairs
Weekends & evening appointments available upon request
Multi-lingual services, English, Hindi, Malayalam & Tamil
30-day confidence & price match guarantee
Registered Audiologist on board
Patients can speak directly to an Audiologist over the phone anytime
Offer Employment Screening & testing like OACP/RCMP etc.
Remote, virtual & in-home services available
Clinical Affiliation with the University of Toronto
Rates of products not readily available
Customer Reviews
Here are some reviews from their clients:
"I've visited a month ago for ear wax removal. The process was smooth and quick. Mathew (my audiologist) is very knowledgeable and gave me tips to properly maintain my ears. I will definitely suggest this place and it's cheaper than the other places I visited."
"Mathew & his team is nothing less than exceptional. Their professionalism, knowledge, passion and customer care is brilliant. Matt showed patience and understanding towards our hearing needs and helped us transition to using hearing aids in the best possible way. They never pushed us to buy hearing aids from them , they gave us the option to get aids from wherever we want but after consulting few other clinics we all felt the difference and they were truly gems 💎. Their prices were not even comparable to other big retail chains. Highly recommend this family"
2. Toronto Family Hearing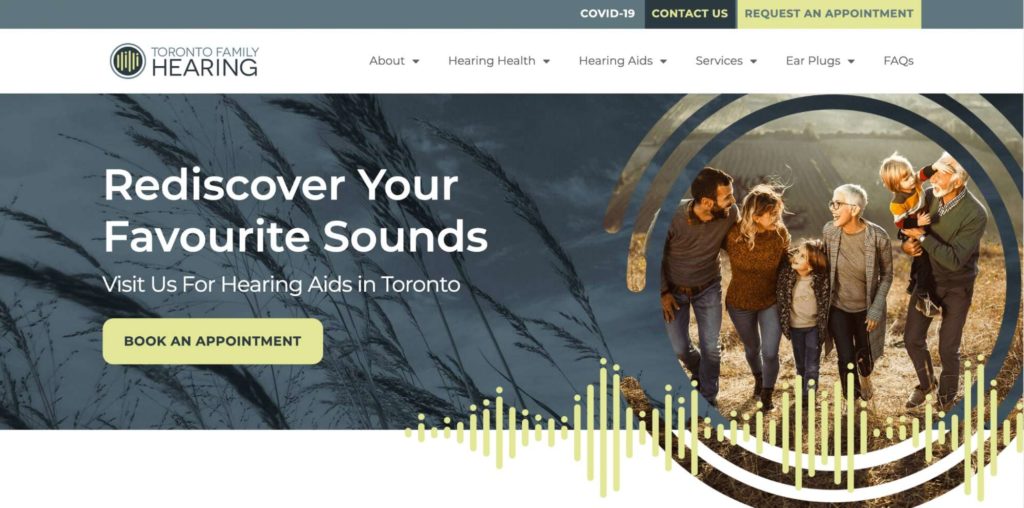 | Test | Info |
| --- | --- |
| SERVICES | Hearing tests, tinnitus management, custom earplugs, custom hearing protection, ear wax removal, hearing aid batteries and supplies |
| WEBSITE | https://torontofamilyhearing.com/ |
| ADDRESS | 27 Roncesvalles Ave Suite 409, Toronto, ON M6R 3B2 |
| CONTACT DETAILS | +1 416-792-9400 |
| OPERATING HOURS | Monday - Friday: 9:00 AM - 5:00 PM |
Total Scores
| | |
| --- | --- |
| Credentials, qualifications, and experience | ★★★★☆ |
| Customer service | ★★★★★ |
| Technology and technique | ★★★★☆ |
| Location and availability | ★★★★☆ |
| Hearing aids and related services | ★★★★☆ |
Toronto Family Hearing currently operates under the hands of two main audiologists. Both of them have stellar credentials and experience, with adequate training and education to provide audiology services.
Its owner Mahsa Mosstaghimi-Tehrani is a graduate of Clinical Doctorate in Audiology (Au.D). The other audiologist, Deanna Miluzzi, has a master's degree in Audiology and is currently completing her doctorate program.
Moving on to their customer service, we'll allow its perfect 5-star rating on Google Reviews to do the talking. They deal with patients of all ages from infants to the elderly and their approach is equally welcoming and friendly.
In terms of services, you can basically find all major audiology treatments here. They do hearing tests, tinnitus management, custom earplugs, custom hearing protection, and ear wax removal.
What we liked best among their offerings is their non-invasive treatment of hearing aids. If you want to test out the best pair for you, they offer a two-week trial period to get a feel of the test pair.
We also liked that they offer assistance in making minor repairs with their in-house assistance. This is immediately a plus for us because not all audiologists offer repair services – not even the minimal ones.
As per location and availability, they get a plus from us with flexible location options in Roncesvalles and Yonge Street. But we do have to admit that we were tempted to take that back when we learned that they're closed on weekends (which would have been a great time to visit).
Finally, if audiology services are a way out of your budget, they make it easy for you to connect with your insurer. If it's a third-party insurer, you can simply let them know and they'll assist you with the process.
Two-week trial available for hearing aids
Performs minor repairs on certain hearing aid issues
Has two accessible locations in Toronto
Provides assistance with connecting with insurers
Readily available hearing aid batteries and supplies
Closed on weekends
Limited audiologists on board
Customer Reviews
Highly recommended services
Great clinic! The staff were very patient and compassionate with young children. The audiologist took the time to make sure my son was comfortable and gave him breaks when she could tell his attention was waning. Would definitely recommend! – Kaia Smith
Attentive and thorough with patients
I went to the Roncesvailles location and had an appointment with Melissa. Upon arriving the receptionist Amelia was friendly and lovely. Melissa herself was attentive, thorough and immediately made me feel at ease. She listened to my concerns and was all together lovely as well. I have recommended the clinic and Melissa to several family members and friends. Thank you for a pleasant visit and experience! – Ivana Bajde
3. Toronto Audiology Associates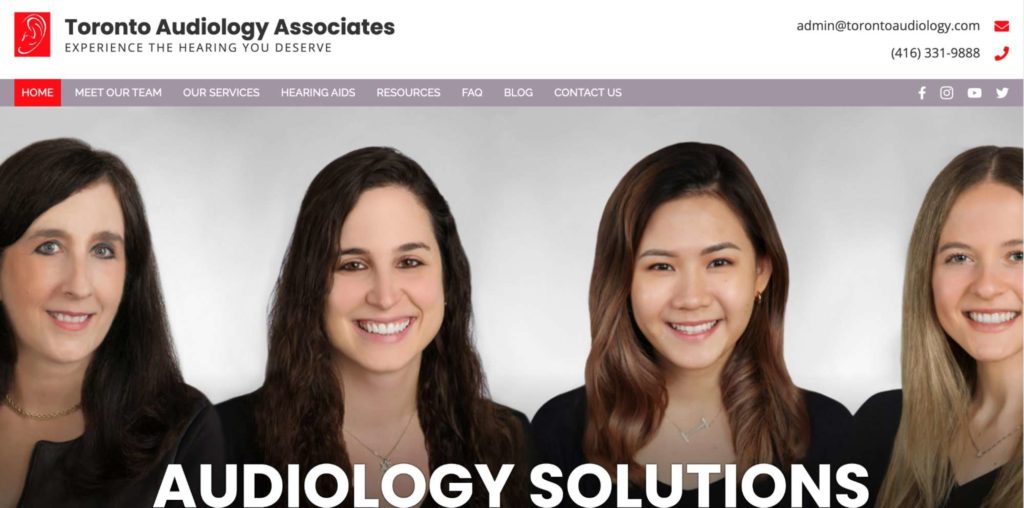 Test
Info
SERVICES
Hearing test, hearing aids evaluation, ear wax removal, tinnitus management, custom hearing protection, auditory processing disorder
WEBSITE
https://torontoaudiology.com/
ADDRESS
220 Duncan Mill Rd #218, North York, ON M3B 3J5
CONTACT DETAILS
+1 416-331-9888 |

[email protected]

OPERATING HOURS
Monday: 9:00 AM - 4:30 PM

Tuesday - Thursday: 8:00 AM - 6:00 PM

Friday: 9:00 AM - 4:00 PM

Saturday: By appointment only
Total Scores
| | |
| --- | --- |
| Credentials, qualifications, and experience | ★★★★☆ |
| Customer service | ★★★★★ |
| Technology and technique | ★★★★★ |
| Location and availability | ★★★★☆ |
| Hearing aids and related services | ★★★★☆ |
The team of audiologists in this clinic is just slightly bigger than most others we checked out, which is advantageous in all sorts of ways. For starters, the range of education and experience makes for a more comprehensive approach through a collaborative effort.
Individually, the two audiologists and one audiology assistant boast fairly impressive credentials. They have experience working with children and in the academe as instructors.
At this point of our roundup, perfect 5-star ratings have been the norm so far and this clinic continues the trend. Throughout our research, all we heard were solid reviews about the fast and easy process, impressive expertise, and great follow-up care.
As usual, there's nothing too special about their service range. In fact, they may even have slightly fewer services on offer than the other ones we checked out.
What we'd love to talk about instead is their evaluation technique which, in our opinion, is easily among the best in the city.
The assessment alone is super-straightforward and fast starting with audiometry. You'll then move to middle ear testing that evaluates the acoustic thresholds of your middle ear.
Finally, you'll undergo a Distortion Product Otoacoustic Emissions (DPOAE) Testing. This basically tests how the hair cells in your ear respond to soft sounds.
And yes, all these terms can be confusing and daunting, but do take our word for it – you'll be fine, it's standard procedure and they're among the snappiest evaluators we tried.
We're also a big fan of the clinic's hearing aid solutions because there are no unexpected costs involved and you get a great warranty. Plus, in 36 months, your hearing aids will be updated with the latest tech – no need to replace the outdated one.
Award-winning clinic (Reader's Choice – Toronto Star)
Comprehensive evaluation method
Faster test process compared to competition
Repairs and services hearing aids
Full warranty on premium level hearing devices
Hearing aids upgrades to premium technology after 36 months
Saturdays are open on an appointment basis
Fewer treatments available compared to our other picks
Customer Reviews
Fantastic place for all audiology needs
My experience at this clinic was fantastic. The staff were very professional, knowlegeable and accomodating. They also got me referred very quickly to a specialist to further assist with my issue. I would highly recommend them for any audiology needs you may have. Bob A.
One of the best audiology clinics
I can say with confidence after visiting multiple audiology clinics, this is the best I've been to. Colleen and her staff were extremely welcoming, professional and transparent as I was guided through treatment. They have a wide range of the newest equipment available. After a short 30 minute appointment, my hearing is better than it has EVER been! – Ben Smith
4. House of Hearing Clinic Inc.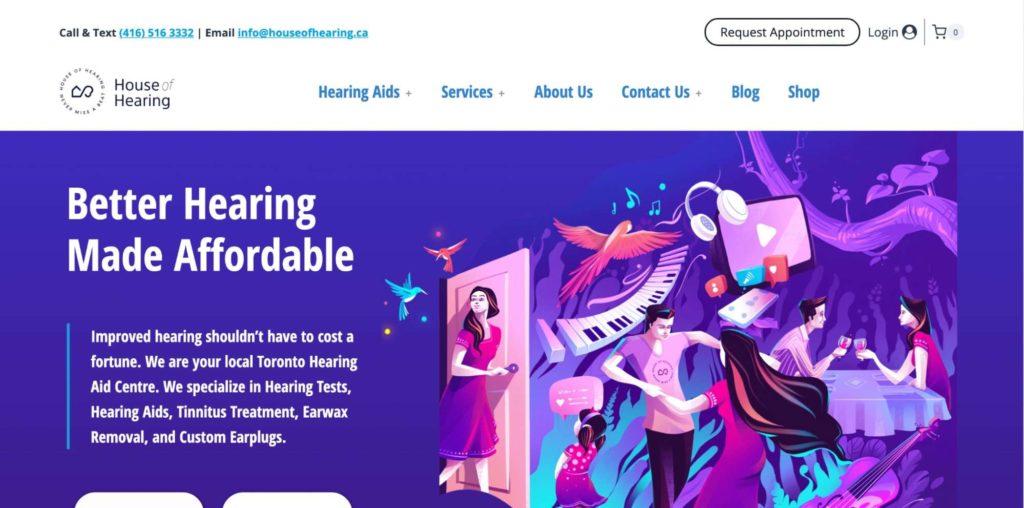 Total Scores
| | |
| --- | --- |
| Credentials, qualifications, and experience | ★★★★☆ |
| Customer service | ★★★★★ |
| Technology and technique | ★★★★☆ |
| Location and availability | ★★★★★ |
| Hearing aids and related services | ★★★★★ |
House of Hearing Clinic currently has 15 team members across 6 different locations in GTA. Their expertise and education range from hearing instrument specialty and general audiology.
Unfortunately, that's as much information as we can gather in terms of their credentials. But at least, they didn't let us down with their excellent customer service.
Many past clients praised the clinic for being very patient with their needs. They were also said to be extremely respectful with handling special cases with great transparency and professionalism.
One of the things that we also appreciated is the multi-lingual service you can get. In this specific clinic, you can get services in English, Vietnamese, and Farsi, which we think is super-helpful to a diverse set of clients.
Speaking of clients, the clinic boasts the largest number of satisfied customers we could find over the years. They've already helped 14,000 clients with their care and customized audiology solutions.
Out of all the services they offer, their hearing aid solutions are probably the best. Clients have the freedom to choose between three levels, namely Premium, Advanced, and Standard.
The even better part is that all these tiers come with a 3-year warranty, 3-year remote support, loss & damage insurance, and an unlimited service plan. The hearing test and consultation for this is also complimentary plus you can even pay in installments if you prefer.
If you're not happy with the pair you got, you can return it within 30 days and get your money back. And if you ever need repairs, they can give you loaner hearing aids to use temporarily while yours is being fixed.
6 different locations in GTA
Multi-lingual services
Experience with 14,000 clients
Hearing aid solutions available in three tiers
3-year warranty and loss & damage insurance 
3-year remote support and unlimited service plan
30-day money-back guarantee
Installment plans available 
Complimentary hearing test and consult – hearing aids
Has more hearing instrument specialists than certified audiologists
Closed on weekends
Customer Reviews
Addressed client's concerns
I made an appointment with initial concerns and not only was the appointment made quickly and reliably, but all my concerns were addressed respectfully and then proven to not be actual issues. Lovely team and helpful professionals. If I do have a hearing issue in the future, I will return for their assistance. – Alex Harrouch
Excellent experience from start to finish
I was seen today for a ear wax removal. From booking the appointment to being seen in the clinic I received excellent and professional service. The girl who took care of me was very informative and careful with the procedure. I will definitely be coming back to this clinic for further hearing/ear related concerns. Thank you house of hearing! – Yeny
5. Yorkville Audiology
| Test | Info |
| --- | --- |
| SERVICES | Hearing aid, hearing loss, tinnitus management |
| WEBSITE | https://yorkvilleaudiology.ca/ |
| ADDRESS | 1200 Bay St. #404, Toronto, ON M5R 2A5 |
| CONTACT DETAILS | +1 416-967-7226 |
| OPERATING HOURS | Monday - Friday: 9:00 AM - 5:00 PM |
Total Scores
| | |
| --- | --- |
| Credentials, qualifications, and experience | ★★★★★ |
| Customer service | ★★★★★ |
| Technology and technique | ★★★★★ |
| Location and availability | ★★★☆☆ |
| Hearing aids and related services | ★★★★☆ |
With three audiologists on board, this clinic has the most educated team of experts in our opinion. Plus, all of them have significant education and training.
Collectively, for instance, the team has clinical skills and hearing instrument manufacturer training. One of them also has experience as part of academia in a prestigious university.
In terms of customer service, everything has been great so far with all the clinics on our list. For this one, many clients noted their helpful nature, flexible scheduling process, and reasonable prices on certain services.
Some of the clinics' strongest advantages are their top-of-the-line facilities and hearing aid services. They have modern equipment suited for the accurate diagnosis of all hearing impairments and conditions.
For hearing aids, they use advanced fitting techniques and modern prescription methods. With both these factors in mind, you can be sure that your hearing aids are personalized to your needs and preferences.
Another thing that we liked is their follow-up care and ongoing services which are always accessible at best. They also have a "Clean and Check" Service, which is best for hearing aid maintenance to avoid any issues in the future.
Three audiologists on board
Modern facilities for accurate diagnosis
Advanced fitting techniques for hearing aids
Useds modern prescription methods for hearing aids
Repairs and services hearing aids
Clean and Check" Service for maintenance 
Customer Reviews
Outstanding service
Fantastic experience! Pam Cooke is an aural brainiac: she led me through the necessary tests, clearly explained the results and resolved my specific issue (which three GPs couldn't figure out). And Olga couldn't be nicer. Great humans, outstanding service! – Heyhow Arya
Kind and caring
I have visited this location twice and like someone else has mentioned, everyone from the front desk to the audiologist has been very kind, and caring. It has been a very smooth process. – Charles
6. Hearing Beyond
Test
Info
SERVICES
Diagnostic Hearing Evaluations, Hearing Aid Selection and Dispensing, Hearing Aid Repairs, Wax (Cerumen) Removal, Tinnitus Management, Auditory Processing Disorder Screening, Custom Hearing Protection, Workplace Hearing Screenings
WEBSITE
https://hearingbeyond.ca/
ADDRESS
915 Sheppard Avenue West, Toronto Ontario M3H 2T7
CONTACT DETAILS
416-792-7778 / 416-792-7785 /

[email protected]

OPERATING HOURS
Monday - Friday: 9:00 AM - 5:00 PM

Saturday: 10:00 am to 1:00 pm
Total Scores
| | |
| --- | --- |
| Credentials, qualifications, and experience | ★★★★★ |
| Customer service | ★★★★★ |
| Technology and technique | ★★★★★ |
| Location and availability | ★★★★★ |
| Hearing aids and related services | ★★★★★ |
Hearing Beyond is an audiology and hearing clinic that accommodates a wide range of hearing diagnostics and resolving various auditory issues and even crafts customized hearing aids and protection equipment for the individual needs of the patient.
Able to provide services for individuals of all ages, they make use of an evidence-based approach to their treatments to make sure that clients get the most efficient and proper therapy for them.
Furthermore, their sessions and services are very versatile since not only do they have weekend and evening availability but also accommodate home visits in the North York area.
Though note that their services do not have packages and rates readily available so clients may need to book and consult with them to get an accurate price for their services.
Overall, with their innovative and advanced facilities, highly experienced professionals, and personalized approach, we highly recommend them to clients who are in need of reliable audiologist services.
Wide range of interrelated hearing services
Flexible schedule
Innovative technologies employed
Rates currently unavailable
Customer Reviews
Here are some reviews from their clients:
"I hated my hearing aids. They kept falling out. I was ready to throw them out! I stopped into see Frank and a simple fix changed everything! The service was friendly, professional and warm. Thank you Frank for making my life better!"
"Fantastic service. The Audiologist is very patient, knowledgeable and trustworthy. Would highly recommend to anyone looking for a Audiologist."
FAQs About Audiologists in Toronto
---
Have other health concerns? For your next read, pick among our top suggestions so you can achieve the best overall health you deserve: