The Top 5 Clinics That Offer Cosmetic Dentistry in Toronto
They say that you're never fully-dressed without a smile, and we tend to agree with that sentiment. However, there are a lot of people who simply don't have enough confidence in theirs.
That's because in many cases, perfect teeth isn't something that people are born with. Fortunately, it is something that you can get made at the clinics offering the best cosmetic dentistry in Toronto.
In this list, we cover our picks for the top establishments here. We've also included pricing information for some of the most common procedures, as well as answers to some frequently asked questions.
What is the average cost of cosmetic dentistry in Toronto?
Cosmetic dentistry procedures can be life-changing—and because of their complexity, can be quite the investment. It's also worth noting that unlike regular dental procedures such as cleanings and fillings, cosmetic dentistry usually isn't covered by your workplace benefit dental plan.
Below is a table of the most common cosmetic dentistry services and how much each one can cost:
Veneers
Dental Veneers: $900 to $2,500 per tooth
Composite Veneers: $250 to $1500
Teeth Whitening
In-Office Whitening: $600 to $700
At-Home Whitening Kits/Products: $100 to $400
Invisalign (Invisible Braces)
$3000 to $5000
Dental Bridges
$700 to $1500
Dental Crowns
$800 to 1800 per tooth
Dental Implants
Single Implants: $900 to $3000
Full Mouth Reconstruction: $24000 to $96000
These are estimates, however. You still need to see an actual dentist to get precise figures for your own procedures.
The Best Clinics for Cosmetic Dentistry in Toronto
Now that you have a general idea of how much cosmetic dentistry in Toronto costs, let's move on to the list! All of our standout selections come with a pro/con list, making it easier for you to decide which service provider to go to.
1. The Art of Dentistry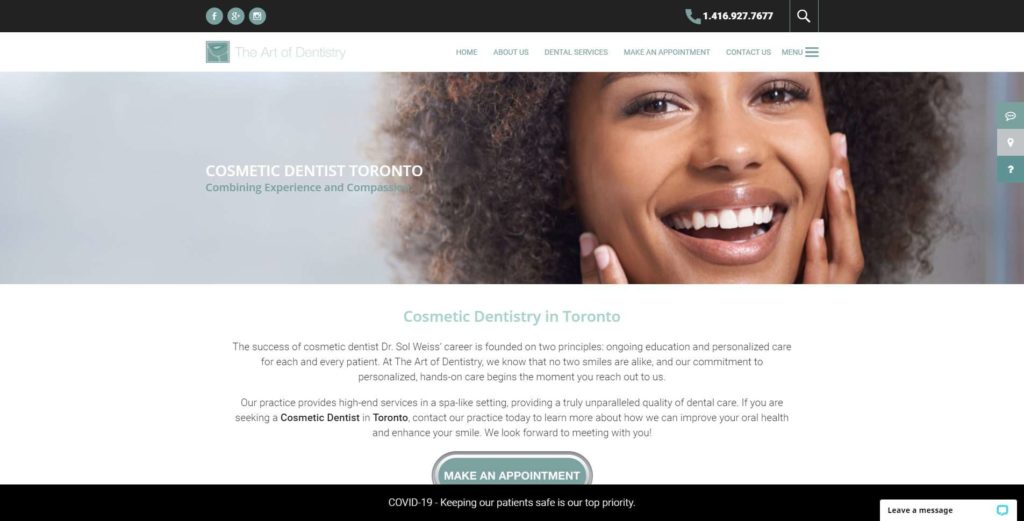 PRODUCTS & SERVICES
Porcelain Veneers, Teeth Whitening, Invisalign, etc.
WEBSITE
https://www.artofdentistry.com
ADDRESS
25 Bellair Street, Toronto, ON
CONTACT DETAILS
416-927-7677,

[email protected]

OPERATING HOURS
Monday 9:00am – 6:00pm
Tuesday 8:00am – 7:00pm
Wednesday 8:00am – 5:00pm
Thursday 8:00am – 7:00pm
Friday 8:00am – 1:00pm
Saturday 9:00am – 3:00pm
Led by Dr. Sol Weiss, The Art of Dentistry is a true improvement over your usual dental practice. They provide high-end cosmetic and restorative dentistry services at their gorgeous Yorkville location.
The clinic specializes in cosmetic dentistry procedures, including porcelain veneers, teeth whitening, and invisible braces. They also offer packages that combine these individual services as needed.
We love that you can easily book a virtual consultation on their official website, especially in light of the COVID-19 pandemic. Simply leave your details in the provided contact form and choose whether you'd like to be contacted by phone or by email.
Another thing we appreciate from The Art of Dentistry is their focus on the patient experience. They understand that many people tend to avoid dentists due to fear, anxiety, or a low pain threshold, which is why they offer sedation along with some of their procedures.
Finally, The Art of Dentistry is the only clinic on our list staffed with people that can speak Mandarin, Polish, and Russian. This allows patients who may not speak English as their first language to accurately communicate their cosmetic dentistry needs to the team.
Virtual consultations available
2 dentists available for consultation
Multilingual service available in English, Mandarin, Polish, & Russian
Different sedation options available for patients
Very inconsistent operating hours
Consultations by appointment only
Customer Reviews
Check out what customers are saying about The Art of Dentistry on Google Reviews:
"To be honest, Idk where to start off.. this place makes you feel at home and comfortable with whatever you are coming in for. The entire staff is friendly and welcoming. But I really want to say, Dr. Dora and her assistant Kristine are absolutely AMAZING. I could definitely say they have changed my life. They are true professionals and love what they do and have fun while doing it. That's what it's all about. They improved my smile more then I ever thought was possible. I don't recommend anywhere else but the Art of Dentistry. I can't thank Dr. Dora and Kristine enough! Don't be crazy. Go here. Highly recommended." -Enham Mahmood
"If you're looking for something fast and cheap do not come here. If you won't settle for anything other than perfection and the highest standards of cosmetic dentistry, look no further. Dr. Sol Weiss is your man. I came in 5 years ago to fix my front tooth which was badly damaged. Dr. Weiss took a less invasive approach of giving me a veneer which he insisted needed to be perfect. When the veneer came from the lab he didn't settle for anything less then a perfect match for colouring. Because of this it was sent back twice until the artist could match the shade 100%. There were delays because of this but it was worth it. When he put the veneer on, he took me outside just to see the tooth under different lighting conditions. It's been about 5 years and the tooth is still matching perfectly. The price was slightly more expensive than other places that quoted me, but the care and attention to detail were more than worth the time and money. A small price to pay for confidence and I'd HIGHLY recommend Dr. Sol Weiss to anyone looking to get cosmetic surgery. He's a master artist. I'd give him more stars of I could." -Louis Le
2. The Studio for Aesthetic Dentistry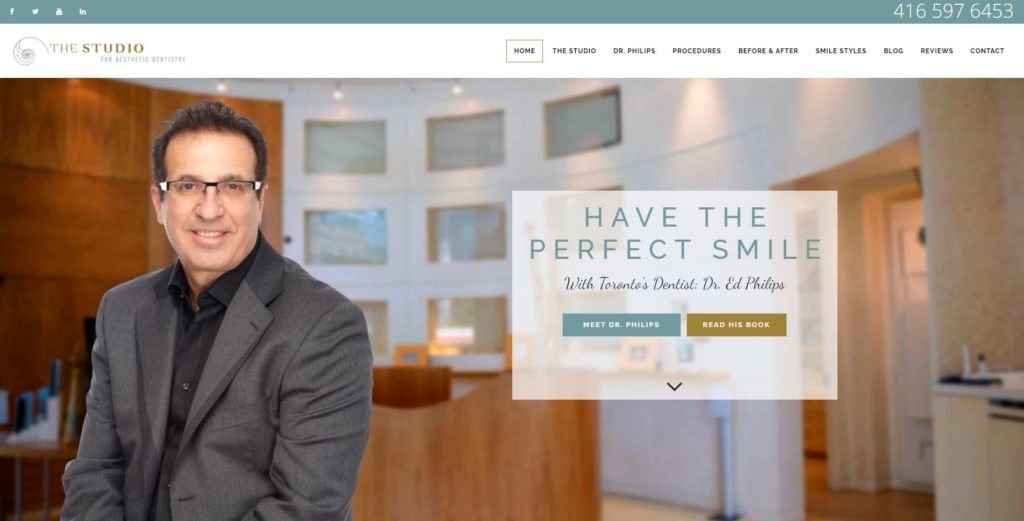 PRODUCTS & SERVICES
Porcelain Veneers, Crowns, Bridges, Implants, Laser Gum Surgery, Teeth Contouring, Micro Abrasion, Teeth Whitening, Invisalign
WEBSITE
http://www.porcelainveneers.ca
ADDRESS
700 University Avenue, Toronto, ON
CONTACT DETAILS
416-597-6453
OPERATING HOURS
Monday to Thursday: 9:00 A.M. to 5:00 P.M.
Friday: 9:00 A.M. to 3:00 P.M.
The patients who come to The Studio for Aesthetic Dentistry on University Avenue immediately know that they're in for a treat as soon as they enter the premises. The spa-like setting helps patients who may feel anxious about visiting the dentist feel more relaxed and comfortable during their visit.
It's presided over by Dr. Ed Philips, a leading figure in cosmetic dentistry in Toronto and author of Your Guide to the Perfect Smile. The clinic specializes in porcelain veneers, crowns, bridges, dental implants, and other procedures that can improve the appearance of your teeth.
Additionally, they perform certain procedures that you won't find offered anywhere else. This includes laser gum surgery, teeth contouring and micro abrasion.
The Studio also develops and sells its own customized, in-office, and at-home teeth whitening products.
Customers rave about the doctor's attention to detail and commitment to focusing on only one patient at a time too. There's only one dental chair in the office, and he takes as much time as necessary to not only perform the procedure but also explain it thoroughly.
We also love how easy it is to come in for a consultation. Unlike other dental clinics in the city, you don't even need to bring your previous dental records.
Luxurious, spa-like ambiance
Products for at-home programs available for sale
Previous dental records not necessary for a consult
Wait times can be long as there is only one dentist
Walk-ins not allowed
Customer Reviews
Here's what people are saying about The Studio for Aesthetic Dentistry based on the reviews on their official site:
"Appreciate Dr. Phillips honesty and patience : he knows when to 'stop'. What I mean is, my smile looks so natural and not uncanny. I am very pleased with the results." -ainsleyj
"Very warm, open and communicative. Collette and Dr Ed made me feel completely comfortable and valued. :)" -alysonp
3. Toronto Smile Design
PRODUCTS & SERVICES
Porcelain Veneers, Crowns, Bridges, Dental Implants, Digital Smile Design, Smile Makeover, Full Mouth Rehabilitation, etc.
WEBSITE
https://www.torontosmiledesign.ca
ADDRESS
396 Broadway Ave, Toronto, ON
CONTACT DETAILS
416-335-7377,

[email protected]

OPERATING HOURS
Monday: 11:00 A.M. to 7:00 P.M.
Tuesday to Thursday: 9:00 A.M. to 5:00 P.M.
Saturday: 9:00 A.M. to 4:00 P.M.
At Toronto Smile Design, they don't just fix your smile. If necessary, they can design a whole new one for you.
Dr. Johnson Ozgur leads this ultra-modern clinic, making use of cutting-edge digital imaging and advanced dentistry techniques to give you the smile that you've always dreamed of having.
In addition to porcelain veneers, bridges, crowns, and other cosmetic dentistry services, Toronto Smile Design also performs specialized procedures that other clinics don't offer. These include sinus lifts, bone grafting surgery, and full mouth rehabilitation.
What sets them apart, though, is their Digital Smile Design process, which allows a patient to "test-drive" their new smile before any procedures are performed. During the initial examination, Dr. Ozgur has a thorough conversation with the patient, allowing them to convey their wants and needs as accurately as possible.
After the examination, Dr. Ozgur uses advanced digital photo and video imaging to capture an impression of the patient's mouth and smile. From there, he can then create a 3D wax mock-up that the patient can try out before any treatment is started.
This collaborative environment, as well as Dr. Ozgur's dedication towards patient satisfaction, has earned Toronto Smile Design a well-deserved spot on our list.
Very extensive list of services
Treatment is comprehensive and collaborative
Inconsistent operating hours
Does not accept walk-in clients
4. Pearl Dental Group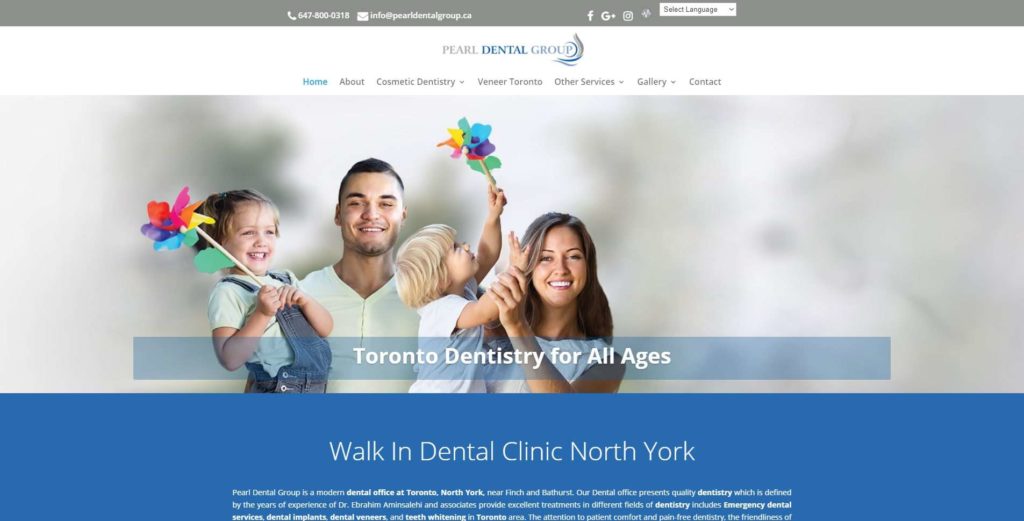 PRODUCTS & SERVICES
Porcelain Veneers, Crowns, Bridges, Dental Bonding, Teeth Whitening, Broken Tooth Reconstruction, etc.
WEBSITE
https://pearldentalgroup.ca
ADDRESS
261 Finch Ave W, North York, ON
CONTACT DETAILS
647-800-0318,

[email protected]

OPERATING HOURS
Monday to Sunday, 10:00 A.M. to 8:00 P.M.
Also available for Dental Emergencies
Most dental clinics that focus on cosmetic dentistry—including many of the ones on our list here—only cater to clients by appointment. Pearl Dental Group in North York differentiates itself not only by accommodating walk-in patients, but also by providing emergency dental services.
Presided over by Dr. Ebrahim Aminsalehi, this family dental clinic performs general, children's, and cosmetic dentistry. With a host of quality equipment available in-house, they can attend to a wide variety of dental needs from simple teeth whitening procedures to reconstruction of broken teeth.
We love the flexibility and consistency of their operating hours, as well as the ease of booking an emergency appointment. Patients who require an immediate dental consultation can simply call the office to secure a slot in Dr. Aminsalehi's calendar, even on short notice.
Evening and weekend appointments can also be booked in advance if you're short on time but need dental care.
Walk-ins allowed
Evening & weekend appointments available
Multilingual service in English & Farsi
Not the most extensive list of cosmetic dentistry services
Customer Reviews
Discover what people are saying about Pearl Dental Group on Google Reviews:
"Thank you so much Pearl Dental Group for the great smile I'm wearing right now. The nicest staff and dentist. I really like my veneers and it gave me so much confidence. 🙂 The dentist really listens to my dental concerns and makes sure I am happy with the result. I highly recommend!" -Romelle Maluto
"Just moved into the neighbourhood and found Dr. Aminsalehi based on Google reviews. I had a very good first visit and I will be recommending his office to family. His staff are also very friendly." -W. Iqbal
5. Bloor West Smiles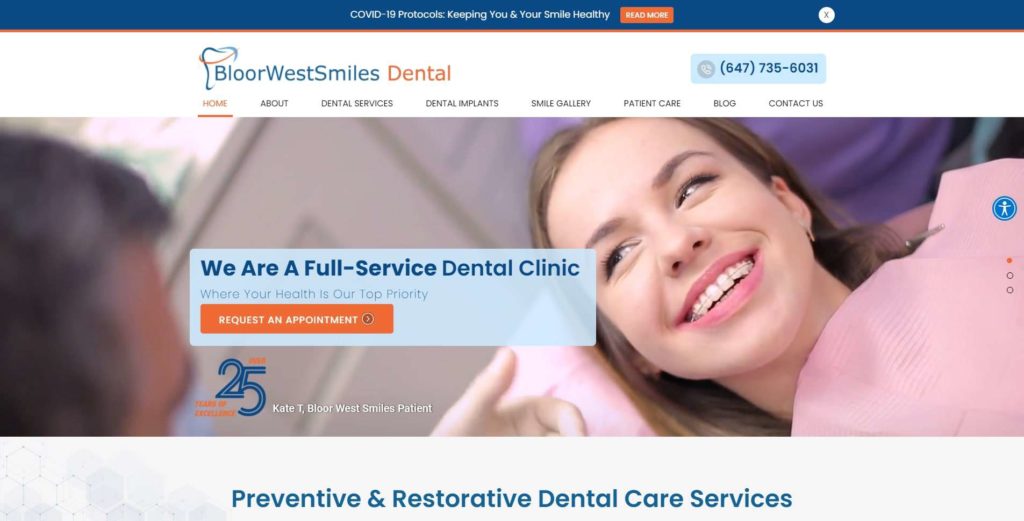 PRODUCTS & SERVICES
Porcelain Veneers, Dental Bonding, Invisalign, Crowns, Bridges, etc.
WEBSITE
https://www.bloorwestsmiles.com
ADDRESS
2 Jane St Suite 505, York, ON
CONTACT DETAILS
647-691-8363,

[email protected]

OPERATING HOURS
Mon: 10:00 am – 8:00 pm
Tue: 9:00 am – 6:00 pm
Wed: 9:00 am – 4:00 pm
Thu: 10:00 am – 8:00 pm
Fri: 9:00 am – 2:00 pm
Sat: 9:00 am – 4:00 pm
Bloor West Smiles is a full-service dental clinic that performs a wide variety of preventive and restorative dental care services on top of cosmetic dentistry. These include general dentistry, children's dentistry, senior dentistry, and emergency dentistry, among others.
Dr. Alexandre Kostirko and his team have operated out of the same office for 25 years now, and Bloor West Smiles is known for being a fixture in the community. With their ironclad reputation, they've earned the trust of hundreds of patients, many of whom rave about their friendly service and commitment to quality dental care.
One of the services offered exclusively at Bloor West Smiles is same-day tooth replacement or Immediate Functioning Dental Implants for people with missing teeth. This advanced procedure allows you to have an all-new smile in a single day with the implantation of whatever is needed, whether it's a new crown or a full set of functioning teeth.
We appreciate the fact that this all-inclusive clinic allows patients to get multiple procedures done in a single day. You can expect your first visit to be a comprehensive one that includes x-rays, a complete oral examination, and teeth cleaning.
3 dentists available for consultation
Service available during evenings and weekends
Flexible payment options
Inconsistent hours of operation
Customer Reviews
Here are a few testimonials for Bloor West Smiles from their official website:
"I would highly recommend Bloor West Smiles. Dr. Kostirko did an AMAZING job on my my front teeth. I really didn't want to get braces and he gave me all my options and we worked out a fabulous bonding procedure. I'm thrilled with the outcome. He is patient talented and brilliant. All the staff there are so friendly and accommodating. With so many dentist offices popping up in Bloor West Village this is the one to go to. Thank you everyone at Bloor West Smile I will be back and will spread the word :)" -Karolina K.
"My family and I have been going to Dr. Kostirko for over 10 years, and are very happy with our experiences at Bloor West Smiles. The high quality of Dr. Kostirko's dental work as well as the amazing service provided by every one of his staff is truly astounding. Three dental implants and several fillings, root canals and restorations later, I can honestly say that I have never felt as appreciative as I do of Dr. Kostirko and his team. I highly recommend them." -Carmen R.
FAQs About Cosmetic Dentistry in Toronto
---
Most people who have had cosmetic dentistry procedures done will be quick to tell you that the experience can be life-changing. It's confidence-boosting and can help you land a job or a romantic partner.
If you want the best of the best in cosmetic dentistry in Toronto, consider booking an appointment with one of our picks. You can also check out our lists of the top hair transplant clinics in Toronto or the best dermatologists in Toronto if you wish to further enhance your looks.