The 6 Best Commercial Cleaning Services in Toronto
Did you know that office desks can have 400 times more germs than toilet seats (National Center for Health Research)? That's why it's important to keep our workplaces spic and span.
That's where commercial cleaning services come in. These professionals offer different cleaning options, from daily maintenance and regular cleaning to deep cleaning.
Whether you're an office manager who values spotless boardrooms or a restaurateur who wants to keep their establishment safe and shiny for their regulars, here are the five best commercial cleaning services in Toronto that will sweep your worries away, one sparkling service at a time.
How We Chose
How much do commercial cleaning services cost in Toronto?
In Toronto, most commercial cleaning services charge $220 for a 2,000-square-foot office. The final cost will vary depending on the size and type of space, the frequency of cleanings, and the specific services required.
1. Ultraclean17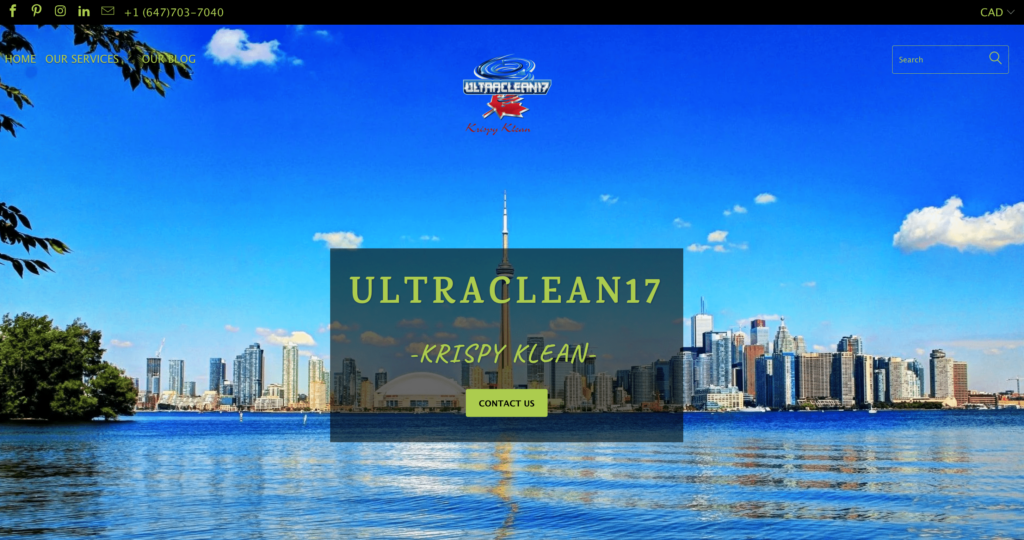 | Test | Info |
| --- | --- |
| WEBSITE | https://ultraclean17.com/ |
| ADDRESS | Toronto, ON, Canada |
| CONTACT DETAILS | +1(647)7037040 |
| OPERATING HOURS | Contact for more details |
Ultraclean17 is a prominent commercial office cleaning company in Toronto, offering a comprehensive range of services for various properties, including apartments, houses, condos, offices, hospitals, schools, clinics, banks, gyms, and public facilities.
Their approach involves a thorough consultation, a deep cleaning process, and ongoing maintenance to ensure the cleanliness and sanitation of the properties they service.
Ultraclean17 covers a wide spectrum of cleaning needs, from residential spaces to commercial and institutional properties. This versatility makes them a one-stop solution for clients with diverse cleaning requirements.
The initial consultation with a ten-point checklist is a standout feature. This deep dive allows Ultraclean17 to create a customized deep cleaning plan and establish a baseline for future maintenance.
The detailed planning sets a strong foundation for maintaining cleanliness over the long term.
The emphasis on deep cleaning as the first step is crucial for ensuring a sanitary environment. Depending on the property's usage, Ultraclean17 offers flexibility in scheduling additional deep cleans, whether quarterly, biannually, or yearly.
The tailored janitorial maintenance plans demonstrate a commitment to meeting specific client needs. With continuous monitoring and the ability to adapt plans to changing building demands, Ultraclean17 ensures that their services remain effective and relevant.
Comprehensive Services
Consultation and Planning
Deep Cleaning Expertise
Customized Maintenance Plans
Hard to Book During Peak Seasons
Left the place smelling wonderful
"UltraClean17 offers a variety of cleaning services, and is very respectful and was willing to work with me regarding my budget and my needs. I've known Giuseppe and his crew for over 2 years, and each time I've used their services, they've exceeded my expectations each and every time. They always came on time, respectful, AMAZING communication."
"We hired Ultraclean17 to clean our home after post renovation. Let me tell you that we could not be more happy with Giuseppe and his crew. The house was left meticulous, with no sign that the house was recently under renovations. Communication was excellent throughout, cleaning team included individuals with 30 years of experience , and scheduling was on time to ensure I could move in the next day. It is without hesitation that I would recommend this service to others."
2. Star Team Cleaning
| Test | Info |
| --- | --- |
| WEBSITE | https://starteamcleaning.com/ |
| ADDRESS | 505 Consumers Road, Suite 807, Toronto, ON, M2J 4V8 |
| SOCIAL MEDIA | INSTAGRAM |
| CONTACT DETAILS | (647) 772-4486 |
| OPERATING HOURS | Monday – Friday: 9:00 am – 5:00 pm |
Founded in 2001, Star Team Cleaning is a Canadian-owned cleaning company offering services across the Greater Toronto Area.
They've worked with clients like YMCA Canada, Bouygues Energies and Services, Access Alliance, The Big Carrot, Margaret Bahen Hospice, Mackenzie Health, and St. Louis Wings and Ribs.
Apart from basic cleaning, they specialize in custom cleaning services tailored to facilities with strict safety protocols. These include specialized disinfection and green cleaning practices to ensure a healthy and environmentally friendly cleaning approach.
Their cleaning staff are fully trained and certified in disinfection and green cleaning practices. They also ensure compliance with the Workplace Safety and Insurance Board (WSIB) guidelines.
They also conduct regular, unannounced inspections of clients' premises to assess cleanliness. While this may be a slight inconvenience, it allows Star Team to identify potential issues early on and take prompt corrective action.
Environment-friendly and hospital-grade disinfectants
$5M commercial liability insurance 
$10,000 security bond
24/7 service hours
Pricey custom cleaning package
Regular unannounced inspections
Made sure we were happy with the result
"I sent Starteam Cleaning an inquiry for a big commercial industrial cleaning, and was contacted very soon after. I was given a fair quote, and the team came the following weekend and did an incredible job. They were communicative through the entire cleaning and made sure we were happy with the result. Wonderful experience."
Ahmet Doğan, Google Review
We are very happy with everything
"The Star Team has been wonderful! Their customer service has been quick and friendly. The cleaning has never been better for our offices. They do a very thorough job and we are very happy with everything."
Katherine Reid, Google Review
3. Cleaning Matters Services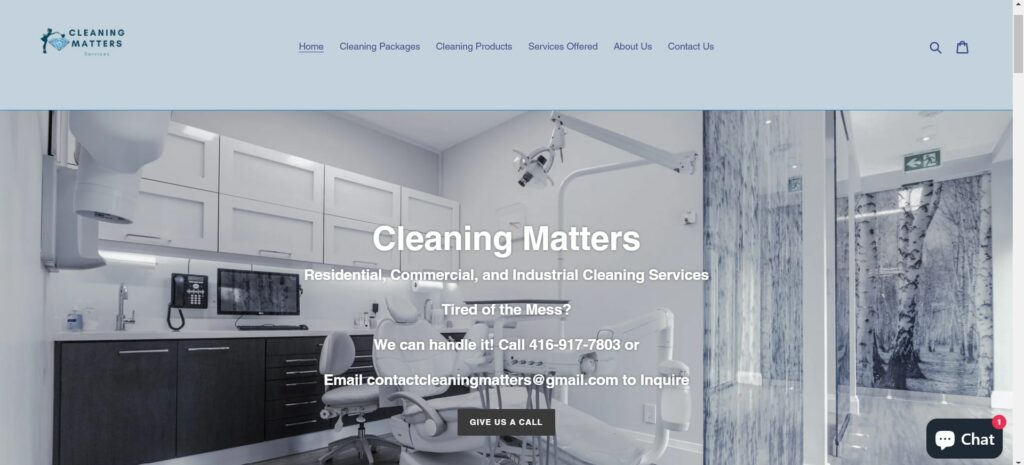 | Test | Info |
| --- | --- |
| WEBSITE | https://cleaningmatters.ca/ |
| ADDRESS | 2 Bloor St E Suite 3500, Toronto, ON M4W 1A8 |
| CONTACT DETAILS | (416) 917-7803 |
| OPERATING HOURS | Monday - Saturday: 6:00 a.m. – 8:00 p.m |
Established in 2003 as Decapolis Janitorial Services and now operating as Cleaning Matters Services, the company provides cleaning services in Toronto to residential, commercial, and industrial facilities.
They use eco-friendly and plant-based cleaning products that are effective, gentle on surfaces, and safe for families and employees.
Clients can take advantage of their monthly service packages, which include one light cleaning and one deep cleaning each week.
The company also makes the appointment booking process smooth and hassle-free through advance communication via phone or email.
Acknowledging that emergencies can arise, they also welcome last-minute appointment requests to provide immediate assistance when needed.
They also provide full insurance coverage and security bonds, so clients can be protected from possible damage or loss during the service.
Moreover, if you need to transfer your subscription, they simplify the process, making it easy for clients to transition their cleaning services to a new location.
Multiple payment options
Transferable subscription
Accepts last-minute appointment requests
Insured and security-bonded
Uses eco-friendly and plant-based cleaning products
Can only be contacted via phone and email
Left the place smelling wonderful
"Amazing service! We had a last minute deep-clean request and she made it work with our schedule. Great attention to detail and left the place smelling wonderful. She took the time to really do the bathroom and kitchen, much appreciated! Will be recommending in the future."
Kelsey Ann Canning, Google Review
The 3rd time I recommended her services
"From start to finish Reena did a fantastic job. The quality of work is amazing and her attention to detail is great. Very professional, courteous and this the 3rd time I recommended her services and she's never failed to deliver nothing short of 5* service. Highly recommend."
Adil Imam, Google Review
4. Whiterose Janitorial Services Ltd.
| Test | Info |
| --- | --- |
| WEBSITE | https://whiterosejanitorial.com/ |
| ADDRESS | 65 Wellesley Street East, Suite 400 Toronto, Ontario, M4Y 1G7 |
| SOCIAL MEDIA | INSTAGRAM |
| CONTACT DETAILS | (416) 850-9676 |
| OPERATING HOURS | Monday - Friday, 9:00 am - 5:00 pm |
Established in 1986 by Albert Crimi, Whiterose Janitorial Services Toronto is a family-owned company. They boast a clientele of over 1,000 satisfied customers, including prestigious establishments such as Eau de Soleil, One Bloor, and Maple Leaf Square.
They provide cleaning and janitorial services to a wide range of settings, including multi-residential and commercial facilities, apartment complexes, and office buildings.
Furthermore, their affiliations with ContractorCheck, the Association of Condominium Managers of Ontario (ACMO), and the Canadian Condominium Institute (CCI) ensure that their services consistently meet the highest industry standards.
Whiterose Janitorial Services Toronto also offers a green program designed to minimize the release of toxic chemicals within facilities. This program not only ensures a healthier environment but also reduces the risk of respiratory and allergic reactions.
Free online quote
Eco-friendly cleaning products
Regular quality control inspections
Went above and beyond
"Hi! I wanted to share my thoughts on your company and staff. Working with your staff has been nothing less than spectacular, your team finished the job perfectly. l would like to share I had specific needs that I needed met and your team did exactly that, Johanna went above and beyond to ensure every detail needed was done. Great experience working with your organization.!"
Handled my belongings with care
"I recently experienced the exceptional services of Exquisite Cleaners, and they have set a new standard for cleaning services. From scheduling to completion, their professionalism and attention to detail were remarkable. The team arrived on time, worked diligently, and left no corner untouched. They handled my belongings with care, and the results were astonishing. With transparent pricing, Exquisite Cleaners has earned my trust and loyalty. Highly recommended for an unparalleled cleaning experience! Thank you Soraya for Exquisite Cleaners"
Sheheryar Shaikh, Google Review
5. JAN-PRO Commercial Cleaning Services
| Test | Info |
| --- | --- |
| WEBSITE | https://jan-pro.ca/ |
| ADDRESS | 1050 McNicoll Ave #1, Scarborough, ON M1W 2L8, Canada |
| SOCIAL MEDIA | FACEBOOK |
| CONTACT DETAILS | (416) 291-8405 |
| OPERATING HOURS | Monday - Friday, 8:30 am - 5:00 pm |
Jan-Pro Canada was founded in 1995 by Jean Roberge in Quebec City. Since its inception, it has grown to become one of Canada's leading commercial cleaning companies, boasting over 20 offices across the country.
Whether it's regular maintenance or specialized services, they conduct pre- and post-service quality inspections, leaving no room for compromise.
Additionally, they use Enviroshield disinfection technology, which ensures a germ-free and hygienic environment for workplaces. They employ color-coded microfiber cloths to prevent cross-contamination, use HEPA filter backpack vacuums for thorough cleaning, and adhere to green cleaning practices to minimize their environmental impact.
They've earned accolades, including Entrepreneur Magazine's No. 1 cleaning franchise for 15 consecutive years and recognition as one of Be The Boss.ca Canada's Top 100 Franchises in 2020.
Multiple servicing locations all over Canada
Pre and post-service quality inspection
Friendly staff
Some complaints of missed cleaning appointments
Pricier cleaning packages than competitors 
They never missed my phone calls
"I had a great time with Jan Pro customer services, Jan Pro has an excellent customer services, I called Jan Pro customer services many times and they never missed my phone calls. Jan Pro customer services are very hardworking and they always speak in a kind gentle voice. I hope that the Jan Pro owner will take good care of the employee's more then they do now. Thank you for the good customer services"
Saw Naing, Google Review
Non-hassle cleaning service
"I really like the non-hassle cleaning service that Jan-pro has provided. We are an orthodontic office and we have been a client for over 1 year. I don't need to worry about mops, brooms, chemicals…only garbage bags. I have been very satisfied with the cleaning team and the email communications with the head office. I would definitely refer them to other offices."
BHO Recruitment, Google Review
6. Avid Commercial Cleaners
| Test | Info |
| --- | --- |
| WEBSITE | https://avidcleaners.ca/ |
| ADDRESS | 2967 Dundas St W #1145, Toronto, ON M6P 1Z2, Canada |
| SOCIAL MEDIA | INSTAGRAM |
| CONTACT DETAILS | (647) 938-6251 |
| OPERATING HOURS | Monday - Friday: 9:00 am - 6:00 pm |
Friends Janeth Penafiel, Eddie Fernandez, and Stacy Low drew on their strong background in the hotel industry and established Avid Cleaners.
They offer an extensive range of services, including standard, deep cleaning, and custom cleaning packages.
Additionally, the company provides specialized cleaning services, such as professional space decluttering and organizing, oven and microwave cleaning, refrigerator cleaning and maintenance, and linen change.
Their professional staff exclusively utilizes unique, eco-friendly sanitization products from Ecolab. Moreover, these products are Green Seal Certified and approved by Health Canada, guaranteeing effective yet environmentally friendly cleaning.
With their flexible service hours, Avid Cleaners can adjust their cleaning schedule to fit seamlessly into clients' busy lives, whether clients prefer early mornings, evenings, or weekends.
Contactless payment options
Flexible service hours
Eco-friendly cleaning solutions
Fairly new to the industry compared to competitors
Missing cleaning packages
Every surface was sparkling and dust-free
"Stacy and her team did a wonderful job cleaning our home. After a major renovation we had dust, dirt, sawdust, and cobwebs all over the place. Stacy and her team tackled every nook and cranny to ensure every surface was sparkling and dust-free by the time they left. What made the whole experience especially positive was the amazing communication throughout our partnership. Stacy was prompt to respond to all calls and texts, provided a detailed quote and overview of what I could expect, and was so flexible and adaptable to some last-minute plumbing issues I encountered. I highly recommend Stacy and the Avid Cleaning crew!"
Kaitlyn Pacheco, Google Review
Made us feel so much safer
"Just had a baby during COVID-19 and had my place disinfected and cleaned after some renovations before bringing the little one home. Avid Commercial Cleaners were very professional and used an electrostatic spray with a all natural bacteria/virus killer. It just made us feel so much safer bringing our little one home. I definitely recommend their services."
Alessandra Reid, Google Review
---