A Comprehensive Guide to Toronto's Financial District
Known as a major economic driver for Toronto and Canada, the Financial District is home to the Toronto Stock Exchange. It's the third-largest stock exchange in North America, next only to the New York Stock Exchange and Nasdaq.
Visiting Toronto's Financial District soon? We'll tell you everything you need to know to make sure your trip is convenient and memorable.
A Comprehensive Guide to Toronto's Financial District
Time Zone
Eastern Daylight Time (GMT-4)
Best Time to Go
If you want to see how the Financial District runs during busy hours, go on a weekday between 9:00 AM and 5:00 PM. The streets will be full of people, and most establishments will be open.
To avoid crowds, go on a weekend or in the evening and see how bright the district can get. The buildings are beautiful, and you'll see fewer people on the streets.
The weather is generally mild and predictable year-round except during winter when it can get chilly with snowfall.
Things to Know
Currency: Canadian Dollar
(Check the current exchange rate)
Languages: English
Calling Code: +1
Where is Toronto's Financial District?
Located in the city's downtown core, Toronto's Financial District is bounded roughly by Queen Street West, Yonge Street, Front Street, and University Avenue. Some of its office towers are outside this area, extending the general boundaries.
Here's a map of the busy district and its surrounding area: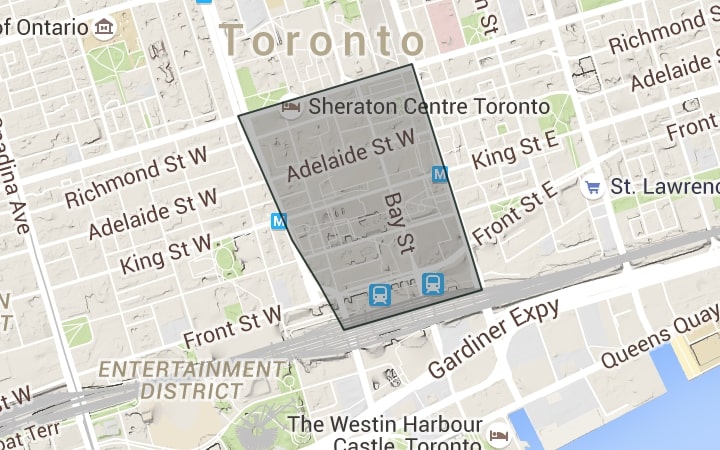 How to Get There
— From: @papershadow
Train: The TTC (Toronto Transit Commission) operates a number of subway lines that serve the Financial District. The closest subway stations are King and Union stations.
Streetcar: You can take various streetcars, such as the 504 King, 506 Carlton, and 510 Spadina to enter the district.
Bus: You can take the bus and embark on Yonge and Wellington or Yonge and King.
Car: The district is accessible via Bay Street. However, parking spots can be expensive and difficult to find, especially during peak hours.
Taxis: Taxis and ride-hailing services are also abundant in the city. Just find them on the road or through apps like Uber, Lyft, Bolt, InDriver, or Beck Taxi.
Where to Stay in the Financial District
One King West Hotel & Residence
Address: 1 King St W, Toronto, ON M5H 1A1
Phone: 416-548-8100
Pricing: $$$
One King West Hotel & Residence is a luxury boutique hotel located in the heart of downtown Toronto. It's housed in two buildings: the historic Dominion Bank Building, built in 1914, and the modern "Sliver" condo tower, built in 2004.
The hotel has a fitness centre, a rooftop pool, a business centre, and other amenities. It has consistently ranked as one of the best hotels in Toronto, winning numerous awards and earning 5-star ratings.
Fairmont Royal York
Address: 100 Front St W, Toronto, ON M5J 1E3
Phone: 416-368-2511
Pricing: $$$
Known as one of the most iconic hotels in the city, the Fairmont Royal York is a 5-star hotel that opened in 1929 and continues to be a popular choice for notable celebrities and dignitaries.
The hotel has been featured in several iconic movies and television shows like The Godfather and Suits. Some of its notable guests in the past include Queen Elizabeth II, John F. Kennedy, and Muhammad Ali.
Hilton
Address: 145 Richmond St W, Toronto, ON M5H 2L2
Phone: 416-869-3456
Pricing: $$$
Hilton Toronto is one of the three Hilton hotels in the area, located close to popular tourist spots like the CN Tower and the Royal Ontario Museum. It's the most luxurious among the three, with a rooftop pool that showcases stunning views of the city.
Housing 489 guest rooms, the hotel also has an indoor pool, a fitness centre, a business centre, and a spa. It also has several options for dining and drinking.
What to Do in the Financial District
Visit the Toronto Stock Exchange
— From: @jonas_carbon
Address: 100 Adelaide St. West Toronto, ON M5H 1S3
Phone: 403 218-2800
Currently owned and operated by TMX Group Limited, the Toronto Stock Exchange (TSX) was founded in 1861. Visitors can observe the trading floor and watch traders in action from a viewing gallery.
With shares of over 2,500 companies, the most heavily traded stocks on the exchange are those of banks, energy companies, and telecommunication companies.
Learn about the history of ice hockey at the Hockey Hall of Fame
— From: @frankvonwelt
Address: 30 Yonge St, Toronto, ON M5E 1X8
Phone: 416-360-7765
The Hockey Hall of Fame is a museum dedicated to the history of ice hockey. It was established in 1943 and had its first members inducted in 1945.
It honours players and teams that made significant contributions to the sport, especially the NHL.
It currently has over 60,000 artefacts in its collection, including iconic jerseys, sticks, trophies, and photographs. It's a popular tourist destination, attracting over 300,000 visitors every year.
Observe the city from above at the CN Tower
Address: 290 Bremner Blvd, Toronto, ON M5V 3L9
Phone: 416-868-6937
The CN Tower is a 553.3-metre concrete communications and observation tower built by Canadian National, a railway company, in 1973. It was the world's tallest free-standing structure for 32 years until it was surpassed by the Burj Khalifa in 2007.
It has over 2 million visitors each year and is popular for its three observation decks: the main observation deck at 342 metres; the SkyPod at 447 metres; and the EdgeWalk, a glass-floored observation deck, at 356 metres.
Interact with sea creatures at Ripley's Aquarium of Canada
Address: 288 Bremner Blvd, Toronto, ON M5V 3L9
Phone: 647-351-3474
Just southeast of the CN Tower is Ripley's Aquarium of Canada. Owned by Ripley Entertainment, it opened in 2013 and features over 16,000 animals with over 450 different species.
It's a great place for families to learn about marine life. The aquarium consists of galleries and interactive exhibits where people can observe and interact with captivating sea creatures.
Where to Eat in the Financial District
Richmond Station
— From: @kitchenmay
Address: 1 Richmond St W, Toronto, ON M5H 3W4
Phone: 647-748-1444
Pricing: $$$
Co-owned by a Top Chef Canada winner, Richmond Station offers a weekly menu of seasonal cuisine. Their signature dishes include classics like roasted duck, grilled salmon, and steak frites.
It's a popular spot for locals and tourists thanks to their amazing food and the place's lively atmosphere. The restaurant also has a wide selection of craft beers and cocktails.
Canoe
Address: 66 Wellington St W 54th floor, Toronto, ON M5K 1H6
Phone: 416-364-0054
Pricing: $$$$
Canoe is a fine dining restaurant known for its stunning views of the city, its innovative Canadian cuisine, and its impeccable service. It's always packed with people and has been a Toronto staple since 1993.
Their menu changes seasonally and their dishes are made with fresh local ingredients. The restaurant also has an extensive wine collection, with over 1,000 wines from around the world.
Kupfert & Kim
— From: @betterwfood
Address: First Canadian Place, Concourse Level, 100 King St W, Toronto, ON M5X 1C7
Phone: 416-504-1233
Pricing: $$
A vegan quick-service restaurant founded by David Kupfert and Michael Kim, Kupfert & Kim is known for its healthy plant-based cuisine. Their food is generally affordable with a menu comprised of salads, grain bowls, wraps, and smoothies.
They are popular for their easy-to-eat nutritious dishes like the Buddha Bowl, Power Bowl, and Green Goddess Wrap. The restaurant is open for lunch and dinner, but it's also a popular spot for breakfast.
Chef's Hall
— From: @tastetoronto
Address: 111 Richmond St W, Toronto, ON M5H 2G4
Phone: 416-300-9081
Pricing: $$
Chef's Hall is a food hall, a fancier food court, that offers a unique dining experience with around 15 different vendors. It's an excellent place for people who want to try various cuisines, such as Indian, Mexican, Japanese, and Italian, in one place.
Some of the food vendors featured in the hall include Brochettes Nomades, Charcoal Biryani, Colibri, Grandma Loves You, Grateful Chicken, and Osteria Scossa. The food hall is open daily from 7:30 AM – 10:00 PM.
Where to Drink in the Financial District
Walrus Pub & Beer Hall
Address: 187 Bay St., Toronto, ON M5L 1G5
Phone: 416-363-7261
Pricing: $$
Known for its upscale pub fare, Walrus Pub & Beer Hall is a modern pub that offers an extensive selection of beers on tap and signature cocktails, such as the Walrus Old Fashioned and the Walrus Margarita.
It's owned by the Donnelly Group, a hospitality company that owns and operates several restaurants and bars in Toronto. They also serve classic pub food, like burgers, pizzas, and poutine.
CKTL & Co.
Address: 330 Bay St., Toronto, ON M5J 0B6, Canada
Phone: 416-363-3558
Pricing: $$$
A stock market-themed bar and cocktail lounge, CTKL & Co. is known for its unique menu that simulates the stock market. This means their prices fluctuate based on supply and demand.
Their Stock Market Burger, for instance, is made with a beef patty that is priced based on the current market value of beef. They also have various signature cocktails with themed names like The Big Short and The Flash Crash.
Clockwork
Address: 100 Front St W, Toronto, ON M5J 1E3
Phone: 416-368-2511
Pricing: $$
Clockwork is a champagne and cocktail bar that features over 100 different champagnes and several signature cocktails made with fresh seasonal ingredients. It's a sophisticated place to enjoy great drinks and an elegant atmosphere.
The bar is located in the Fairmont Royal York Hotel and is open daily from 4:00 PM to 1:00 AM. They also have a selection of small plates, such as charcuterie, cheese, and oysters.
Beerbistro
— From: @itsjstevens
Address: 18 King St E, Toronto, ON M5C 1C4
Phone: 416-861-9872
Pricing: $$
Beerbistro is a craft beer restaurant that features over 120 beers on tap and a diverse selection of bottled beers. It's known for its bistro-style menu and casual atmosphere perfect for meeting up with friends.
They've been around since 2009 and have hosted the annual Golden Tap Awards many times since. The restaurant also goes all out during Oktoberfest and is often filled with customers looking for the best beers in the city.
FAQs on Toronto's Financial District