20 Free Things To Do in Toronto During Winter
During winter, Toronto turns into a lively snow paradise bursting with festive spirit! The city never runs out of cool events, fun activities, and holiday festivities for everyone to enjoy for free.
If you're on a budget or just looking to have some fun without having to spend some money, here are the best free things to do in Toronto during winter.
20 Free Things To Do in Toronto During Winter
1. Skate your heart out at Nathan Phillips Square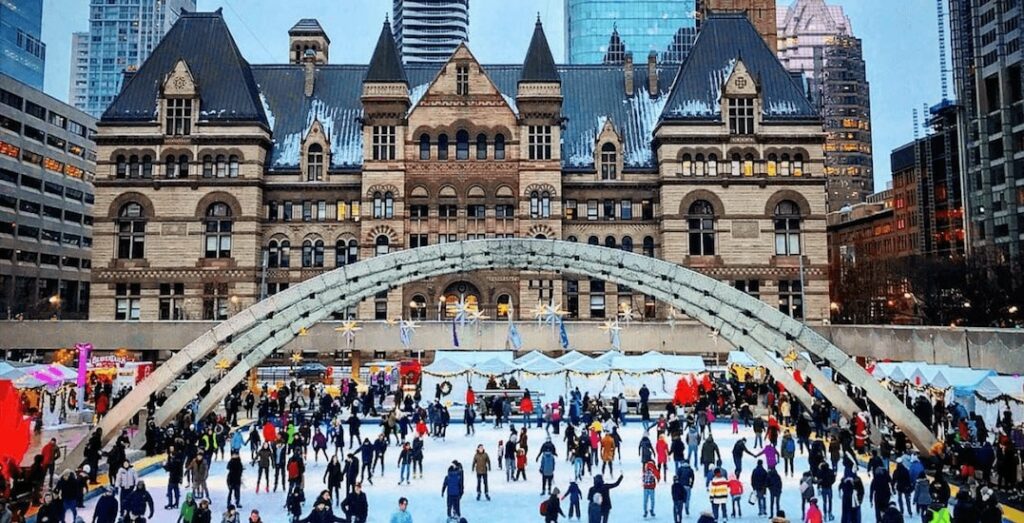 Address: 100 Queen St W, Toronto, ON M5H 2N1, Canada
Nathan Phillips Square is known for its beautiful fountain but come winter, this fountain transforms into a popular ice skating rink! It's a fun place to go skating for free – so long as you bring your own skates, of course!
We love how the rink is decked with bright and beautiful lights that cover the whole area. With a DJ playing some lively beats, it's not hard to party the day – or night – away here!
Pro tip:
Bring your phones with you while skating in the rink. It's the only way to snap a photo of the Toronto sign without the water fountain in the background, and a cool way to add more emphasis to the iconic sign in your shot.
2. Hike at Rouge Park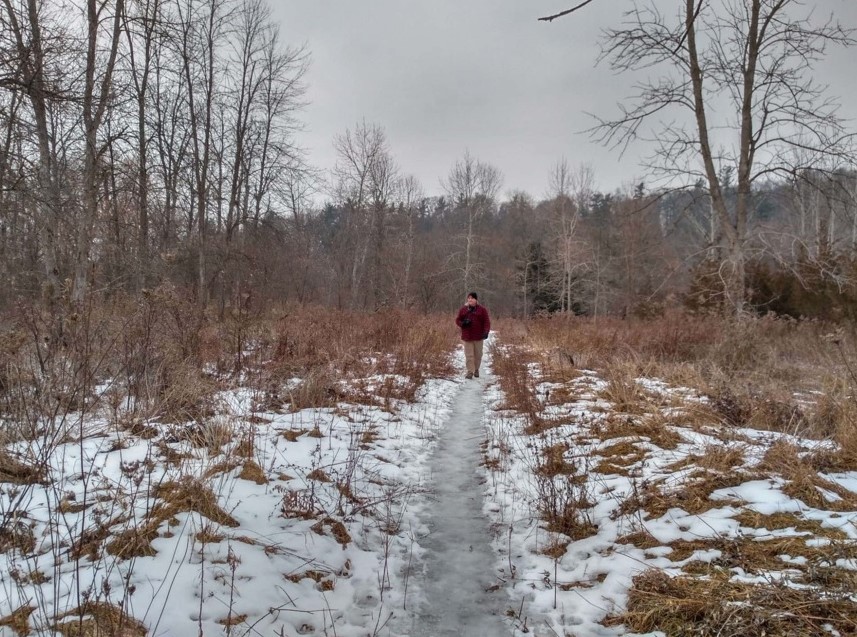 Address: 749 Meadowvale Rd, Toronto, ON M1B 5W8, Canada
When it comes to taking in the cold breeze of Toronto's winter, there's no place to do it like Rogue Park.
The park has 13 different scenic trails to explore, which lead to farms, camping grounds, and several interesting indigenous sites. The trails are quite long, making them perfect for a cold and relaxing stroll in the winter as you walk by lovely wildlife and trees.
Pro tip:
One of the trails we recommend is the Vista Trail. This scenic route leads to a two-level platform offering captivating views of Toronto's nature-rich valleys.
3. Explore Toronto's wilderness at Don Valley Brick Works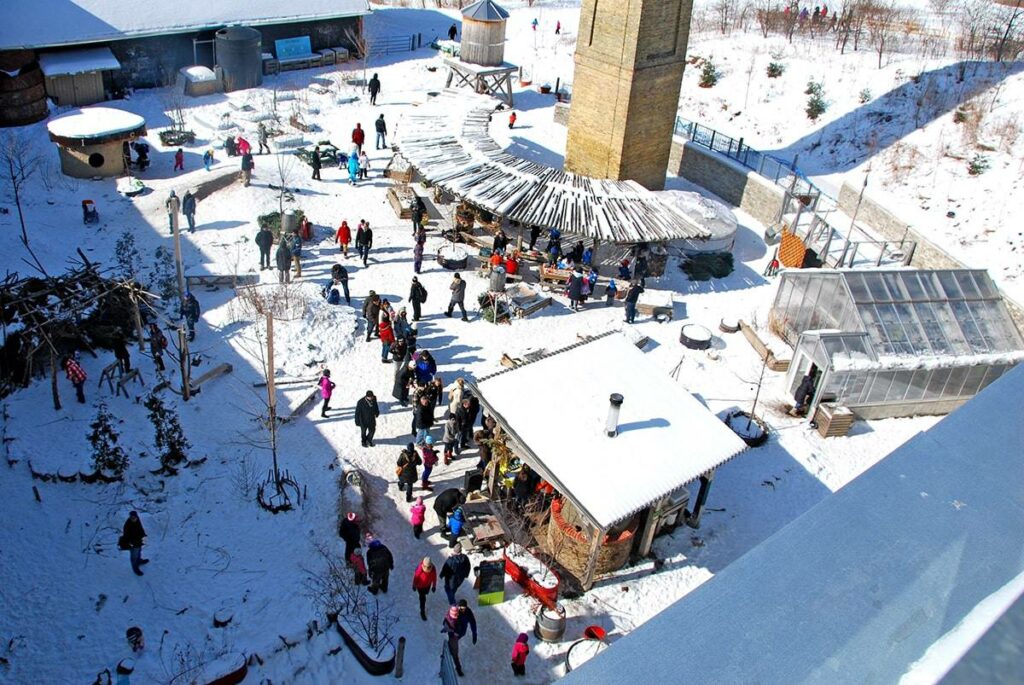 Address: 550 Bayview Ave, Toronto, ON M4W 3X8, Canada
If you're looking to explore nature while avoiding extremely long trails, then head to Don Valley Brick Works. Also known as Evergreen Brickworks, this green oasis is situated in the city and it's filled with public art, nature-filled vistas, and short scenic trails!
We enjoy admiring the scenic views of the Don Valley, especially during winter when the valley's river is clad in snow! We also love the park's cute indoor ice skating rink, which is ripe with green shrubs – oh, and by the way, you can even skate for free!
Pro tip:
After having a fun stroll in the park and going ice skating, you should check out the Saturday farmers' market!
4. Go for a fun skate under the Gardiner bridge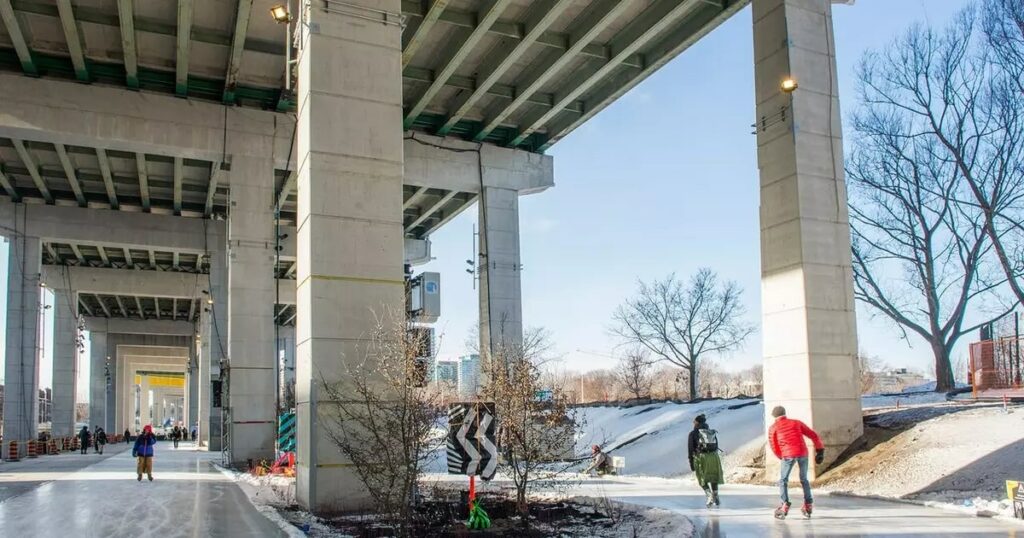 Address: Gardiner Expressway, Toronto, ON, Canada
If you want to avoid huge crowds of skaters in Nathan Phillips Square, then head over to Gardiner bridge for the next best thing! Right under the bridge is one of the most low-key and charming spots to have a free ice skating session in the city.
It's one of the most charming places to go ice skating in Toronto, with winding paths that offer a better view of the bridge's interesting architecture! Aside from that, it's also incredibly scenic as towering skyscrapers and buildings surround you as you skate.
Pro tip:
Snap a picture of the Bentway Trail in all its winter glory! Normally the Bentway Trail right under the bridge is quite dull, but it's one of the most scenic places during winter with its "winter wonderland" aesthetic and calm vibe.
5. Spend your Wednesday at the Art Gallery of Ontario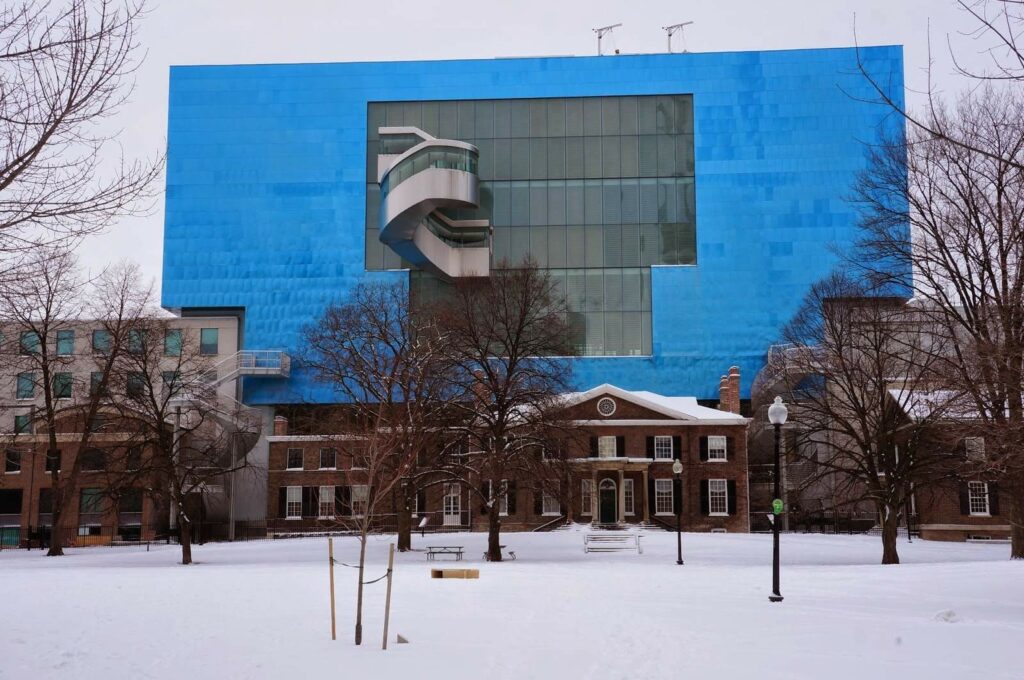 Address: 317 Dundas St W, Toronto, ON M5T 1G4, Canada
Operating Hours:
Monday: 10:30 AM – 4:00 PM
Tuesday: 10:30 AM – 5:00 PM
Wednesday – Friday: 10:30 AM – 9:00 PM
Saturday – Sunday: 10:30 AM – 5:30 PM
We love visiting the Art Gallery of Ontario, but visiting it for free is even better. The gallery allows free entry every Wednesday night, allowing you to check out all their exhibits and galleries from 6:00 to 9:00 PM!
The gallery houses over 95,000 works and artefacts, leaving you with lots to see as you walk through several exhibits.
Pro tip:
We recommend checking out the Steam: Impressionist Painting Across The Atlantic exhibit. This cool section is filled with impressive impressionist paintings that depict boats and vessels by Canadian artists from the early 20th century.
6. Admire the cool sculptures at the annual Icefest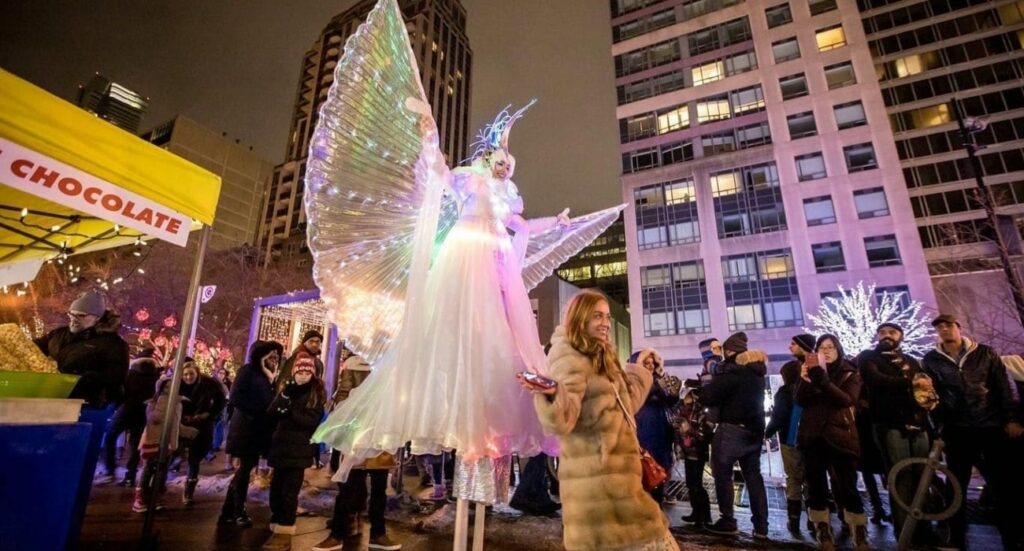 Address: 115 Cumberland St, Toronto, ON M5S 2W7, Canada
As if Toronto couldn't get any cooler, the annual Icefest is filled with amazing ice sculptures worth seeing. It's one of the best free winter events in Toronto, with its giant detailed ice sculptures that are elegantly displayed on every street around Yorkville.
This fun event has 40 unique ice sculptures, from fun characters like Pegasus to a huge Kraken-like Octopus throughout Yorkville!
Pro tip:
Check out the Melancholic Mermaid and the Etheric Pegasus, which take inspiration from Greek mythology. They're also light enhanced, so expect them to change colours!
7. Go on a fun walk around Harbourfront Centre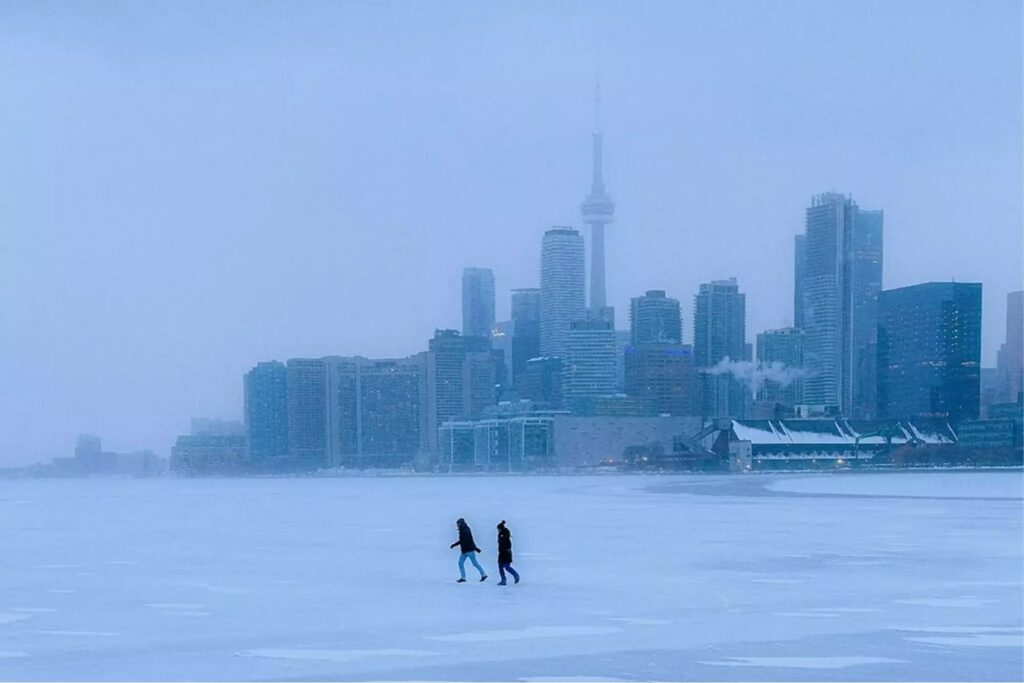 Address: 235 Queens Quay W, Toronto, ON M5J 2G8, Canada
As winter sets in, the Harbourfront Centre's urban scenery changes into a charming winter wonderland, making it a fun place to walk around and sightsee!
From here, you can see landmarks like the CN Tower, which are beautifully draped in snow. It would also be hard to ignore the frozen ice sheets on Lake Ontario that make the Harbourfront feel like a completely different place!
Pro tip:
If you're a daredevil, you can actually walk across the frozen lake! We've also seen some people go ice skating here as well.
8. Indulge your green thumb at Toronto Botanical Garden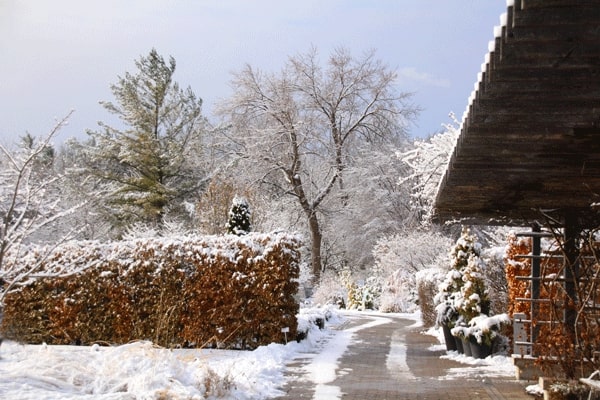 Address: 777 Lawrence Ave E, Toronto, ON M3C 1P2, Canada
If the chilly winter nights are making your inner plant head sad, head to Toronto Botanical Garden! Despite freezing cold temperatures, this botanical garden is packed with tons of plants and trees.
The garden has one of the most picturesque scenery during winter, with its sprouting red berries and huge conifers covered in layers of snow.
Pro tip:
Don't miss checking out the Monkshood! This beautiful deep purple flower starts blooming in time for winter during late November.
9. Go tobogganing with family and friends at Bickford Park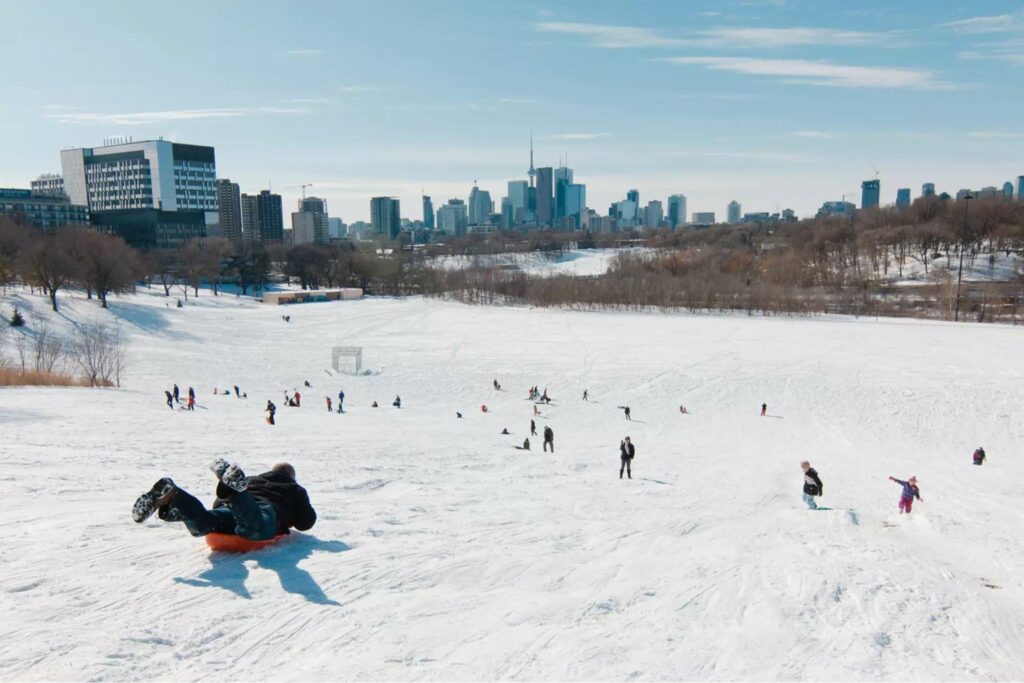 Address: 400 Grace Street, Toronto
Although there are tons of places to go tobogganing with family and friends, we recommend Bickford Park for its tranquil environment and huge hills!
Bickford Park has 3 tobogganing hills to choose from and each one has a different height, which gives you different speeds. We love tobogganing here because the park is secluded, allowing you to fully enjoy the activity without worrying about crowds.
Pro tip:
After a busy afternoon of tobogganing, we recommend unwinding in one of the park's many benches. It's so peaceful here!
10. Try some sweets at Sugar Shack TO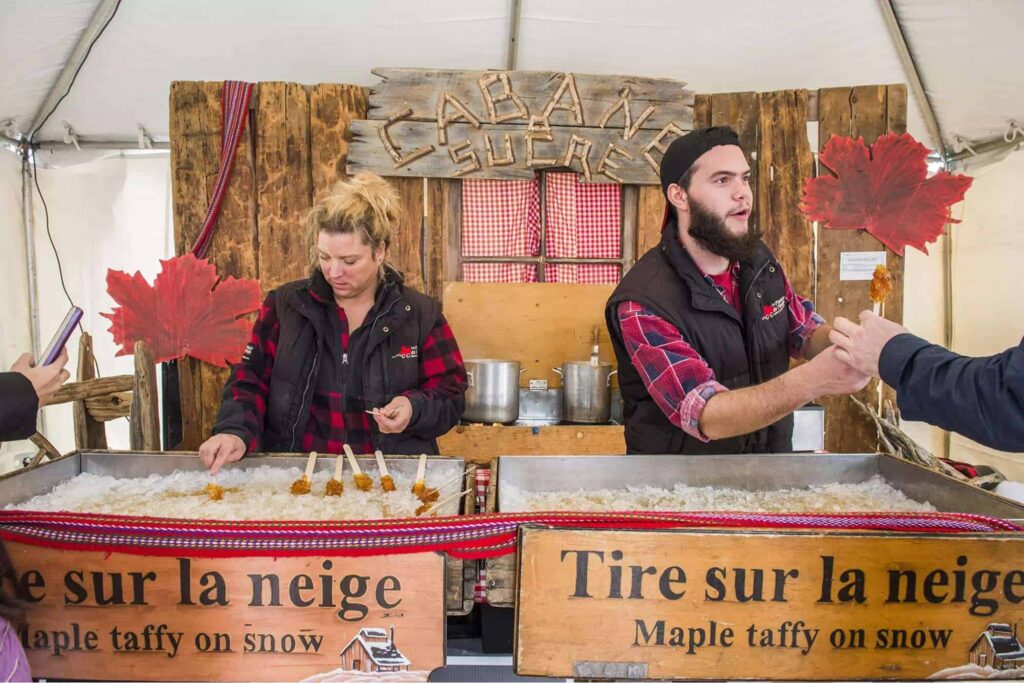 Address: Sugar Beach, 11 Dockside Drive, Lower Jarvis and Queens Quay
If you're a sweet tooth, don't miss trying out free sweets at Sugar Shack TO, known for its wide range of locally made sweets and maple syrup samples.
Everything is made with silky maple syrup, like the famous maple taffy and maple fudge. While you do have to pay for a regular serving, there's tons of tasty free samples like the maple chicken bao buns and maple baked beans.
Pro tip:
After you're done stuffing yourself with free samples, we recommend a relaxing stroll at Sugar Beach, where you can unwind and take in the beautiful waterfront!
11. Spend a fun weekday at Toronto Christmas Market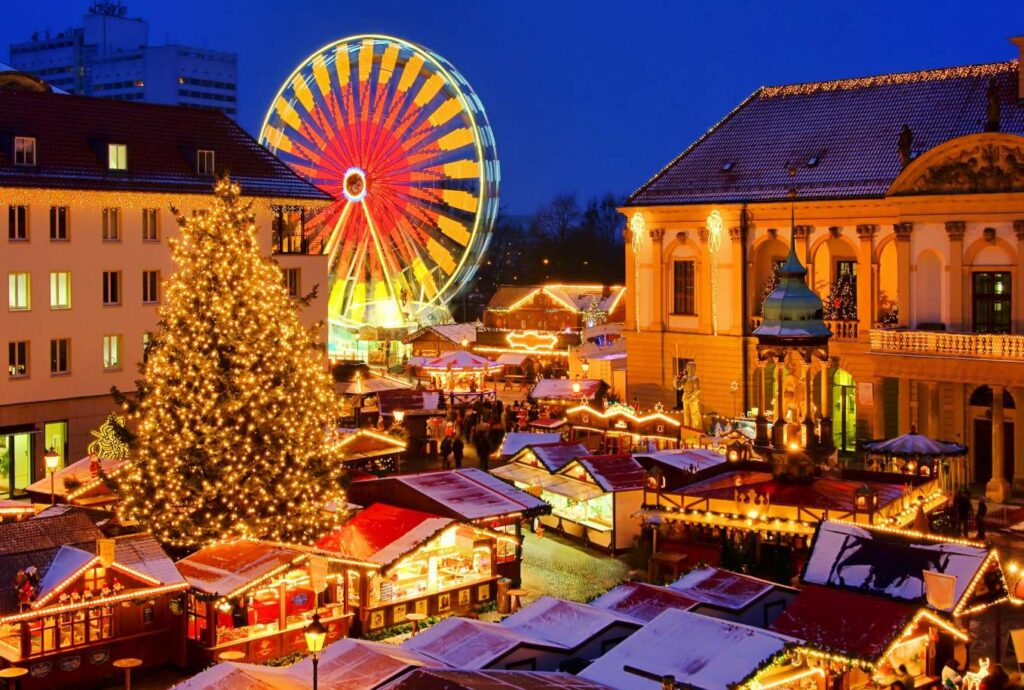 Address: 55 Mill St, Toronto, ON M5A 3C4, Canada
The Toronto Christmas Market is a popular shopping event that's free to enter on weekdays.
With stores selling mouth-blown glass and wood carvings, it's a fun place to go window-shopping for odd and entertaining trinkets! There are also lots of food stalls offering delicious free samples of turkey legs worth tasting.
Pro tip:
Go to the market at night when the Distillery district's historic buildings and cobblestone streets are illuminated by warm lights. It's a great way to capture the tranquil scenery of the district.
12. Join the Cavalcade of Lights at Nathan Phillips Square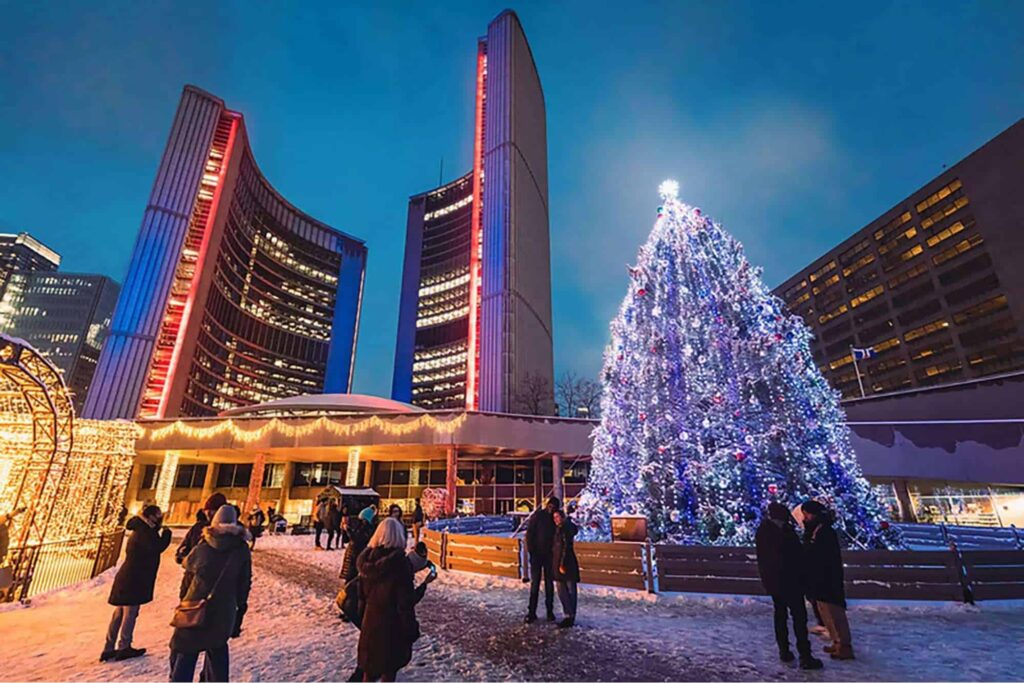 Address: 100 Queen St W, Toronto, ON M5H 2N2, Canada
One of the best free things you can do in Toronto is joining the Cavalcade of Lights celebration at Nathan Phillips Square. This annual event marks the beginning of the Christmas season in Toronto with the lighting of an incredible 60-foot Christmas tree!
There's also a flamboyant fireworks display that lights up the sky with holiday colours! You can also enjoy the lively atmosphere of the place as you stroll around brightly-lit walkways while witnessing live musical performances.
Pro tip:
Don't miss the 4 arches placed in the square. They're a real sight to see with purple, blue, and white lights illuminating its surroundings – it's a scenic sight that also makes for awesome photos.
13. Join in on the fun at the Holiday Magic Event at Yorkville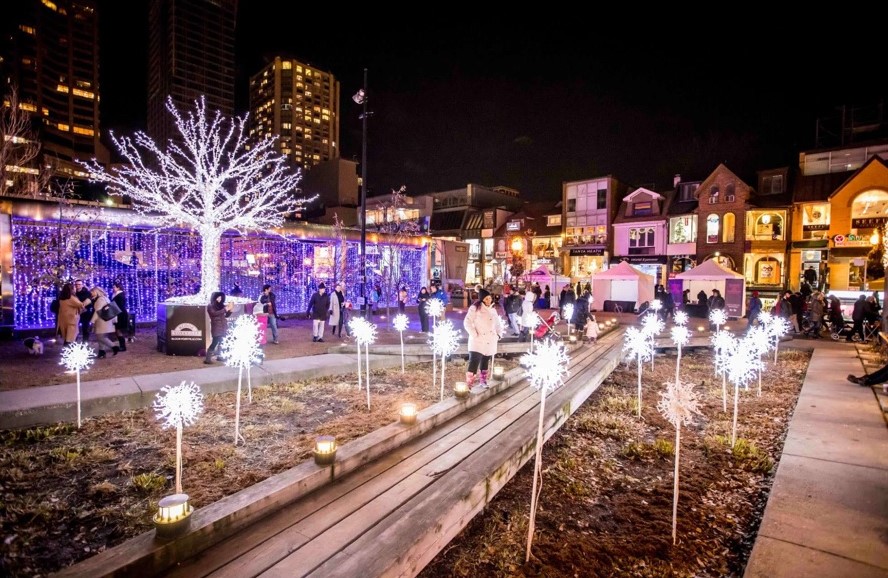 Address: 115 Cumberland St, Toronto, ON M5S 2W7, Canada
Yorkville is generally known as an upscale shopping destination; but in the winter, it's home to the Holiday Magic event. Featuring free concerts and live performances, this annual event is one of the best places to feel the holiday spirit.
During this event, Yorkville is decorated with bright and colourful Christmas lights that line the streets, which is quite a sight! It's a fun place to take a stroll as you listen to live music or enjoy watching carollers singing some classic tunes.
Pro tip:
One of the must-see things at this annual event is the tree lighting ceremony. As one of the most anticipated segments of the event, it's where you can see a huge Christmas tree light up and illuminate the night sky!
14. Attend the Santa Claus Parade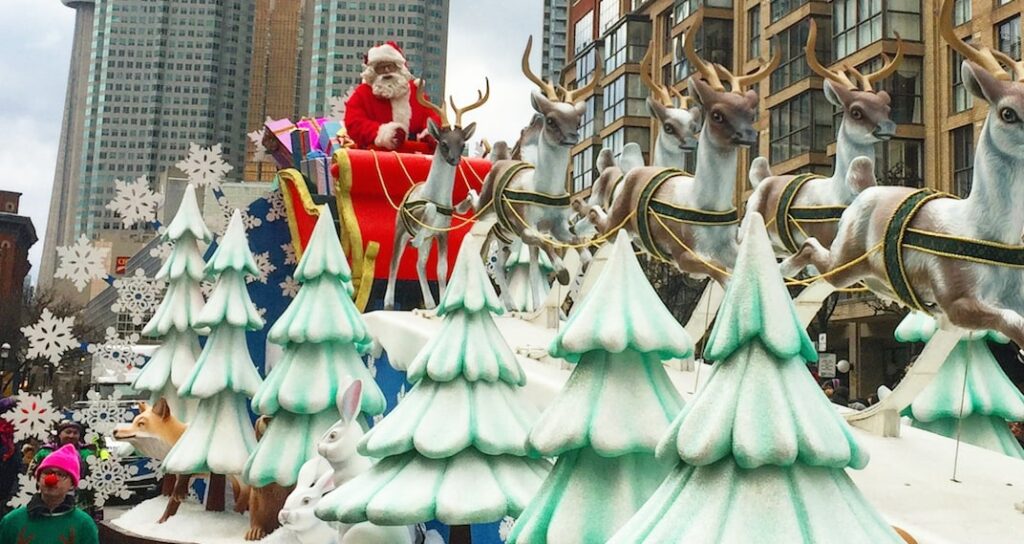 Address: 750 Bloor St W, Toronto, ON M6G 3K4, Canada
Thee Santa Claus Parade is a Toronto tradition. This annual winter celebration is one of the most anticipated events in the city, drawing in huge crowds of families and friends since 1905!
The parade is as festive as it gets, with Christmas themed mascots like Santa Claus marching by. There's even a cool marching band dressed in uniform that plays holiday music, which makes the atmosphere even more lively.
Pro tip:
The parade also features several cool characters like Santa's little helpers, Rudolph the red nosed reindeer, and Mrs. Claus. There are also beautiful floats that are captivating to look at as they soar above the sky.
15. Go people-watching at St. Lawrence Market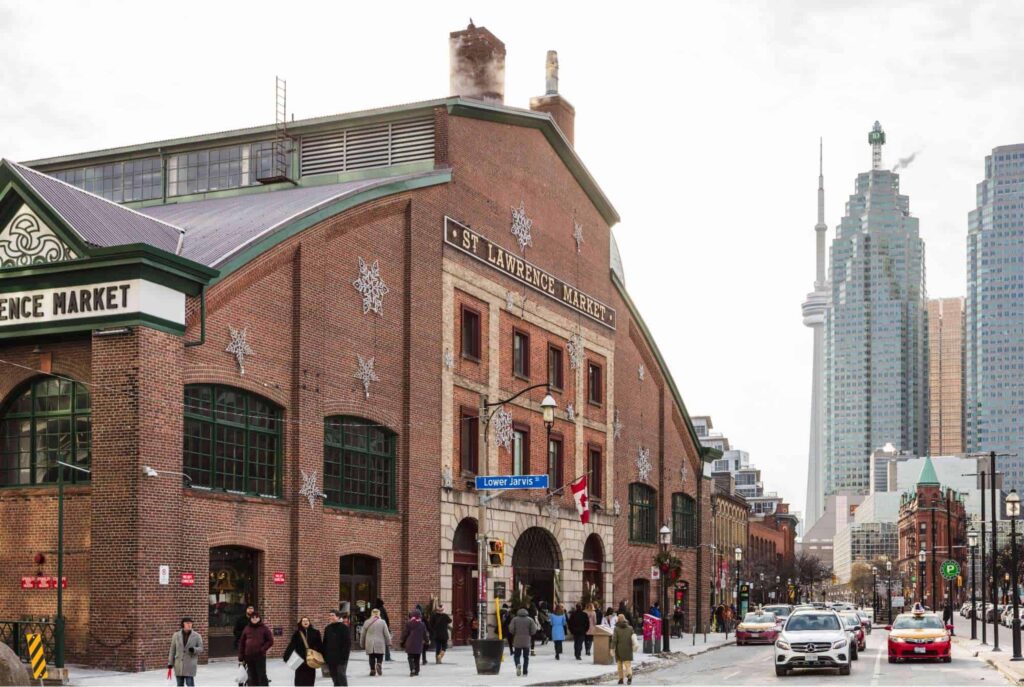 Address: Toronto, ON M5E 1C3, Canada
Operating hours:
Monday: Closed
Tuesday – Saturday: 9:00AM – 7:00PM
Sunday: 10:00AM – 5:00PM
If you're looking for something fun to do without too much effort, we recommend people-watching in St. Lawrence Market! It's one of the best ways to pause and enjoy the energetic and bustling market culture during the festive season.
Pro tip:
If you get bored of people-watching, you can always head to the outside market and snap some cool photos of the market, which is particularly beautiful in the winter as it's decked with huge decorations.
16. Check out the lights at Light Up The Dark at Aga Khan Museum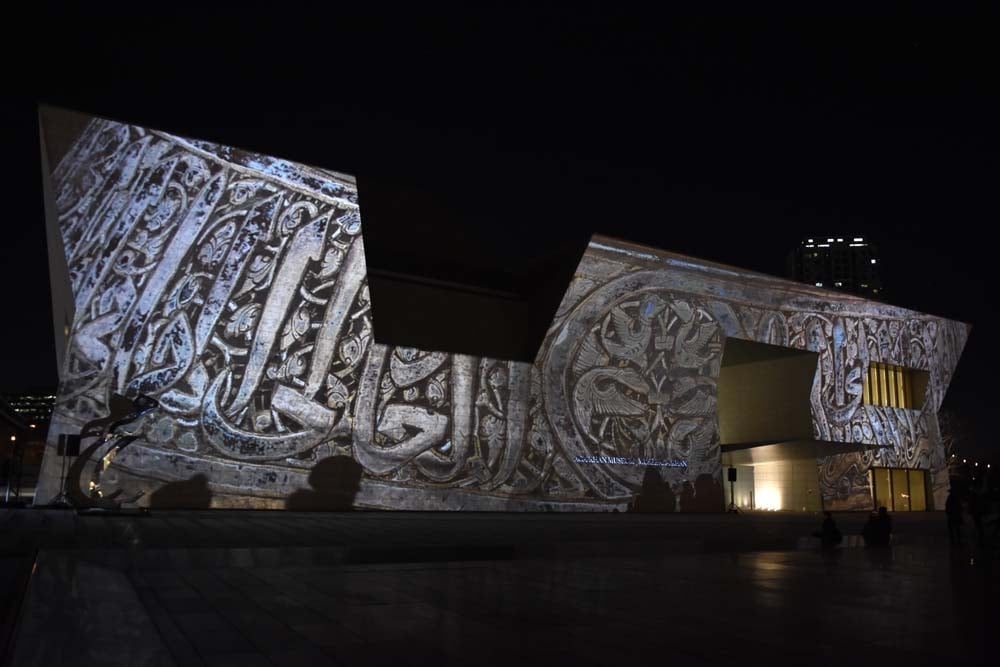 Address: 77 Wynford Dr, North York, ON M3C 1K1, Canada
Another fun annual event that's been increasing in popularity is Light Up The Dark at Aga Khan Museum! This free event features displays of light projections and animations paying homage to the museum's coolest artefacts, like the 400 year-old marble fountain.
Adding to the festive spirit are performances and soothing live music, which create a warm and cozy ambiance.
Pro tip:
Visit the museum's galleries since they're free to enter during this event, excluding temporary galleries.
17. Have a look at the Winter Stations on Woodbine Beach
Address: 161 Bay St., Toronto, ON M5J 2S1, Canada
For a unique winter experience, check out Winter Stations at Woodbine Beach, an annual competition that involves redesigning lifeguard stations with contemporary designs.
You'll find some really interesting designs like geometric stations and glass-stained stations that make this worth a visit!
Pro tip:
Make sure to have a picture with "delighthouse" by Phil Marion. This awesome reimagining of a lifeguard station takes inspiration from a lighthouse draped in a rainbow finish,
18. Take a look at the cool art in Graffiti Alley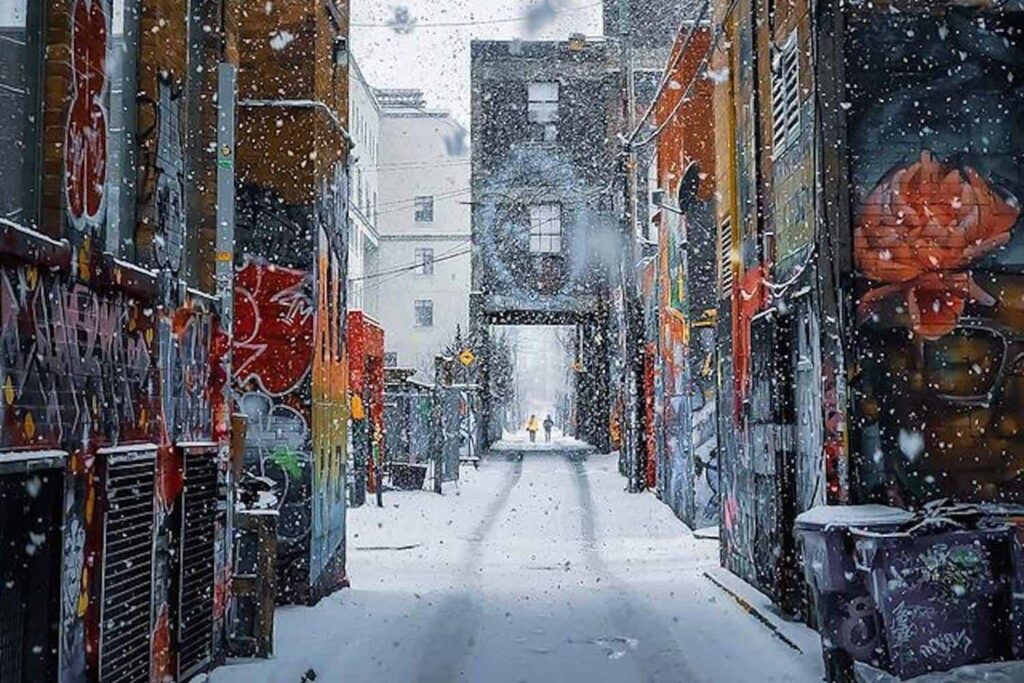 Address: Graffiti Alley, Toronto, ON, Canada
A popular Torontonian winter habit is to run by the quiet street of Graffiti Alley to admire art. Although this place is usually packed, there's less people here in the winter, which is an art appreciator and photographer's dream.
We love how the alley's vibrant and upbeat colours add a touch of life to the dull snow-filled streets of the city.
Pro tip:
If you don't mind spending a bit of money, we recommend you head over to Jimmy's Coffee. They serve killer cookies and hot chocolate, which will surely warm you up as you do a bit of art appreciation.
19. Watch a light show at Ontario Place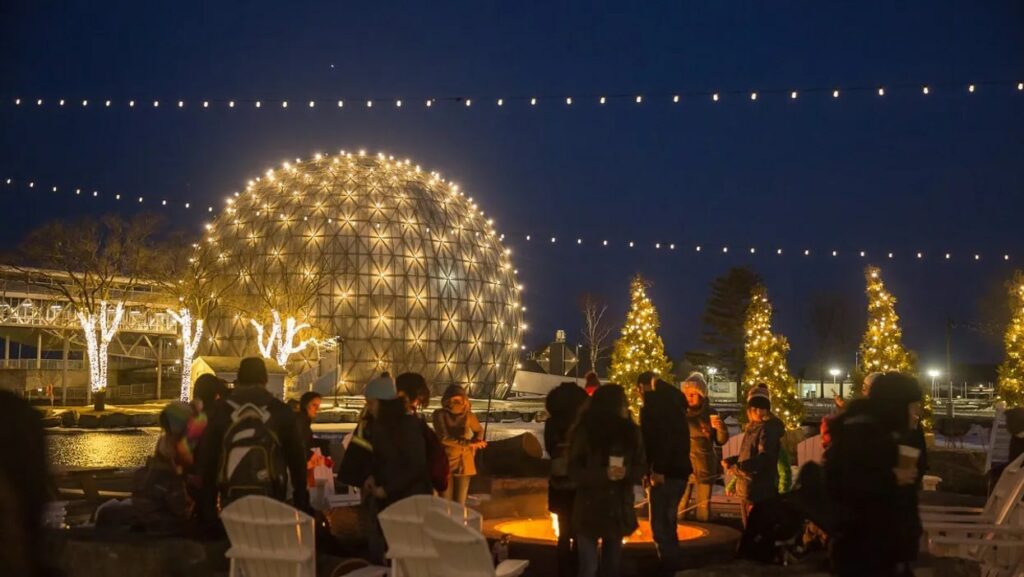 Address: 955 Lake Shore Blvd W, Toronto, ON M6K 3B9, Canada
One of the best places to go see a light show is at Ontario Place, where they hold a free winter light exhibition every year.
The show is quite extravagant, with illuminating artworks made by local artists lined up on display for you to observe. You can also explore the park and appreciate its beauty during the winter.
Pro tip:
After you're done exploring the park and checking out all the cool lights, we suggest kicking it back at a fire pit. Ontario Place has loads of fire pits where you can hang out with friends or strangers, which is perfect during the winter.
20. Stroll around the Holiday Fair in the Square market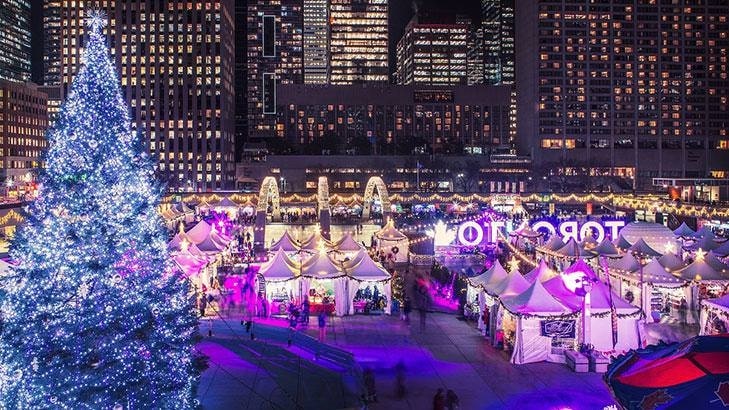 Address: 100 Queen St W, Toronto, ON M5H 2N1, Canada
The annual Holiday Fair in the Square is a wonderful marketplace worth visiting during the winter season. Although this event features mostly food and trinkets, strolling around Nathan Phillips Square in all its festive glory is totally free and fun to do!
During this time, Nathan Phillips Square is decked in thousands of twinkly lights and busy rides! Just roaming around is an adventure in itself.
Pro tip:
You don't want to miss the huge Christmas tree sitting in the square. Snapping a photo of it on its own is nice, but we suggest taking some shots of the bustling market with the huge tree in the backdrop for some great photos!