The 7 Clinics for the Best Tattoo Removal in Toronto
Do you have a tattoo that you've been itching to get rid of ? There's no other way to do that than undergoing the best tattoo removal in Toronto.
Worry not though because we're here to help. We're revealing the top aesthetic clinics in Toronto that can make it seem like that hideous tattoo never existed in the first place!
Before that though, we'll go over the cost of tattoo removal, so you have an idea if you have enough for it.
The Cost of Tattoo Removal in Toronto
The average cost of tattoo removal in Toronto ranges from $200 to $1,500 per session, depending on the size of the tattoo.
In general, it takes about six to eight sessions to completely remove a tattoo, so you're looking at a minimum of $1,200 to have your tattoos entirely erased from your body.
The size of a tattoo is the huge factor that determines the costs. Obviously, the larger the tattoo, the more expensive it is to remove because that would require more sessions than the average.
It's worth keeping in mind that tattoo removal anywhere is expensive, considering that it's basically an aesthetic procedure. It takes time and the tools needed are pricey themselves, so there's no other way to remove those tattoos than shelling out a lot of money.
We don't recommend opting for low-cost tattoo removal because you might be putting yourself in danger. If the price is unusually low, there's a huge chance that the tattoo clinic has limited experience or doesn't have the right equipment.
The Clinics for the Best Tattoo Removal in Toronto
Let's go over which aesthetic clinics have the best tattoo removal in Toronto and see what made them earn a spot here.
1. Toronto Cosmetic Clinics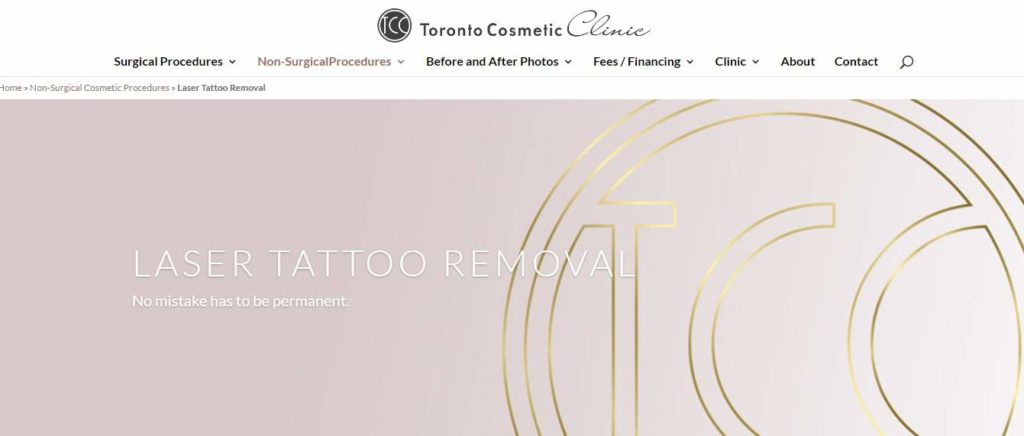 SERVICES
Tattoo removal, laser hair removal, laser vein removal, chemical peels, lip injections, dermal fillers, injectable fillers, fat transfer, non-surgical nose job, laser acne removal, and facial implants
PRICING
2 x 2 inches: $75 per session
4 x 4 inches: $150 per session
WEBSITE
https://www.tcclinic.com/
ADDRESS
5400 Yonge St #110, North York, ON M2N 5R5, Canada
CONTACT DETAILS
416-221-5554
OPERATING HOURS
Monday to Friday: 9:00 AM – 6:00 PM
Saturday: 9:00 AM – 5:00 PM
Toronto Cosmetic Clinic specializes in surgical and non-surgical aesthetic procedures, making it an option for those who don't like the idea of going under the knife. It's been one of the most trusted aesthetic clinics in North America for more than 20 years now.
Anyone interested in aesthetic treatment wants a highly skilled doctor, of course, so we're happy to report that its plastic surgeons and nurses are all professionals with years of experience under their names.
For its tattoo removal procedure, its doctors use the Medlite C6 laser platform, which can remove a wide variety of tattoo colors without leaving as much skin damage. If you have a huge tattoo, this one's going to work for you.
No need to worry about the cost because Toronto Cosmetic Clinic is open for different financing options. If you're in a rush to remove a tattoo but don't have enough cash, talk to its team about financing the procedure.
Lastly, Toronto Cosmetic Clinic is accredited by the International Plastic Reconstructive Aesthetic Surgery and Canadian Society of Aesthetic Plastic Surgery. With them, safety is not going to be one of your worries.
Financing options
Free consultations
State-of-the-art medical tools
20 years of experience
Has issues about phone consultations
Customer Reviews
Take a look at what past customers had to say about their experience:
"I highly recommend the Toronto Cosmetic Clinic. The staff are outstanding! The girls at the front desk and Lori are very welcoming. Jenna was super sweet. She was very helpful with any questions and concerns I had, and checked up on me often. Nurse Shannon is amazing. She had a way of making me feel very comfortable with her. Lastly, Dr B, he is the best at what he does. Definitely will be coming back!" -Jennifer Kim
"My experience at TCC has been amazing so far! I had the opportunity to meet the medical aesthetician at TCC Alina Gulubovski and she is absolutely the best at what she does. She took the time to explain the process and also provide recommendations and advice specifically tailored to my skin. I felt anxious at first however she did a phenomenal job of putting me at ease and I am so happy with the results so far. I would absolutely recommend her for all your skin needs! THANK YOU ALINA!" -Jonida Zaganjori
2. Spa Medica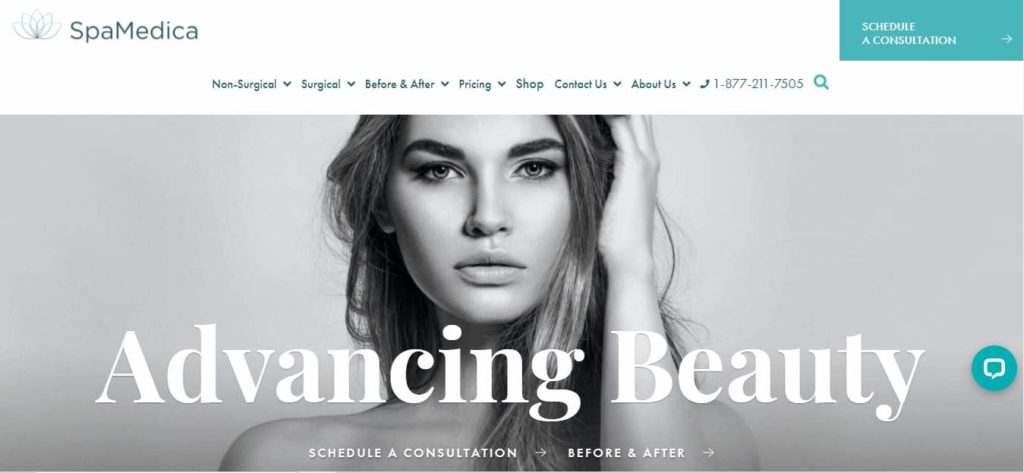 SERVICES
Tattoo removal, laser hair removal, cellulite reduction, hair transplant, botox injection, dermal fillers, laser skin resurfacing, microneedling, breast augmentation, and face lift
PRICING
$480 to $1,400 per session
WEBSITE
https://www.spamedica.com/
ADDRESS
66 Avenue Road, Suite 4 Toronto, Ontario M5R 3N8
CONTACT DETAILS
416-925-2561
OPERATING HOURS
Monday, Thursday to Saturday: 9:00 AM – 5:00 PM
Tuesday to Wednesday: 8:00 AM – 7:00 PM
We highly recommend Spa Medica to anyone who's thinking about getting a cosmetic procedure as it's a full-range aesthetic clinic. Whatever procedure you may be interested in, you can get that here.
Dr. Stephen Mulholland, its resident plastic surgeon, has performed thousands of aesthetic procedures in over 25 years. He's considered a leader in tattoo removal in Toronto as well, so expect that he's equipped with the best laser technologies.
Speaking of lasers, Spa Medica is armed with three types of them: PicoSure laser, PicoWay laser, and RevLite laser.
If your tattoos can't be completely removed through lasers, though, Spa Medica can surgically remove them. This can leave an extremely unattractive scar, so it won't be brought up unless your case is a hopeless one.
Every aesthetic procedure at Spa Medica starts with a consultation with its resident doctors, where it will be determined how your tattoo is going to be removed. If you end up not convinced, you don't have to proceed, but that rarely happens with this clinic.
We admit that its fees are higher than average, but considering that most of its patients would only need two to three sessions, that's definitely worth the price.
Uses different types of lasers
Easy booking of schedule
Offers non-surgical and surgical procedures
Customer Reviews
Check out these comments posted on Google Reviews:
"Desiree here is amazing! I go to her for my non-surgical treatments such as laser therapies, botox and filler and I have been very happy so far. She does not push unnecessary treatments and does not give you the same, cookie cutter, IG influencer look. Instead, she gives her honest, but informed opinion on what would suit your individual face best. I really trust her judgment." -Brittany Finn
"I would like to begin by thanking all of the staff at spa Medica. My experiences have been wonderful. The nurses in particular are more than informative not to mention nice and considerate and very caring. As for Dr Mulholland….dude…you're amazing!!! From your mannerisms to your surgical skills, knowledge and your awesome personality. I would recommend you to anyone and I would definitely come back! Thank you for everything! -Anita D
3. Dr. Cory Torgerson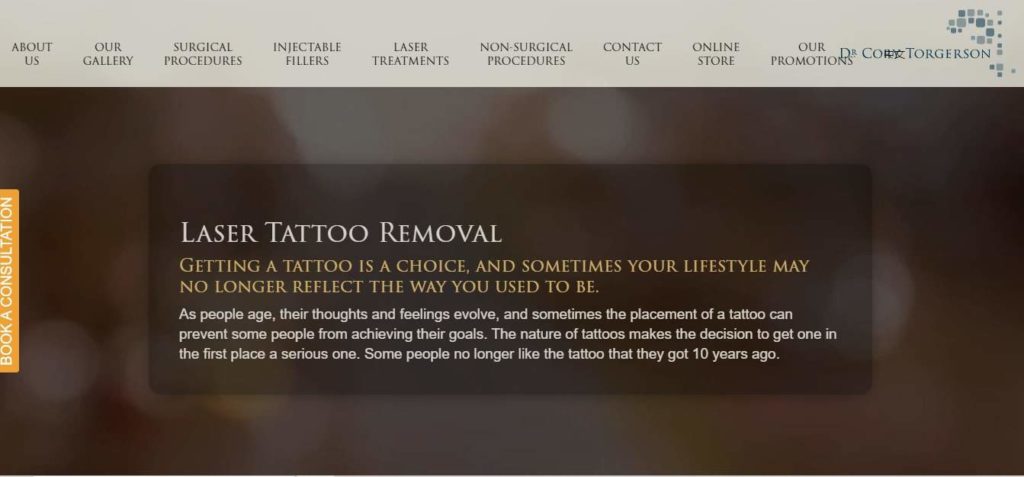 SERVICES
Tattoo removal, laser hair removal, rhinoplasty, blepharoplasty, non-surgical nose job, laser treatments, lip fillers, hair transplant, acne scar treatment, thread lift, chemical peels, and microneedling
PRICING
Call their hotline for more details
WEBSITE
https://drtorgerson.com/
ADDRESS
59 Hayden St Suite 700, Toronto, ON M4Y 2P2, Canada
CONTACT DETAILS
647-343-0207
OPERATING HOURS
Monday, Thursday to Friday: 8:30 AM – 5:30 PM
Tuesday to Wednesday: 8:00 AM – 7:00 PM
If your priority is finding a prominent aesthetic doctor who can remove your tattoos, you're not going to be disappointed with Dr. Cory Torgerson. He's capable of erasing tattoos of every size, colour, and location, so you're definitely in great hands.
As a well-known doctor, it's no surprise that he's equipped with top-of-the-line surgical equipment and powerful lasers. You might be spending more on his treatments, but that comes with the guarantee of safe and long-lasting results.
Dr. Torgerson walks patients through the entire process of the procedure and helps them visualize the potential results. If you have questions about what you're getting into, he'll be more than willing to personally explain everything.
Aside from the friendly approach, another thing that patients will get is comprehensive post-treatment care. You will not only be given enough time to rest inside the clinic, but will be given complete, proper instructions on how to care for the treated area as well.
Overall, Dr. Torgerson stands as a perfect option for those who want a full-range aesthetic treatment that starts with consultation and ends with post-treatment care. It's quite easy to book an appointment with him, too.
Comprehensive packages
Occasional promos and discounts
Topnotch lasers and surgical equipment
Prominent and well-decorated doctor
Expensive aesthetic treatments
Inconsistent operating hours
Customer Reviews
Here's what past patients had to say about Dr. Cory Torgerson:
"I had Blepharoplasty with Dr. Torgerson and I am very happy with the results. My overall experience was great! very smooth transition for me. His team was wonderful! They were available before and after the surgery to address my questions and concerns. After the surgery I was told that I can reach them even over the weekend via email which was really reassuring. That actually makes my post-up time much less stressful. I also like his flexible approach and offering new options on demand down the road! He had told me that he would give me beautiful eyes and he kept his promise. Thanks for everything!" -Sepideh Tabari
"Very impressed with the results. Got my CO2 laser done for acne scars by Anna, she was super friendly & professional at the same time. The clinic itself has a very exotic look, and has a really ambient environment. Would definitely recommend anyone looking to improve their overall skin quality to give this clinic a shot. The best in town." -Yasir Amer
4. Vanish Clinic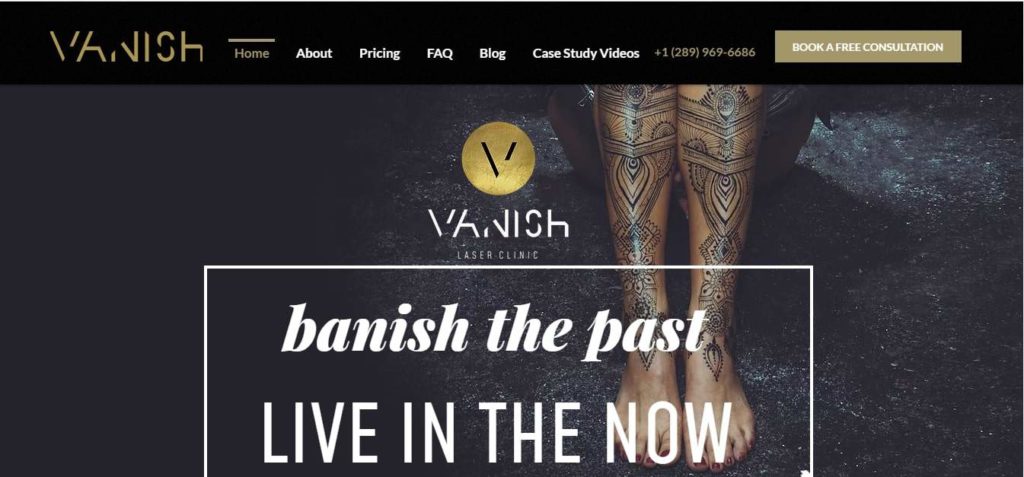 SERVICES
Tattoo removal, microblading, scalp micropigmentation removal, permanent makeups, carbon facial, wrinkle treatments
PRICING
$200 per session
WEBSITE
https://www.vanishclinic.com/
ADDRESS
500 King St W Suite 300, Toronto, ON M5V 1L9, Canada
CONTACT DETAILS
289-969-6686
OPERATING HOURS
Monday to Friday: 11:00 AM – 7:00 PM
Saturday: 9:00 AM – 5:00 PM
Vanish Clinic can deal with all your skin-related concerns, from removing an unwanted tattoo down to getting rid of dead skin and black heads. It's not like our other picks in the sense that it's not actually an aesthetic clinic staffed by doctors and nurses.
All of its procedures rely on high-quality lasers. If you ask us, that's a positive thing because its staff are experts in handling laser technologies.
For its laser tattoo removal, Vanish Clinic uses the PicoWay Resolve Laser, which is effective against tattoos of all colors and sizes. It can erase fine lines, wrinkles, and acne scars as well, so that's like hitting two birds with one stone.
Another thing we like about Vanish Clinic is the flat-rate pricing for tattoo removal. It's unique because most tattoo and aesthetic clinics decide their rates based on the size of the tattoo and the experience of the doctor/technician.
We admit that Vanish Clinic's range of treatments is not as extensive as the other entries on our list, but it gets the job done when removing unwanted tattoos. If you're not looking for anything fancy, it'd be a viable choice for you.
By the way, it operates on a purely appointment basis, so don't forget to book a schedule prior to avoid inconvenience.
Reasonable prices
Accessible customer service
Small, but experienced team
Flat-rate fees for tattoo removal
Customer Reviews
Here's what satisfied customers had to say about Vanish Clinic:
"Got my tattoo removed from this clinic while I was on vacation. Very impressed with the results. Nicola and the staff are such professionals. Very helpful and took the time to explain the procedure in detail and answer all questions. Highly recommended if your looking for tattoo removal clinics." -Belinda Lopez
"Nicola is the only person I trust with a laser around my skin! She is so knowledgeable, professional and caring. She always checks in after every appointment to make sure everything is healing properly and will offer advice or reassurance if you need it. My appointments are always on time and the office is absolutely spotless. You can be sure you're getting the absolute best treatment possible!" -Sylvia Eayrs
5. Liberty Laser Clinic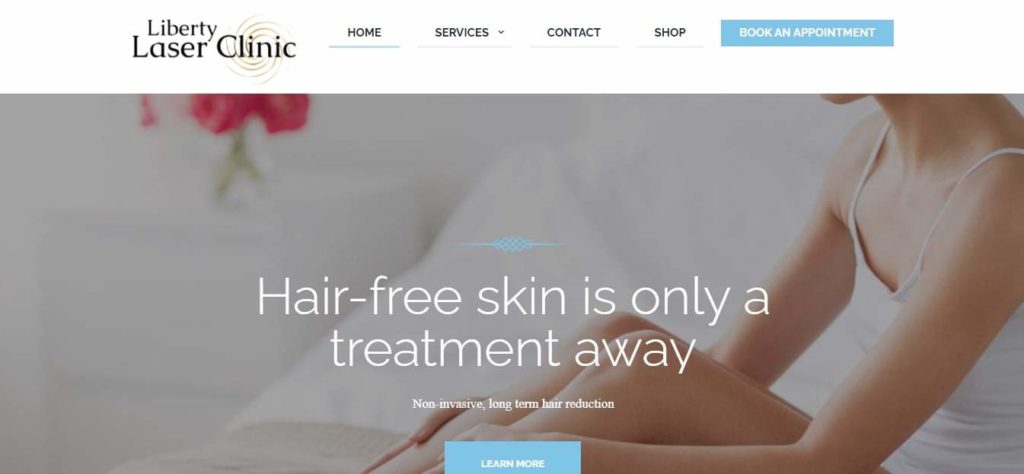 SERVICES
Tattoo removal, laser hair removal, body contouring, spray anning, botox, dermal fillers, skin tightening and rejuvenation, acne and acne scar treatment, and non-surgical face lift
PRICING
Call their hotline for more details
WEBSITE
https://www.libertylaserclinic.com/
ADDRESS
1004 King St W, Toronto, ON M6K 3N2, Canada
CONTACT DETAILS
647-340-4959


[email protected]

OPERATING HOURS
Tuesday to Friday: 10:00 AM – 7:30 PM
Saturday: 10:00 AM – 5:00 PM
Monday and Sunday: by appointment only
If you don't think that tattoo removal with fewer sessions isn't possible, Liberty Laser Clinic might be the one that can change your mind. Here's why it landed a spot on our picks for the best tattoo removal in Toronto.
First, Liberty Laser Clinic is among the first ones to use PicoSure for tattoo removal in Toronto. It's a specialized laser tool that requires fewer sessions compared to traditional laser tattoo removal.
On top of that, it works faster than most laser removal technologies, so it might work for you if you're pressed for time but eager to get rid of that tattoo as soon as possible. Keep in mind that recovery time is still needed, of course.
Some lasers are no doubt effective in removing tattoos of all sizes and colors, but those can usually leave scars and irreparable damage on the skin. That doesn't happen with PicoSure, so consider Liberty Laser if you want to maintain a flawless skin.
Finally, Liberty Laser comes with a guaranteed reimbursement if you end up needing fewer treatments than expected. There's a huge change this may happen considering that that's what PicoSure is known for.
No skin damages
Works on tattoos of all sizes
Guaranteed reimbursement
Has received complaints about customer service
Customer Reviews
Curious what customers think about Liberty Laser Clinic? Here are some comments worth reading:
"I've completed my first session of laser tattoo removal and so far I've had an amazing experience with Liberty Laser. Not only are they extremely professional and knowledgable, they also work with the best quality machines for each service. After 1 session, my tattoo is already noticeably lighter. Can't wait for my treatment to be complete! Highly recommended" -Kelsey Hergott
"I'd highly recommend Bob and Liberty Laser Clinic for tattoo removal. Bob's helped me remove two tattoos and the results are fantastic. He's a great communicator and explains the process and aftercare really well, as well as walking you through each session to make sure you're comfortable and know what to expect. Professional at all times and a really nice guy to boot." -Laura Mahoon
6. New Skin Beauty

SERVICES
Chemical Peel Toronto
PICOWAY® Tattoo Removal
Laser Leg Vein Removal
Skin Tag Treatment
Hydrafacial
Carbon Peel
PRICING
Contact them for a consultation and estimate
WEBSITE
https://newskinbeauty.ca
ADDRESS
Yonge and Eglinton
2355 Yonge Street, Toronto, ON, M4P2C8

Queen Street East
2234 Queen St East, Second Floor Unit 5, Toronto, ON, M4E1G2
CONTACT DETAILS
416-317-6696
[email protected]
OPERATING HOURS
Contact company for more information
True to its name, New Skin Beauty offers numerous aesthetic treatments suited for enhancing your body's appearance. They have a wide range of services to choose from, such as facials, botox treatments, dermal fillers, tattoo removals, and more.
Their PICOWAY tattoo removal is one of the latest laser treatments available on the market. It makes use of ultra-short picosecond pulses of energy to break down tattoo ink into smaller particles for your body to eliminate.
Unlike traditional laser treatments, the PICOWAY laser treatment has a faster tattoo removal rate, which also means you'll need less treatment sessions to finish treatment. Moreover, the energy density of the treatment is at its minimum, so the chances of experiencing adverse effects after treatment are slim.
However, this treatment won't work for everybody, as it has more difficulty removing colors such as oranges, purples, and yellows. Darker skin tones will also be harder to treat since it naturally absorbs more energy.
All in all, New Skin Beauty's PICOWAY laser tattoo removal treatment comes with certain requirements if one wants its full benefits. If you're interested and you pass said requirements, you're more than welcome to contact them to book a free consultation.
Wide range of services
Reduced number of treatment sessions
Two branches in Toronto
Free consultation available
Not as effective on darker skin tones
7. Fading Fast Laser Tattoo Removal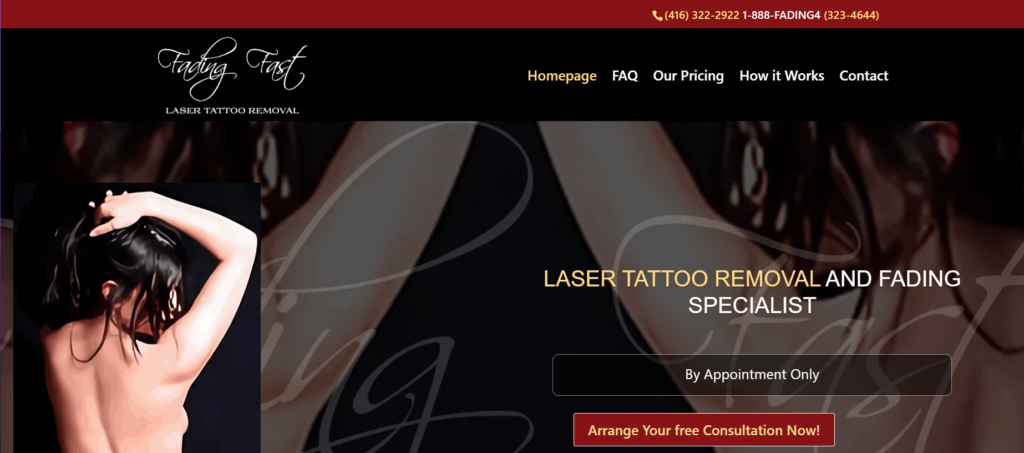 SERVICES
Laser Tattoo Removal
PRICING
Minimum of $100 per session; Contact them for a consultation and estimate
WEBSITE
https://fadingfast.ca
ADDRESS
164 Eglinton Ave East. Suite #104, Toronto, ON
CONTACT DETAILS
(416) 322-2922
1-888-FADING4 (323-4644)
[email protected]
OPERATING HOURS
By appointment only
Fading Fast Tattoo Removal is a specialist shop whose goal is to help customers fade and/or remove tattoos they regret getting, no matter what the reason may be. Their specialist has over 13 years of experience in the field.
To start, they'll take the time to explain to you what to expect, as well as the best and worst possible cases that may happen to you. Questions are more than welcome, as they want to ensure that you're going into your laser removal treatment prepared.
Their tattoo removal specialist will do their best to deliver prompt and effective results. The colours in the tattoo, as well as your skin tone, will be a factor in how many sessions you'll need.
Regardless of your treatment duration, you won't need to worry about your budget since each session is priced affordably. Given their skilful treatments and reasonable rates, Fading Fast Laser Tattoo Removal is an excellent option to consider for your tattoo removal, even if you live far from their location.
Certified Tattoo Removal Specialist
13 years of experience
Professional services
Affordable prices
Free consultation
By appointment basis only; no walk-ins allowed
Does not offer spa services
FAQs about Tattoo Removal
---
And with that, we end our picks for the best tattoo removal in Toronto. If you've already chosen from our list, don't forget to tell us your choice and your reasons for doing so!
By the way, if you want to consult with a skin expert before deciding to remove a tattoo, we recommend booking an appointment with the best dermatologists in Toronto. Lucky you, we have a list for that as well.