WHERE TO FIND THE BEST SPORTS DOCTORS IN TORONTO
Ever strained your back while moving the couch? You may not have known it at the time, but that injury qualified you for a trip to a sports doctor.
If said doctor sounds like someone that's out of your league, think again. Sports medicine doctors aren't just for trained professionals; they treat athletes and non-athletes alike. So the next time you get a big boo-boo, give these five establishments a try.
How We Chose the Best Sports Doctors in Toronto
How Much Does a Consultation With a Sport Doctor Cost in Toronto?
A single consultation with a sports doctor costs between $90 and $150 (exclusive of fees for other services like imaging) in Toronto.
Consult with your healthcare provider or insurance company for a clearer understanding of potential costs and coverage options.
1. Athlete's Care Sports Medicine Centres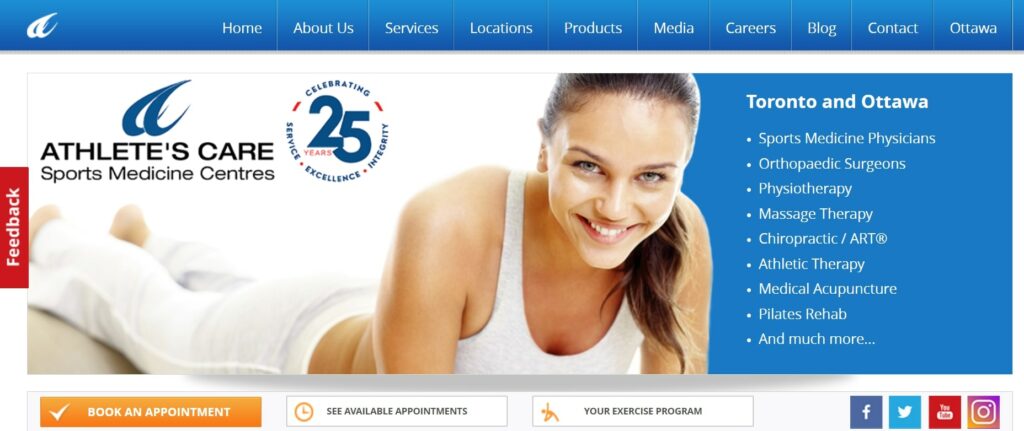 Test
Info
WEBSITE
https://www.athletescare.com/
ADDRESS
2401 Yonge Street, Suite LL01
SOCIAL MEDIA
INSTAGRAM
CONTACT INFORMATION
Phone: (416) 544-9065
OPERATING HOURS
Mon-Thu: 7:30am – 8:00pm

Fri: 7:00am – 5:00pm

Sat: 9:00am – 4:00pm
Established in 1997, Athlete's Care provides comprehensive medical services for national and international athletes, as well as those without an athletic background. The clinic is affiliated with nearly a dozen professional associations, as well as the University of Toronto.
At Athlete's Care, your injuries will be handled by sports doctors who hold a license from the College of Physicians and Surgeons of Ontario. They conduct comprehensive assessment and diagnosis and provide tailor-made regimens for treating various physical ailments.
The array of services offered by Athlete's Care includes physiotherapy, orthopedic surgery, medical acupuncture, and massage therapy. The clinic also offers consultancy services to address mental health concerns like improving confidence, responding to pressure, and setting goals.
Unrivaled credentials of the staff
Clean facility
Friendly, helpful receptionists
Reports of doctors being late for appointments
A safe, welcoming and friendly environment
I've been visiting Athletes Care for the past couple of years to see running physio Nate and couldn't recommend it more. The clinic itself is a safe, welcoming and friendly environment for everyone, no matter what issue you are dealing with. All the staff are friendly and helpful and Nate has personally helped me recover from two running related injuries and keeps his runners in top shape!
Graham Angus, Google Reviews
I have been able to go days pain free
I've been working with Keren for 2 months now and have already seen dramatic improvement in my pain. Prior to beginning treatment, I had been living with pain daily for about 6 months. Working with Keren and following through on exercises at home, I have been able to go days pain free and on days I do have pain, it is a fraction of what it was before I began physio.
Sarah Ptak, Google Reviews
2. Ace Sports Clinic

Ace Sports Clinic has a diverse team of practitioners that includes physiotherapists, kinesiologists, Pilates instructors, and even massage therapists. Each of them provides high-quality treatment for back, neck, jaw, and foot problems.
Here's a unique service offered by this facility: the procedure known as lifestyle genetic testing. Through this DNA test, experts at Ace Sports Clinic can pinpoint your disease tendencies and give you a head start on those aches and pains.
Ace Sports offers therapies like osteopathy, kinesiology, naturopathic medicine, and dry needling. The clinic's massive client base, by the way, includes tennis icons Roger Federer and Rafael Nadal.
Diverse pool of specialists
Highly responsive customer service staff
Innovative DNA testing
Reports of miscommunication between staff and clients
Incredibly helpful
The amazing people at Ace have been incredibly helpful with my recovery. I was hit by a car while cycling and fractured my shoulder. My physiotherapist Anish did amazing work with me and gave me excellent exercises to do own my own. Thanks to the team at Ace I am back on my bike and well on my way to 100% recovery.
james spadafora, Google Reviews
Replies to emails super fast
Yuma is a fantastic osteopath. He helped me understand more about my body and how to properly take care of it when an injury arises. He replies to emails super fast with helpful tips, he's incredibly knowledgeable and truly cares about his clients. I can't recommend him enough!
Sam Bird, Google Reviews
3. Yorkville Sports Medicine Clinic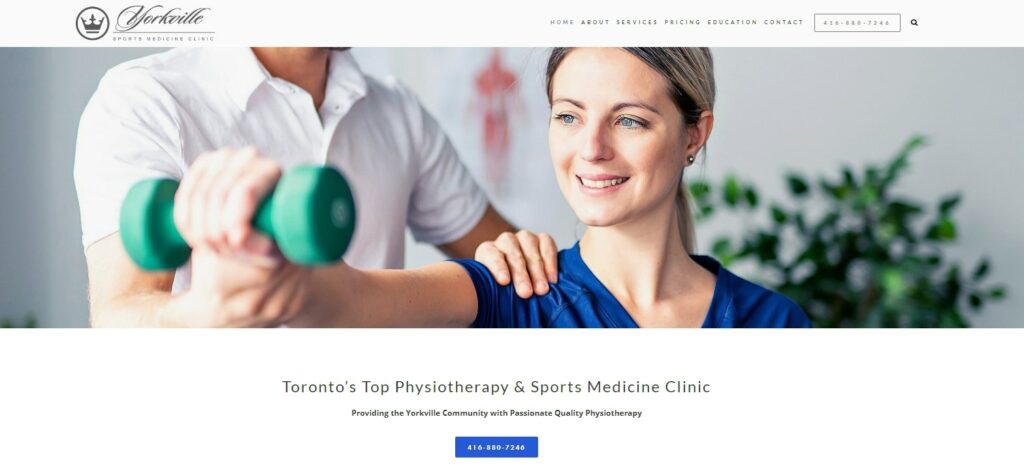 Despite being relatively new on the scene—its founding date was in 2018—Yorkville Sports Medicine Clinic has established a sturdy reputation as an innovative medical facility. Thanks to cutting-edge services like car accident recovery and custom orthotics, the clinic has become a go-to place for folks on the mend.
If you're looking for more conventional services like physiotherapy and chiropractic care, Yorkville Sports Medicine Clinic can get you what you need as well. Plus, it offers in-home therapy—perfect for patients who can't leave their home environment for one reason or another.
Yorkville Sports Medicine Clinic has been featured in publications like The Huffington Post and Reader's Digest.
Wide range of services
Validated by industry awards and recognition
Modernised facility that exudes a rather classy vibe
Reports of ineffective treatment
Clean place that's very reasonably priced
If you're looking for a quality and clean place that's very reasonably priced, this is the spot to check out. The lobby is large and grand, made of white marble suitable for a place in Yorkville. Very luxury spa like.
The receptionist is very helpful. I have work insurance and she was able to bill them directly so that I didn't have to pay.
The massage was unreal, the therapists used a combination of hot stones, stretch and oil massage.
Finally the chiropractor I saw was amazing. She made the visit very comfortable and we spent the whole appointment laughing. Highly recommend!
Thanu J., Yelp
Consultative and targeted approach
I am very pleased with the care and attention both Dr Chohan and Kayo De Sousa have applied towards healing my running injury and plan for recovery. Their consultative and targeted approach made all the difference in my week over week improvement. It's been a positive experience in their care and their staff is welcoming and very professional. Highly recommend!
Maggie Nejim, Google Reviews
4. Rebalance Sports Medicine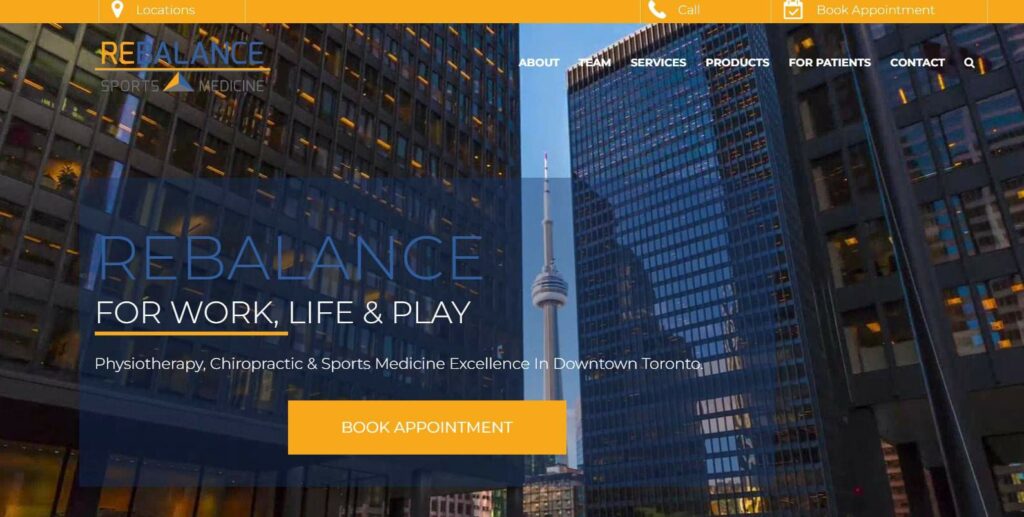 Test
Info
WEBSITE
https://rebalancetoronto.com/
ADDRESS
110 Yonge Street Suite #905

155 University Avenue Suite #303

SOCIAL MEDIA
INSTAGRAM
CONTACT INFORMATION
Phone: (416) 777-9999, (416) 306-1111
OPERATING HOURS
Mon-Fri: 7:00am – 6:00pm
If you're in downtown Toronto, Rebalance is another place that you can check out for the treatment of your injuries.
Rebalance Sports Medicine will help you regain stability in your physiological aspect by tapping a massive pool of talented practitioners. If you're down for some acupuncture, shockwave therapy, naturopathy or some good ol' Pilates, Rebalance can get you the specialists that you need—and then some.
This facility places a premium on thorough assessment and individualised treatment. By devoting time and resources to these pillars, the Rebalance team helps clients tip the scales of personal wellness.
In addition, if your health insurance plan was provided by one of the clinic's partner providers, you can avail of the direct billing option. This means that you don't have to spend out of pocket at all.
Plenty of services and products to choose from
Two locations to choose from
Direct billing to extended health insurance plan
Reports of poor customer service via phone calls
Closed on weekends
I always felt confident that I was in good hands
I was seeing Masha at Rebalance for about a year to treat a number of ailments: shoulder impingement, hip pain, and later for a torn ligament in my ankle. She was extremely knowledgeable about each issue and I always felt confident that I was in good hands at each session. More importantly, she's very personable, which helps make the pain more manageable! I followed her at-home care advice and have improved significantly. The front desk staff here is also very friendly. Thanks, Masha and Rebalance!
Margaret B., Yelp
A million stars
I've been visiting Rebalance for a few years now. The staff is amazing, kind, and specially knowledgeable. Their approach to treatment is to understand and work on the source of the problem as opposed to just managing the pain. Through exercise routines, and a mixture of hands-on techniques they've helped me achieve and maintain my fitness goals over the years. I'd give Rebalance and their staff a million stars if I could. Keep up with the great work!
Roberto Hernández, Google Reviews
5. Synergy Sports Medicine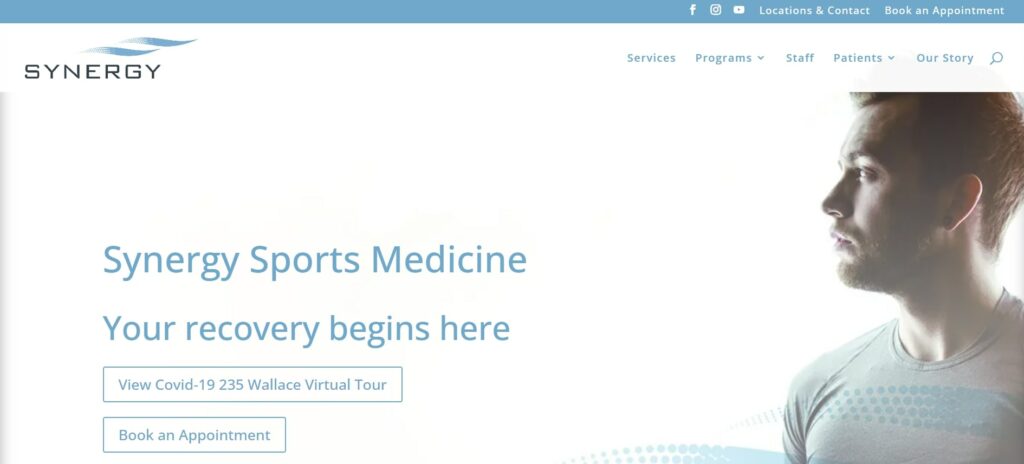 Test
Info
WEBSITE
https://synergysportsmedicine.com/
ADDRESS
235 Wallace Avenue
SOCIAL MEDIA
INSTAGRAM
CONTACT INFORMATION
Phone: (416) 703-3525
OPERATING HOURS
Mon-Thu: 7:00am – 8:00pm

Fri: 7:00am – 5:00pm

Sat: 9:00am – 4:00pm
Movement-based rehabilitation is the name of the game when it comes to Synergy Sports Medicine.
The staff at this facility will get you moving through one-on-one sessions and group classes, along with a host of workshops and training sessions. In other words, there are no excuses to be made when it comes to staying in tip-top shape! Synergy's exercise regimens provide you a great defense against creaks and pops, so it's all worth it.
Of course, if you've already creaked or popped, Synergy's medical personnel can readily diagnose and treat your concerns. Synergy offers variations of physiotherapy, including orthopedic, vestibular, and pelvic health. The clinic also provides massage therapy and chiropractic treatment.
Unique approach to injury prevention
Founders' three decades of experience
Validated by industry awards
Closed on Sundays
Reports of poor customer service
A huge difference over a few months
I had a really great experience at Synergy, thanks to Brittany Kafka's expertise. She was really insightful as she developed my program and helped me move past a lot of pain and greatly improve strength and mobility. A huge difference over a few months! I also appreciated that Brittany sent me video tutorials so that I could make sure that I was doing exercises properly.
Nikki Luscombe, Facebook Reviews
A wealth of knowledge
Megan is friendly, professional, and a wealth of knowledge. She was thorough in her assessment of my complaints and articulated each step of her process. Her feedback was sent to me promptly following our appointment. I felt she listened to my concerns and was able to make immediate suggestions as well as explain the long term goals.
Kerry Thompson, Google Reviews