The 5 Best Auto Gate Repair Services in Toronto
Have you ever found yourself in a driveway dilemma, trying to balance your coffee and keys, struggling with a malfunctioning automated gate, and wishing it would just work?
Whether you're a homeowner or a business owner, you want things to go smoothly as soon as you enter your property.
That's where auto gate repair experts come in. They're experts at fixing electronic glitches, rusty hinges, and overall gate functionality issues.
Their expertise ensures that your gates not only work smoothly but also enhance the security and convenience of your property.
Say goodbye to gate-related frustrations and contact these experts today!
How We Chose the Best Auto Gate Repair Services in Toronto
How much does an auto gate repair cost in Toronto?
In Toronto, the cost of auto gate repair services typically ranges from $160 to $380 per gate. The size of the property, the condition of the gate, and the materials used all contribute to the final repair cost.
1. Techno Gate GTA
Test
Info
WEBSITE
https://www.technogategta.ca/
ADDRESS
96 Glenstroke Dr, Toronto, ON M1S 2Z9
SOCIAL MEDIA
INSTAGRAM
CONTACT DETAILS
(416) 848-9433
OPERATING HOURS
Monday - Saturday: 8:00 am - 7:00 pm

Sunday: 9:30 am - 5:00 pm
Techno Gate GTA boasts over 20 years of practical experience in providing automatic gate repair and installation services to both residential and commercial properties across Greater Toronto.
They initially conduct a comprehensive safety audit during free consultations to identify potential risks within a property's gate system. This allows the team to plan out recommendations tailored to specific safety concerns.
For clients with limited space for typical configurations, the company offers a tilt gate that opens at an angle on the same plane. Commercial clients can also avail of an automatic parking arm or barrier gate to enhance traffic control within their premises, especially in parking zones.
For repairs and upgrades, they also offer additional safety functions such as stop and reverse functions, auto-close setting that enhances security, and infrared photo beams that sense approaching vehicles.
Offers free consultations
24/7 emergency response 
Competitive pricing
Longer response times to email inquiries
Has over twenty years experience
"We contacted TechnoGate GTA to replace our aging iron gate opening mechanism. We were very pleased with how fast they responded to our request for an estimate and even more pleased that they committed to complete the job in just a few days after we agreed to proceed.
The owner of this family business has over twenty years experience with gate mechanisms and from the minute you meet him you can tell he has a lot of integrity and high standards."
Joe Putsivockl, Google Review
Professional service with unbeatable price
"Professional service with unbeatable price. Honest and genuine. I have so much problem with my first DIY gate opener that I paid 3k for. After calling many company with 4 star rating for quote to replace a new one, not only do Iget unprofessional treatment but they also try to overcharge me. Techno Gate is my best decision and the only company that I would refer to my client when it come to gate opener. Call Asfin. You will not regret it."
Tuan Dao, Google Review
2. Superior Door & Gate Systems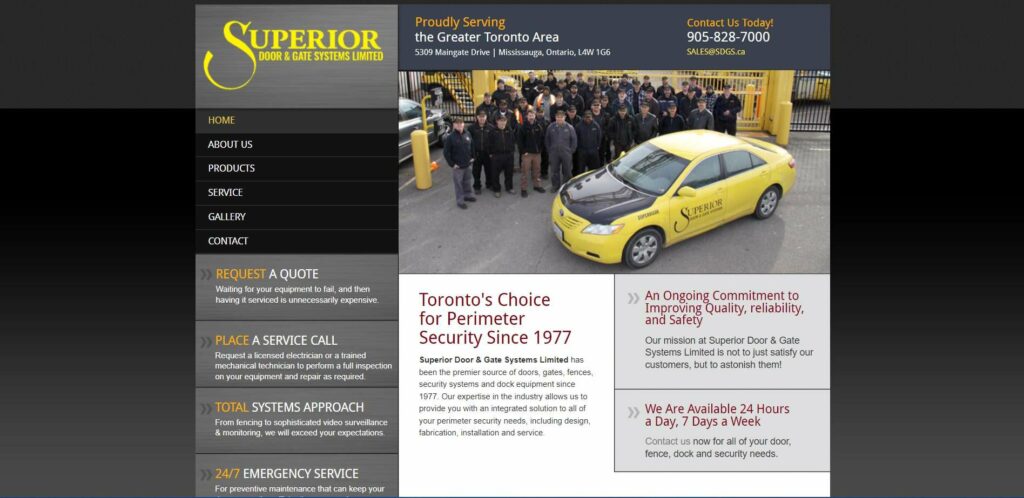 Since 1977, Superior Door & Gate Systems has been installing and servicing doors, gates, fences, and security systems in residential and commercial areas across Toronto. These include troubleshooting, specific brand maintenance, parts supply, and planned maintenance.
Their certified service technicians operate a fleet of 35 fully equipped trucks that are available 24/7, whether it's for project initiation, maintenance, or emergency repairs.
Notably, they're accredited by the Institute of Door Dealer Education and Accreditation (IDEA) and carry a significant liability insurance coverage of $25,000,000.00.
Their cantilever gates are a popular choice for clients dealing with limited space or uneven terrain. These gates utilize their patented Superior Safety Rollers to prevent any side-to-side movement. Its chain mechanism incorporates a piece of perforated aluminum that extends along the entire gate for extra support.
$25,000,000 liability insurance coverage
35 fully equipped service trucks for wider reach
Ability to service more than one client at a time
Open 24/7
Service from Superior has been outstanding
"Positive: Professionalism, Punctuality, Quality, Responsiveness, Value
We tried Superior after not getting proper service from our current supplier.
So far the service from Superior has been outstanding!!!
Service: Automatic gate installation & repairs"
Paul Wellard, Google Review
Manages installations professionally
"Positive: Professionalism, Quality, Value
This is a company that provides good products and manages installations professionally, without cutting corners. Highly recommended.
Service: Automatic gate installation & repairs"
GLEN, Google Review
3. Darvish Inc
Test
Info
WEBSITE
https://darvishinc.ca/
ADDRESS
92 Green Ln, Thornhill, ON L3T 6K9
SOCIAL MEDIA
INSTAGRAM
CONTACT DETAILS
(647) 694-5832
OPERATING HOURS
Monday - Friday: 8:00 am - 4:00 pm

Saturday: 10:00 am - 2:00 pm
Established in 2017, Darvish Inc. boasts an in-house team of designers, project managers, and professional installers to cater to both residential and commercial sectors in Toronto.
Clients are well-informed even before any work commences through their free consultations. After this, a dedicated account manager is assigned to facilitate seamless and efficient communication throughout.
While they're best known for installing stairs and railings, they also offer automatic gate installations and repairs for sliding and swing gates. Their expertise in these areas earned them the Consumer Choice Award for Business Excellence, a recognition they have earned consecutively in 2022 and 2023.
With their commitment to quality, each job includes a complimentary five-year warranty with varying coverage based on the client's chosen products and services. Moreover, they extend financing options that can cover up to $100,000 with low monthly payments.
Multi-disciplinary approach
Well-equipped team
Offers financing of up to $100K
Five-year warranty on products and services 
Dedicated account manager per project
Relatively higher interest rates on financed projects
No 24/7 emergency services
Highly recommended this place
"Had a pleasure working with Armando Darvish for my custom-built house in Oakville – his team is very professional, responsive and honest – they deliver the job on-time and with highest standards – highly recommended- his work will definitely exceed your expectations, good job Armando"
R Daneshvar, Google Review
Very organized and clean
"I'm not in the least surprised that Darvish Inc has a 5 Stars with their reviews. It has literally been a complete pleasure to meet and deal with Arman on Our projects. They have been so professional and responsive."
Amir Rahmankhah, Google Review
4. Art Metal Workshop Inc.
Art Metal is a Toronto-based manufacturer and workshop of custom-wrought ironwork. They offer installation and repair services for railings, gates, and fences to residential and commercial clients in Toronto and surrounding regions.
Boasting 28 years of industry experience, Art Metal has been awarded the Best of HomeStars Award consistently from 2012 to 2022. They've also been featured on several shows, such as Over It or List It, Income Property, and Holmes Makes It Right.
Additionally, they offer free quotes and a lifetime warranty on their products and services. Clients can choose from various designs and materials, such as cast iron, cantilever, stainless steel, and more.
One of their distinct offerings is their solar-powered gates that operate independently and efficiently over long distances, even without a main power source. This offers a budget-friendly solution compared to traditional gate automation.
Specialises in solar-powered solutions 
Offers free quotations
Lifetime warranty on products and labor
Long turnaround times during peak seasons
Not available 24/7 
Quality of workmanship was first class
"The Team at Art Metal Workshop were excellent to deal with right from my initial investigation of service providers. My job was relatively small but that had no bearing on the service, responsiveness or flexibility of the staff. The quality of workmanship was first class and the installers were pleasant to deal with and meticulous in their work. I highly recommend Art Metal Workshop."
Steve Lawrence, Google Review
Very helpful and responsive
"Iryna and her team were very helpful and responsive from the onset and answered all of my needs in making a decision for a perimeter fence and gate. All the workers were professional and showed up when they said they would. I waited a few months to write this review in order to ensure that everything was in working order. Thank you Iryna and the Art-Metal team."
Ellis Ruddock, Google Review
5. Royalty Fence & Gates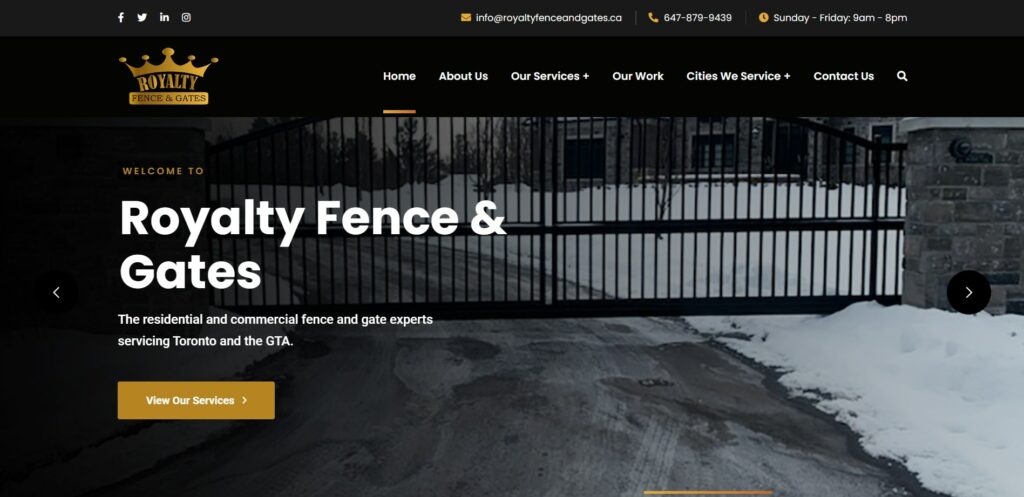 | Test | Info |
| --- | --- |
| WEBSITE | https://royaltyfenceandgates.ca/ |
| ADDRESS | 4 Director Ct, Woodbridge, ON L4L 3Z5 |
| CONTACT DETAILS | (647) 879-9439 |
| OPERATING HOURS | Monday - Saturday: 8:00 am - 5:00 pm |
Royalty Fence & Gates has been in Toronto's fence and gate scene for over 20 years, serving both homeowners and business proprietors. Their gates come in a wide range of materials like wood, vinyl, aluminum, and chain link.
These are also available in a variety of styles such as sliding gates, swinging gates, and cantilever gates. They even offer a solar-powered option for their automated gates if you're looking for an eco-friendly choice.
Before any financial commitments, Royalty offers free consultations and takes a detailed look at your property. They consider the size, layout, security needs, and budget.
Safety is also a priority with their sensors and alarms that serve to warn users of obstructions or entrapments, ensuring everything runs smoothly. For better control, they also offer intercom systems, card readers, keypads, remote controls, and even a smartphone app to manage your gate.
Offers additional safety upgrades
Solar-powered alternatives 
Quick turnaround time
Friendly staff
Pricier than competitors
No 24/7 emergency response
He did a superb job
"Very Trustworthy.We used Frank at Royalty Fence to install a chain link fence for our backyard several years ago, and after having some trouble with the fence decaying we contacted Frank and he worked out a resolution thru the warranty process, he did a superb job replacing the fence using a commercial grade this time, the fence looked great.We justrecently had him extend the fence up our side yard, and as expected a GREAT JOB!"
Jody M., Yelp Review
The quality of their work is just top rated
"I recently had a two-tone Vinyl fence installed Frank is one of the best contractors I have ever dealt with overall he is honest reliable I don't even know if words can describe our experience we had with Royalty Fence they are just the nicest hard-working people the quality of their work is just top rated and I just got lucky by looking for a fence company turns out I picked the best, I get compliments from neighbors people just passing by stopped at the crosswalk when the kids walk by for the school bus because I live on a busy corner where everyone can see my fence. Basically we get compliments all the time people say how beautiful our New fence makes our house look etc, So I give royalty fence company five stars if I can give more I would and that goes for quality pricing workmanship everything that there is to have an excellent A1 contractor, thank you from the bottom of our hearts Royalty Fence."
Joseph C., Yelp Review
---