A Complete Guide to Toronto's Forest Hill Village
If you're a winter sports fan, Forest Hill Village might have caught your radar, as it's home to the famous Larry Grossman Forest Hill Memorial Arena. Curious to know what the village has to offer besides the arena?
The best tourist attractions and the most sought-after dining spots in Forest Hill Village are right here. We'll tell you everything you need to know before your trip to Toronto's high-end haven.
A Complete Guide to Toronto's Forest Hill Village
Time Zone
Eastern Daylight Time (GMT-4)
Best Time to Go
It's best to go to Forest Hill Village during summer when marketplaces and events are abundant in the city. But this also means more people on the streets, so plan your itinerary ahead of time.
The village is less crowded on weekdays, but make sure you check the operating hours of the places you wish to visit. There are plenty of shops open during the day, and the restaurants are great for an evening of fine dining.
Things to Know
Currency: Canadian Dollar
(Check the current exchange rate)
Languages: English
Calling Code: +1
Where is Forest Hill Village in Toronto?
Forest Hill Village is situated in the midtown part of Toronto, south of Eglinton Avenue West and west of Yonge Street. It's filled with high-end homes, diverse restaurants, and large green spaces.
Here's a map of the luxurious neighbourhood and its surrounding area: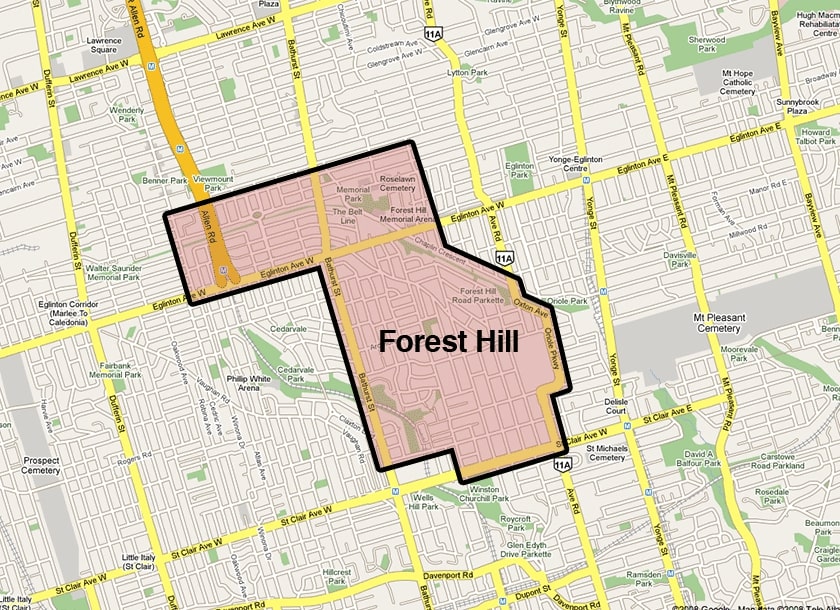 How to Get There
Nice to see a parklet patio in Forest Hill Village. pic.twitter.com/2SYvC6f7vx

— Gil Meslin (@g_meslin) July 7, 2019
— From: @g_meslin
Train: To get to Forest Hill Village by train, you can take Line 1 of the TTC subway and embark on St. Clair West station. From here, you can walk to Spadina Road, the main street in Forest Hill Village.
Streetcar: You can take the 511 Spadina line to St. Clair Avenue West and walk to the village.
Bus: Many bus routes pass through the area, with the closest bus stops at Hawarden Crescent and Spadina Road.
Car: If you're going by car, the neighbourhood is south of Eglinton Avenue West and west of Yonge Street. Parking might be limited in some areas, so look for paid garages before you go.
What to Do in Forest Hill Village
Watch games at Larry Grossman Forest Hill Memorial Arena
— From: @macchiahockey
Address: 340 Chaplin Crescent, Toronto, ON M5N 2N3
Phone: 416-488-1800
Named after Larry Grossman, a former city councillor and mayor of Toronto, the historic hockey arena is home to the Forest Hill Lakers and the Forest Hill Figure Skating Club. It was built in 1955 and has two NHL-sized ice rinks.
The arena is open to the public and all ages, and it's a great spot for ice skating, hockey, and other activities. It also has a fitness room where you can take a variety of classes like yoga, Pilates, and Zumba.
Take a walk at Forest Hill Road Park
— From: @canada.casual
Address: 179 Forest Hill Rd, Toronto, ON M5P 2N3
Forest Hill Road Park is an excellent place for families looking to relax and have fun. It's safe, clean, and complete with amenities for exciting physical activities.
It has a playground, a wading pool, a basketball court, and a tennis court available for public use. It's also a great spot to have a picnic, walk your dog, or go birdwatching.
Admire the art at Lonsdale Gallery
Address: 410 Spadina Rd, Toronto, ON M5P 2W2
Phone: 416-487-8733
Founded in 1995 by Chad Wolfond, Lonsdale Gallery represents a diverse group of both emerging and established artists. It's known for its thought-provoking and challenging exhibitions that explore contemporary art practices.
The gallery features notable Canadian artists including Patrice Charbonneau, Jim Hake, Joan Kaufman, Katherine Tzu-Lan Mann, Jim Reid, and Peggy Taylor Reid.
Where to Eat in Forest Hill Village
Bistro Grande
— From: @dan.attwood
Address: 1000 Eglinton Ave W, Toronto, ON M6C 2C5
Phone: 416-782-3302
Pricing: $$$
Bistro Grande is a kosher restaurant famous for its Mediterranean Israeli cuisine. They have plenty of tasty options on their menu, from brick-oven pizzas to homemade pasta drenched in delicate sauces.
Some of their popular dishes include falafel, shakshuka, lamb kebabs, chicken schnitzel, and chocolate lava cake. The restaurant is open for lunch and dinner, and we recommend booking a reservation in advance.
Bi Bim Bap
— From: @justcrumbs
Address: 950 Eglinton Ave W, Toronto, ON M6C 2C2
Phone: 416-787-7423
Pricing: $$
Bi Bim Bap is famous for, you guessed it, their bibimbap—a Korean rice bowl topped with vegetables, meat, and a fried egg. You can choose from a variety of meat options like beef, chicken, tofu, and seafood.
Some go for extra toppings like kimchi, seaweed, and pickled vegetables to taste all the different Korean flavours. The bibimbap is served in a hot stone pot to keep the rice warm and crispy as you enjoy your meal.
Aish Tanoor
— From: @chewables
Address: 994 Eglinton Ave W, Toronto, ON M6C 2C5
Phone: 647-352-5535
Pricing: $$
Aish Tanoor is a small and intimate kosher restaurant focused on Middle Eastern cuisine. Their dishes feature bold and authentic flavours and are made using traditional techniques and fresh ingredients.
The restaurant is owned and run by the Haba family, with roots in Iraq and Jerusalem. Some of their most ordered dishes include hummus, baba ghanoush, shawarma, and grilled meats.
Marron Bistro
— From: @ardilla_ramirez
Address: 948 Eglinton Ave W, Toronto, ON M6C 2C5
Phone: 416-784-0128
Pricing: $$$
Named after a type of chestnut used in many French dishes, Marron Bistro is a kosher fine-dining restaurant that features a diverse menu curated by owner Armando Cohen and prepared by Chef Janvier Suman.
The restaurant's interior boasts an elegant and sophisticated design, perfect for date nights and family dinners. Some of their bestsellers include escargot, steak frites, coq au vin, and tarte tatin.
Mashu Mashu
— From: @dan.attwood
Address: 387 Spadina Rd, Toronto, ON M5P 2W1
Phone: 416-840-0848
Pricing: $$
Mashu Mashu is an authentic Mediterranean restaurant with a touch of Middle Eastern cuisine, serving sizzling meats, fresh salads, and tasty appetizers. The food is always made with fresh ingredients, and they aren't afraid of trying new recipes.
Some of their signature dishes include shish taouk, hummus, baba ghanoush, and lamb racks. You can also reserve the place for private events to enjoy their exceptional food and service with family, friends, or workmates.
Where to Shop in Forest Hill Village
Village Market Variety
— From: @garrywelshperth
Address: 418 Spadina Rd, Toronto, ON M5P 2W4
Phone: 416-322-5110
Village Market Variety is a convenience store located on the village's main street and is open daily from 7:00 AM to 1:00 PM. They offer everyday items like fresh produce, meats, cheeses, pre-made foods, snacks, beverages, and household products.
It's a popular place for locals and tourists to shop and eat when they're on the go and looking for a quick break.
Type Books
— From: @rattlethe_stars
Address: 883 Queen St W, Toronto, ON M6J 1G5
Phone: 416-366-8973
Type Books is an independent bookstore founded by Joanne Saul and Samara Walbohm in 2018. They carry a wide selection of books in different genres for all ages, including fiction, non-fiction, children's books, and graphic novels.
They also host regular events, like author readings, book clubs, and writing workshops. They also have a charming gift shop that sells stationery and other items you can buy for your fellow reader friends.
FAQs on Forest Hill Village, Toronto