Toronto, A Paradise for Foodies
One of the things that a person checks out when they are to visit a place is whether or not the food there is good. Some people even purposely travel to a city or country just to see restaurants and food spots. 
Being one of the most famous cities in Canada, Toronto is also regarded as a paradise for foodies. Why is this the case? Let's find out!
Is Toronto a great city to explore food?
Yes! Toronto is a paradise for foodies mainly because of the multicultural and diverse cuisine that it offers and the endless amount of food spots that it has.
World-renowned and talented chefs have even put up their own places in the city. A number of food events and cooking-related training are also held in Toronto and its local food scene is also one of the most remarkable in the world.
You can have a taste of various countries just by restaurant hopping within Toronto. The city also has its own streets and spots that are solely dedicated to good food.
Find out more by reading what we've gathered below.
1. Toronto has one of the most diverse food scenes in the entire world.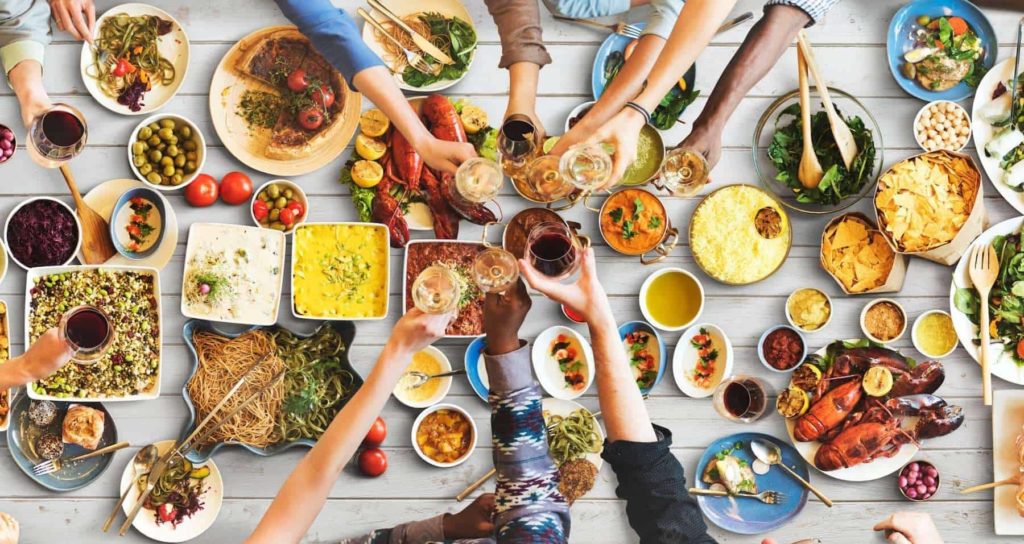 Image source: rawpixel.com via Freepik
Having over 7,000 restaurants across 158 neighbourhoods, Toronto's multicultural identity is characterised by its food scene.
One can choose from a variety of spectacular Italian, Chinese, Japanese, Indian, and more restaurants and catering services just within the city. 
Even vegan restaurants in Toronto serve mouthwatering dishes. 
Toronto even has its own Chinatown, which is a neighbourhood that houses Chinese, Vietnamese, Thai and Japanese restaurants. You can find anything from xiaolongbao, pho, and sushi in this place, along with Chinese herbal products and medicines.
There is an overwhelming amount of choices. We believe that you'd be considered lucky if you have a random craving while you're in Toronto, because chances are the city has a place that serves whatever it is your tummy and taste buds are asking for. 
2. The city of Toronto has its own streets and spots solely dedicated to good food.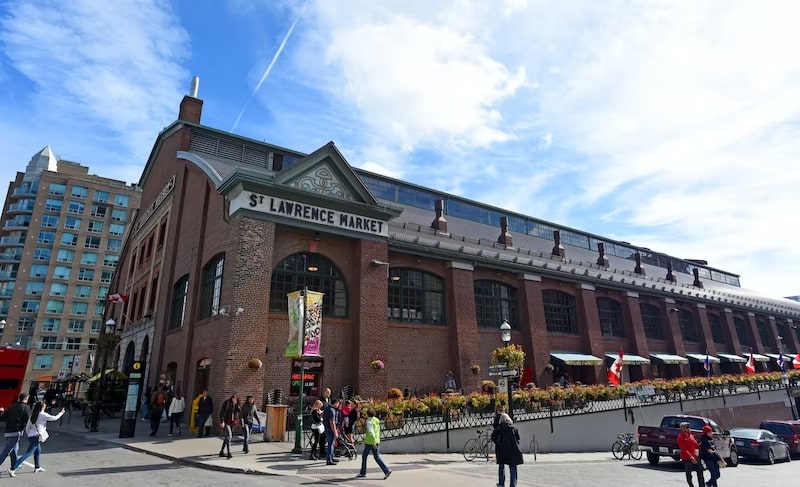 Image source: tommao wang via Unsplash
Yonge Street is one of the most popular streets in Toronto. Apart from having Yonge-Dundas Square, this street is famous simply because it spans a long line of cafés, pubs, restaurants and bars within its 86 kilometre stretch. 
But wait, Toronto says walking Yonge Street until your feet hurt and your stomach is about to burst isn't enough. It also prides itself on having St. Lawrence, the city's culinary center and public market building.
More than a hundred vendors sell their products inside St. Lawrence Market. Their items range from fresh produce, fresh seafood, delicious jams and spreads, specialty breads and pastries, organic and gourmet products, coffee, and more. 
Cooked and ready-to-eat meals are also served inside the market, so you can literally go for a food trip within the building. Rest assured that you can find something whether it's for brunch, a snack, or just something to try out. 
Another street in Toronto is Bay Street. This is where you can find the famous Marché, a marketplace-style restaurant with more than 5 food stations, home-made recipes and on-the-spot prepared food with seasonal and regional produce.
Portions of College Street can be regarded as Toronto's Little Italy, where Italian heritage can be soaked up because of the line of Italian restaurants, bars, cafes, and cultural institutions in this area. 
You can also walk the stretch of Queen Street West, where there are also a good number of bars, pubs, and restaurants. Some of the famous ones here are the french restaurant La Palette and the Bangkok street-like space Nana that serves Thai food. 
3. World-renowned and talented chefs have put up their own places in Toronto.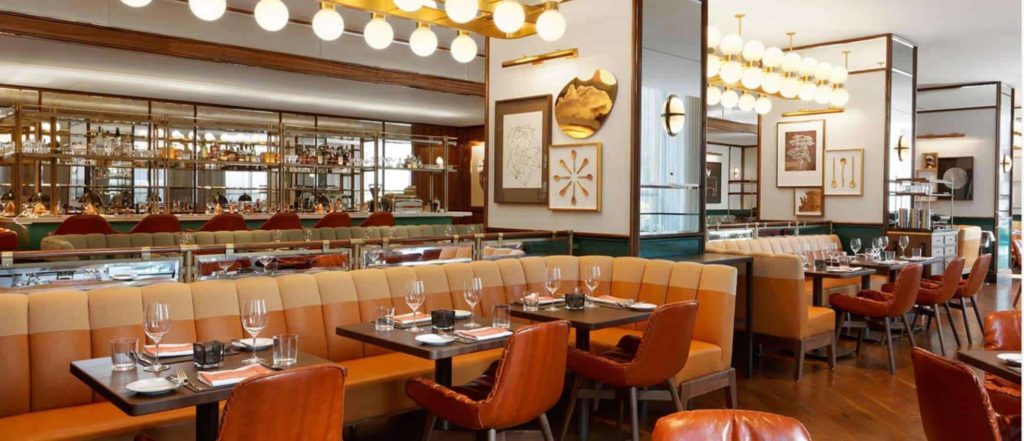 Image source: danielboulud.com
There are at least 2 Toronto restaurants and food spots we know of that are owned by chefs who are praised by the entire world.
One is the French-themed Café Boulud in Yorkville, which is owned by the famous French chef Daniel Boulud. He is known for his two-Michelin starred New York restaurant named Daniel and he owns at least 8 more restaurants in various countries.
MasterChef Canada's Eric Chong and Alvin Leung have partnered to open their own graffiti-bedecked spot in Toronto's Chinatown. Their place is named R&D and it serves modern Canadian Asian cuisine along with a wide selection of cocktails and wines. 
With these sounding food names in the Toronto food scene, more and more people will definitely be visiting the city. There are also around 40 great chefs in Toronto who have their own popular restaurants, bars, or cafes.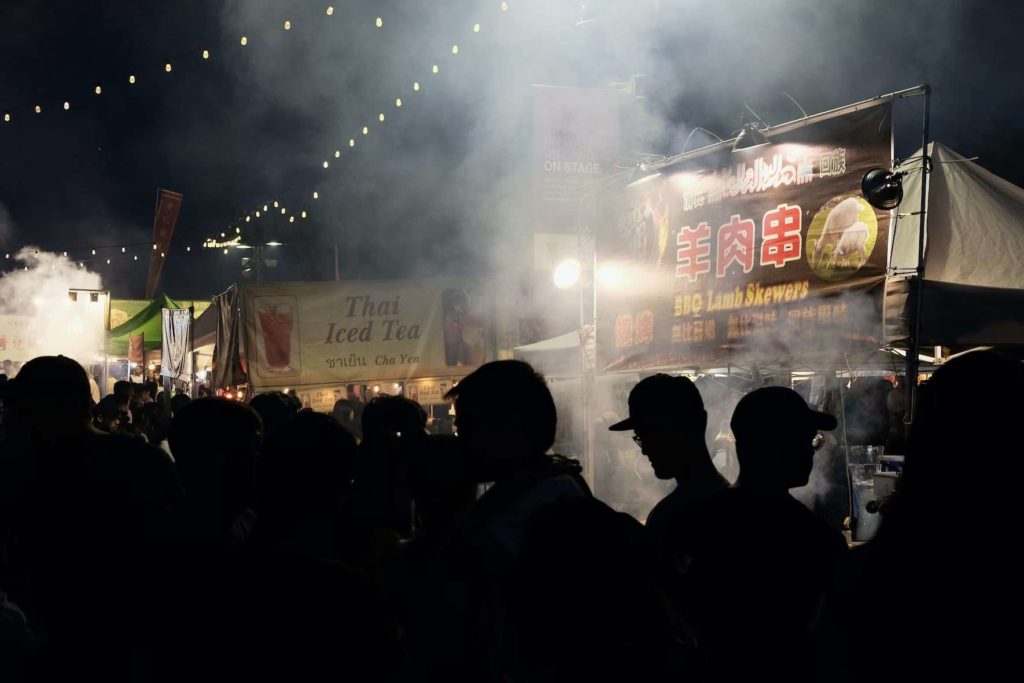 Image source: Chelms Varthoumlien via Unsplash
Every year, the city of Toronto hosts at least 10 food festivals and events. There is usually a Ribfest that features smoked meats from all over Ontario, with many barbecue restaurants in Toronto participating. 
Some festivals are dish or ingredient specific, such as a chicken festival, burger week, tea festival, or even a garlic festival. Food truck festivals and street eats celebrations have also become a thing. 
Toronto Taste is likely the city's oldest annual culinary celebration, with it consistently happening for 30 years now. This event gathers chefs from Toronto and the GTA to participate in culinary exhibitions, chef challenges, live demos, and more.
On regular days, there are also talented cooks and chefs who hold cooking classes all over the city. 
5. Toronto's local food scene is one of the most remarkable in the world.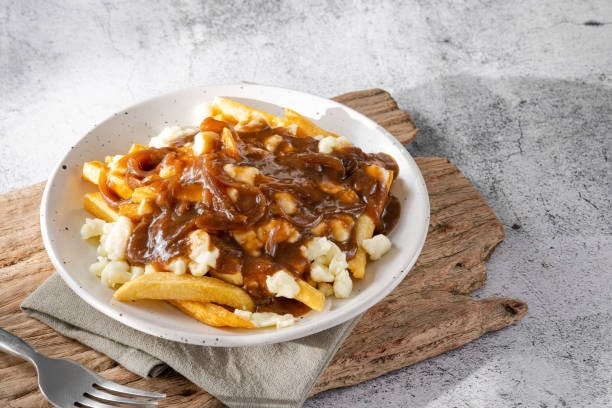 Image source: Natthaphon Thanaruethai via iStock
When one says the word "Toronto," it is highly possible that someone would think of poutine. This is because over the years, poutine has gone from a Quebec dish and has become a Canadian signature, making it part of Toronto's staple menu.
Poutine is one of the reasons why Toronto's local scene is remarkable, as this dish is something that people target when they visit the city. An average of 10 poutine restaurants can be found in Toronto.
Because the local food scene in Toronto is inspired by literally almost the entire world, they also serve great staples such as butter tarts, fish tacos, bagels, and more.
Apart from this dish, people also adore the food scene in Toronto because of its unique restaurants. One of these is O.Noir Restaurant, which is widely known for its dine in the dark experience. 
The city even has a branch of Medieval Times Dinner & Tournament, a medieval restaurant that serves a four-course meal while entertaining guests with a live two-hour story set of swordsmanship, hand-to-hand combat, horsemanship, and falconry. 
6. 15 Restaurants in Toronto that you must visit
To give you a better glimpse of how diverse the food scene is in Toronto, here are 15 of the latest dining spots (in no particular order) that you should check out when you get to the city. 
1. Grey Gardens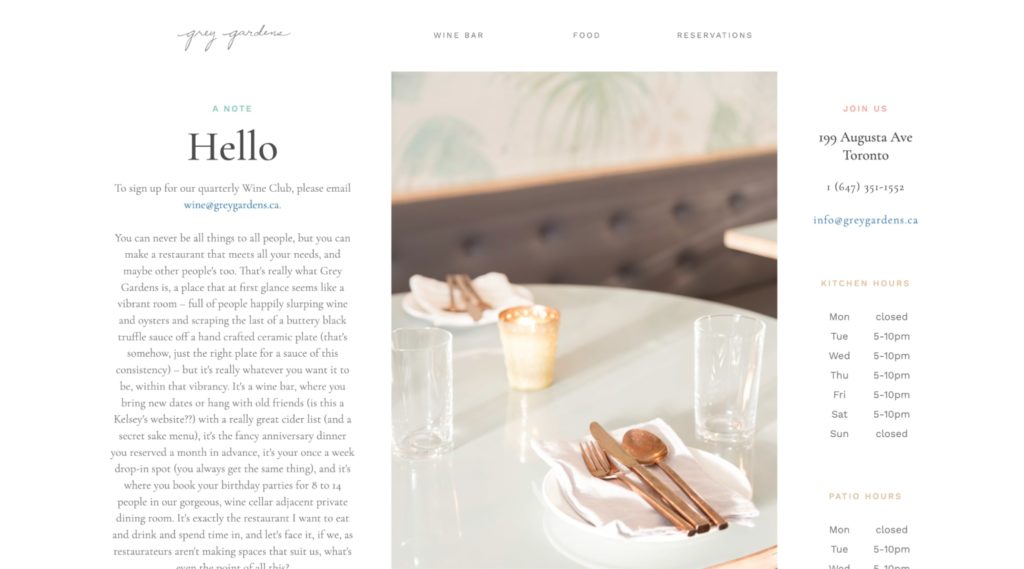 Image source: greygardens.ca
Grey Gardens prides itself as a restaurant that meets people's needs, presenting a seafood-heavy menu since its opening in 2017.
You can find a selection of great wines from their bar, enjoy their mouthwatering dishes through a special and advanced reservation or a random walk-in to the restaurant, and even hold private gatherings for groups in their private dining room.
They describe their menu as "New North American," with some of their popular dishes including the blue mackerel, gnocchi, a 7 layer trout roe dip, and strawberry-sunflower seed ice cream. 
2. Scaramouche Restaurant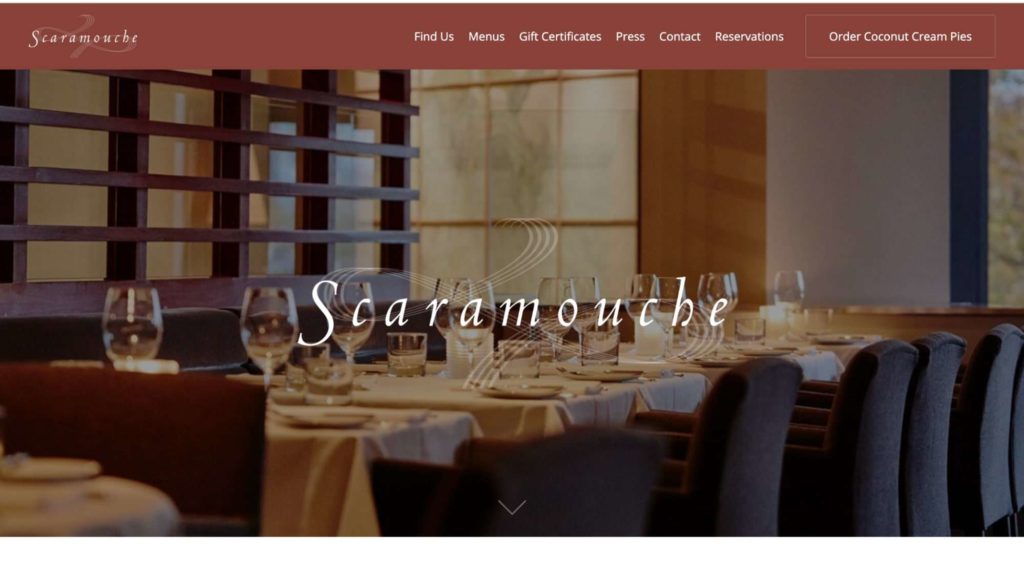 Image source: scaramoucherestaurant.com
Offering skyline views of Toronto, Scaramouche is an upscale space with a casual bistro that serves French dishes. They opened as early as 1980 and are one of the most established places in the Toronto food scene.
Some highlights from their serving menu are butter poached lobster and filet mignon. Non-meat eaters can choose from vegetarian meals such as quinoa and tempura maitake mushrooms.
A long list of wines by the glass or by the bottle can also be purchased. 
3. Richmond Station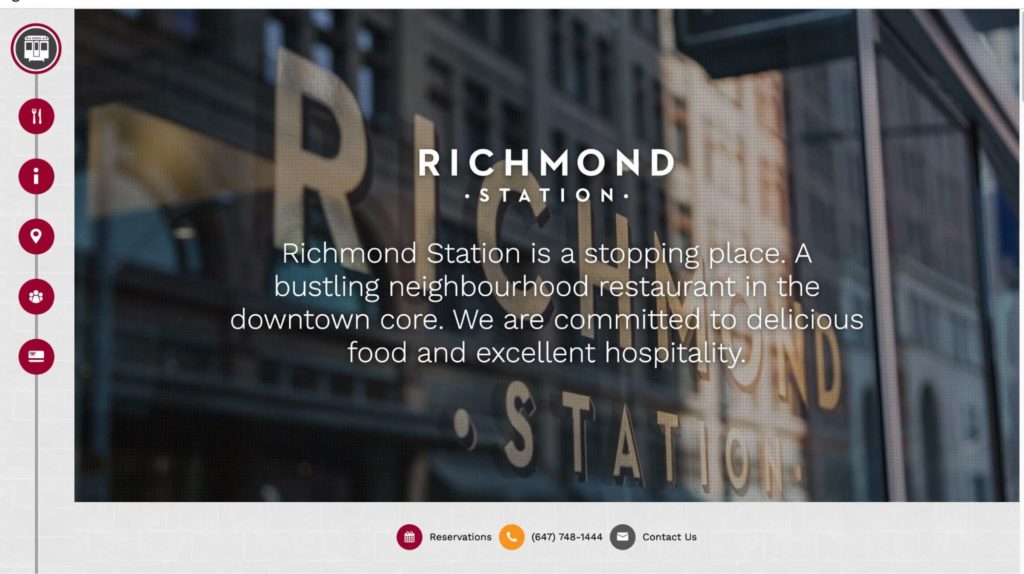 Image source: richmondstation.ca
Famous for its inviting interiors, Richmond Station is a bustling neighbourhood restaurant owned by a Top Chef Canada winner Carl Heinrich. Since their opening in 2012, the restaurant has been committed to good food and hospitality.
Their menu changes every week, offering dishes that are made from fresh ingredients from Southern Ontario.
Station events such as large group gatherings and reservations are accepted. They also host lunch buyouts and sell their own gift cards. A virtual tour of their space is available on their website.  
4. Piano Piano Harbord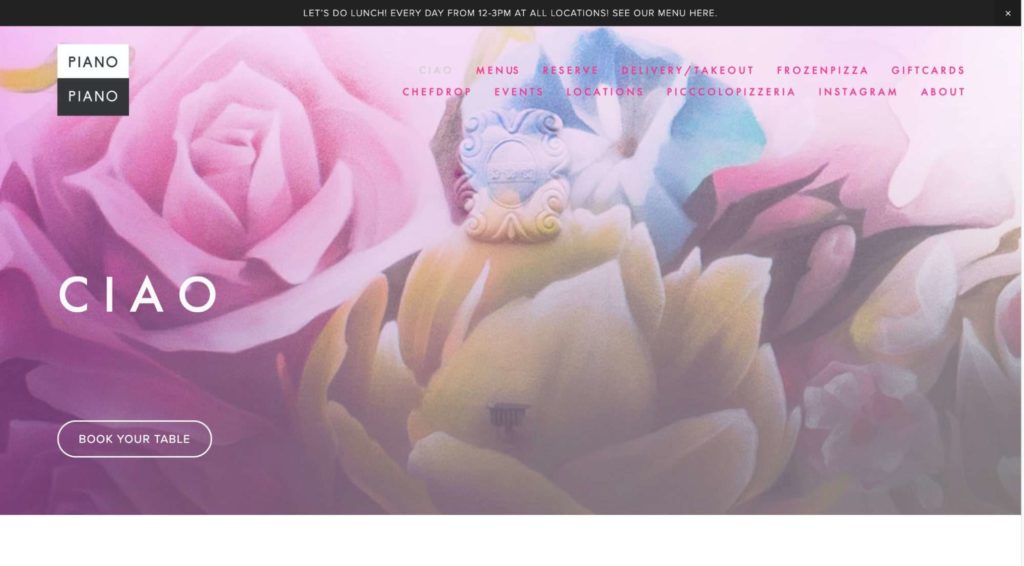 Image source: pianopianotherestauarant.com
Piano Piano serves separate menus for lunch and dinner. It opened in 2009, branding itself as the Italian restaurant that is just right around the corner. 
All their locations are known to have well-lit, classic, and artsy interiors designed by Toronto-based designers and incorporated with pieces by Toronto artists.
This restaurant also opened its own pizza parlor and sister restaurant named Piccolo Piano Pizzeria, which is pretty popular in the neighbourhood as well. 
5. Aloette Restaurant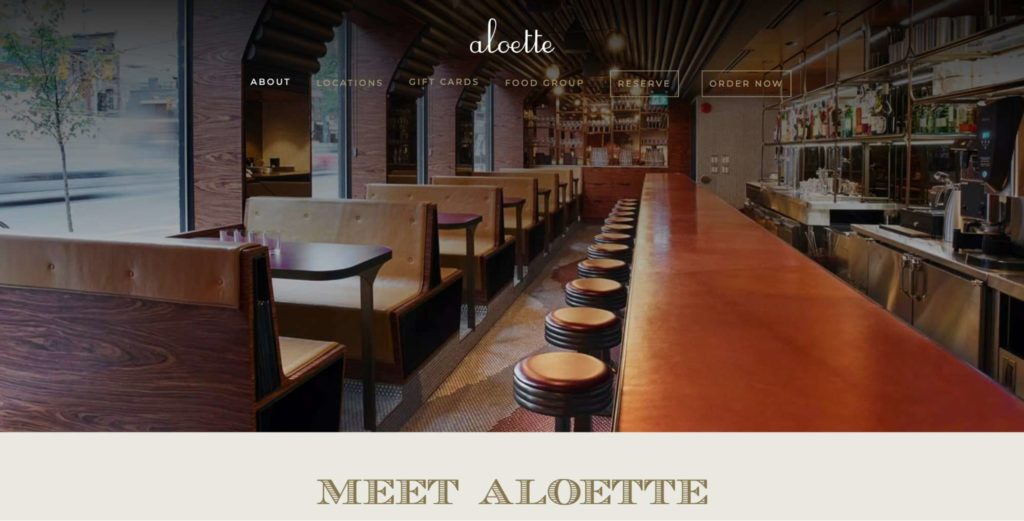 Image source: aloetterestaurant.com
Aloette Restaurant is famous for satisfying burger cravings of the Toronto community. It also serves a good lemon meringue pie, which is also one of the highlights of its menu.
Since 2017, the restaurant has been serving a fusion of comfort dishes and French staples.
The interiors of this restaurant complement its menu well, with it being a narrow eatery that resembles the layout of a diner but having a chic atmosphere given its lighting and design. 
6. Oji Seichi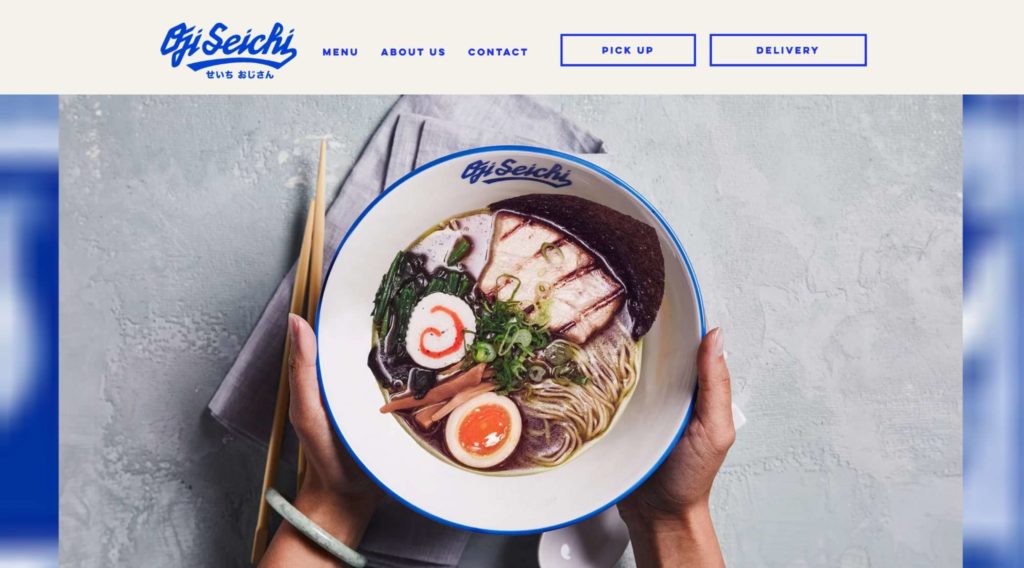 Image source: ojiseichi.com
For all the ramen lovers out there, Oji Seichi is the place for you. This restaurant is under the leadership of famous Toronto chef Mitch Bates.
They have a selection of ramen, various snacks that can be paired with each bowl such as chicken karaage, gyoza, and tempura.
They also sell packs of their house made, fresh noodles for those who are interested.
If you're lucky, you can also catch a taste of their seasonal sweet corn mazemen, which contains grilled corn, shiro miso butter, seared shrimp sausage, shellfish chili oil, cilantro and scallions. 
7. Canoe Restaurant and Bar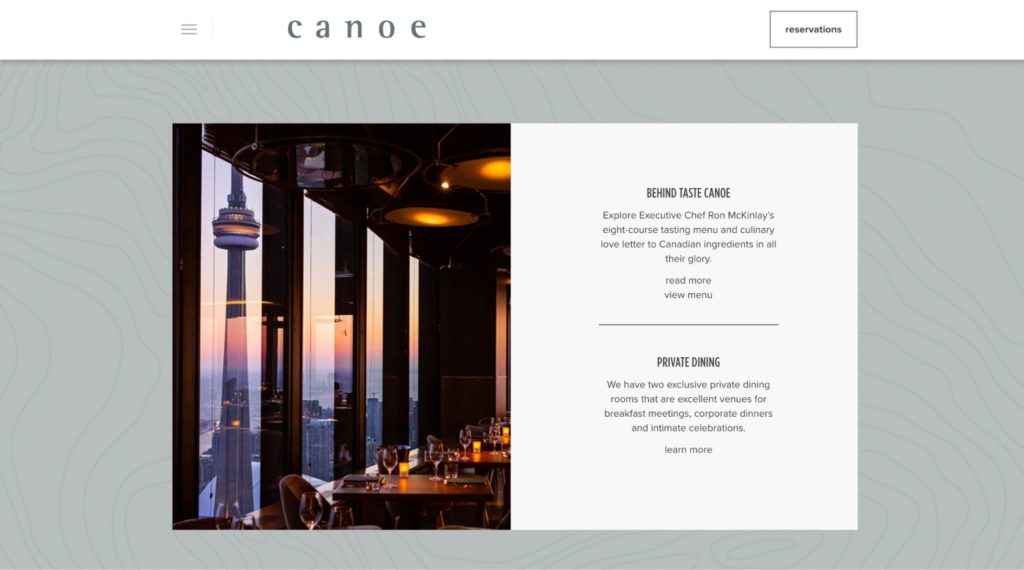 Image source: canoerestaurant.com
Maximizing Canada's exceptional views is Canoe Restaurant, which is housed at the 54th floor of the TD Bank Tower.
This restaurant is one of the best places should you want to discover more about the diversity of Toronto's food scene as they offer inventive Canadian dishes such as Ontario lake trout, québec foie gras parfait, and Ontario rhubarb.
Canoe has been in the scene since 1995, with an extensive culinary experience that allows it to experiment on regional dishes. For Toronto aesthetes and paletes, Canoe can definitely satisfy your pleasures. 
8. Avelo Restaurant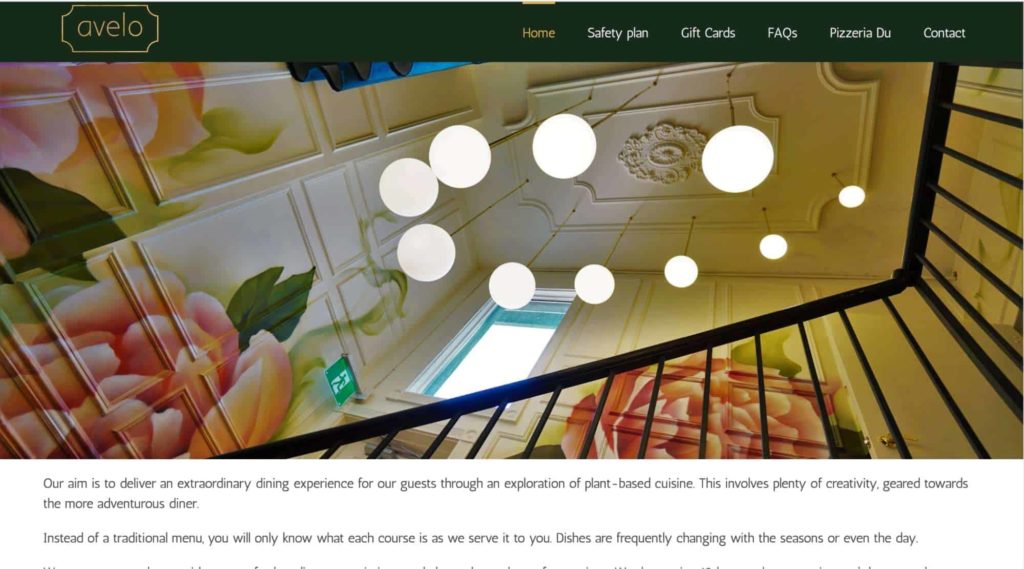 Image source: avelorestaurant.com
Vegan dishes are also great in Toronto. Avelo Restaurant is one of the best places to prove that.
This restaurant is located in a Victorian heritage building, so the entire atmosphere mixes well with the clean and healthy food that they take pride in.
Pizzas headline their menu, with the crust perfected by their late chef Dualco for over 2 years. They offer 8-course and 5-course meals with gluten-free options for customers.
Just make sure to secure a slot 48 hours before your target date! 
9. Chubby's Jamaican Kitchen
Image source: chubbysjamaican.com
Chubby's Jamaican Kitchen, based on its name, is all about traditional Caribbean cuisine. They balance their dishes using healthy alternatives, culinary twists, and home-style cooking.
The warmth and vibrancy of Jamaica's culture and its people are embodied by the restaurant's indoor and outdoor design and its overall atmosphere.
Catch some of their market fresh salads and their famous chicken and curry dishes. They update their menu every month, but most staples stay in place. 
10. Constantine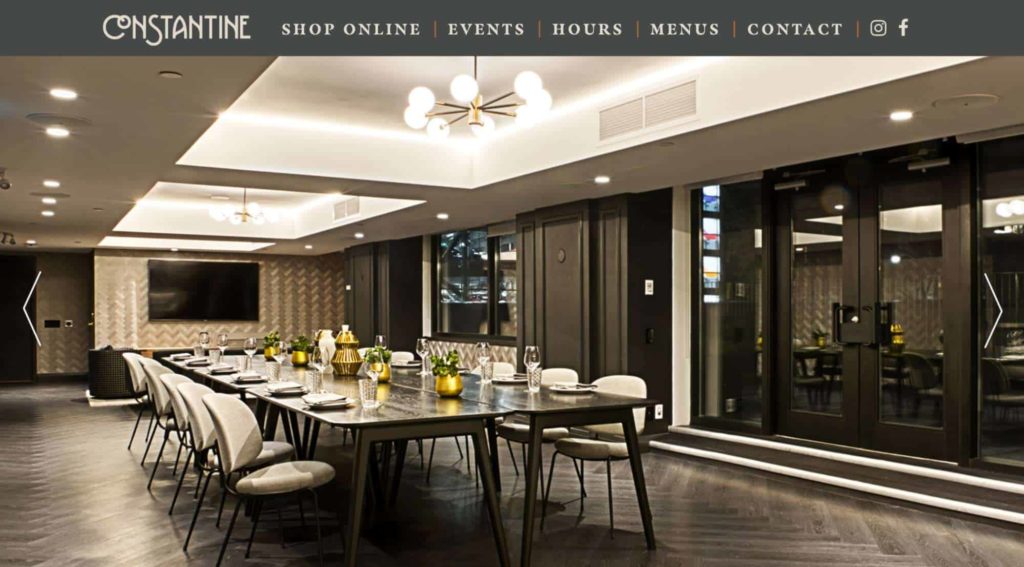 Image source: constantine.com
Located inside Anndore house boutique hotel, Constantine is the great dining place for either day or night. Their menu is mostly Mediterranean, with emphasis on dishes and ingredients from coastal Italy.
They have a vast selection of grilled seafood, along with flagship plates such as the braised rabbit pappardelle, the roasted sweet potatoes with fresh figs, and the creamy fire-roasted eggplant.
Having been in the local food scene since 2018, this restaurant has been known to be one of the best for an impressive date. They also provide complimentary drinks if you're hosting a party. 
11. Bar Raval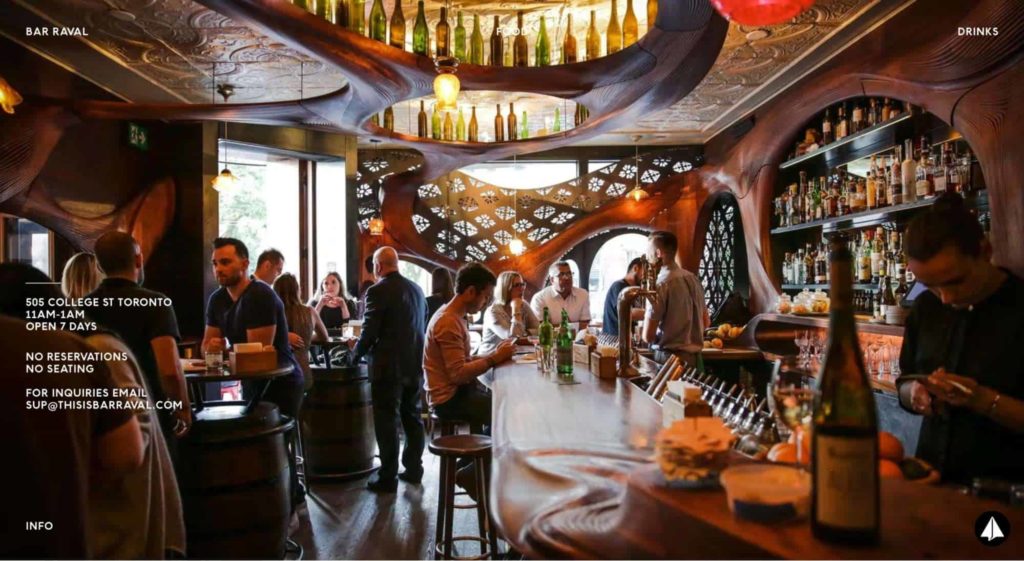 Image source: thisisbarraval.com
One of the most prominent bars in Toronto is Bar Raval, a cool spot that is famous for its tapas and pintxos.
Some of their famous tapas include the zucchini and black cod and the iberico pork, while pintxos menus cover the house-smoked mussels with chili and pancetta with rhubarb.
They also serve basque cheesecake and olive oil cake for dessert. No reservations are accepted and they encourage everyone to enjoy the sexy interiors of their space. 
12. The Lakeview Restaurant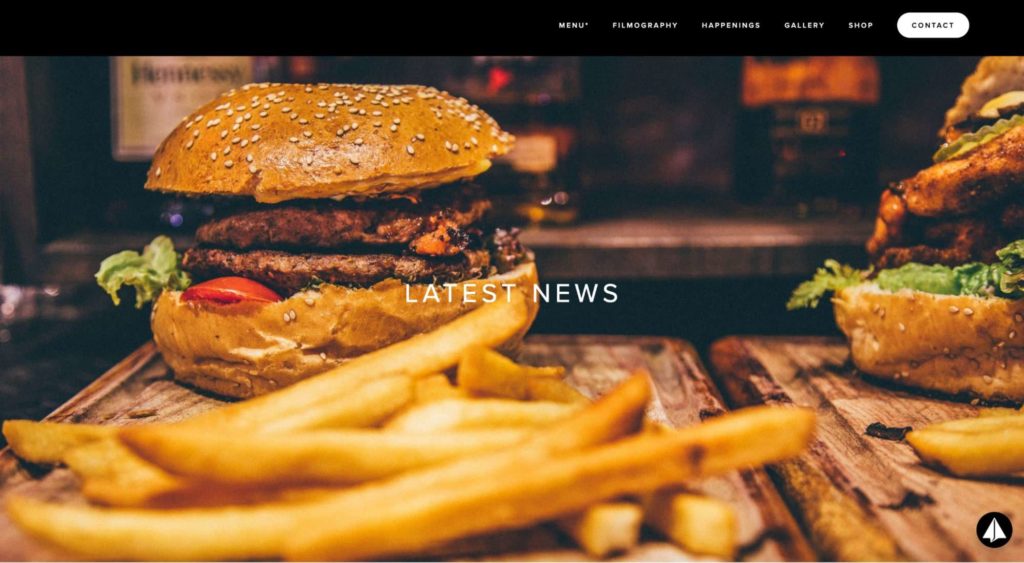 Image source: thelakeviewrestaurant.ca
The Lakeview Restaurant has been around since 1932, so it's no question that this is one of the most beloved restaurants in the city.
It also serves some of the community's favorite dishes or staples, with the promise of a greasy and satisfying experience every time. Some classic favorites are its poutine dishes, burgers, and various brunch meals.
The best thing about this place is that it is almost always open, with its hours ranging from mostly morning until midnight. This place is already considered a Toronto landmark and is a safe casual spot for any member or visitor in the community. 
13. Barbarian's Steakhouse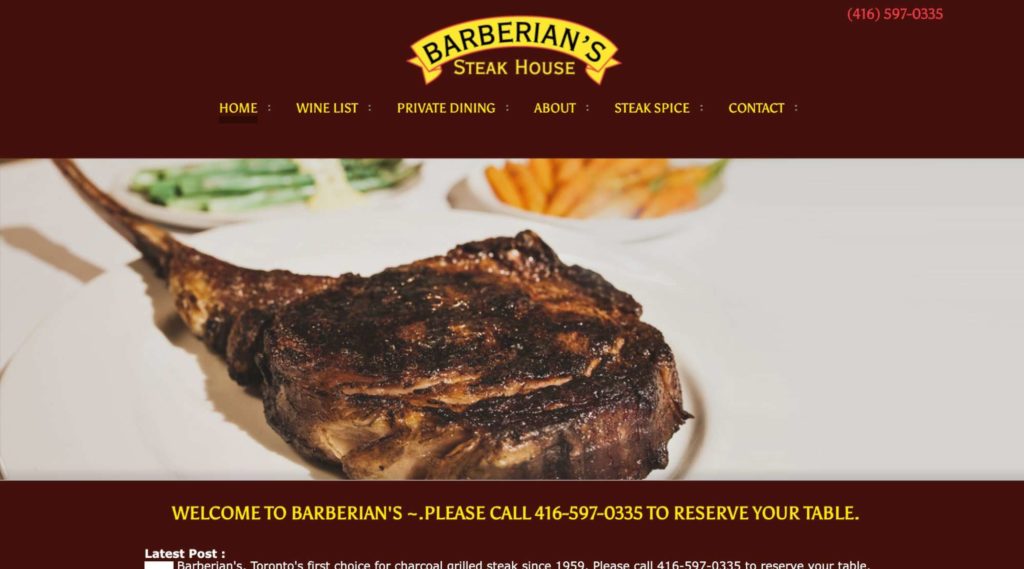 Image source: barberians.com
Another Toronto food landmark is Barberian's Steakhouse, which is arguably the number one choice of the community for charcoal-grilled steak. This place has been in the industry for over 60 years now, with it opening in 1959.
One of the secrets to their well-loved steak is the spice created by Harry Barberian, which is now sold in stores even across Ontario. They also have a world-famous wine list to complete the entire dining experience. 
14. Baro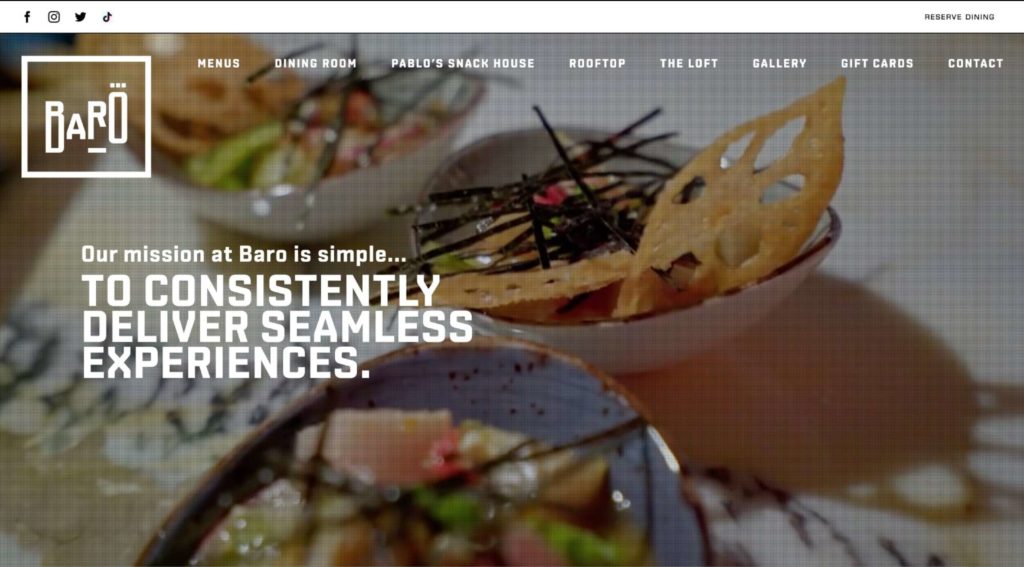 Image source: barotoronto.com
Baro opened in 2016 and has been serving quality Latin cuisine since then. The twist is that their dishes come with Asian influences and inspirations, making the taste more out of this world.
Included in their best sellers are the duck confit rice and the chicken wings with smoked guava barbecue sauce.
This is a great option if you're looking for a high-quality restaurant amidst the busy and noisy nightlife in King street. You can definitely bask in its cozy yet cool interiors while you enjoy eclectic food. 
15. Dreyfus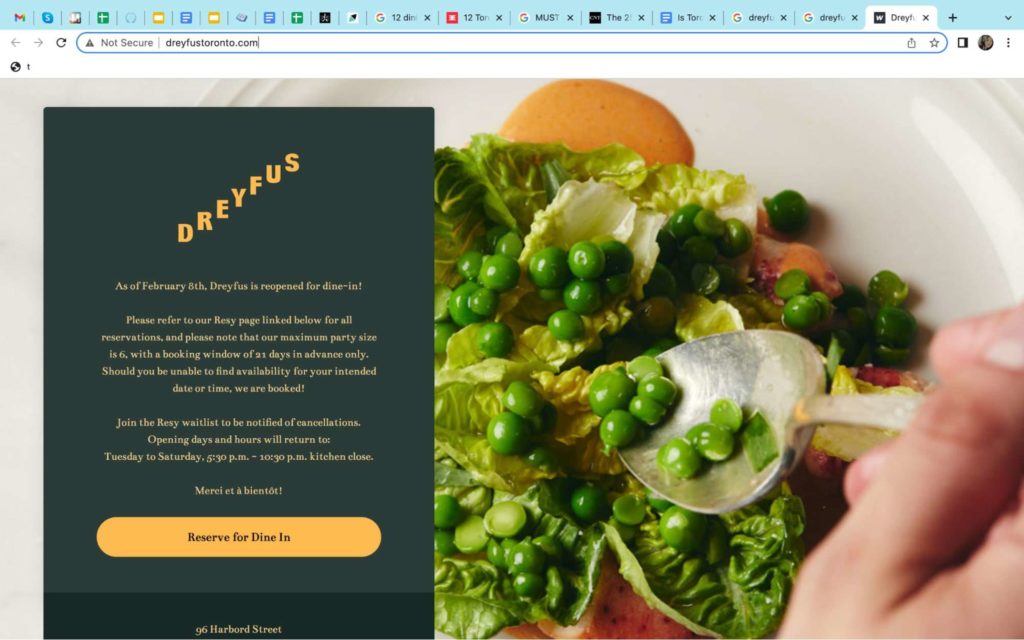 Image source: dreyfustoronto.com
If an intimate bistro is what you're looking for, then the newest place to go is Dreyfus. This narrow, 30-seater French eatery is a great place for conversations, as the vibe is homey and the meals don't come with the pressures of fine dining.
Considered a good date spot since its opening in 2019, Dreyfus also serves wines for a pleasurable and complete dining experience. Have a taste of their Ontario butter lettuce and you'll definitely understand where all the hype is coming from. 
7. 10 dishes that Toronto is famous for
Just to recount and reaffirm that the Toronto local food scene is one of the most iconic in the world, we listed down 10 dishes that the city is known for (again, in no particular order). 
1. Poutine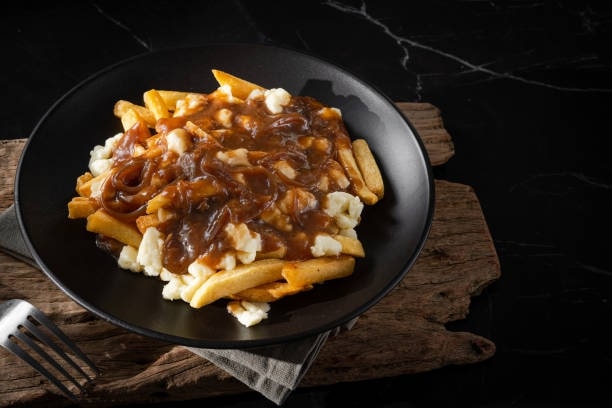 Image source: Natthaphon Thanaruethai via iStock
Of course, you cannot go to Toronto or even visit Canada without trying Poutine, the famous Canadian fries topped with cheese curds and gravy. 
2. Peameal Bacon Sandwich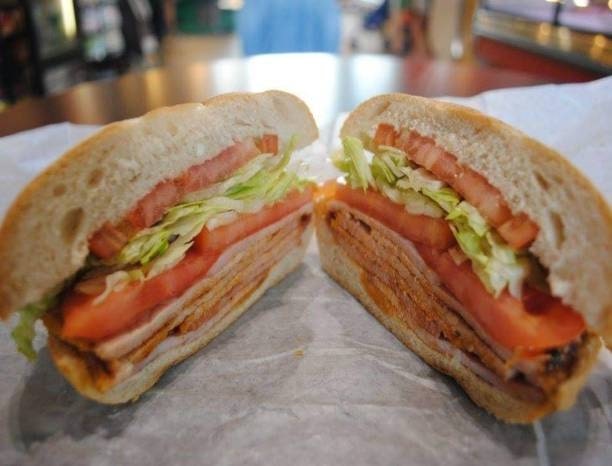 Image source: Juan Carlos fotografia via Istock
Ask members of the Toronto community about their favorite dish and we're certain that a good number of them will talk about the Peameal Bacon Sandwich.
Considered a signature dish of the city, this sandwich is also known as Kaiser given the Kaiser bun used as its base. Peameal bacon or smoked back bacon is the star of the dish, with usual toppings and additions such as mustard, tomato, and lettuce. 
3. Bagels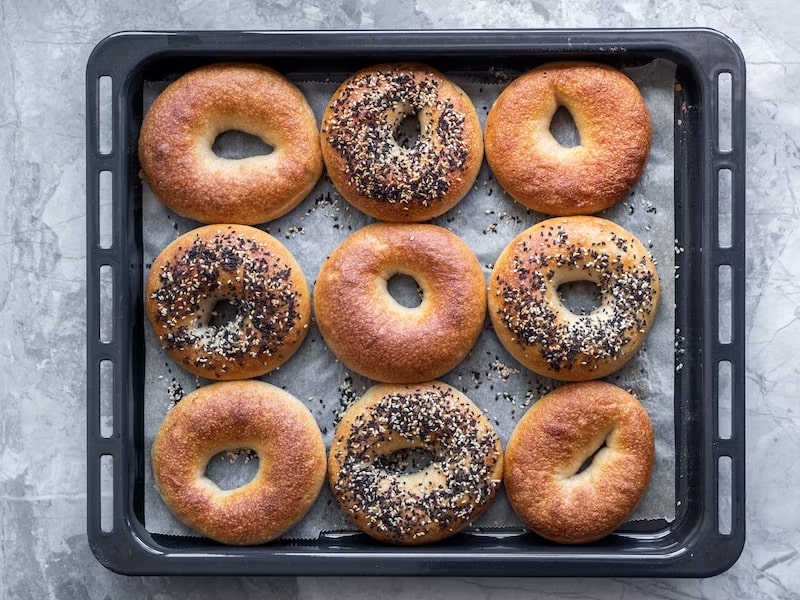 Image source: Vicky Ng via Unsplash
Even though bagels are bread that are known to have originated in Poland, they are considered as one of Toronto's staples given the variety that you will find in the neighbourhood.
Classic ones and those that come with cream cheese can be found in bakeries and restaurants, making bagels a popular breakfast to pair with coffee. 
4. Smoked meat sandwiches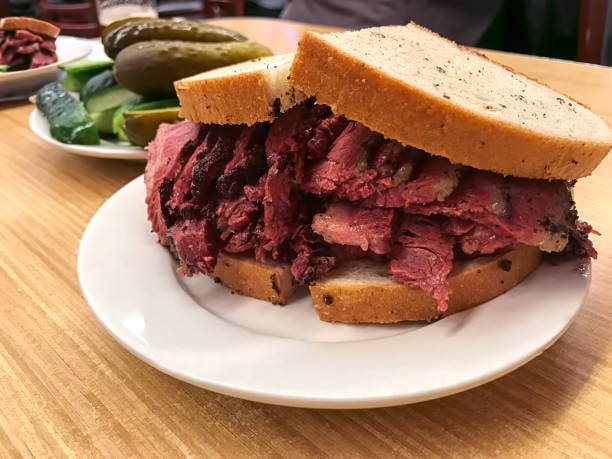 Image source: gerenme via IStock
Another sandwich you cannot go wrong with in Toronto is any type of smoked meat sandwich. This dish that comes with thinly sliced meats and delectable breads can be found in various food trucks all over the city. 
5. Ketchup Chips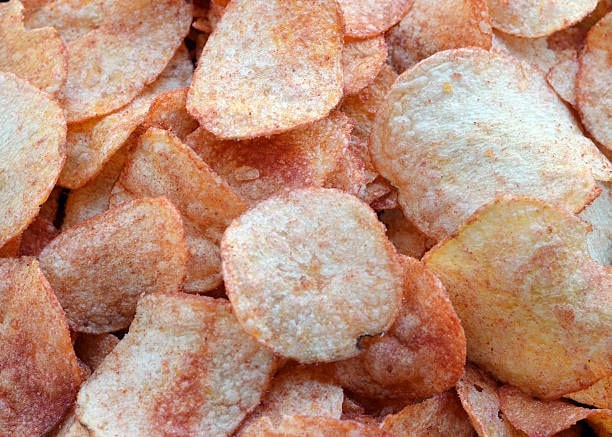 Image source: AnthonyRosenburg via IStock
Ketchup chips are a thing in Canada, so it automatically becomes a must-try snack in Toronto. Some restaurants serve this with their burgers or sandwiches, while certain groceries stock up on this flavour from famous potato chip brands. 
6. Butter Tarts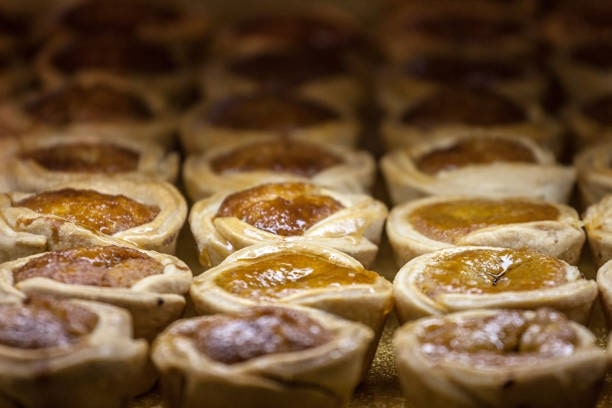 Image source: BalkansCat via IStock
Among the list of Canadian treats are butter tarts, which are said to be common in Canadian pioneer cooking. Records say that the first recipe of this sweet, custard pie-like invention dates back to 1900. 
7. Caesar Cocktail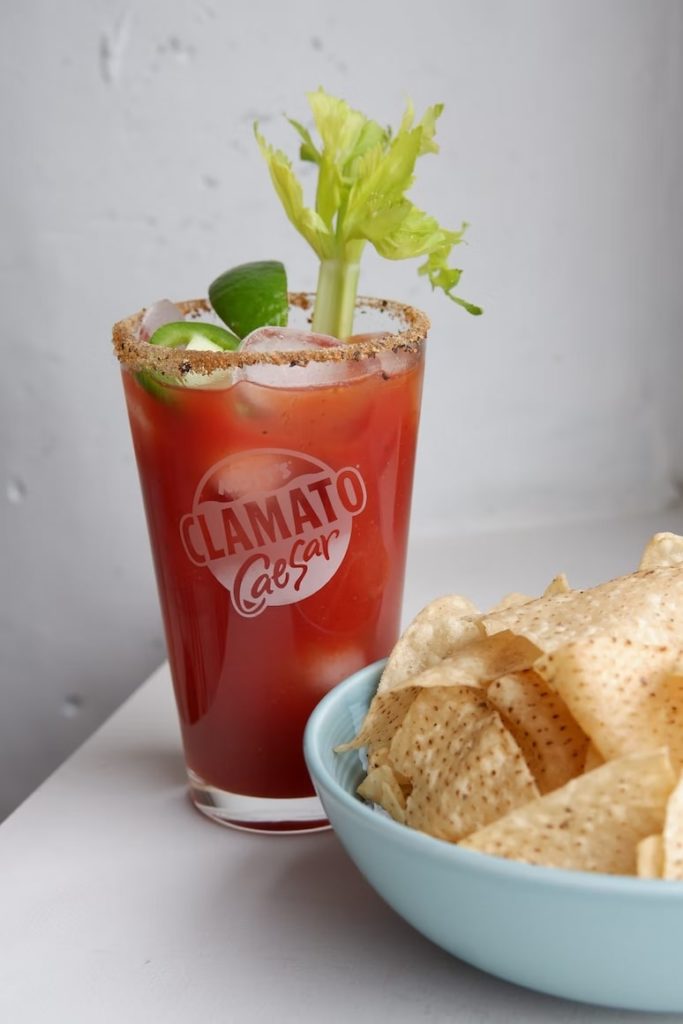 Image source: Kateryna T via Unsplash
Toronto bars and restaurants have their own versions of the tomato and clam juice based Caesar cocktail.
This drink is primarily created and consumed in Canada, so having a glass or more in one of the country's top cities definitely makes for a good experience. 
8. Nanaimo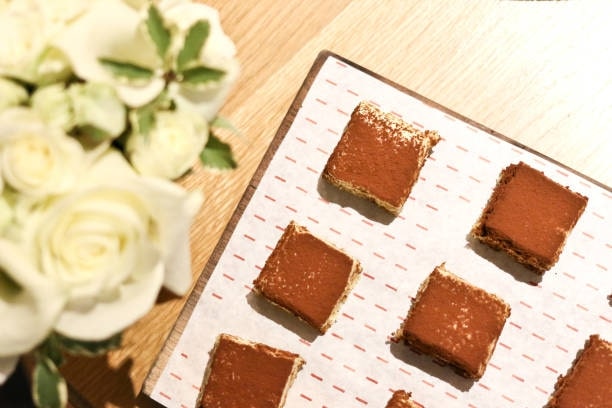 Image source: TobinC via IStock
Nanaimo bars are sweet layers made of wafers, nuts, coconut, custard, and chocolate ganache.
While the origin of their name is from British Columbia, this dessert is considered a local Toronto staple.
It was even declared as Canada's favourite confection by a reader's poll in the National Post in 2006 and was recently placed on a postage stamp by the Canadian Post in 2019. 
9. Tourtière
Image source: wikimediacommons
If you like pies, then a Tourtière is for you to try. This spiced, French-Canadian pie is usually prepared during holidays such as Christmas, but has long become a favourite in the Toronto food scene.
Tourtière is usually packed with pork meat and has onions, potatoes, carrots, nutmeg, cinnamon, and more.
This rarely stays on restaurant or eatery menus, so catch it while you can. We recommend going to Le Papillon in the city centre. 
10. Sushi Pizza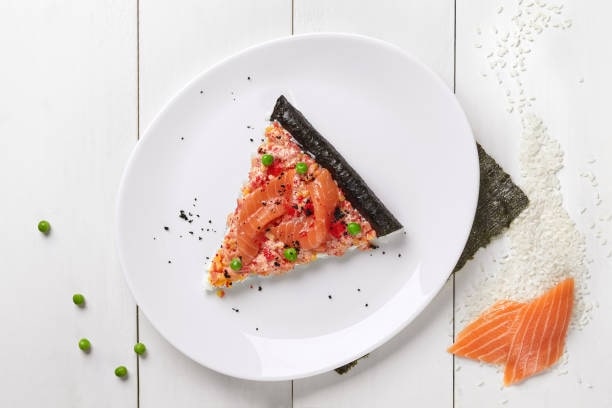 Image source: Sergey Nazarov via IStock
Some people may find sushi pizza weird (or even gross), but it is a well-loved food innovation in Canada, especially in Toronto.
Stories say that Japanese chef Kaoru Ohsada invented it for his Toronto restaurant Nami, so it has stayed as a part of the city since.
This is usually served with soy sauce and ginger, with toppings being a mix of sushi staples such as salmon, tuna, crab, fish roe, and spicy mayo.
---
We're not kidding when we say that you can have a taste of the world in Toronto!
Any restaurants or dishes that you'd like to add to the list? Let us know in the comments below!