Here are 15 fun things locals do in Toronto!
Toronto is undeniably a tourist's paradise, with so many iconic landmarks. But locals know that the city has more fun to offer than just a visit to the CN Tower.
If you're interested in doing a deep dive into Toronto culture and really getting to know the city, here's a list of fun activities we locals like to partake in!
Here are 15 fun things locals do in Toronto!
1. Spend the day in Cherry Beach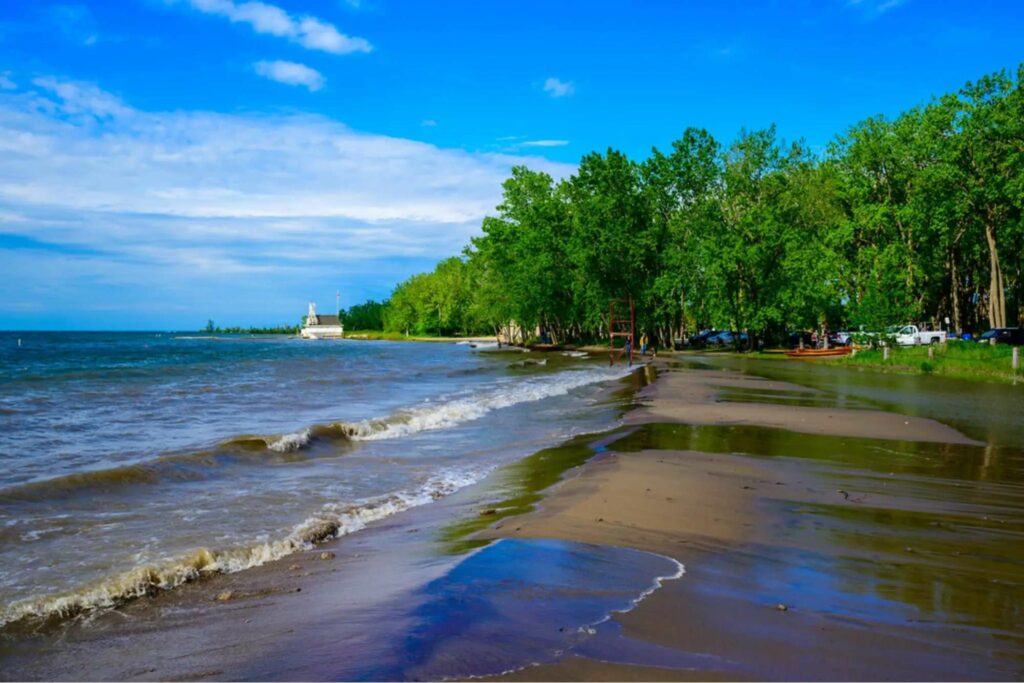 Address: 1 Cherry St, Toronto, ON M5A 0B7
Cherry Beach is our best kept secret. Known for its relaxing atmosphere and warm sands, the place has become a hotspot for locals who love barbecues, swimming, biking, and relaxing beach days.
It's a great place to soak in cold water and build some sand castles with your friends and family. The beach is also surrounded by lots of trees and trails where you can go for a walk or a relaxing bike ride.
Pro tip:
One of the best things about Cherry Beach is the scenic view of the skyline. If you head west on the beach at sundown, you'll catch a mesmerizing view of the city skyline as the orange sky is reflected on the lake's waves.
2. Go bar hopping at Dundas Street's little Portugal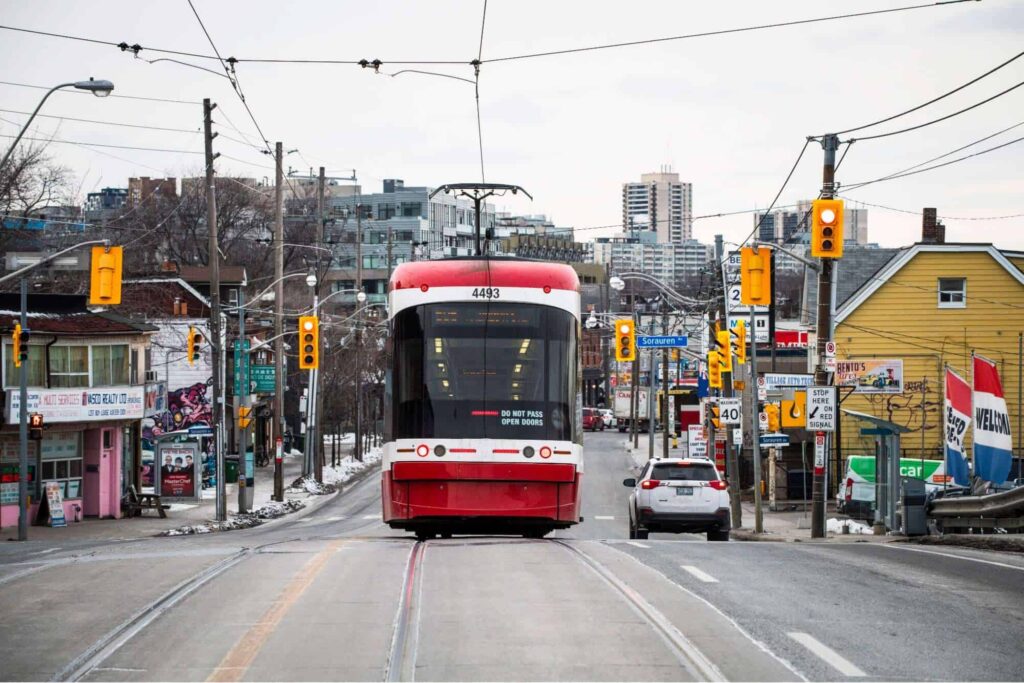 Address: Dundas Street, Toronto, ON, Canada
If you're looking for some low-key bars to go drinking, look no further than Dundas Street. This street is home to Little Portugal where the most vibrant and affordable bars in the city can be found.
With so many bars in the area, it's the perfect place to make unforgettable memories and go bar hopping with friends. Some of our favourite bars are Black Dice, Get Well, Swan Dive, and the unsuspecting Mahjong bar!
Pro tip:
Try Mahjong Bar's mahjong lager, tuna ceviche, and miso mushrooms. The lager's smooth taste complements the spicy flavours of the ceviche, while the miso mushrooms provide an umami sensation!
3. Make some friends and party at Lavelle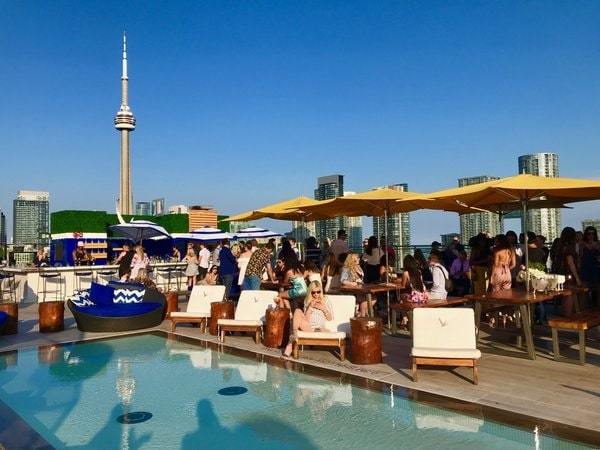 Address: 627 King St W, Toronto, ON M5V 1M5, Canada
Business Hours:
Monday – Wednesday: 5:00PM – 12:00AM
Thursday – Friday: 5:00PM – 2:00AM
Saturday – Sunday: 12:00PM – 2:00AM
Whether it's day or night, Torontonians love to party – and there's no better place to do that than Lavelle. This unique restaurant stands 16 stories above the ground and its a popular hub where we go to join public parties and meet new people!
Locals love this spot because the party literally never stops, with events happening from dusk til dawn. Aside from that it's also a fun place for locals to chill with it's patio's beach-like aesthetics and 360-degree view of the bustling city.
Pro tip:
In case it wasn't obvious, Lavelle is one of the best places to get a great view of Toronto's best landmarks. Its location near the harbourfront ensures patrons get a breathtaking view of the CN Tower, Rogers Centre, and Lake Ontario.
4. Have a relaxing stroll at High Park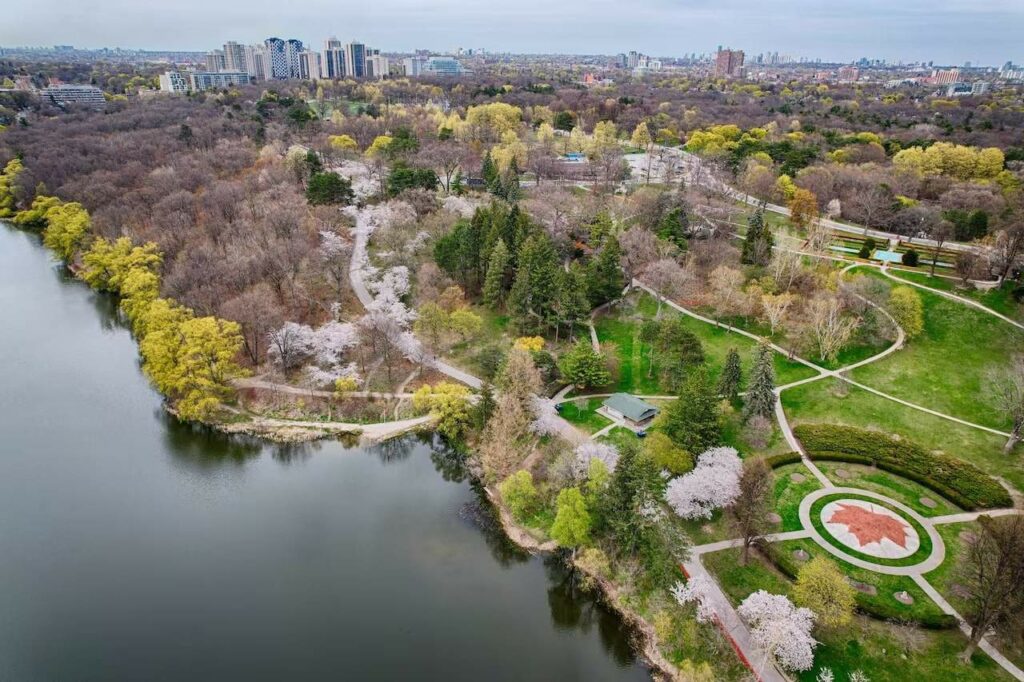 Address: 1873 Bloor St W, Toronto, ON M6R 2Z3, Canada
As one of Toronto's largest greenspaces, it's no surprise locals frequently come to High Park for a relaxing stroll.
Aside from flowers, there's the historic Colborne Lodge and several public art sculptures to appreciate as you stroll around the park. There's also an amphitheatre where people frequently gather to enjoy live performances!
Pro tip:
If you bring a dog with you, head to the dogs-off leash area near Colborne Lodge Drive. It's a beautiful area of the park where you can take cute pictures of your dog with some flowers or just let them run wild!
5. Grab a bite at the Roti Hut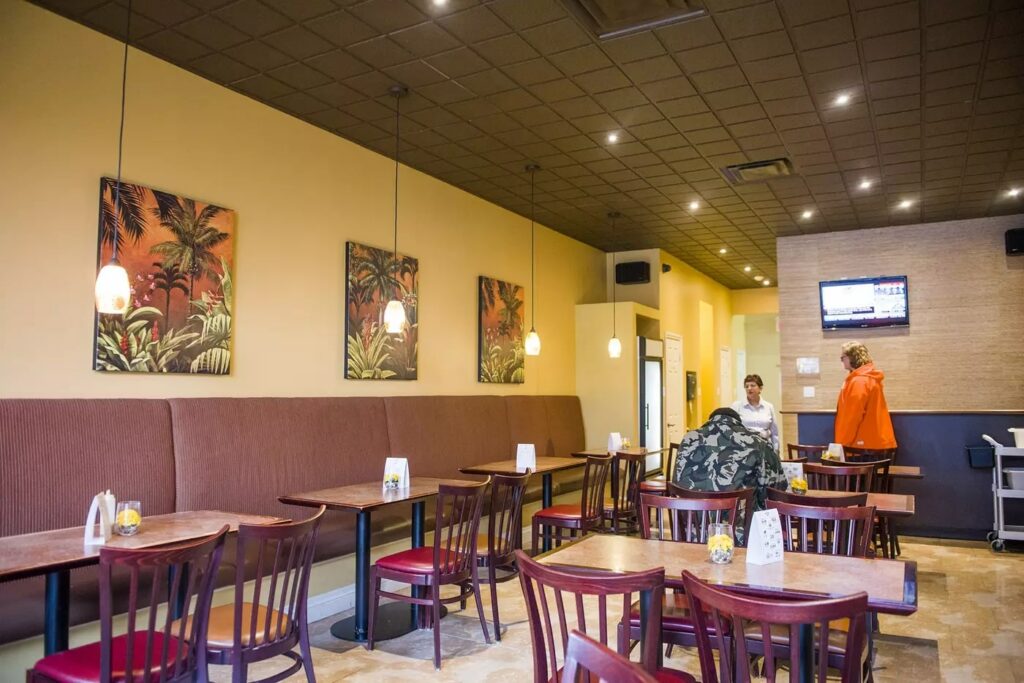 Address: 351 Pitfield Rd, Scarborough, ON M1S 3E5, Canada
Business Hours:
Monday, Sunday: 10:00AM – 9:00PM
Tuesday – Thursday: 10:00AM – 10:00PM
Friday: 10:00AM – 11:00PM
When it comes to Indian food, nothing comes close to The Roti Hut. Known for their Western-Indian cuisine, locals love them for their affordable prices, large portions, and the delicious food.
You may think the restaurant only specialises in roti, but Chef Satee Beharry has actually curated an extensive menu that consists of goat curry, oxtail curry, and their juicy spicy jerk chicken to name a few.
Pro tip:
Make sure to order duck curry and their tasty dhal. The duck curry has a creamy blend of sweet and salty flavours, which goes well with their nutty dhal's silky texture!
6. Walk along the hiking trails in Scarborough Bluffs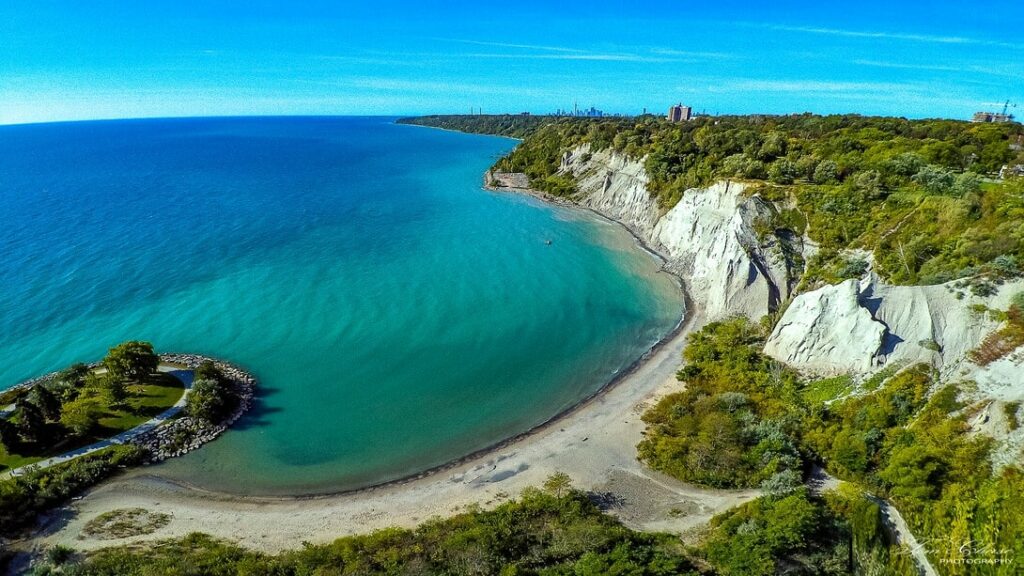 Address: 1 Brimley Rd. S, Bluffers Pk Rd, Scarborough, ON, Canada
Scarborough Bluffs is considered a great escape from the city because of its hiking trails and natural scenery. You can find parks, beaches, and incredibly diverse wildlife here!
There's lots of lovely trails in the Bluffs that offer scenic vistas of nature and the city, making it great for sightseers. There's also 11 unique parks here that are fun to explore, like Bluffer's Park where you can find a white sand beach.
Pro tip:
Head to Scarboro Crescent Park for a spectacular view of Lake Ontario and the natural beauty of the Bluffs! It's one of the 11 parks in the Bluffs and offers picturesque views of the sunrise and sunset above the lake.
7. Check out the fountain at Berczy Park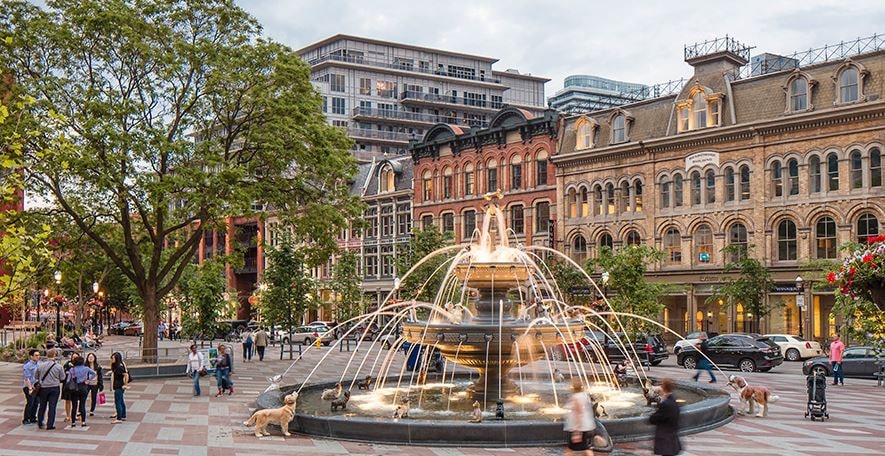 Address: 35 Wellington St E Toronto, Ontario, M5E 1C6 Canada
Ask any local about the coolest park around is and they'll all point you toward Berczy Park. Located behind Toronto's flatiron building, the park's beautiful atmosphere makes it a popular spot among locals.
The star of the show is the park's iconic fountain, which features 27 dog statues staring at a giant bone atop the fountain. One notable thing about the park is its triangular shape and the amazing view of skyscrapers that surround the park.
Pro tip:
After you're done relaxing at the park, walk a few minutes to the nearby Gooderham Building, considered one of the most beautiful structures in the city featuring brick-style architecture.
8. Explore the streets of Yorkville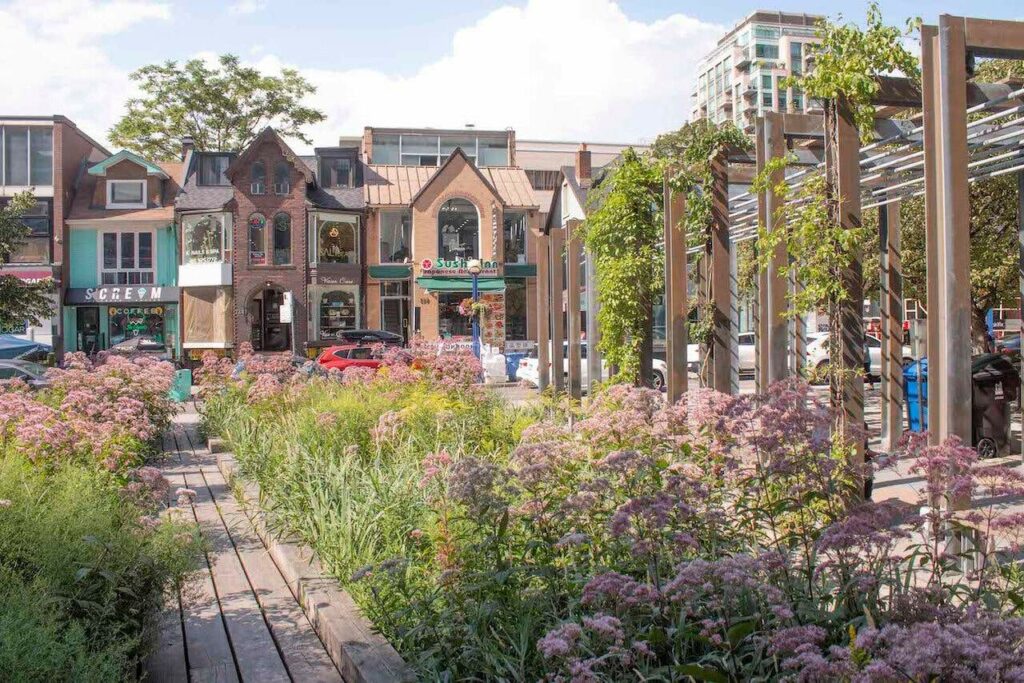 Address: 1200 Bay St. #310, Toronto, ON M5R 2A5, Canada
One of the things locals tend to do is walk around and explore the beautiful streets of Yorkville. This neighbourhood is filled with cool shopping centres, restaurants, landmarks, and buildings sporting Victorian architecture.
Yorkville's vibrant atmosphere makes it fun to explore with its tree-lined streets that complement the public art scattered in the area. There's also a bunch of cool galleries and museums around the district like the Gardiner Museum.
Pro tip:
Make sure to visit "Catching a Fly", a bronze statue depicting an intricate image of a woman catching a fly. It's an interesting sight and it's also one of the newest public sculptures in Yorkville.
9. Relax at Ashbridge's Bay Park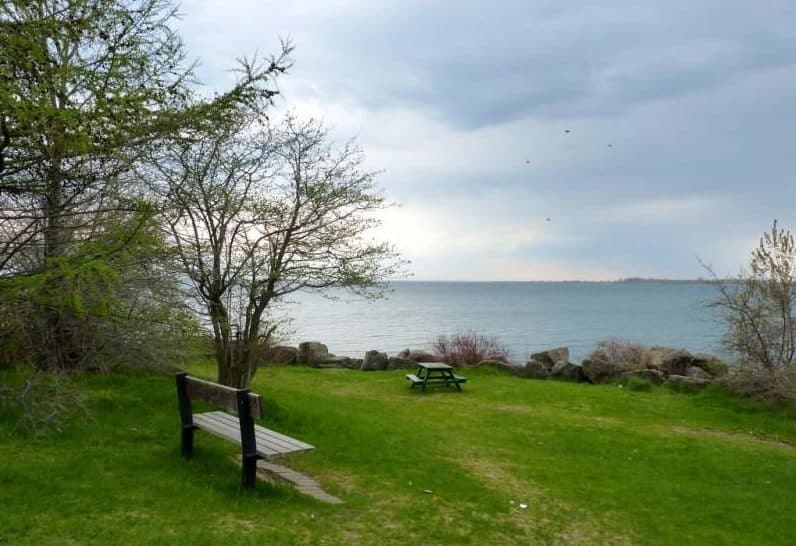 Address: Ashbridges Bay Park Road, Toronto, ON, Canada
Ashbridge's Bay Park is a great place where locals relax and take in views of the skyline. The park has lots to offer with several sports areas, trails, picnic tables, beaches, and playgrounds.
It has several areas that are great for unwinding like the sandy Woodbine Beach and its boardwalk that provides scenic views of the city skyline. You can also appreciate the park's wildlife and go bird watching while relaxing on one of the park's benches!
Pro tip:
If you're with your family or friends, we suggest visiting the park's fire pit. It's a fun place to just sit back and relax while telling stories or just staring at the stars above the night sky!
10. Hang around Toronto Music Garden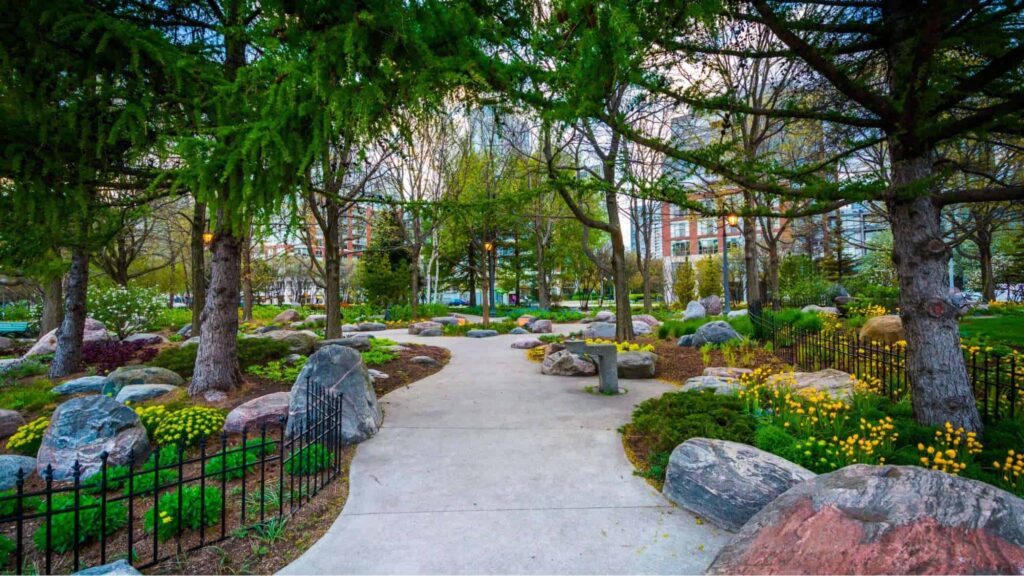 Address: 479 Queens Quay W, Toronto, ON M5V 3M8, Canada
Another fun place locals love for its peaceful vibe is Toronto Music Garden. This cool park offers some of the best views of the lake; it's also a hot spot for dog-walking and family activities.
Inspired by Bach's six movements, the park features 6 sections featuring diverse sets of flowers like tulips. Our favourite spot to hang around is the Jig, which houses a beautiful amphitheatre!
Pro tip:
We recommend going between June and September. During this period, Summer Music in The Garden offers free concerts for visitors to enjoy!
11. Get a taste of the Orient at Ho Ho BBQ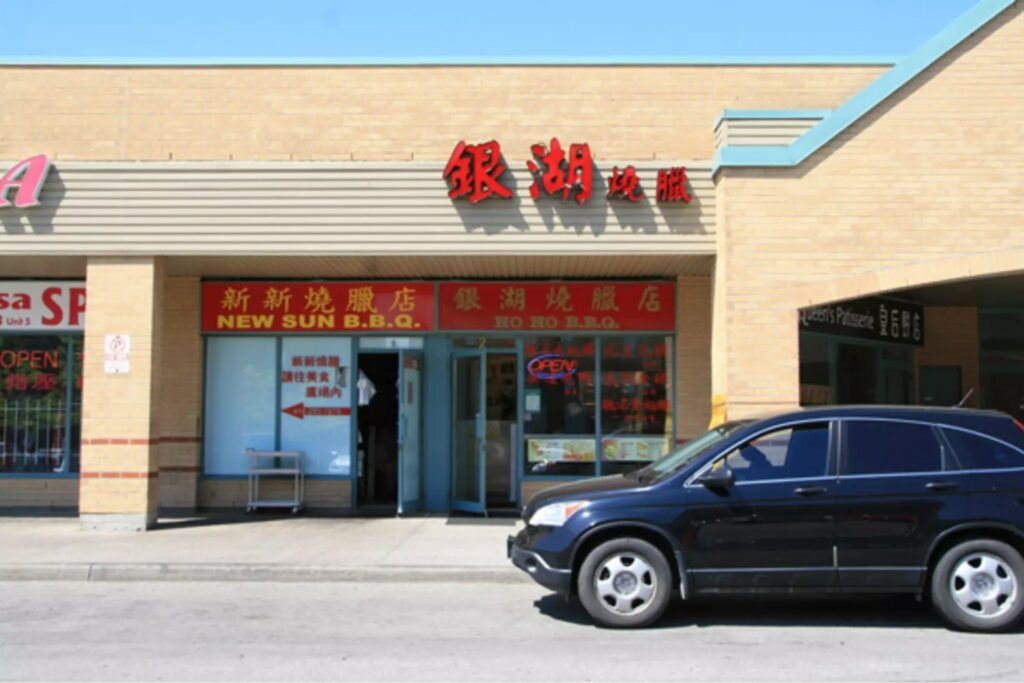 Address: 3833 Midland Ave, Scarborough, ON 1MV 5L6, Canada
Business Hours: Monday – Sunday: 11:00AM – 8:30PM
Ho Ho BBQ is an old-school Chinese restaurant popular for its classic Hong Kong cuisine. Your mouth will water at the sight of glazed ducks behind the counter, and you can hear chefs chopping up your food before it's served to you, just like in Hong Kong!
Their menu features different Chinese styled barbecues and traditional dishes. Roast pork is their most popular dish, which is known among Torontonians for its juiciness and robust flavour.
Pro tip:
Also order their roast duck and braised pigs' feet. The juicy roast duck is a salty and savoury flavour bomb while their braised pigs' feet are a gelatinous delight filled with aromatic flavours!
12. Enjoy the views of the lake at the Martin Goodman Trail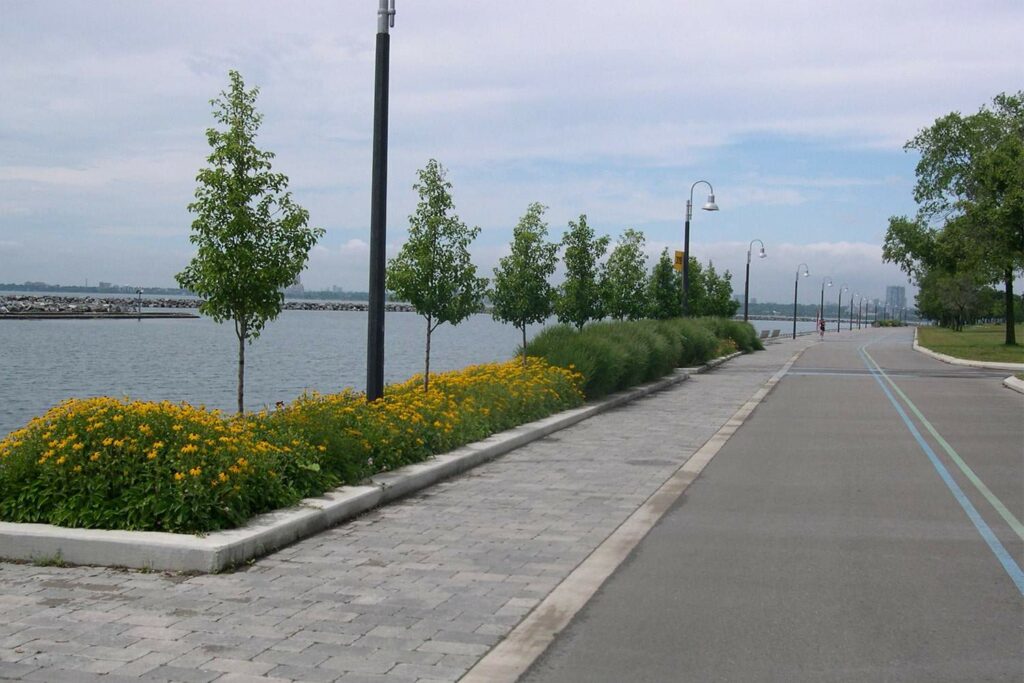 Address: Martin Goodman Trail, Toronto, ON, Canada
When it comes to walks with picturesque views of nature and the cityscape, locals always flock to the Martin Goodman Trail. It runs along Lake Ontario's shore, covering several landmarks along the way like Humber Arch and Cherry Beach!
There's lots of cool things to see on this trail, like planes taking off from the Billy Bishop airport and even geese elegantly swimming along the lake. Since the trail is long, you're also bound to come across several great spots to take in the skyline at night.
Pro tip:
Right before you cross Humber Bridge, make sure to stop by Sunny Side Park. This quaint park is a great place to take a quick break because of its serene atmosphere, rich nature, and its lovely view of the lake's calm waters.
13. Read some rare books at Thomas Fisher Rare Book Library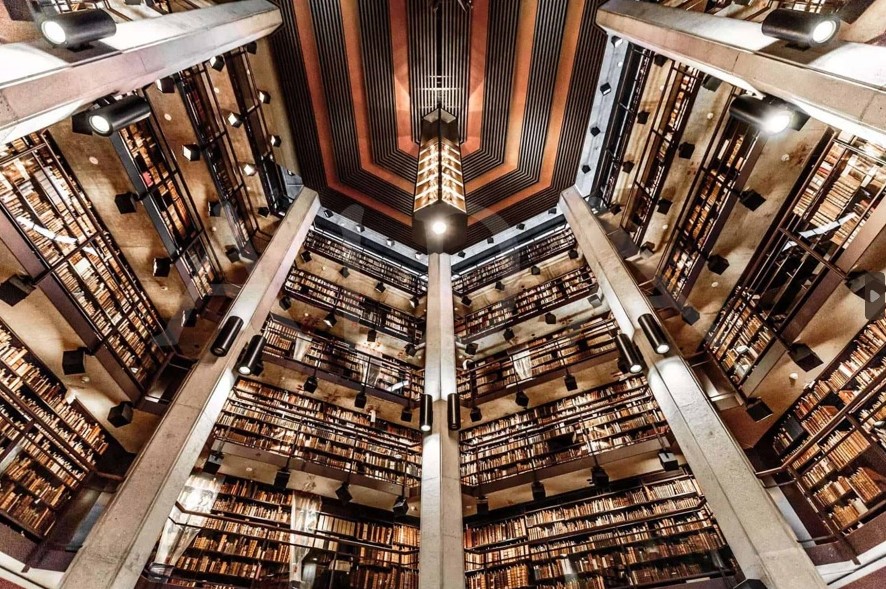 Address: 120 St George St, Toronto, ON M5S 1A5, Canada
When it comes to rare books, locals head to Thomas Fisher Rare Book Library. The library houses all of the University of Toronto's special collections and makes them accessible to the public!
With almost 700,000 volumes of written works, it's a place we like to go to for a relaxing read. Monthly exhibits also showcase the library's collection; our recent favourite is the Alice in Wonderland exhibit, which features different renditions of the iconic story.
Pro tip:
Check out the collection of "monster" books. This collection holds reprints of ancient scripts to 18th century works about monsters and mythical beasts like Palfijn's Licetus' Book of Monsters from 1708.
14. Take a stroll through The Rainbow Tunnel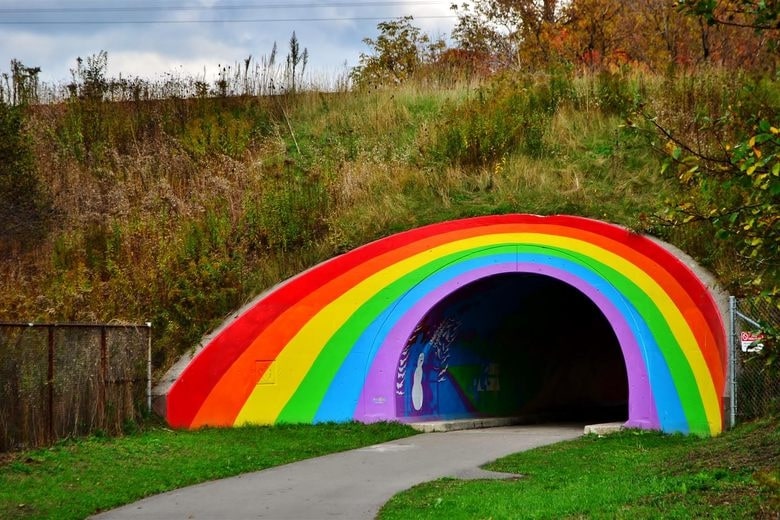 Address: E Don Trail, North York, ON, Canada
Tunnels are often depicted as dark and scary, but Torontonians have a soft spot for the Rainbow Tunnel! Situated in Don Valley Parkway, locals love to stroll around this area not just to marvel at the colourful tunnel but to appreciate this symbol of community.
Teenager B.C Johnson, who wanted to add color to the gloomy city and to cheer up the city's residents, is the person behind this project. The best part is that you can walk through the tunnel, which also runs along the Don River and Moccasin Trail Park!
Pro tip:
When you walk through the tunnel, take a minute to appreciate the colourful public art that surrounds it! The tunnel's interior is filled with murals of the city and nature painted in a rainbow like-fashion.
15. Take some fun pictures at Graffiti Alley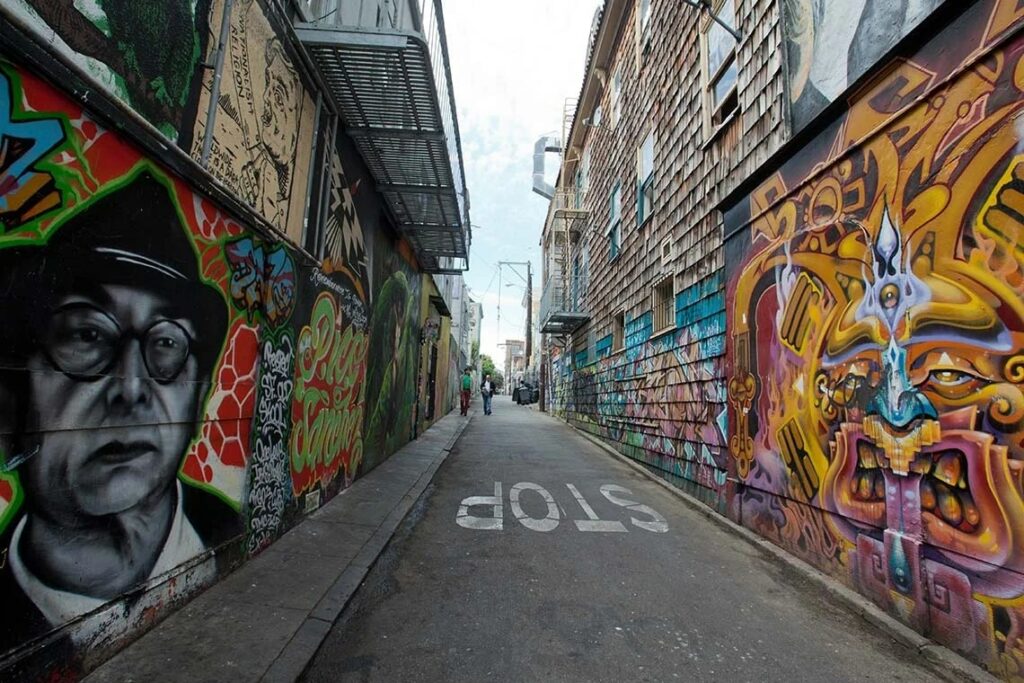 Address: Graffiti Alley, Toronto, ON, Canada
One thing that defines Toronto is the its strong art scene that can be seen all over the city. One popular spot to view local art is the picturesque Graffiti Alley which is draped in murals and a multitude of bright colours!
Locals love this upbeat place because the graffiti and street art that fill this alley's walls reflect Toronto's identity and culture. Another cool thing is that Graffiti Alley never looks the same because new art is added to the wall by artists everyday!
Pro tip:
Graffiti Alley is one of the places where you can see the works of street artists uber5000 and ELICSER!