14 Things Toronto is Famous For
There is no doubt that Toronto is one of the most prominent cities in the world. Its tall buildings, city lights, and recognised attractions put it on most people's dream places to visit.
Here are 15 things that Toronto is famous for. This list consists of characteristics and places that make the city.
1. Toronto is known for its ethnically diverse population.
Image source: Moostocker via IStock
Many people, especially those who belong to the working class, have been moving to Toronto since the early 20th century. This is how the city was named by the BBC as the most multicultural city in the world a few years ago.
It is also Canada's most diverse city, with an average of 2.7 million immigrants in its population. This number equates to almost half or 45% of the city's entire population and 35% of Canada's entire population.
You will find that as you walk around the city, you will come across people from all sorts of the world.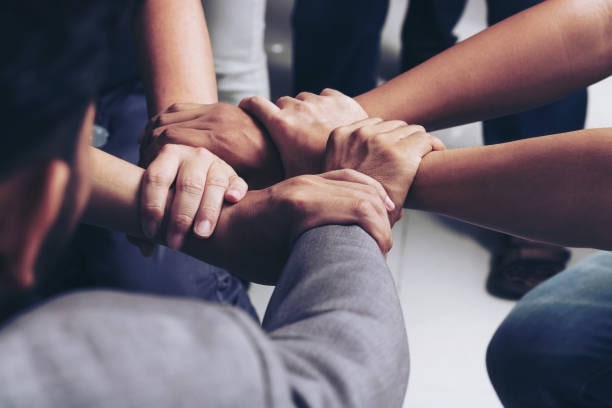 2. Toronto is recognised as one of the most liveable cities in the world.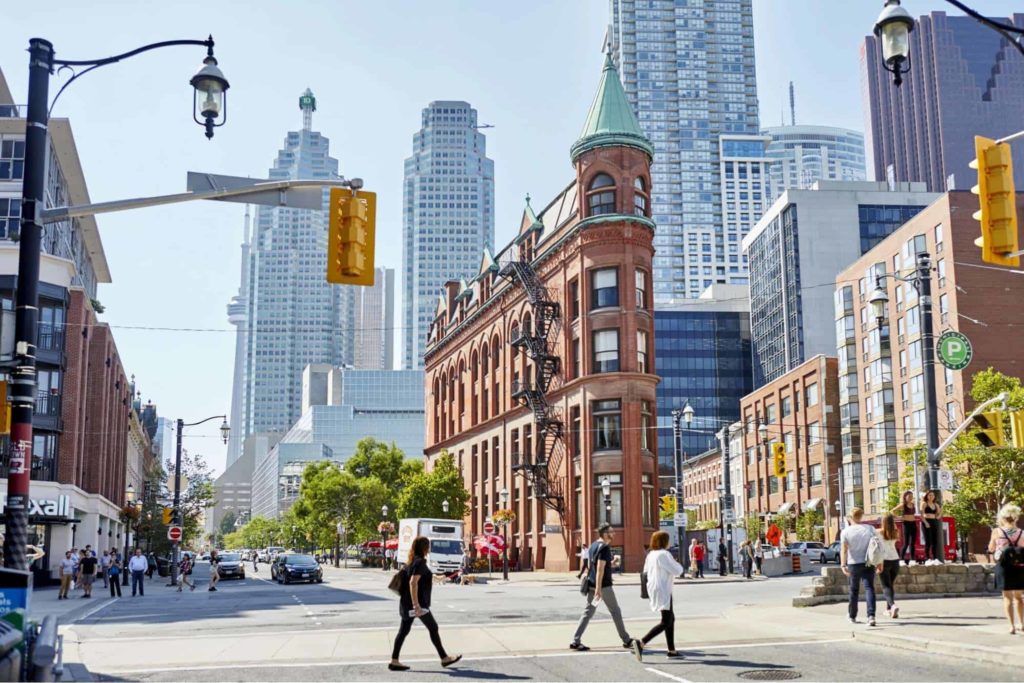 Image source: Hotels.com
Known as a Canadian metropolis, Toronto is also recorded to be one of the most livable cities in the world. It is a world leader in terms of business, finance, technology, entertainment, and culture.
The city also heavily invested in infrastructure over the years and many new offices and jobs have sprouted in Toronto's financial district. Locals are also said to be good in financial planning given the city's economic and social influence. 
3. Toronto is famous as a great place to learn history.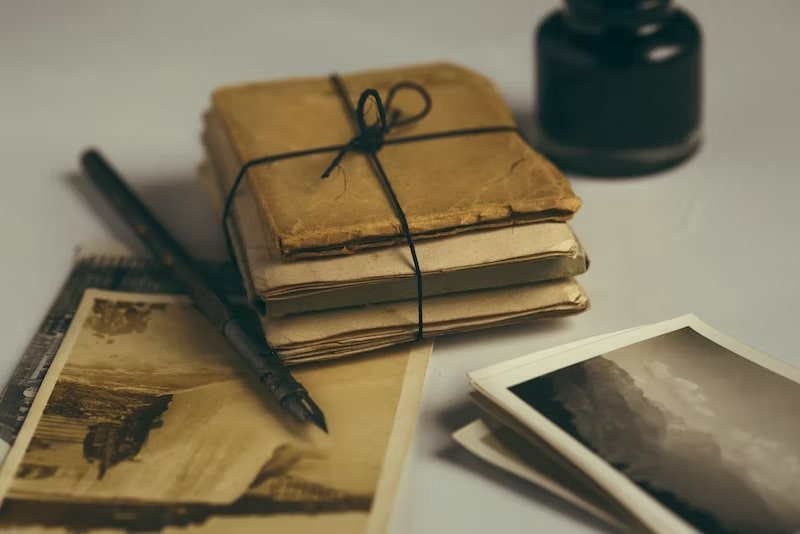 Image source: Joanna Kosinska via Unsplash
Toronto is home to various history museums and other historical landmarks. Walking along certain portions of the city itself could seem like a trip down memory lane.
Some people even visit the city for the sake of catching a sight of its heritage structures and visiting its museums. Certain sightseeing tour agencies in Toronto offer special history and heritage tours.  
The city also has an interesting history of its own. It was initially known as York and was recognised as the largest city in Upper Canada, with it finding its growth with the help of thriving businesses such as meat packing.
Schools and universities in Toronto also have excellent history programmes and subjects.
For those who would love to see or witness how Old Toronto was like, Casa Loma is the place to be. The pedestrian-only neighbourhood Distillery District's cobblestone buildings is also a great place to explore for that nostalgic experience. 
4. Toronto is known for its great education system and top universities.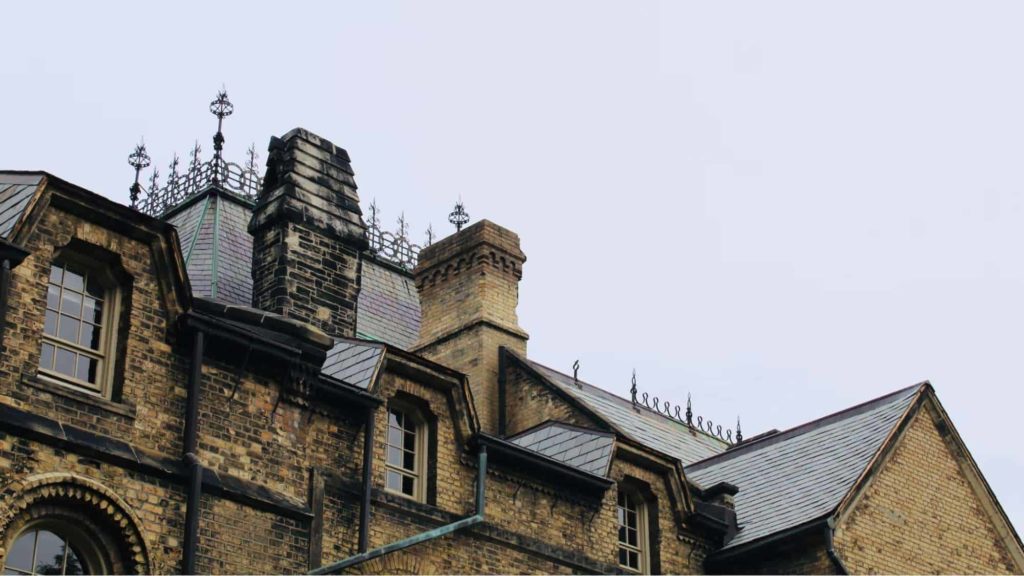 Image source: Omar Flores via Unsplash
The Toronto education system proves to be effective as it is properly handled and managed by Ontario's Ministry of Education.
Many students from foreign countries aim to go to Canada given its great programme of allowing students to work as they study. Toronto is among the top choices for this, especially the famous University of Toronto, which is respected globally.
Primary and secondary institutions and even preschools in the city are also well-equipped. Education is publicly funded during three stages: elementary school for ages six and below, kindergarten to grade 8; and secondary school, and grade 9 to 12.
Canadian residents are free to enjoy the benefits of public education and may enroll in any school within or outside their neighbourhood. Expat children who don't speak English or French are also welcomed and accommodated by the city. 
5. Toronto is a popular sports haven.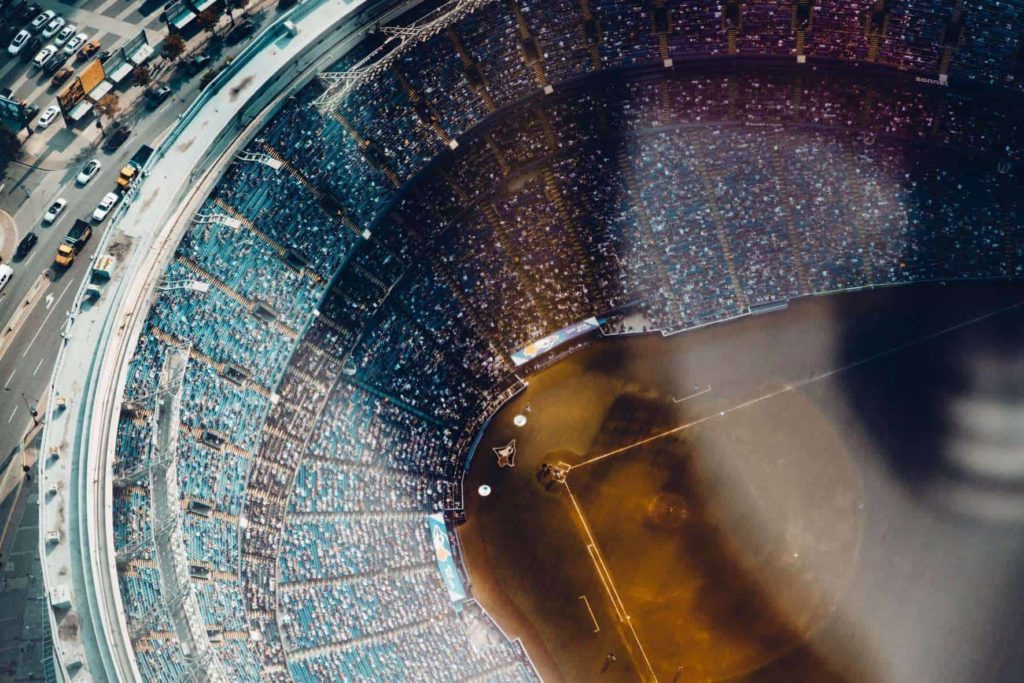 Image source: Zoran Zonde Stojanovski via Unsplash
It isn't alien to many that Toronto is the home of 2019 NBA champions Toronto Raptors. Toronto is also known to have its own basketball and baseball teams that represent Canada, making it a well-loved city by sports fans.
The city also takes pride in its own football, hockey, rugby, soccer and lacrosse teams and is the only city in Canada to have such.
American baseball player Babe Ruth also had his first professional home run in the city, putting Toronto on the map of sports history.
The Hockey Hall of Fame in Toronto is the most popular sport destination in the city. It is not only a hall of fame, it is also considered a museum.
6. Toronto is a popular paradise for foodies.
Image source: Davide Cantelli via Unsplash
Not only is Toronto diverse in terms of culture, it is also multicultural in terms of cuisine. There are about 8,000 restaurants in the city alone, making it a part of many food lovers' bucket lists.
Whatever cuisine you are looking for, trust that Toronto has it. Be it Spanish, Filipino, Chinese, Japanese, Mexican, Italian, or any other cuisine, there is definitely a restaurant in the city. 
Vegan spots are also rampant in the city. Many food delivery services are available as well. 
Toronto is a great place to explore food. Aside from its stretch of restaurants and food spots, its local food scene is also recognised in the world and it hosts some of the best food festivals and events. 
7. Toronto is a prominent shopping centre.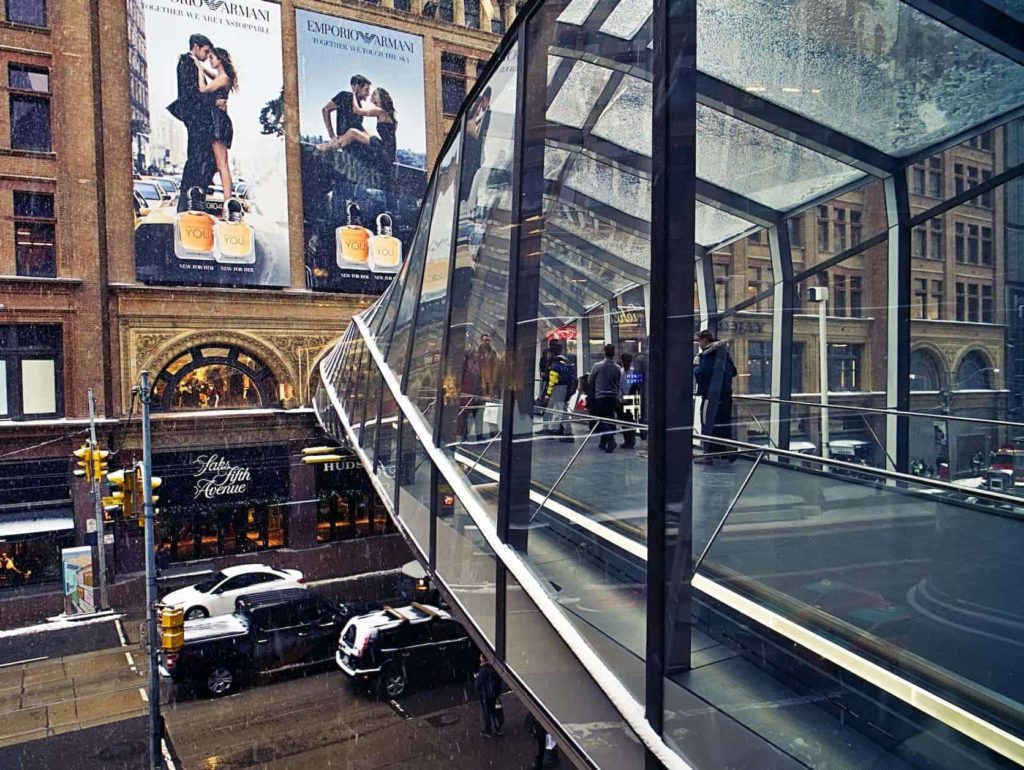 Image source: Andre Gaulin via Unsplash
The city life wouldn't be complete without shopping, and Toronto lives up to expectations. This place is also a haven for those who love to splurge, with many malls and stalls that carry promising luxury and local brands. 
High fashion can be found just about every corner of the city. It can be perceived as a shopping district from one angle, with designer items, unique vintage finds, and top home decor that can be purchased from any of its famous shopping spots.
Many even consider Toronto as "the New York of Canada" given its vibrant atmosphere and high regard for a great shopping experience. In fact, Yonge-Dundas Square is considered the "Times Square" of the city. 
8. Toronto is recognised as one of the most gay-friendly cities in the world.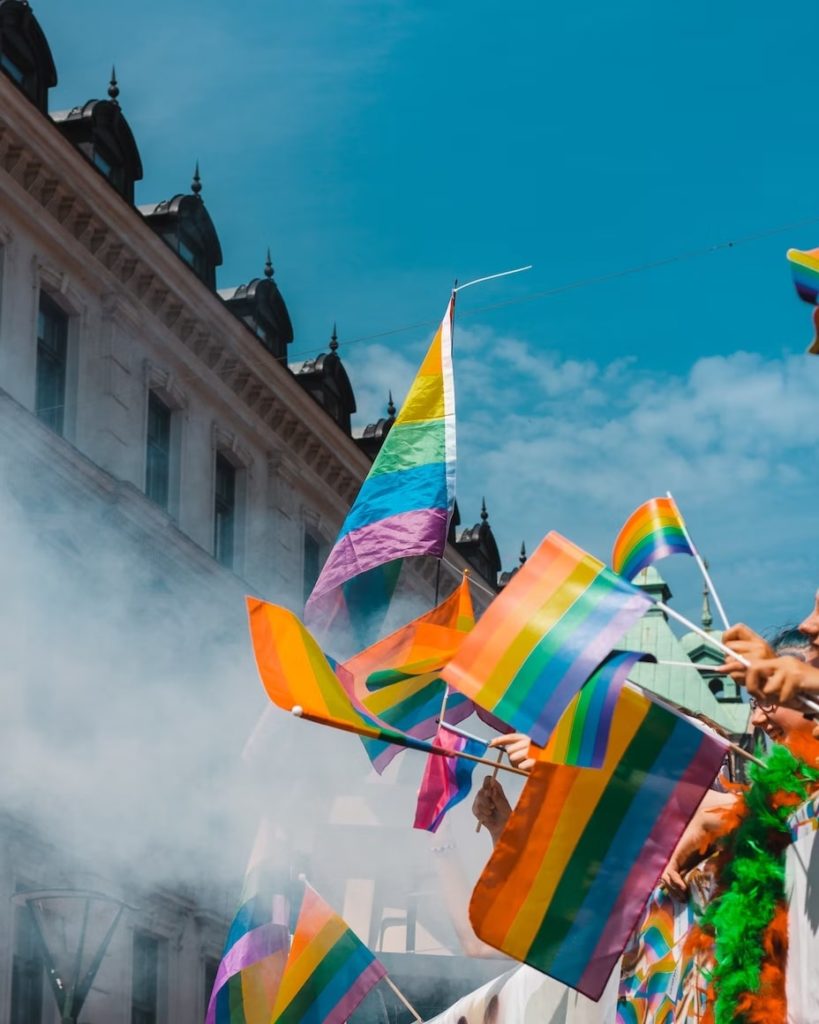 Image source: Teddy O via Unsplash
Because of its openness to welcoming different ethnicities, the city of Toronto has grown to be progressive and is also recognised as one of the most gay-friendly cities in the world. 
This is shown not only in terms of its annual PRIDE events and other endeavours for the LGBTQIA+ community, but also in certain pockets of the city.
There are neighbourhoods in Toronto that are known to cater to the queer community. The most prominent one is Church and Wellesley, with growing gay communities and businesses in Queen West and Old Cabbagetown.
The gay population in Toronto is estimated to be at 350,000. 
9. Toronto is known for its strong film industry.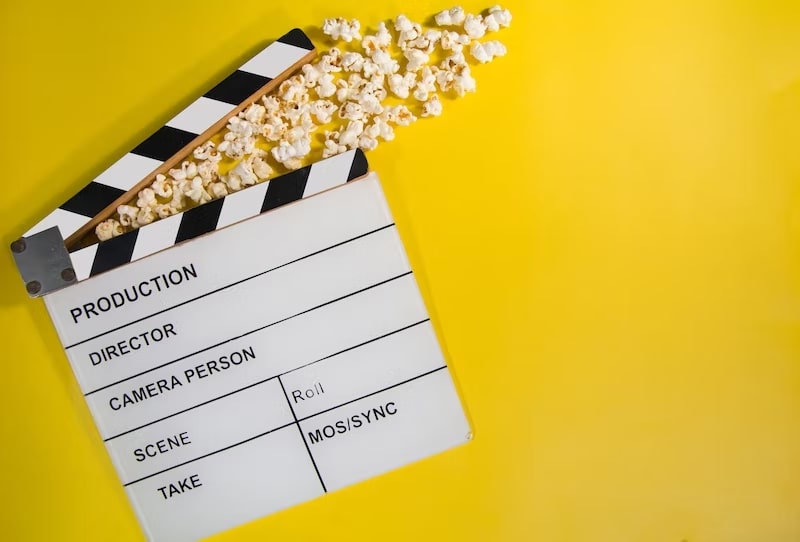 Image source: GR Stocks via Unsplash
Toronto is also known for one particular event that it usually hosts, the Toronto International Film Festival. This gathers some of the best people in the film industry and showcases some of the greatest movies, both long and short forms.
The Toronto International Film Festival has helped the film industry thrive in many ways. Toronto as a city itself also assists in the growth of the film industry by being a famous choice for film locations and having its own production studios and spots.
The direct spending of the city in the film industry is usually very high as well. All of this and more prove why Toronto is very popular in the film industry. 
10. Toronto is known for its great nightlife experience.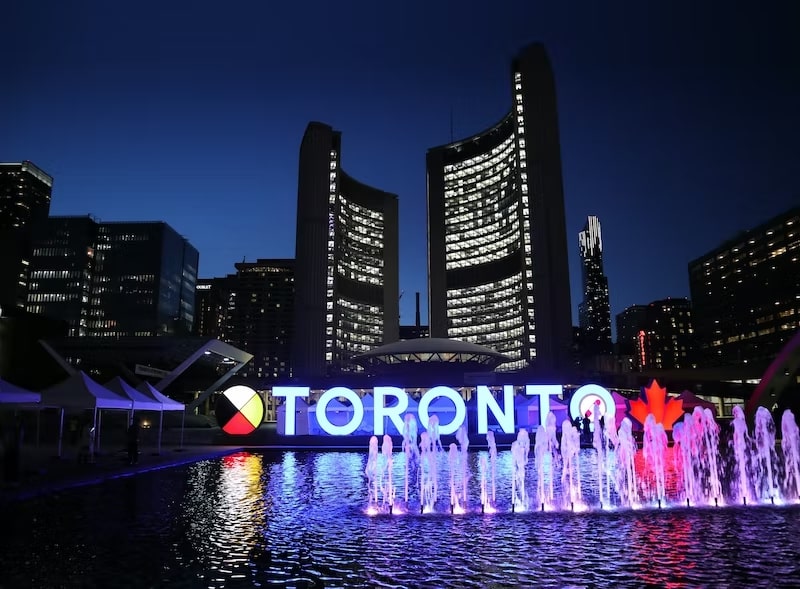 Image source: Justin Ziadeh via Unsplash
Toronto isn't Toronto without its bustling nightlife.
Not only does the city have various pubs, bars, and clubs, it is also home to different nightlife activities such as getting tattoos, staying in cafes until midnight, listening and watching band performances, going to unique restaurants, and more. 
Selected arcade bars, bowling alleys, golf clubs, and comedy shows are also open at night. This makes the Toronto nightlife experience very flexible, as the city can live up to whatever energy you're going for. 
On top of all these, basking in the city's beauty is a great way to spend that nightlife experience. The vibrant city lights that this metropolis will offer nothing but joy and amusement. 
11. Toronto is famous for its wide plethora of tourist attractions.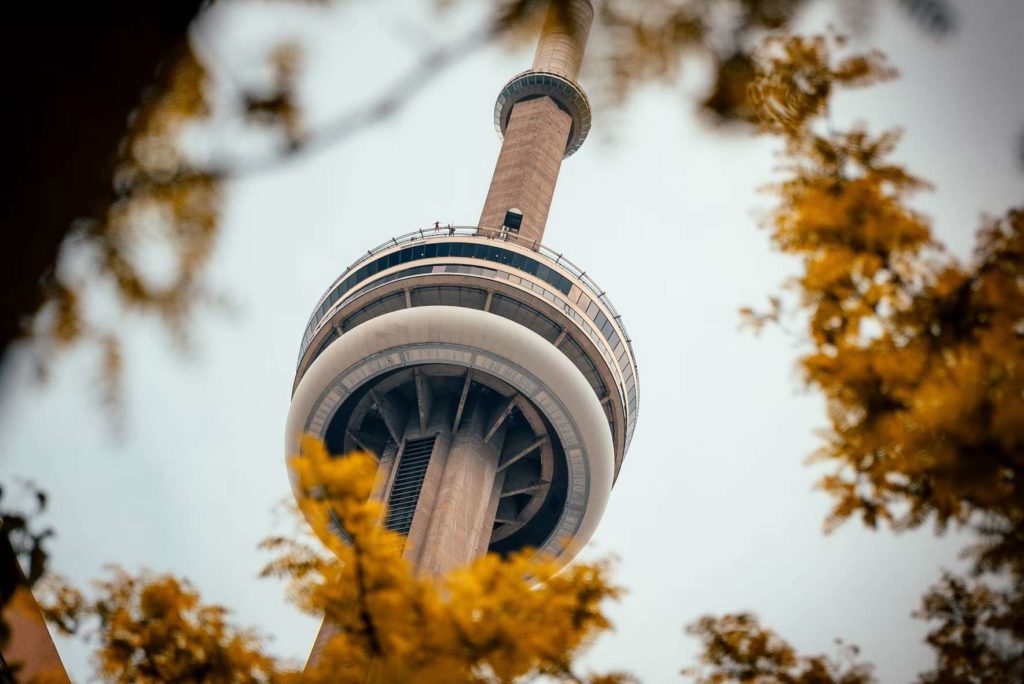 Image source: Zach Heiberg via Unsplash
Arguably the most iconic feature of Toronto is The CN Tower. Located southeast of this tall structure is the Ripley's Aquarium, which is a 135,000 square feet space that is home to 16,000 species and various water sights. 
Museums and galleries are also some of the most visited places in Toronto. Two of these are the Royal Ontario Museum at Queens Park and the Aga Khan Museum at North York. 
For foodies, there are go-to food spots that have formed part of Toronto history. Probably the most prominent one is St. Lawrence Market, which is home to thousands of local dishes, products, and items. 
12. Toronto is known for its well-maintained natural surroundings.
Image source: Sandro Schuh via Unsplash
What's a place without its own greenery? Toronto Zoo is the go-to for anything about wildlife and animal learning and other nature activities.  
The city also has High Park, a 161-hectare municipal park that was created in 1876 and has grown to be a favourite of families and friends.More than the picnic spots, it also has hiking trails, sports facilities, diverse vegetation, a beautiful lakefront, and greenhouses. 
What makes Toronto more interesting is the fact that it has its own small islands within the city. This chain of 15 small islands in Lake Ontario covers 332 hectares and have canals that are conducive for paddling a canoe, kayak, or stand up paddleboard.
During the summer, one of the top destinations in Toronto is the neighbourhood The Beaches. This place is literally home to sandy beaches and quaint boardwalks that reflect a relaxed small-town.
Other interesting and nature-related activities can be found within the city. It also currently has more than three million trees planted all over the vicinity. 
13. Toronto is known for the iconic Nathan Phillips Square.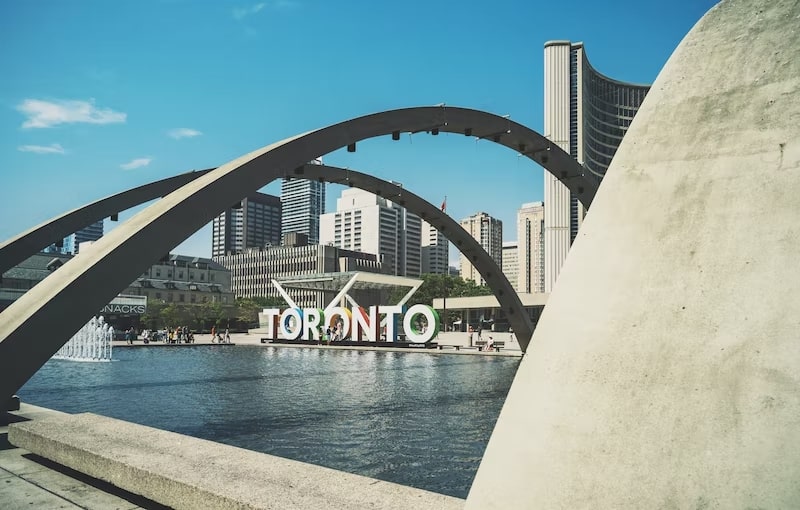 Image source: Scott Webb via Unsplash
Even without visiting Toronto, many people would know what Nathan Phillips Square looks like. This Toronto spot is where you can find the famous Toronto sign and is one of the branding places of the city.
This urban plaza opened in 1965 and is recognized for its beautiful curves of concrete. It is not only an iconic spot in the city given its history, it is also a popular site choice for concerts, displays and demonstrations, weekly markets, and other public events.
The time you land on Nathan Phillips Square is the time you know what to expect of the city. This landmark brings out the character and energy of Toronto itself. 
14. Toronto is a popular holiday destination.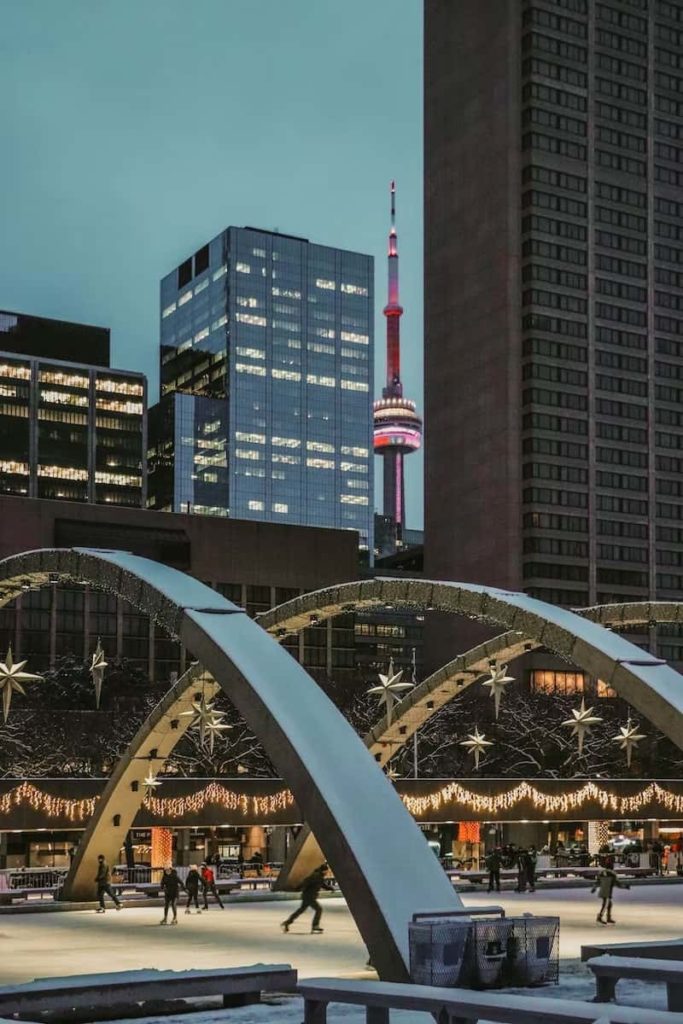 Image source: DESIGNECOLOGIST via Unsplash
Ice skating is one of the most common past times in Toronto. Especially during the winter, people flock to different pockets of ice skating rinks in the city.
More than 50 ice skating rinks can be found within the city and are open from December to February. This makes it a famous holiday destination.
Many people also seem to enjoy visiting the city during cold seasons to enjoy the breeze. It also makes it a greater experience to walk around the city as snow starts to fall.
Toronto is also pretty close to several ski resorts in Canada. 
During other seasons and holidays, it also hosts several relevant and enjoyable events.
Even on rainy days, you can definitely find something to do in Toronto!  
Toronto is a great holiday destination, whatever the weather condition. It is a city worth visiting once snow starts to stick on the ground, when leaves start to fall, and even as the sun shines brightly.
---
Toronto is undeniably one of the most interesting cities in the world. It holds very impressive characteristics as a place and is undoubtedly a place worth a visit.
Find out more about activities in Toronto here.