The 3 Best Home Inspection Services in Toronto
A permanent residency is one of the most significant investments you can make in your life. To ensure that your home is in good condition before you buy or sell one, hiring a good home inspection service can be your option.
There are a lot of providers of home inspection in Toronto. To help you narrow down your search, we listed the best home inspection service providers based on a specific set of criteria.
We also included reviews from customers and the pros and cons for each provider. If you're ready to check all of that out, let's begin!
The best home inspection services in Toronto
What differentiates the home inspection service providers in this list from the others? Here are the criteria we used in selecting them:
With these in mind, here we have the best home inspection services in Toronto.
How much do home inspections cost in Toronto?
Home inspections usually are a visual assessment of the house's condition without conducting any type of modifications to the home. This involves assessing the home's functions from the foundation to the roofing rather than focusing on the house's design.
Often, home sellers avail of this service prior to placing the house on the market. However, buyers also avail to know if the house needs major repairs and to see the type of maintenance work the house requires.
The majority of the home inspection services in Toronto offer essential and extended home inspection packages. It all depends on how comprehensive you want it to be.
An essential home inspection involves an interior and exterior inspection, home improvements and maintenance, and a detailed report from the inspector. The extended package has all of these, with an added full thermal home scan.
Costs vary depending on the type of establishment and home inspection package chosen. The costs below range from a condominium to a single-detached house.
| Home inspection service | Cost estimate for essential package | Cost estimate for extended package |
| --- | --- | --- |
| Solex Group Professional Home Inspection | $330 - $700 | $350 - $840 |
| Clearview Home & Property Inspections | $300 - $550 | $350 - $675 |
| Home Inspections 4 U | Starts at $450 | Starts at $700 |
1. Solex Group Professional Home Inspection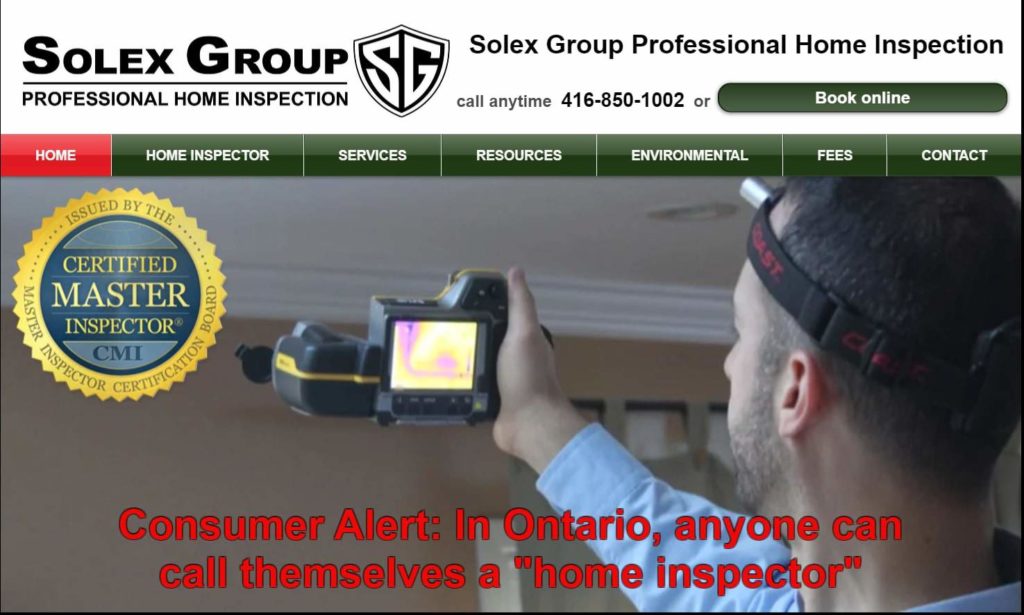 Test
Info
SERVICES

Home Inspection

Thermography

Radon Testing

Mould Testing

RecallChek

WEBSITE
https://www.solexgroup.ca
ADDRESS
820-5863 Leslie St., Toronto, Ontario, M2H 1J8
CONTACT DETAILS
416-850-1002
OPERATING HOURS
24/7 for inquiries, Inspections available from Monday to Saturday
| | |
| --- | --- |
| Criteria | Rating |
| Areas covered | ★★★★★ (5/5) |
| Completeness of Services | ★★★★☆ (4/5) |
| Essential package | ★★★★★ (5/5) |
| Extended package | ★★★★★ (5/5) |
| Additional services | ★★★★☆ (4/5) |
| Comprehensive report provided | ★★★★★ (5/5) |
| Customer satisfaction | ★★★★★ (5/5) |
Solex Group Professional Home Inspection (Solex Group) has been in the home inspection industry since 1995. Since then, they've expanded quite a bit, so that Solex Group now serves 29 cities across Ontario.
This wide reach established Solex Group as a major home inspection service provider in Canada. Fortunately for us, their main office is in Toronto, so going to their heads directly for queries and qualms is relatively simple.
Anyway, let's start with what we like about them.
Apart from providing competitive essential and extended home inspection packages, Solex Group also provides additional testing for mould or radon. Conducting these tests are helpful if you want to avoid allergens in your home.
Creating and providing home inspection reports is part of the home inspection service with them too. Solex Group excels in this, in our opinion, as they deliver the report within 24 hours.
Unfortunately, Solex doesn't cover pool or hot tub inspection, so that can be a point of inconvenience for some homeowners.
Solex Group also offers a RecallChek service. RecallChek is an additional service where they can recall and update your home appliances, and provide customer service and repairs for these for free.
RecallChek is helpful if you have a lot of appliances. Solex Group created a dedicated team that updates and resolves recalls for your registered appliances.
Overall, Solex Group earned mostly positive reviews in terms of customer satisfaction. The majority lauded them for their clear, informative, and thorough explanation and report to the customers.
Some reported, however, that the inspector sometimes rushed their inspection. That's not great, even if it's a common complaint in the industry, and is an area we believe they can improve on.
To be precise, we think they can avoid overbooking themselves to prevent their people from rushing. We suspect that like most popular inspection services, they rush because they don't always have ample time to inspect their customers' homes.
Good customer service and post-service relations
Offers interior and exterior home inspection, and radon and mould testing
RecallCheck for appliances
Rushed inspections
Pools and hot tub not included in the home inspection
Customer Reviews
Highly recommended
"By far the best home inspector out there. Vahn took his time to look at every part of the home in great detail and explained to me what he saw. I feel very confident with the purchase I have made now that I have all of the information given to me from Solex. I highly recommend everyone use Solex." – Jillian L.
Extremely professional
"We have a great experience working with Vahn for our home inspection. Moving from a condo to a townhome, we wanted to ensure that the property was in good condition and that we were aware potential repairs or maintenance regardless of how minor they may be. Vahn was extremely professional and patient in explaining each aspect of the inspection and his detailed findings. We would recommend him to anyone looking for a home inspector!" – Dan
2. Clearview Home & Property Inspections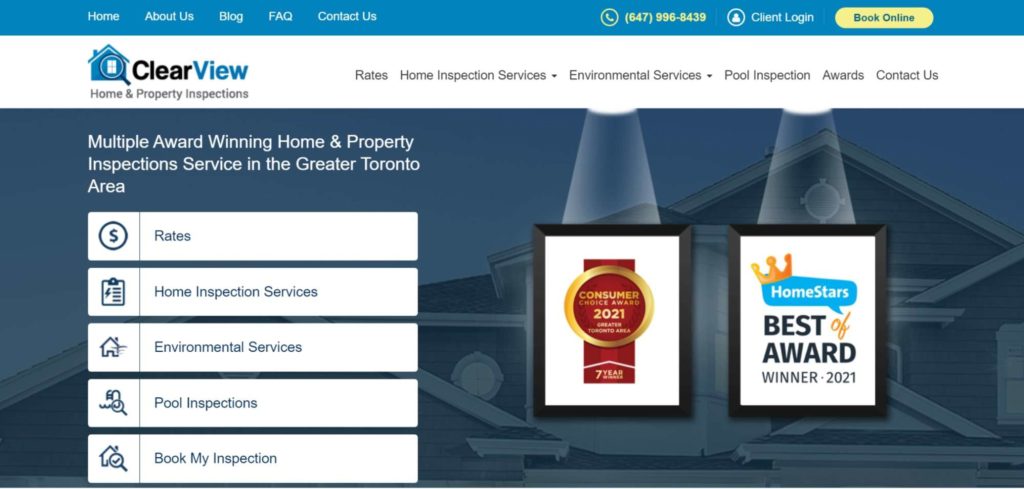 Test
Info
SERVICES

Home Inspection

Commercial and Mixed Residential Inspections

Healthy Home Services

Eco Efficiency - Blower Door Test

Real Estate Professionals Training

Pool Inspection

WEBSITE
http://cvhi.ca/
ADDRESS
7080 Pacific Cir #2, Mississauga, ON L5T 2A0, Canada
CONTACT DETAILS
647-996-8439
OPERATING HOURS
8:00 AM - 10:30 PM Mondays to Sundays
| | |
| --- | --- |
| Criteria | Rating |
| Areas covered | ★★★★☆ (4/5) |
| Completeness of Services | ★★★★★ (5/5) |
| Essential package | ★★★★★ (5/5) |
| Extended package | ★★★★★ (5/5) |
| Additional services | ★★★★★ (5/5) |
| Comprehensive report provided | ★★★★☆ (4/5) |
| Customer satisfaction | ★★★☆☆ (3/5) |
Clearview Home & Property Inspections has been in the home inspection industry for over 25 years, servicing 21 cities across the Greater Toronto Area.
More interestingly, though, they're also a consistent awardee of 'best home inspection company in Toronto' from the Consumer Choice Awards. In case you don't know, that's Canada's award organization promoting business excellence for over 30 years.
Their services provide a holistic approach to home inspection by going beyond essential and extended home inspection packages.
Clearview provides an extensive healthy home inspection package. This is to ensure that occupants do not develop any health-related concerns while in the establishment.
We believe that healthy home inspection is essential especially in detecting allergens and radon gas levels that can cause allergies, asthma, and in the worst case, lung cancer. Once detected, they provide recommendations to deal with these air pollutants.
Clearview also conducts training and seminars for interested individuals or corporations who want to learn about the ins and outs of home inspection. You can also avail this for yourself if you want to understand the processes and metrics they use during a home inspection.
Clearview creates comprehensive reports that are readily available within the day of inspection.
We highly appreciate this because not only was it provided fast, the report also immediately discussed the areas in the house that need major improvements or repairs.
Clearview Home & Property Inspections earned mixed reviews for its services. Customers liked how they were able to book same-day services and have the report available by the end of the day.
Others, however, were unsatisfied with the quality of home inspection conducted. There were instances that the inspector lacked basic inspection skills for missing leaks, cracks in the foundations, or mould infestation.
Fast delivery of service and reports is good, but inefficient if the quality suffers. This is an aspect that Clearview needs to do a major improvement on.
Comprehensive healthy home services
Pool inspection available
Home inspection training for professionals and organizations
Some reported that the inspector lacked basic inspection skills
Customer Reviews
Good, but needs improvement
"I contacted Tom from Clearview to perform an objective third-party inspection of a condo that I had recently purchased. He arrived right on time, was very professional, and made sure to answer all of my questions in detail. He discovered some minor issues with the place, but nothing that was a dealbreaker. I wasn't really expecting anything to turn up anyway because it's a relatively new building, but I figured that it never hurts to be too careful.
I wish that he could have been a bit more thorough. There were some things that I felt like he would not have noticed if I hadn't pointed them out. The PDF report was a nice touch though.
One thing that I really disliked was that Tom was pushy in asking for a testimonial on HomeStars. He created a profile for me and typed in comments for me and then asked me to approve it. Because of this, I don't think I would recommend him to a friend." – Jessica
Informative and understandable
"Tom from Clearview was very professional and explained and walked myself and family through the inspection process. He was able to discover and help us understand many of the issues we had at our new condo. The associated report we got at end of the day was the cherry on top. Overall great quality and good value. I would greatly recommend his services to friends and family." – Quentin S., Google Review
3. Home Inspections 4U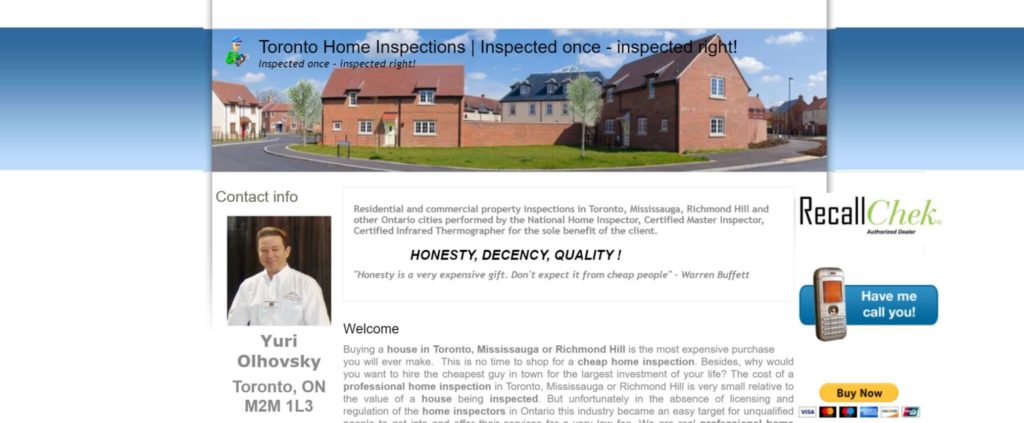 Test
Info
SERVICES

Home Inspection

Energy Audits

Indoor Air Quality Investigations

Infrared Thermal Imaging

WEBSITE
https://homeinspections4u.biz/
ADDRESS
99 Goulding Ave, North York, ON M2M 1L3, Canada
CONTACT DETAILS
416-909-6467
OPERATING HOURS
8:00 AM to 10:00 PM, Mondays to Sundays
| | |
| --- | --- |
| Criteria | Rating |
| Areas covered | ★★★★★ (5/5) |
| Completeness of Services | ★★★★★ (5/5) |
| Essential package | ★★★★★ (5/5) |
| Extended package | ★★★★★ (5/5) |
| Additional services | ★★★★☆ (4/5) |
| Comprehensive report provided | ★★★★★ (5/5) |
| Customer satisfaction | ★★★★★ (5/5) |
Home Inspections 4U was established in 2001. Since its establishment, the business has serviced the Greater Toronto Area and 23 cities near it.
They're particularly known for their energy audits. It's a useful feature if you're interested in energy efficiency, but it can also be particularly helpful for those selling a home.
You see, if your establishment passes the audit, they can provide an ENERGY STAR certification and Energuide Registration. These certify your home's energy efficiency, which can help increase its resale value in the future.
Unfortunately, Home Inspections 4U does not include pool or hot tub inspection in its packages. This is a minus, especially if a pool is one of your prerequisites to your new home.
Anyway, another plus we liked is the sample home inspection report on their website. This is helpful as it allows potential clients to see whether their reports are comprehensive enough for their needs in advance.
The reports provide a summary that points out the repairs and improvements homes need. We like this section: it's particularly helpful when prioritizing and budgeting for major home repairs.
Their past clients seem to have felt the same. Actually, our survey of their customers showed that most were very satisfied with them.
The consensus is that they're clear, thorough, and informative. Most clients stated that they thought all minor and major issues were covered and the report was delivered quickly (generally within the day).
That said, we do wish they had included the strengths of homes in the home inspection. The reason's simple: a lot of their clients get inspections to buy or sell properties, so listing the strengths would actually help them make decisions too.
A comprehensive report detailing major and minor repairs and improvements
Energy audits conducted by a certified energy adviso
Reports do not list the positive aspects found during the home inspection
Pools and hot tub not included in the home inspection
Customer Reviews
Very useful recommendations
"Yuri was hired to do an Eco Energy Evaluation of my house. He was very thorough in his inspection, using his knowledge and experience to point out the areas which would be most beneficial to upgrade. Yuri sent me a detailed report of the evaluation via email which included all the information on the rebates. He was punctual, polite and would take the time to answer any of my follow up phone calls. It was a pleasure dealing with you." – Sam
Exceeded expectations
"Exceptional! You won't find anyone better. We used Yuri's services for a home inspection on a home we are in the process of purchasing. His service exceeded our expectations. He is courteous, responsive, thorough and a true expert. We were blown away by him. I learned so much, and feel so much more confident and armed with the right information to make this home purchase less stressful. Thank you, Yuri!" – Katie O.
FAQs about Home Inspections
---
That concludes our list of the best home inspection services in Toronto. Whether you're a new home buyer or just want to check the overall health and status of your home, a home inspection can help.
Since you checked out our home inspections article, you might be moving to a new home within Toronto. We have a complete guide to moving homes in Toronto that can help you out with that.