A comprehensive guide on wineries and vineyards in and near Toronto – plus our top 12 picks!
There are so many fun things you can do in Toronto. The city is overflowing with activities given the diversity of its spaces and places. 
Its natural surroundings and location also makes it a good place for outdoor explorations such as hiking, skiing, farm tours, and even wine tasting.
Curious about wine tasting and wine tours in Toronto? Keep on reading!
What do you need to know about wine tasting and wine tours in and near Toronto?
Image source: Extreme Media
The most important thing you need to know about wine tasting and wine tours in Toronto is that there are actual wineries and vineyards in the city itself, along with dozens of choices in nearby areas that can be just a drive or bus away.
In fact, the province of Ontario holds the largest acreage of vineyards in Canada. There are at least 150 vineyards spread across 6,900 hectares (17,000 acres). The three VQA designated viticultural areas in Ontario, the Niagara Peninsula (which includes ten different sub-appellations), Prince Edward County, and the north shore of Lake Erie.
Here are our top 12 picks for wineries and vineyards in and near Toronto:
Keep reading to learn more!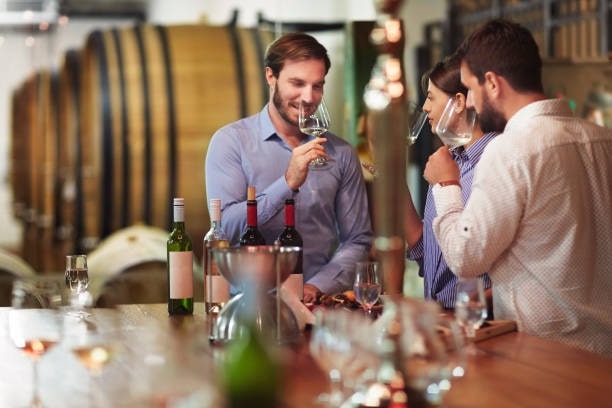 Macedo Winery
Vinoteca Winery
Vin de Garage
Norman Hardie Winery and Vineyard
Rockway Vineyard
Gallucci Winery
Willow Springs Winery
Holland Marsh Winery
Ravine Vineyard Estate Winery
Hidden Bench Estate Winery
Two Sisters Vineyard
Stratus Vineyards
Toronto Wineries and Vineyards 101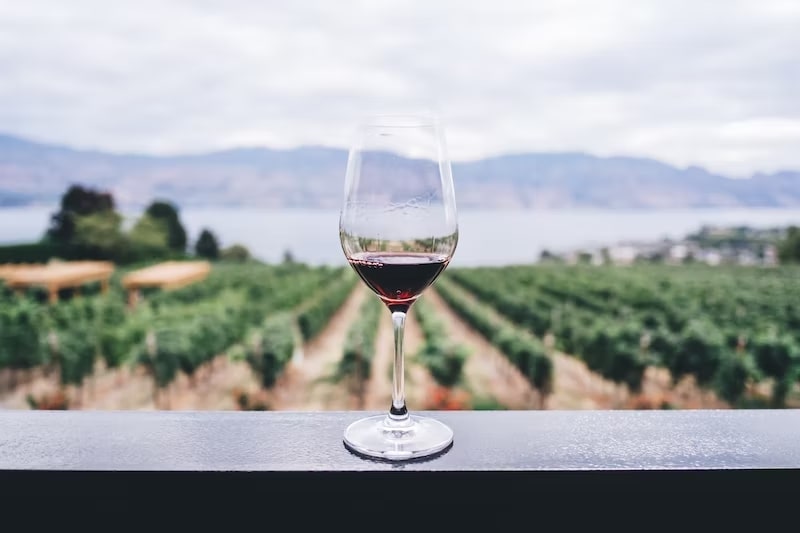 Image source: Kym Ellis
Wineries and vineyards in and near the city are mostly family-owned, with their stories tracing back to the 1900s. These places offer tours of their hectares of grape plantations and will walk you through their temperature-controlled facilities and barrel cellars.
Because of their experience in growing, dealing with, producing, and selling wines, they are reliable in terms of wine knowledge and can help each guest find their preferred wine blend. Most of them also serve the famous Canadian ice wine.
Some of them also have their own restaurants, bars, and cafés to provide guests with a complete gourmet experience. These places serve food that pair well with wine, with a majority highlighting Canada's local cuisine. 
A few wineries and vineyards that offer wine tasting and wine tours also have accommodations, some even allowing an entire month's stay.
Read on to know more about what you should do before and during a wine tasting and discover what each of the wineries and vineyards in and near Toronto have to offer. 
Preparing for wine tasting and wine tours in and near Toronto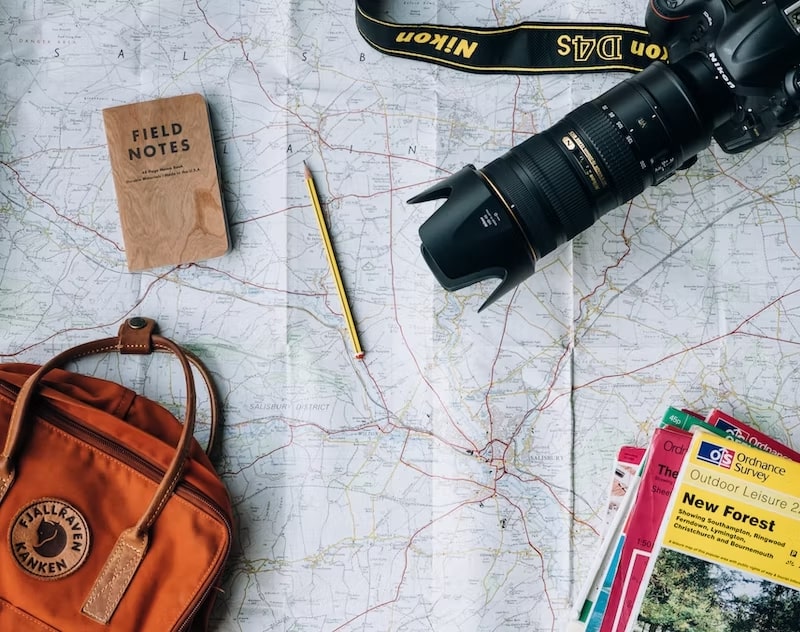 Image source: Annie Spratt
As you plan your itinerary and list down some of the iconic spots you want to visit in Toronto, it is also important for you to prepare for your wineries and vineyards trip. 
1. Decide on your mode of transportation.
One of the most important things is to secure your mode of transportation. Do your research on what would be the most feasible option. 
2. Prepare your car.
If you're bringing a car, look into tire shops and car locksmiths in case of any emergencies. On top of these, you can also get a car wash or even have your vehicle detailed. 
3. Look into rentals and car services.
Toronto offers various van rentals for groups and families who are going for a trip. For those who are opting for a more luxurious experience, limo services are available as well. 
4. Explore commute options and research on tour packages.
Should you decide to commute, there are buses that can take you to and from the areas you plan to visit. We also recommend checking out party buses, as some of them offer wine tours and wine tastings as parts of their packages. 
5. Be physically prepared. Eat right.
Of course, prepare yourself! Make sure to eat before your wine tasting experience to avoid feeling intoxicated.
Many recommend that you shouldn't have a full meal, so just eat enough to make sure your stomach isn't empty. It is also important to note that eating an hour before your scheduled wine tasting will avoid any meal flavors affecting the taste of wine. 
6. Pack outdoor clothing.
Remember to prepare comfortable clothes, since you'll be walking through hectares of land. In case you forget to bring outdoor wear, you can purchase some from clothing stores in Toronto. 
What to do during a wine tasting and wine tour?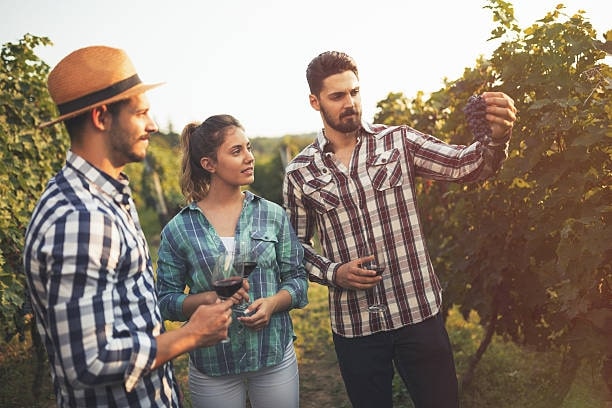 Image source: nd3000 via IStock
1. Pay attention.
The best thing to do during a wine tasting and/or wine tour experience is to listen to your guide and allow them to share everything they can about their produce, facility, and plantation. Make sure to hear them out before asking any questions. 
2. Ask the right questions.
Should you want to prepare questions in advance, some of the most prominent inquiries when visiting wineries and vineyards are:
What is the history of this winery/vineyard?
What kind of grapes do you grow here?
How do you ferment your wine?
What is the temperature of this facility?
Why do you have to keep the wine at such a temperature?
Which among these wines have the highest alcohol content?
Are any of these wines a blend?
What are your best selling bottles?
What food would this specific type of wine go with?
Are you planning to produce a different or new wine flavor soon?
These will likely be answered during the tour and tasting orientation, but you can go ahead and put them out there should they not be addressed. 
3. Stay hydrated and watch your body temperature.
To avoid dehydration, bring a water bottle or jug with you. You can also bring anti-heatstroke items such as mini fans or portable coolers. 
4. Make sure you're in the right shape.
If you want to be safe, you can visit a medical centre before or after your wine tasting and wine tour to ensure how much wine you can consume or if it has any notable effects on your body. 
5. Document your trip.
Make sure to capture your favorite moments as well. If you have the budget, go for a full-documentation and consider hiring some of the top photographers in Toronto. 
6. Have fun and learn!
Above all, enjoy the experience! These activities also promote further knowledge, so listen carefully and explore as many options as possible. 
What is Canadian ice wine?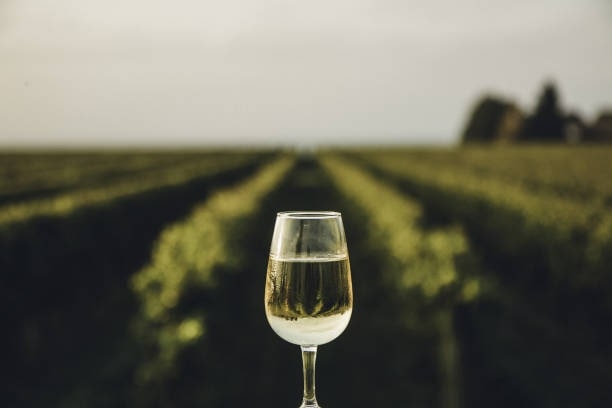 Image source: willhowecreative via IStock
You will likely encounter Canadian ice wine in most of the wineries and vineyards you plan to visit.
Just to school you in, Canadian ice wine is produced from grapes that have been left on the vine after the fall harvest. The grapes are picked and pressed while they are still frozen to achieve that intense flavor and smoothness.
The history of Canadian ice wine traces back to 1972, when it was first produced in British Columbia's Okanagan Valley. Commercially, it was first produced in Ontario's Niagara-on-the-Lake wine region in 1984.
Ontario is currently the undisputed global leader in ice wine production.
The taste notes of Canadian ice wine are citrus, honey, stone fruit (such as peach and dried apricot), and tropical fruit. We do note that this is a very sweet wine that contains high sugar levels.
Just make sure to watch your consumption and listen to the advice of the wine experts during your wine tasting and wine tours experience.
Also take note that Canadian ice wine may be slightly different across the places you will visit. You may look at the reviews by people online or just choose from our recommendations below. 
12 Must-visit Wineries and Vineyards in and near Toronto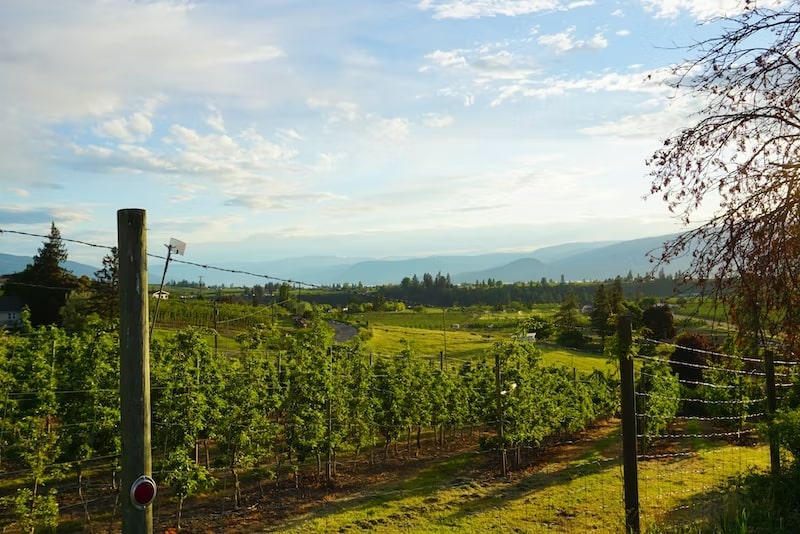 Image source: Danica Stradecke
As stated, there are at least 150 vineyards in Ontario. Among these, there are a number located in and near Toronto.
We're pretty sure that you want to visit as much as you can, but we'd like to warn you that the recommendation is to visit three to five wineries per day. Six to eight wineries are also possible, but only if you keep a fast pace and if the wineries are close together.
To help you narrow down your list, here are the 12 must-visit wineries and vineyards for the best wine tastings and wine tours in and near Toronto. 
1. Macedo Winery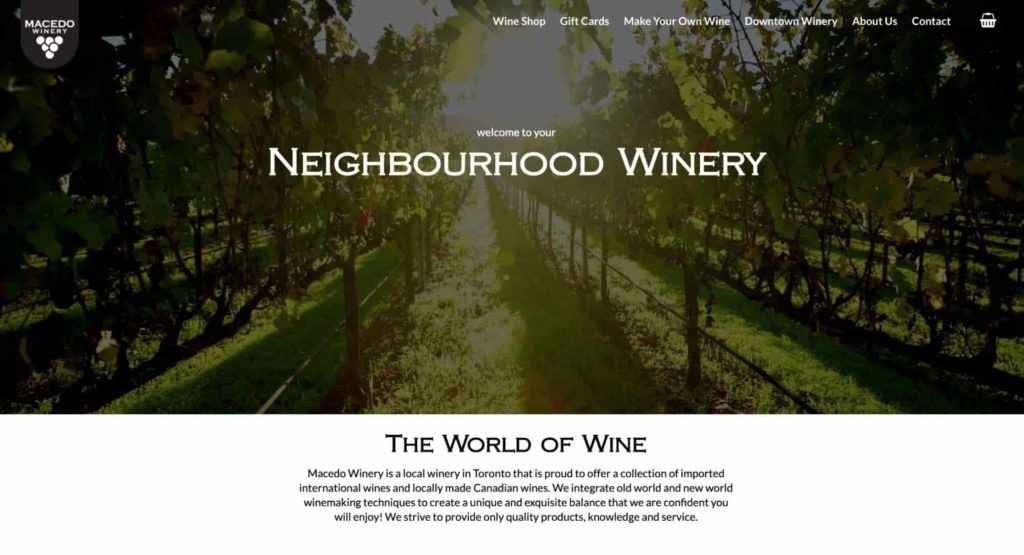 WEBSITE
http://macedowinery.ca/
ADDRESS
1381 Dufferin Street, Toronto, Ontario
CONTACT INFORMATION
+1 416-535-0416
OPERATING HOURS
Monday to Saturday - 9:00 AM to 6:00 PM

Sunday - 11:00 AM to 5:00 PM
Macedo Winery is not just near Toronto; it's a local winery in Toronto. This is a family-owned business that is a go-to for international and Canadian wines in the area.
This business has been known for wine purchasing, wine tastings by appointments, wine by the glass with food pairings, and event space rental opportunities.
Customers can walk into their shop and be introduced to different wines. They will discuss how a wine was made and how it can be customised so that the customer can select properly.
Since the experience is customised, prices for tastings aren't disclosed, but you can inquire online. You can access their wine list and prices here. 
Around 30 bottles are made per batch in their well-maintained facility. They have been fermenting, filtering, and oaking each of their wines since 2012. 
2. Vinoteca Winery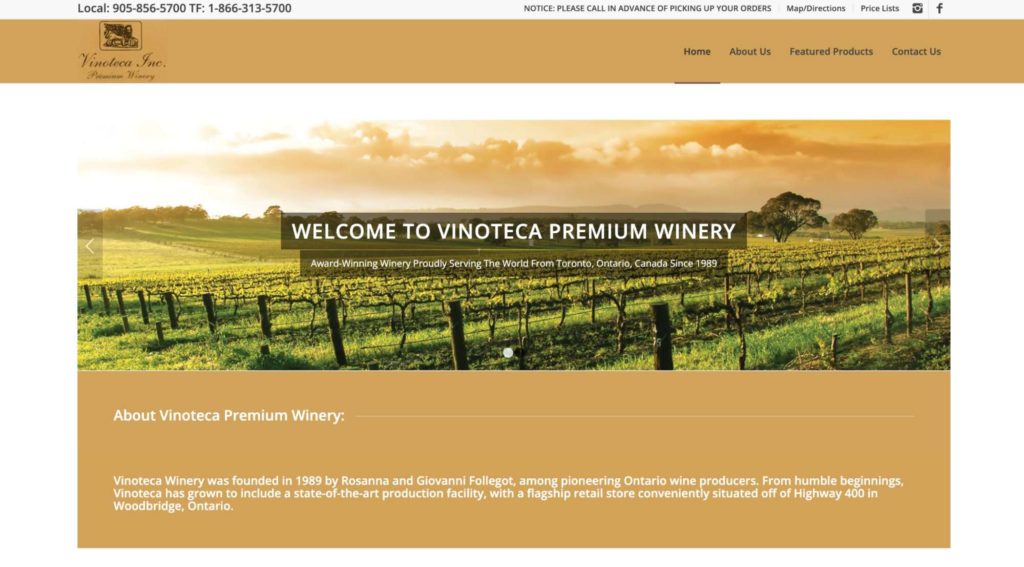 WEBSITE
https://vinotecawinery.ca/
ADDRESS
527 Jevlan Dr, Woodbridge, Ontario
CONTACT INFORMATION
+1 905-856-5700
OPERATING HOURS
Monday to Friday - 9:00 AM to 6:00 PM

Saturday - 9:00 AM to 5:00 PM

Sunday - Closed
Located in the suburban area of Vaughan and just along the border of Toronto, Vinoteca Winery is one of the oldest wineries near Toronto. It was founded in 1989 by Rosanna and Giovanni Follegot, who are among the pioneer wine producers in Ontario.
They started with a very humble plantation of grapes and have now grown into a full wine business. They have a state-of-the-art facility where they produce wines ranging from red, white, and signature Canadian ice.
They really monitor the temperature in their facility, so their ice wine usually comes out tasty and well-textured. They only sell their own wines and they do not have imported or sourced bottles.
For your visit, take note that they are closed on Sundays. You may send them an email or visit their website for private tastings and tours. 
3. Vin de Garage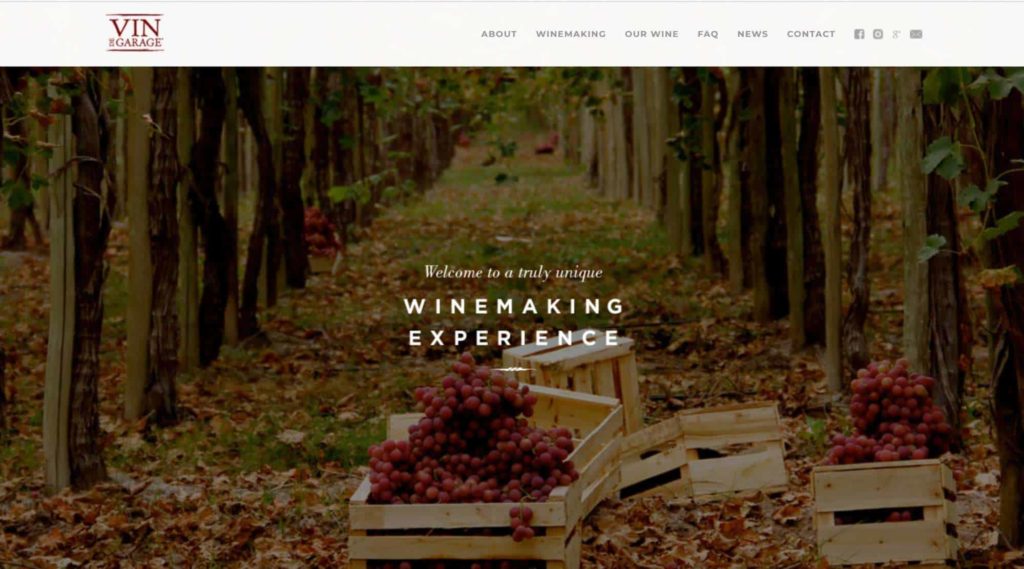 WEBSITE
https://vindegarage.com/en/
ADDRESS
28 Millwick Dr, North York, Ontario
CONTACT INFORMATION
+1 416-740-4411
OPERATING HOURS
Tuesday to Friday - 9:00 AM to 6:00 PM

Saturday - 9:00 AM to 4:30 PM

Monday and Sunday - Closed
Another winery that can be found inside Toronto is Vin de Garage, a family business originally from Argentina that later on moved to North York. This is owned by the Miguel family who are dedicated to the art and science of winemaking.
The family says that the first grapes were crushed in the Vin de Garage in 1997 and that they have developed and preserved a unique blend of French and Argentinian wine making since.
Selected whole grapes and fresh juices are directly imported by Vin de Garage from some of the best vineyards in California, Chile, Argentina, Italy and beyond. From these, they allow their customers to create their own wines while providing expert guidance.
Vin de Garage offers activities that you and your loved ones can enjoy and their imported grapes and juices are definitely worth it. Inquire through this page for their wine experiences and tastings. 
4. Norman Hardie Winery and Vineyard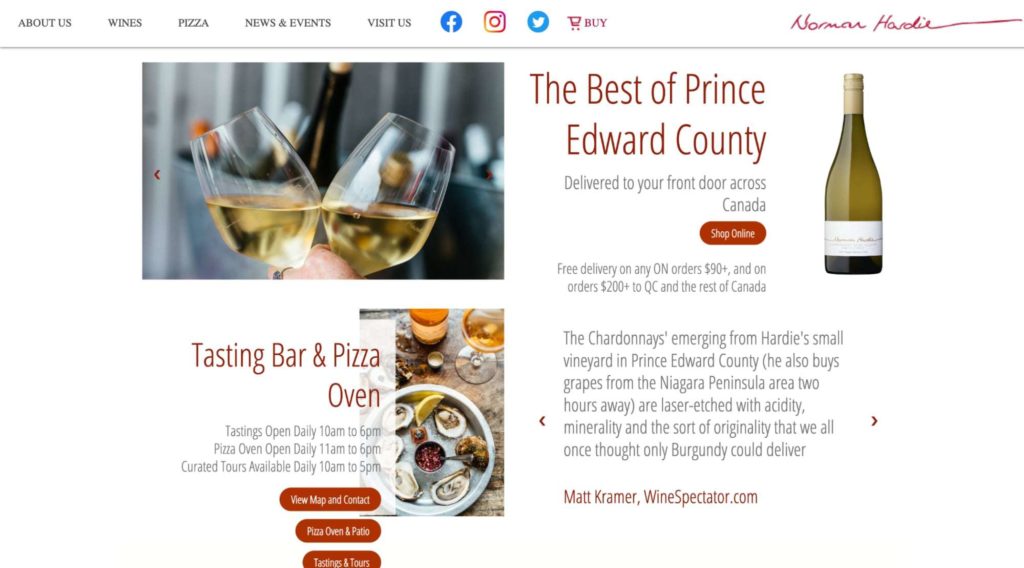 Norman Hardie Winery and Vineyard is located in Prince Edward Country and is a two-hour drive away from Toronto. Their planting experience traces back to as early as 2003 and they have grown into a winery, bar, and pizza place since.
The owner, who the place is named after, earned his sommelier certification from the esteemed wine programme at the University of Dijon in Burgundy and has been working in the wine industry since his early twenties.
One of the best things about this place is that it is a winery and vineyard, so people can actually see everything — from the planting of the vines to the production of wine in the facility. Their wines range from pinot noir, chardonnay, cabernet, and more.
A 1-hour curated winery tour & tasting experience can be booked online. You can also call their landline for price inquiries.
Their tasting bar has a set schedule, available daily from 10:00 AM to 6:00 PM during April to October, and 11:00 AM to 5:00 PM from November to March. This is on a first come, first served basis. 
5. Rockway Vineyard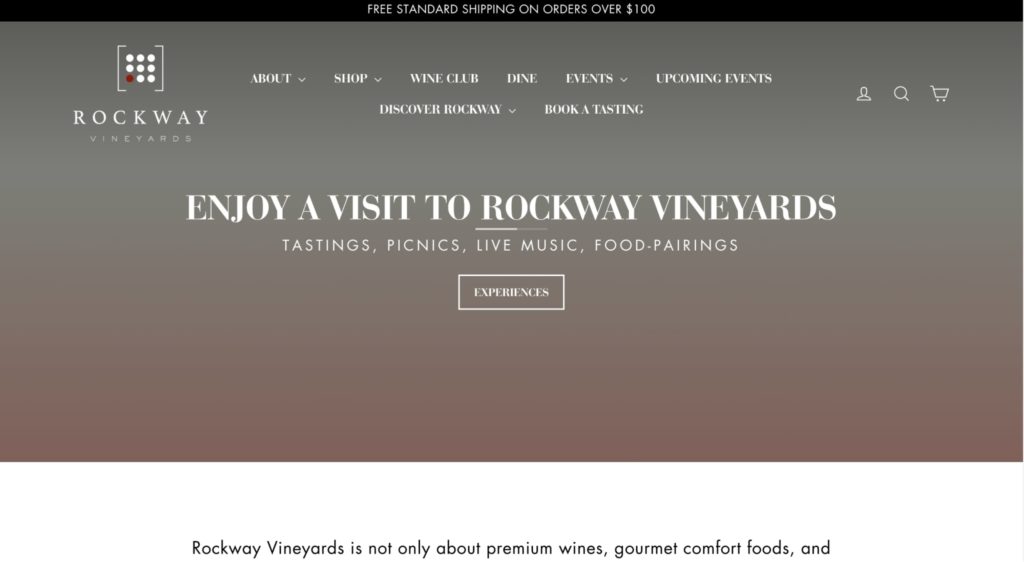 WEBSITE
https://rockwaywine.ca/
ADDRESS
3290 Ninth St., St. Catharines, Ontario
CONTACT INFORMATION
+1 905-641-5771
OPERATING HOURS
Sunday to Saturday - 11:00 AM to 6:00 PM

Holidays - 12:00 PM to 5:00 PM
Offering premium wines, breathtaking views, and more fun activities such as golf and live bands is Rockway Vineyards. Their location is a premium grape growing land with enough sun exposure and rich mineral soil.
95% of their wines are produced in their vineyard, with the remaining 5% imported from passionate local growers in the Niagara region.
They have four wine tasting packages. Basic wine tasting and evening fireside wine experience are both priced at CAD14.
For those who want an elevated experience, they have a charcuterie and wine tasting experience that starts at CAD48.
Their most expensive tasting package is a picnic in the wine garden, where they cover food and beverages and offer the views of their vineyard starting at CAD90.
This place is perfect for those who just want to experience wine tasting but still get to explore other activities as well. A drive from Toronto will take about an hour and 15 minutes. 
6. Gallucci Winery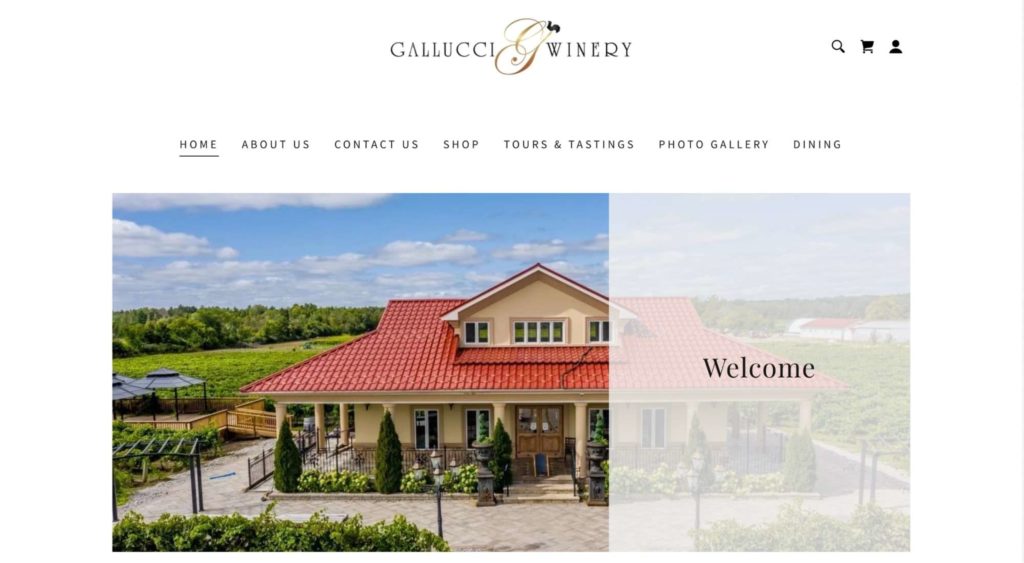 WEBSITE
https://gallucciwinery.com/
ADDRESS
13204 Ninth Line, Whitchurch-Stouffville, Ontario
CONTACT INFORMATION
+1 905-640-0909
OPERATING HOURS
Wednesday to Friday - 11:00 AM to 4:00 PM

Saturday and Sunday - 12:00 PM to 4:00 PM

Monday and Tuesday - Closed
Galluci Winery is situated just 30 minutes from Toronto. It is a family-owned and operated business that began in 2014.
Tastings are held on a first come first serve basis from 11:00 AM to 4:00 PM, with flight of 4 rates starting at CAD14 and flight of 6 at CAD21.
They offer two tours, one being the experience tour and the other being the private tour.
The experience tour is priced at CAD35 per person and is available every Sunday, at 4:00 PM. This is a tour of their vineyard and facilities with a wine expert, inclusive of four types of wines accompanied by four types of cheese.
Private tours are one-on-one tours with one of the members of the Galluci family. This is strictly by reservation and costs around CAD55 per person.
Both tours last for around 45 minutes and can come in groups. The experience tour can have a maximum of 20 guests while private tours are for a minimum of 10 guests.
This winery is relatively new so it is in very well shape. Their vineyard boasts of a very relaxing view, where you can freely enjoy your wine and even dine outdoors. 
7. Willow Springs Winery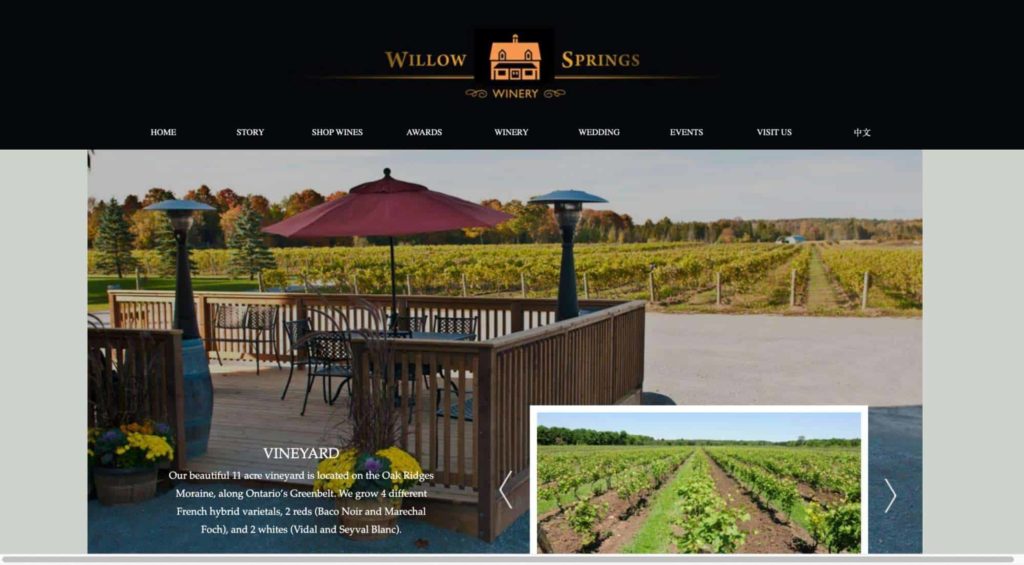 Willow Springs Winery has a beautiful 11-acre vineyard that is located along Ontario's greenbelt. It is roughly a 40-minute drive from the city of Toronto.
Their vineyard has a perfect wine-country feel. The location is atop the Oak Ridges Mountain, so stunning views come with tastings and tours.
Private tastings are available for 5 to 50 guests, which are held in their rustic and spacious tasting room. Bookings and inquiries can be made through their website.
They grow four different French hybrid varietals, two reds which are Baco Noir and Marechal Foch), and two whites namely Vidal (ice wine) and Seyval Blanc. 
8. Holland Marsh Wineries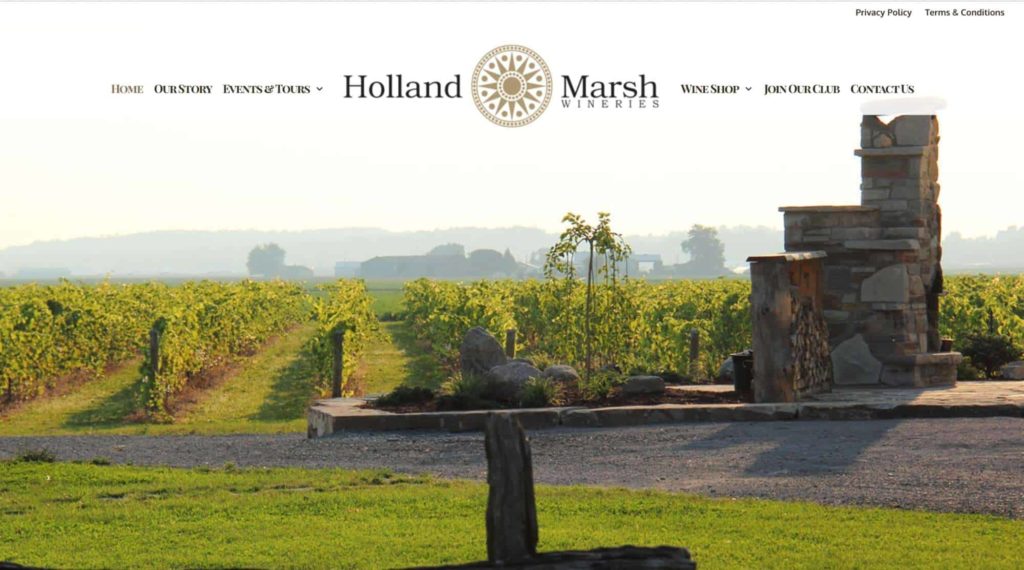 The Holland Marsh is Canada's premier historical farming community. This is where you can find Holland Marsh Wineries.
An Armenian family developed and owns this business, with them arriving in Canada in the early 90s. They share that their country of origin is said to be the birthplace of wine, as a winery was discovered near the country.
Both tours and tastings are available in Holland Marsh Wineries. Their prices range from CAD30 to CAD41.
A tasting bar is open to the public, but the private tours are strictly by reservation.
Their VIP tour is the most popular, as guests can have access to their vineyard, winery, and even observe during wine production. This also comes with five curated wines and is for a minimum of 10 people.
Charcuterie boards are also available. Guests will be guided on which boards would go well with their wine of choice. 
9. Ravine Vineyard Estate Winery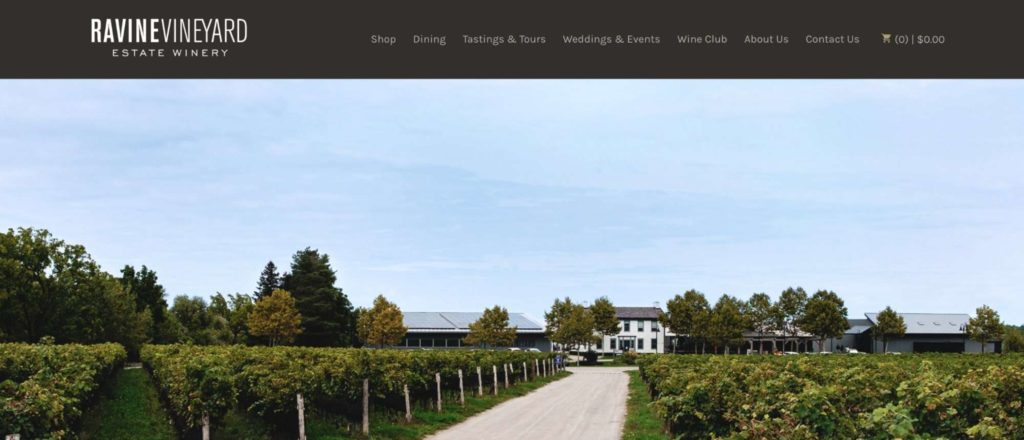 Ravine Vineyard started as a family business in the 1860s and it now operates as an estate winery that offers wine tastings and vineyard tours.
Their outdoor wine tastings are available 7 days a week, priced at CAD34.
The wine and vines tour is more of a complete package, with them guiding you throughout the family farm and you enjoying 4 of their special small batch wines.
The wine and vines tour costs roughly CAD41 and can be booked online. Wine Club Members can get up to 50% discount.
This vineyard operates rain or shine, so they encourage people to wear outdoor clothes. From Toronto, going here will take about an hour and a half.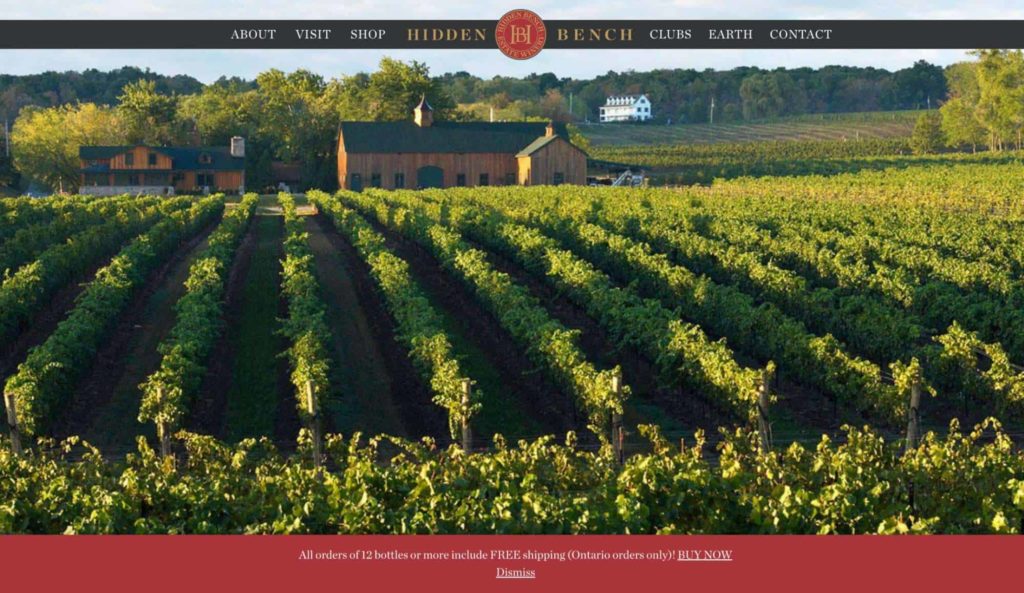 Located just an hour away from Toronto, Hidden Bench Estate Winery offers root to glass experiences of their wine produce.
The root to glass experience costs almost CAD105 per person, with it being an in-depth and extensive behind the scenes look at their organic viticulture programme and production facility.
Their tasting experience requires no reservations at all and are priced at CAD48. Wines by the glass are also available and open to all.
A total of 6 premium wines can be tried by guests during their visit, be it for the tasting experience or root to glass experience.
This vineyard's focus is on Pinot Noir, Chardonnay and Riesling wines, having studied and produced these since 2003. 
11. Two Sisters Vineyards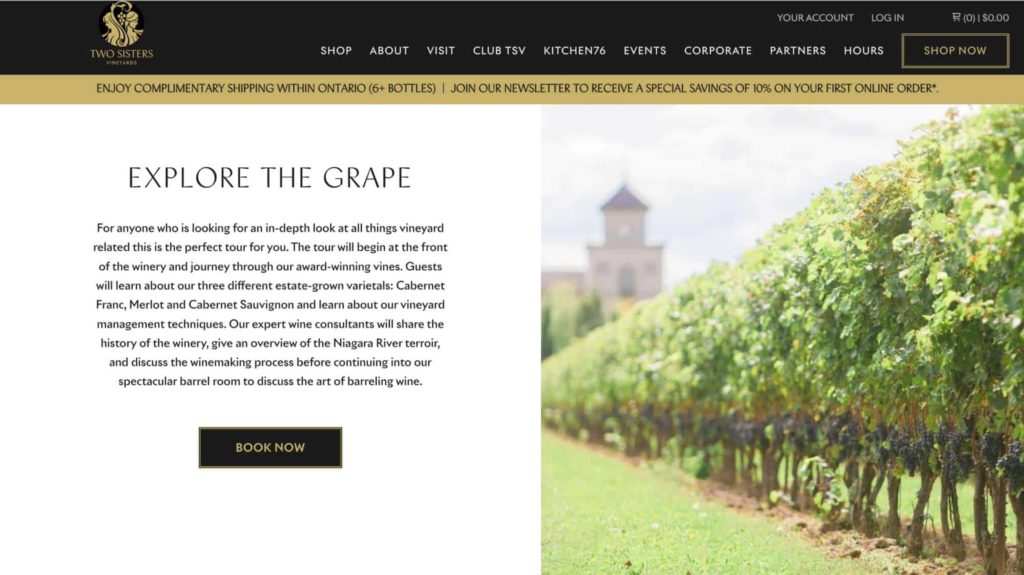 Nestled in one of the most prominent and abundant places for wine in Ontario, Two Sisters Vineyards offers great wine tastings and tours. They first planted in 2007 and have been championing Niagara wines for the global stage since then.
A veranda experience is offered for those who want outdoor wine tasting. It is a 45-minute session with their senior wine consultants that costs CAD82.
For the public, their wine boutique tastings by the glass are always open during operating hours. They can also host tastings for larger groups, depending on availability and bookings.
A tour at the front of their winery down to their award-winning vines can be done upon request. For CAD89, they extensively discuss and showcase how their Cabernet Franc, Merlot and Cabernet Sauvignon are done.
Luxury wine tasting is also available in the form of their Stone Eagle Experience, priced at CAD207. This is their specialty wine and the tasting comes with learning about the winery, vineyards, and winemaking practices with their Estate Sommelier.
Bookings can be made online. Both owners are very nice and you can be lucky enough to catch them during your visit. 
12. Stratus Vineyards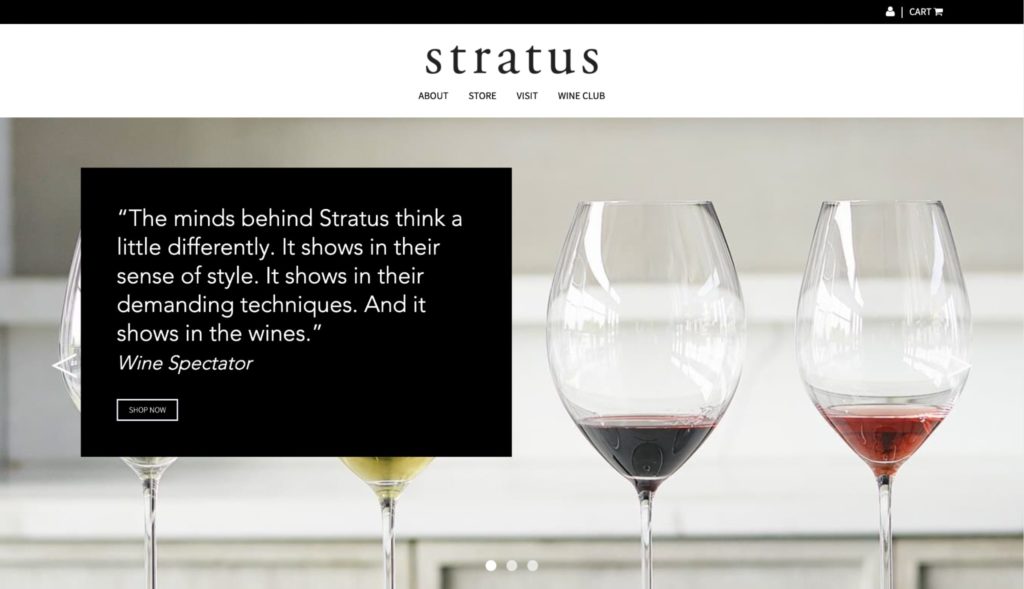 Another vineyard in Niagara-on-the-Lake, Stratus Vineyards is a gravity flow winery that has a LEED-certified facility.
Being certified by LEED (Leadership in Energy and Environmental Design), this means that their facilities and processes are very sustainable.
They focus on each of the elements of wine and make each of those stand out in terms of taste.
Their process is pretty simple: ensure that the sun, their site, the condition of the soil, and the grapes all go well together.
A superb interior tasting room awaits all the guests. They also offer Stratus guided tastings starting at CAD62 per person, where they will provide wine tasting, great food, and walk people through their story.
Stratus Vineyards also offers corporate and private dining. You can cap off a long day at their cosy and relaxing room ambiance.
---
And that finishes up our list of everything you need to know about wine tasting and wine tours in and near Toronto. Would you know of undiscovered and underrated wineries and vineyards in and near Toronto? Let us know in the comments below!