Top 5 Dumpster Rental Companies in Toronto
Do you have old big furniture that you want to dispose of? When you are doing spring cleaning or cleaning out an attic, there will be a lot of items that you won't need.
Or you might be planning to do a home renovation. The junk will pile up when fixing a kitchen or changing the roof.
Situations like these are when big garbage bins come in handy. Don't worry, there are a lot of companies in Toronto that rent out dumpster bins.
Knowing how dumpster rental can help with your home projects, read on to get to know the top dumpster rental companies in Toronto.
How much does dumpster rental cost in Toronto?
The rental cost of dumpster bins in Toronto differs from one company to the other, usually based on the size of the bins.
The capacity of these bins is also taken into consideration. Some companies will have a minimum weight allowed for the price quoted and in excess, additional fees will be charged.
Drop-off and pick-up costs can be different with added fuel and manpower charges. However, there are companies that include both in the quotation.
Some providers will specify what kind of waste materials can be dumped in the bins too. Non-compliance will mean a penalty fee.
Below are the prices of garbage bin sizes to give you an idea of how much it will cost to rent one.
Bin Size
Rental Fee
8 Yard
Clean Fill: $350

Mixed Waste: $89 per tonne

10 Yard
Clean Fill: $400

Mixed Waste: $155 + $89 per tonne

14 Yard
Clean Fill: $475

Mixed Waste: $165 + $89 per tonne

20 Yard
Mixed Waste: $179 + $89 per tonne
30 Yard
Mixed Waste: $189 + $89 per tonne
40 Yard
Mixed Waste: $199 + $89 per tonne
The Best Dumpster Rental Companies in Toronto
We followed a set of criteria so you can be guided accordingly on choosing which company you should rent a waste bin from.
1. City Waste Services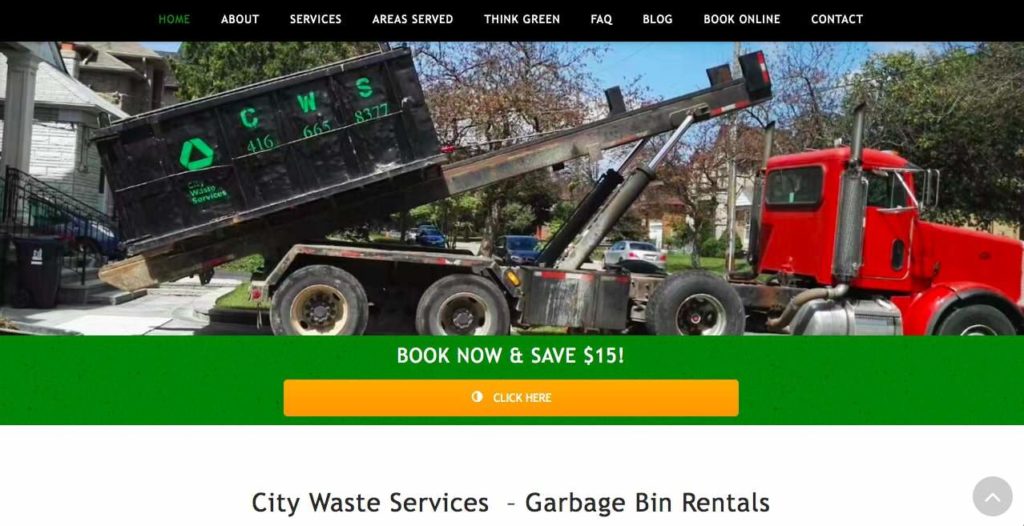 Test
Info
Services

Garbage bin rentalsGarbage load serviceJunk removal

Website
Address
189 Milner Ave, Toronto, ON M1S 3R1,
Contact details

416-878-2149

Operating hours

Monday – Friday: 8 am – 6 pm

Saturday: 8 am – 7 pm

Sunday: Closed
| | |
| --- | --- |
| Availability | ★★★★★ |
| Rental Fee | ★★★★★ |
| Staff | ★★★★★ |
| Delivery service | ★★★★☆ |
City Waste Services is helping clients relieve their worries about junk after a renovation, demolition, or clean up. It offers affordable, reliable garbage bin rentals and other services that are tailored to the individual needs of clients.
What we appreciate about this company is its flexible schedule. It is able to deliver garbage bins even early in the morning.
The company does not only rent out garbage bins. Its staff can also remove junk and fill the bin for you.
What's more is its thrust to help the environment by reusing or recycling your junk. We always appreciate environmentally-conscious companies that do their part in achieving sustainability.
We also like that the company has different kinds of bins available. You may fill the smallest 8-yard bin up to the biggest 40-yard bin with clean fill and mixed waste.
With the company's lowest price guarantee, it beats cheaper services from other providers by 10%. Added to this, it gives an extra 15% discount for bookings done online.
You're definitely getting the best deals here.
Customer service is not consistent, though, as there are times when calls are not answered. Also, it has caused delays in construction when the driver didn't arrive at the designated time of pick-up.
Reliable garbage bin rental
Courteous and helpful drivers
Lowest price guarantee
Wide range of bins for rent
Calls are not answered
Delayed pick up
Customer Reviews
Last minute accommodation
After being screwed over by another bin company I was left needing a bin very last minute. I contacted City Waste Services and Julian saved the day for me! He managed to set me up with a bin in less than 16 hours and I was able to keep things on schedule. The service from start to finish was very professional, friendly and timely. This company really delivered. – Ronan
Great service
This being my third time using this company Dealing with Julian was great he is very informative and helpful He takes the time to make sure you are getting what you need and he always gives a discount which is helpful . Great service way better then any other bin rental service Gorilla bins has nothing on CWS…5 stars thank you Julian
2. Bin There Dump That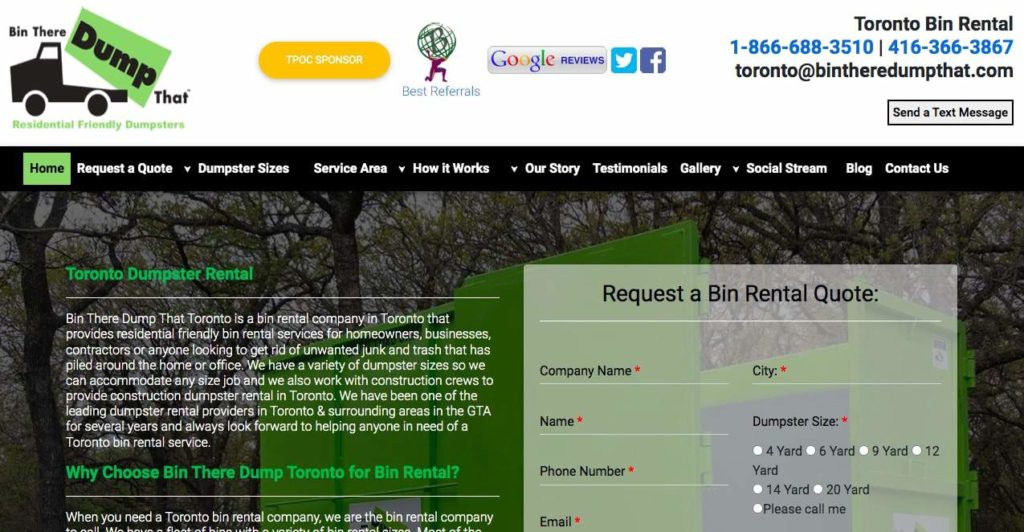 Test
Info
Services

Bin rental

Junk removal

Website
Address
56 The Esplanade, Toronto, ON M5E 1A6
Contact details
416-366-3867
Operating hours

Monday – Friday: 6 am – 7 pm

Saturday: 6 am – 5 pm

Sunday: Closed
| | |
| --- | --- |
| Availability | ★★★★★ |
| Rental Fee | ★★★★☆ |
| Staff | ★★★★★ |
| Delivery service | ★★★★★ |
Bin There Dump That provides bin rental services for anyone who needs to get rid of junk in Toronto and GTA. As a leading dumpster rental provider, it offers a variety of bin sizes and can even pick up construction waste.
Its affordable and competitive prices have given it a lot of return rentals and happy clients. We also appreciate its honesty and quick response to our rental request.
This company's 4-yard bin is perfect for small home cleanout jobs and houses with small driveways. But for construction and medium to large home cleanout jobs, its 20-yard bins can be used.
We are happy with its excellent service, especially the crew being on time to drop off and pick up the rented bin. On pick-up day, they even clean up any debris that did not make it into the bin.
However, there are bins that are rust-filled, which left marks on the driveway. The owner was polite and sent a crew over to repair the damage.
As a professional dumpster company, it provides quality service all the time. The staff is prompt and knowledgeable so we were able to book a rental right away with the correct bin size.
Its fee is composed of a flat rental fee, which is the same for all sizes. As for its disposal services, it charges $105 per metric tonne.
There were instances, though, that mistakes were made in the weight, which led to us getting overcharged. But the company usually sends a receipt from the weigh station as proof of the exact weight of our junk.
Leading dumpster rental provider
Affordable and competitive prices
Excellent and quality service
Prompt and knowledgeable staff
Flat rental fee for all bin sizes
Rusted bins cause damage on the driveway
Mistakes on the junk weight
Customer Reviews
Quick pick up
We originally asked for a quote from another company that didn't even reply to our request. I saw Bin There Dump That while out and about one day and placed the call. The staff here are exceptional, from the quote, to the driver who made sure my driveway was protected from any damage. The bin I received was even cleaner then most bins I have rented in the past. Pick up was quick and within about 2 hours of my call. I would definitely recommend Bin there Dump that. In a time like we are in now it was a pleasure to deal with an honest and friendly company. Well done BTDT. If I need a bin in the future, you will be the first call next time. Thank you – Carl
Pleasant experience
This is a very professional and well run company. The person I spoke to on the phone was very nice, the bin was clean and well placed on the driveway, they came to take it away when asked and the drivers were very pleasant. Overall a very pleasant experience. – Elaine
3. Junk Out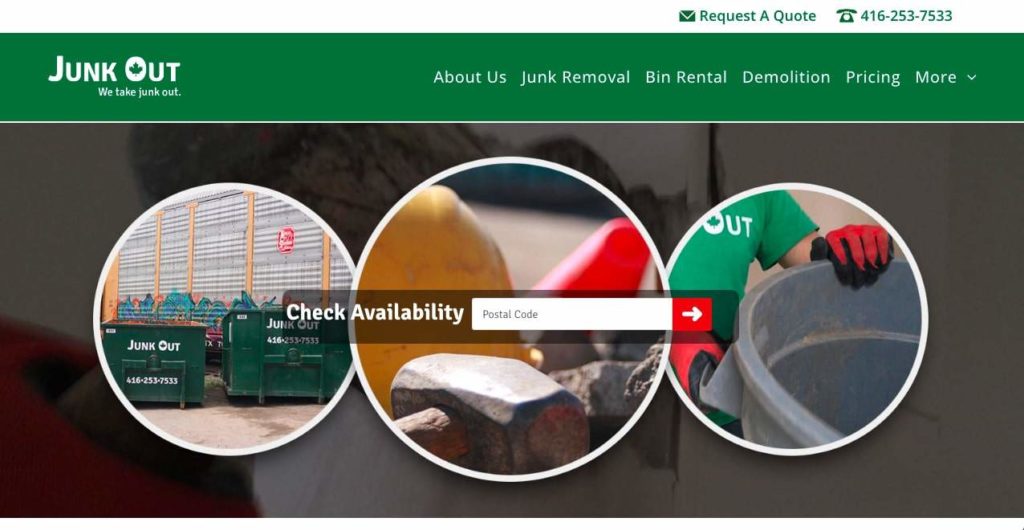 Test
Info
Services

Junk removal

Bin rental

Demolition

Website
Address
2938 Dundas St W unit 585, Toronto, ON M6P 1Y0
Contact details

416-253-7533

Operating hours
Monday- Thursday – 7 am – 5 pm

Friday – Sunday: Closes
| | |
| --- | --- |
| Availability | ★★★★★ |
| Rental Fee | ★★★★★ |
| Staff | ★★★★★ |
| Delivery service | ★★★★☆ |
Junk Out is a family-owned business that is committed to fair and friendly garbage bin rental, junk removal, and demolition services. It has been in operation for 15 years and has worked directly with the clients to provide pick-up and drop-off service on time, all the time.
It offers reliable and fairly priced fees for the different sizes of garbage bins. We appreciate that renting a bin was easy and convenient, with a 14-day rental duration.
With its belief in helping the environment, this company recycles junk. It also donates the items in the bin that can still be used.
However, it does not pick up hazardous waste, propane tanks, and asbestos. Added to this, paints, chemicals, and oils are not allowed in the garbage bins.
This company is fully insured and licensed to transport waste. It is also registered with WSIB so its team is protected and provides clients with peace of mind.
The clients have been happy with its great service as its staff is incredibly efficient and respectful of the property. Its friendly and accommodating drivers ensure that the bin is placed in the right place and are very careful to protect the driveway and the surrounding areas.
As for availability, we noticed that this company doesn't do pick up or drop off of bins during the weekends. But its staff is quick in scheduling and can do both services on the same day.
Also, its crew is cooperative and helpful, especially during the lockdown. They were very professional in dealing with the clients and careful in handling the junk.
Fair and friendly garbage bin rental
Reliable and friendly rental fees
Environmental friendly
Insured and licensed company
Cooperative and helpful crew
Family-owned business
Closed on Fridays and the weekends
Customer Reviews
Great service
I needed to rent a bin immediately because a contractor took off and left a pile of concrete rubble on my front yard. I called Junk Out and they walked me through the type of bin needed, the price, and the payment process. They were also able to arrange bin drop off and pickup on the same day. The drivers arrived on time and did a great job. My credit card was charged the correct amount and a sales receipt was emailed to me after the job was completed. – Gary
Professional crew
Fabulous Service from my first phone call with Mike to my last call just the other day. I moved into my home in Brampton in July 2021. Started a major renovation in August which is almost near completion now in Jan 2022. Have used 3 full size bins and filled them to the max over the past 4 months and have had exceptional service from everyone including the pick up and take away crew. The owner is very friendly as well when i spoke to her before Christmas as well advising her of the scope of my project and thanked her for het and her crews professionalism. I will definitely be using Junk Out services moving forward and will be reffering all to my friends and family as well. Keep up the great work team. – Wayne
4. Trash Connections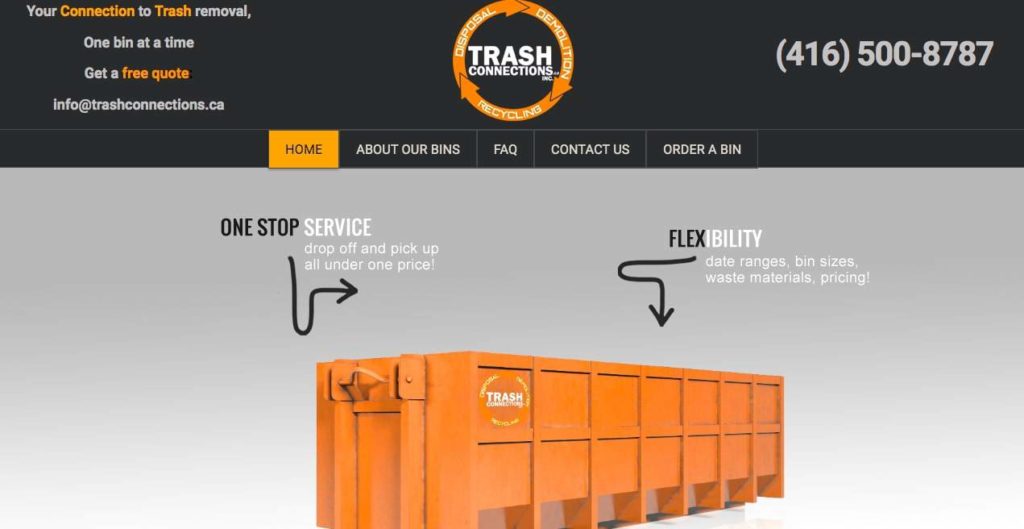 Test
Info
Services

Garbage bin rental

Website
Address
1 Yonge St, Toronto, ON M5E 1W7
Contact details

416-500-8787

Operating hours

Monday – Friday: 7 am – 8 pm

Saturday: 8 am – 7 pm

Sunday: Closed
| | |
| --- | --- |
| Availability | ★★★★☆ |
| Rental Fee | ★★★★☆ |
| Staff | ★★★★★ |
| Delivery service | ★★★★★ |
Trash Connections has 50 years of experience in the renovation, demolition, and disposal business. Its resources are able to provide customers with the best price and quality work.
The company is fully insured, which is an assurance of safety. Also, its crew is very professional and courteous so dealing with them was a breeze.
Booking the drop-off and pick-up of garbage bins can be done online. In cases you will need the garbage bin longer, it is able to accommodate this with a small fee.
This company offers a variety of dumpster sizes, the prices of which are based on the weight of the waste. The smallest waste bin is 4 cubic yards and it can also rent out the biggest bin available at 40 cubic yards.
What we appreciate is the price per bin already includes the drop-off and pick-up. However, it charges a $150 fee for failure to inform 24 hours before cancellation or change in the dates.
Renting the garbage bin is good for 5 days, including weekends and holidays. So even if it is closed on Sundays, the bins are scheduled to be picked up the next day.
Its bins can be filled with mixed waste and clean fill. However, it does not accept asbestos, chemicals, oil tanks, and oil-based paint.
Its great service coupled with ease in communication is highly recommended. Its crew is also on time and offered to help empty our garbage and place the junk in the bin.
50 years of experience
Company insured
Professional and courteous staff
Helpful in cleaning junk
Small fee for rental extensions
Penalty fee for cancellation less than 24 hours
Closed on Sundays
Customer Reviews
Fair pricing
EXCELLENT customer service. Len and Jesse were a pleasure to deal with. The bin was delivered on time and picked up on time as well. The pricing was very fair. I would definitely use this company again. Highly recommend! – MW
Excellent service
I had a great experience for my first time ordering a bin. Emailed for a quote and was immediately provided with a text acknowledging and a call to help me set up. The very next day a clean bin arrived exactly where it was supposed to go. Pick up was just as easy as was the extension provided. My follow up questions were quickly answered. Price was better than competition too! Can't get better than this. 5 stars! – Kim
5. Big Ben's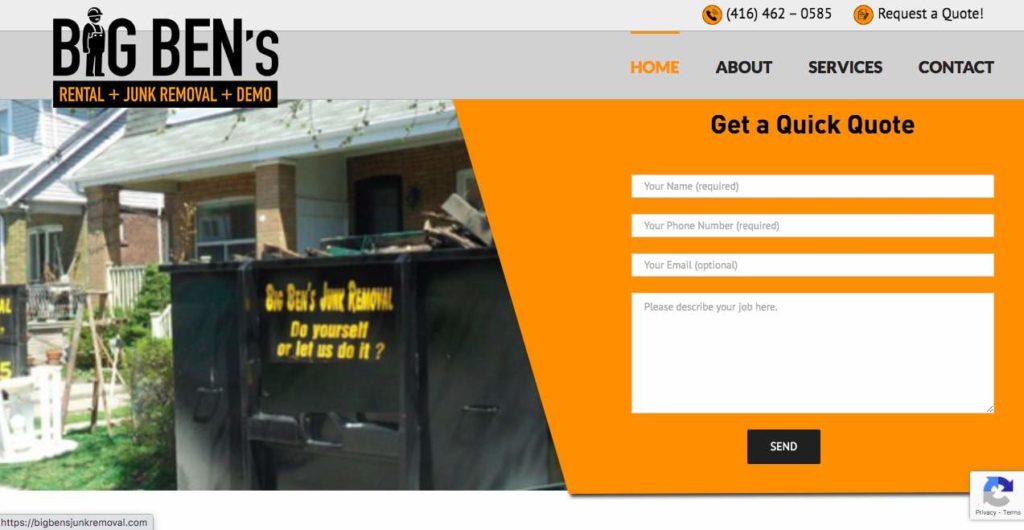 Test
Info
Services

Bin rental

Junk removal

Demolition

Bobcat rental

Excavation

Website
Address
140 Woodfield Rd., Toronto, ON M4L 2W6
Contact details

416-462-0585

Operating hours

Monday – Saturday 7:30 am – 5 pm

Sunday: Closed
| | |
| --- | --- |
| Availability | ★★★★☆ |
| Rental Fee | ★★★★☆ |
| Staff | ★★★★★ |
| Delivery service | ★★★★★ |
Big Ben is a family business started by Ben Bergeron to provide a full range of bin rental, demolition, bobcat rental, junk removal, and excavation services. Today, it boasts 80 bins for rent with a friendly, trustworthy, and polite crew.
Its bins for rent are affordable and perfectly sized for anyone's needs. We were able to choose among the 7 different bin sizes and they were available right away because of its large supply.
Booking is convenient, easy, and fast as the staff is helpful and polite. For convenience, we sent an email, but the provider also accepts booking and quotations on its website.
The rental is on a per-week basis and is based on a 1.5-tonne capacity. The company offers competitive pricing and is straightforward with its additional fees like a fuel surcharge.
Thus, we were not surprised that a fee of $130 was charged when we went over the minimum capacity.
Furthermore, filling of the bin is allowed up to the rim. But if overloaded, there is an additional fee of $150.
Its crew is very careful in placing the bin even if it is in a tight spot. The dumpster bins have wood on the bottom to protect the lawn or driveway.
They were also prompt by arriving on time and there were no delays on the pickup date, which more than makes up for the company being closed on Sundays.
Friendly, trustworthy and polite crew
Transparent with pricing
Convenient and easy booking
Online booking and quotation
Drivers are careful
Charges for overcapacity
Closed on Sundays
Customer Reviews
Careful drivers
Big Ben's is the company we use for all our disposal needs. Their drivers are really careful and are willing to take the time to put the bin where you need it, even if it isn't the easiest spot. I highly recommend them! – MHG
Prompt service
I rented a bin to haul away dirt for my garden project. Big Ben's was on time, competitively priced, and had excellent customer service. I would absolutely recommend them to anyone needing a dumpster. – Brittany
FAQs about Dumpster Rental
---
If you need to rent a dumpster bin after cleaning out your house, doing a renovation project, or disposing of bulky items, the top dumpster rental companies in Toronto will be a big help.
Cleaning houses can be tedious and time-consuming. We have a guide to hiring cleaning services so you can find people to help you out.
If you need a weekly service for garbage pickup, check out the top garbage disposal services in Toronto.