A Comprehensive Guide to Toronto's Graffiti Alley
Toronto's Graffiti Alley features over 500 murals, making it one of the largest and most diverse street art collections in the world. It's visited by more than 2 million people every year.
Starting as a hotspot for independent graffiti art, the alley eventually led to the creation of StreetARToronto in 2011. Also known as StART, the program provides funding and approval for public murals and graffiti art.
A Comprehensive Guide to Toronto's Graffiti Alley
Time Zone
Eastern Daylight Time (GMT-4)
Best Time to Go
It's best to visit Graffiti Alley during the day when the lighting is perfect for taking photos and the street is less crowded. You can also visit it at night but expect more people having photoshoots.
If you're worried about the weather, it's generally warmer from May until November. Be ready to do a lot of walking since the alley stretches for 3 blocks.
Things to Know
Currency: Canadian Dollar
(Check the current exchange rate)
Languages: English
Calling Code: +1
Where is Toronto's Graffiti Alley?
Toronto's Graffiti Alley is a 3-block stretch parallel to Queen Street West. Located in the Fashion District, it's home to an array of murals made by renowned international artists and local talents.
The alley is at Rush Lane, between Spadina Avenue and Portland Street. The site's perpetually open to the public for free.
Here's a map of the alley and its surrounding area: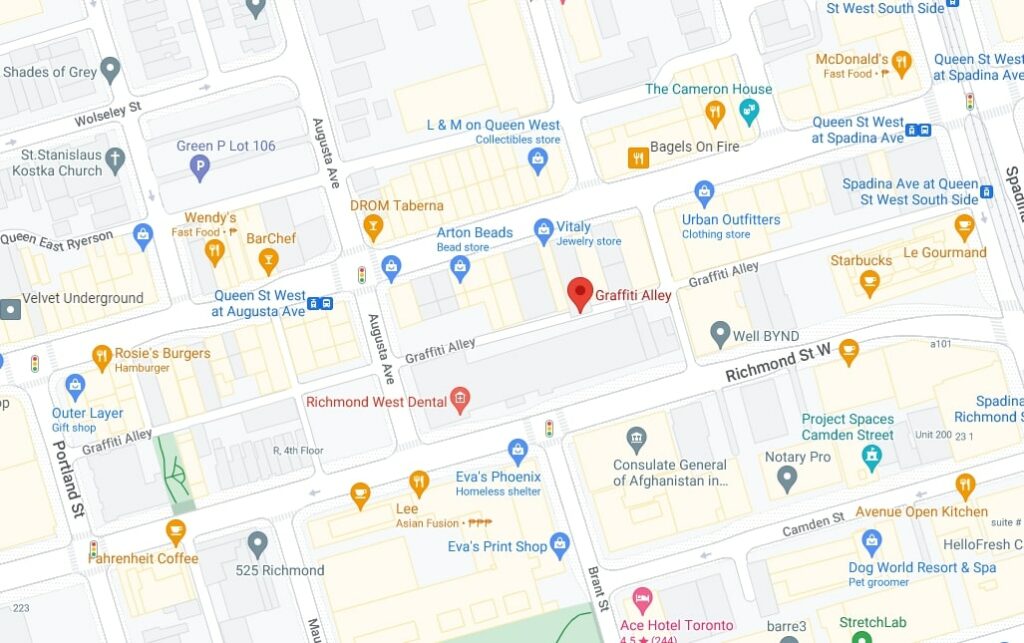 How to Get to Toronto Graffiti Alley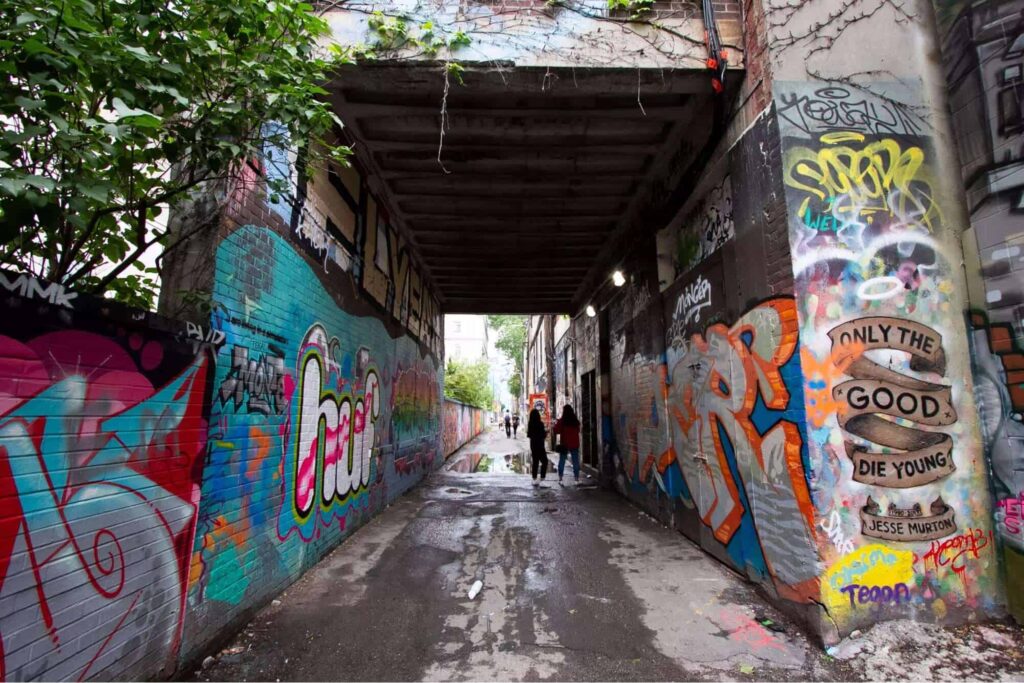 You can take the train and embark at Queen Station. From there, walk east on Queen Street West and you'll reach the alley in about 5 minutes.
If you take the bus, the closest bus stops are at Queen Street West, Spadina Avenue, and Portland Street.
If you go by car, it'd be better to park in a nearby parking garage since there isn't much street parking in the area.
Graffiti Alley's Notable Artists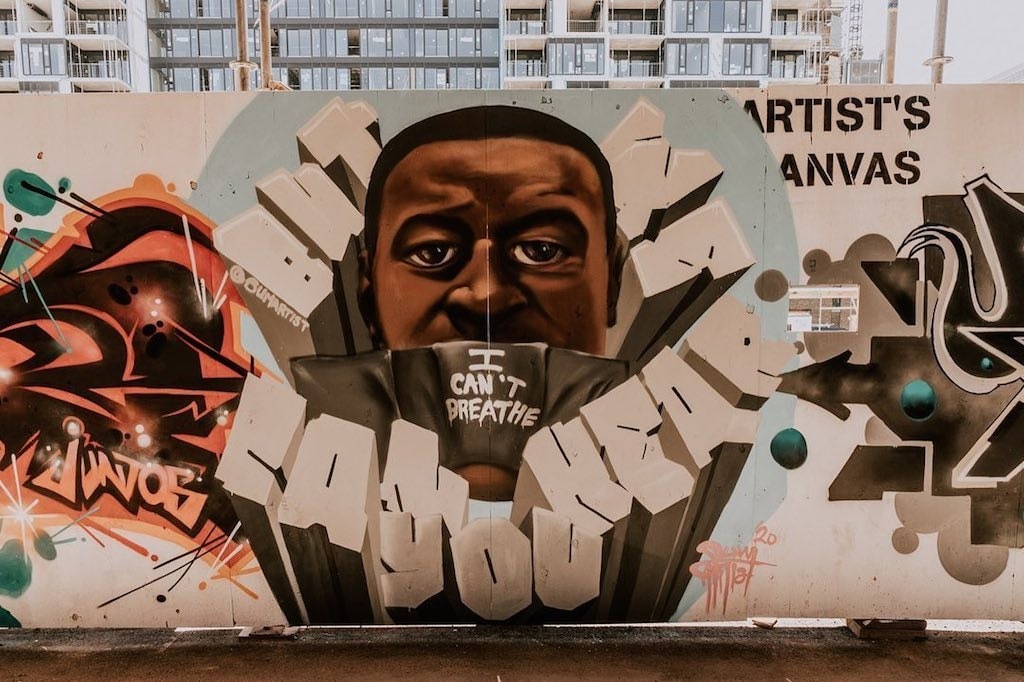 Both homegrown and international artists contribute hundreds of murals and pieces to make Graffiti Alley one of the best spots for street art in the country.
The alley is constantly evolving with more artists adding to the mix. Here are some of the notable artists who've made significant contributions to the alley's jaw-dropping collection:
Elicser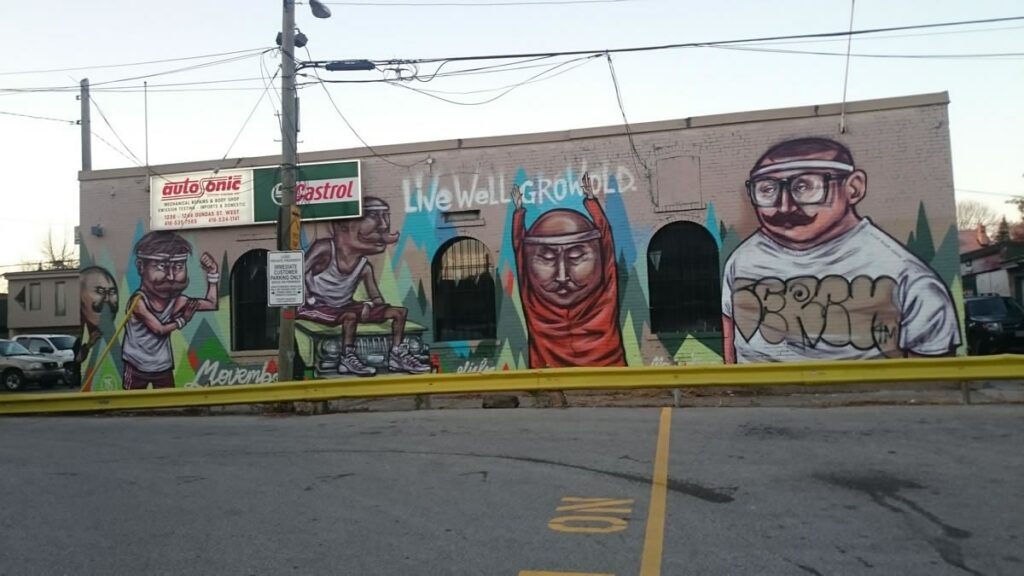 Elicser Elliott is a Canadian visual artist known for his contributions to Toronto's street art scene. He makes use of soft characters and organic shapes, layering and blending them through transparencies to evoke emotions.
The characters he creates are inspired by people he knew from the past or strangers he observes on the streets. He enjoys putting his murals on buildings, saying that he loves it when people find his work within the city.
Uber5000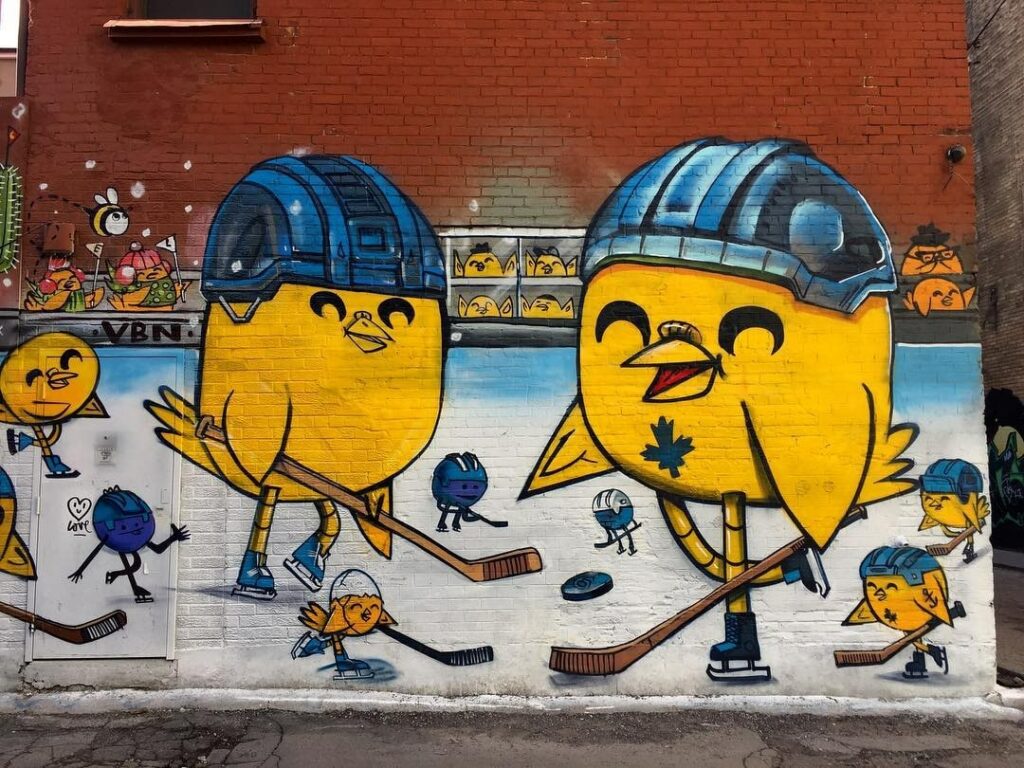 Allan Ryan, known as Uber5000, created one of Graffiti Alley's most popular murals, "The Reef Wall," in 2012. He was raised by the sea and has developed an interest in marine life as a child, as seen in his 7,000-square-foot mural of a coral reef.
He's known for his unique style and playful imagery, always boasting incredible details and colours. His works often feature animals having fun with mundane human activities.
Spud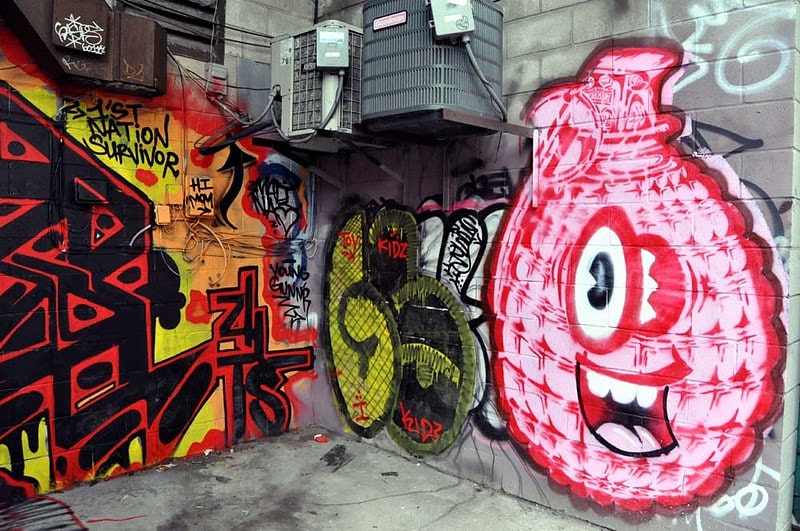 Spud's works are known for their accessible and progressive political messages. You'll find many of his smaller pieces scattered all over the city, including spots such as random garage doors and street signs.
His style revolves around the image of a potato which he transforms into other things, like a grenade or a person's head. He's known to have the most rooftop coverage among artists in the city, with his works visible on top of buildings everywhere you go.
SKAM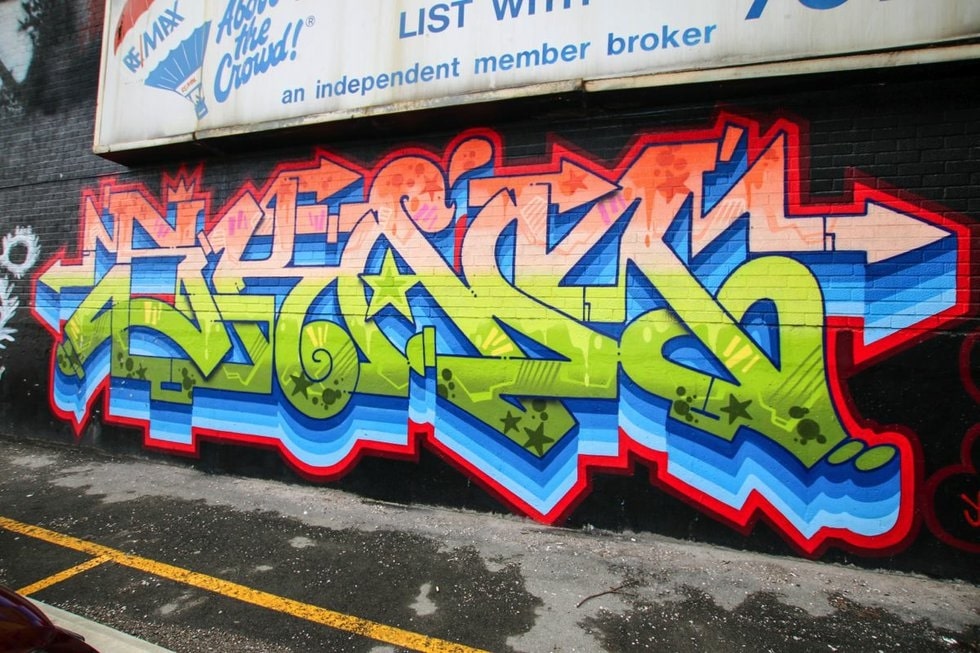 SKAM cites hip-hop culture as his main driving force in learning graffiti when he was younger. An artist his whole life, he formally trained in college to learn composition, colour theory, typography, and other graphic design concepts.
His works often feature his name, creatively distorted with different colours and innovative lettering. He also runs Homebase, his own lifestyle shop that offers various street art products and vintage apparel.
Duro the Third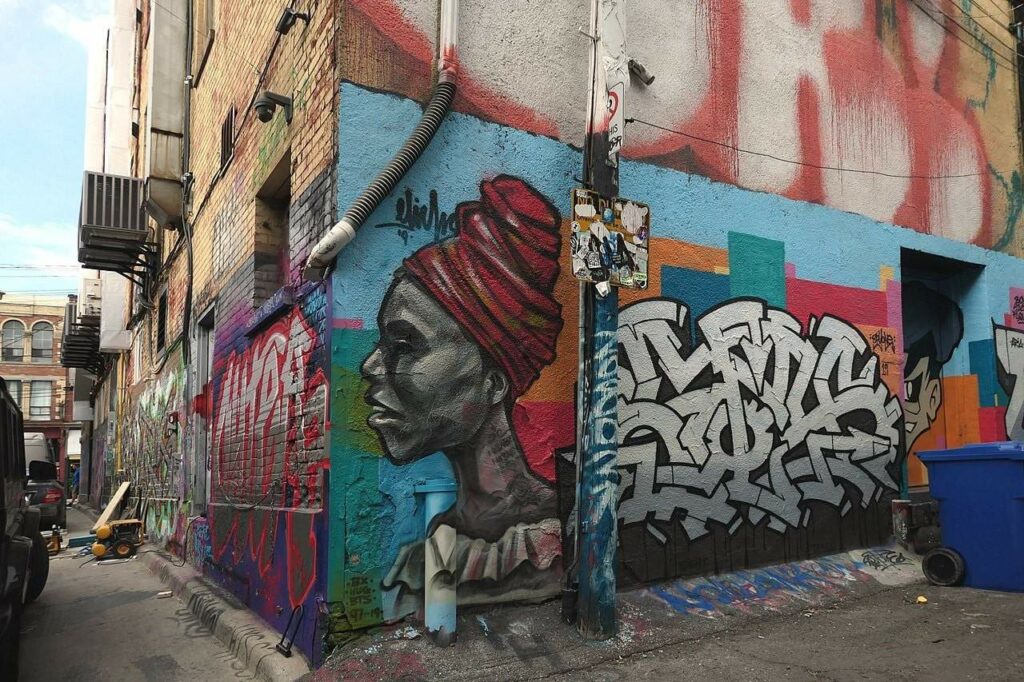 Duro the Third is a Toronto-based graffiti artist and BMX rider known for his intricate murals scattered in different parts of the city. Going to art schools since he was ten, he grew up learning graffiti from his cousin.
He heavily utilises words in different typefaces, simple objects drawn in bold lines, and minimal colours to make meaningful murals. He also makes BMX art for his clients.
FAQs on Toronto's Graffiti Alley