The Top Things to Do in Toronto on Victoria Day
Victoria Day reigns supreme as one of Canada's most cherished public holidays, and Toronto definitely knows how to celebrate it in style.
During this celebratory tribute to the one and only Queen Victoria, many communities come together and arrange for fun activities, parades, concerts, and fireworks displays.
In town for the festivities but don't know where to start? We've got you! Here are things you can do in Toronto to celebrate Victoria Day like a local.
The Top Things to Do in Toronto on Victoria Day
Explore Toronto's fireworks displays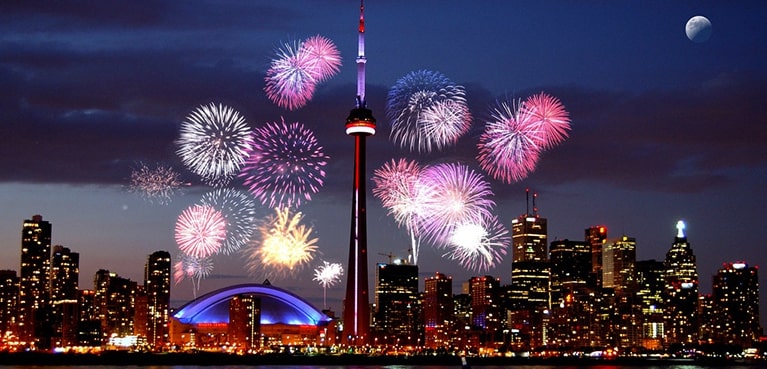 Celebrating Victoria Day in Toronto wouldn't be complete without fireworks shows, In fact, it's become a tradition for different communities to organise pyrotechnics displays ever since the first event was held in 1872.
Here are the best spots to watch fireworks shows in Toronto:
Ashbridges Bay Park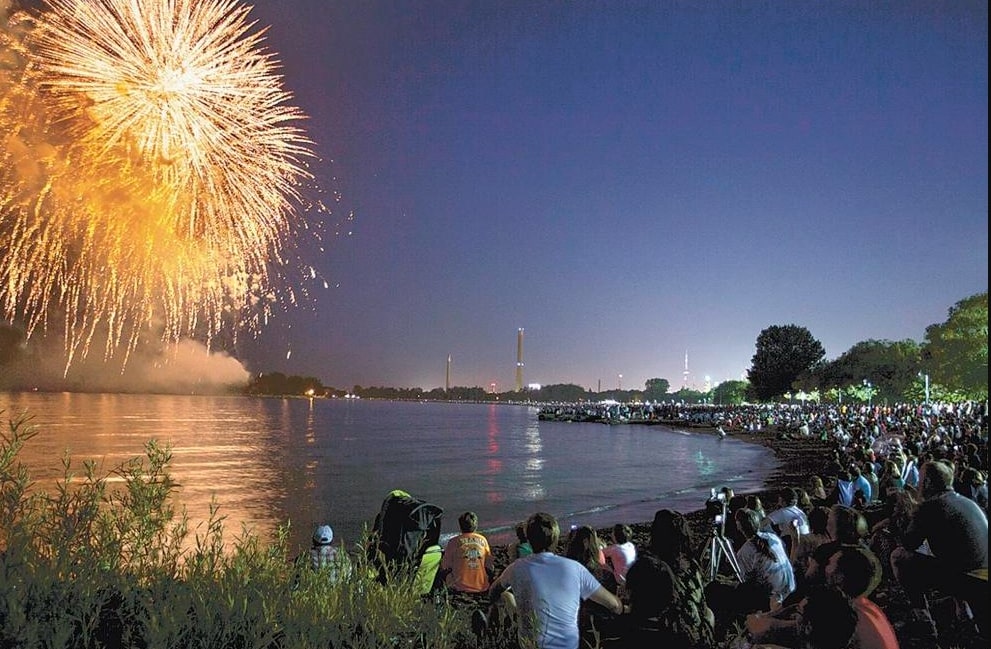 Website: https://www.toronto.ca/data/parks/prd/facilities/complex/1/index.html
Address: 1561 Lake Shore Blvd. E., Toronto, Ontario M4L 3W6 Canada
Price: Free
One of the biggest and most-anticipated Victoria Day fireworks shows is the one held at Ashbridges Bay Park. It's hosted by the City of Toronto and held around 10 PM, lasting for about 15 minutes.
This is a free event and each year, thousands of tourists and locals gather to watch the show. It's also scheduled to push through rain or shine.
Pro tip:
Parking is limited in the area, so it's best to take public transportation. The closest TTC stops are Coxwell Station and Woodbine Station.
Canada's Wonderland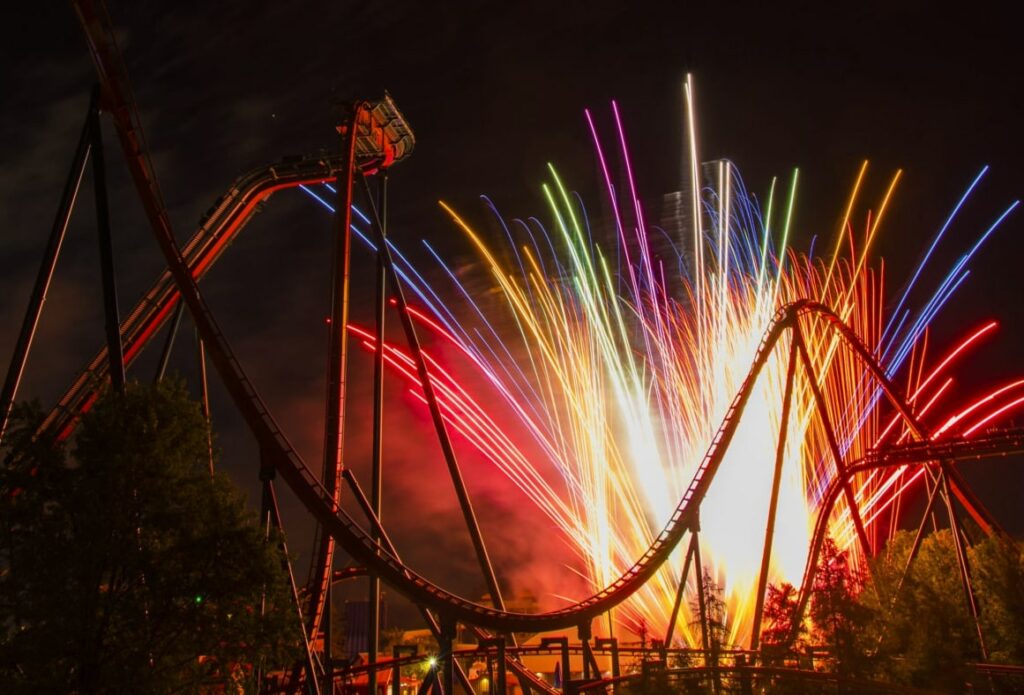 Website: https://www.canadaswonderland.com/
Address: 1 Canada's Wonderland Drive, Vaughan, Ontario L6A 1K3, Canada
Ticket Price:
Single day tickets start at $49.99 for adults and $44.99 for children
Canada's Wonderland's fireworks display is one of the biggest shows every Victoria Day, which is why Torontonians flock to the event too despite the drive.
They show more than 6,000 explosive fireworks featuring a different custom-made soundtrack and arrangement each year, which are always as grand as the last one.
Pro tip:
Head to the Frontier Canada section of the park! This spot offers a clear view of the lake and the show.
Attend festivals and events
Victoria Day in Toronto is an eventful day. The local government of Toronto, some organisations, and even small communities host a number of festivals, parties, and fun social events you can't miss out on.
Victoria Day Parades
One of the most anticipated events of this celebration is the Victoria Day Parades, a well-loved tradition that celebrates the holiday and pays homage to Queen Victoria. There are parade floats and marching bands, filling the streets with live music.
The main event is led by the City of Toronto but various neighbourhoods and communities organise their own parades. These create an intimate and community-oriented vibe, bringing everyone together.
Pro tip:
If you're looking for a unique viewing experience, you can try renting a boat or kayak and watching the parade from the water.
Doors Open Toronto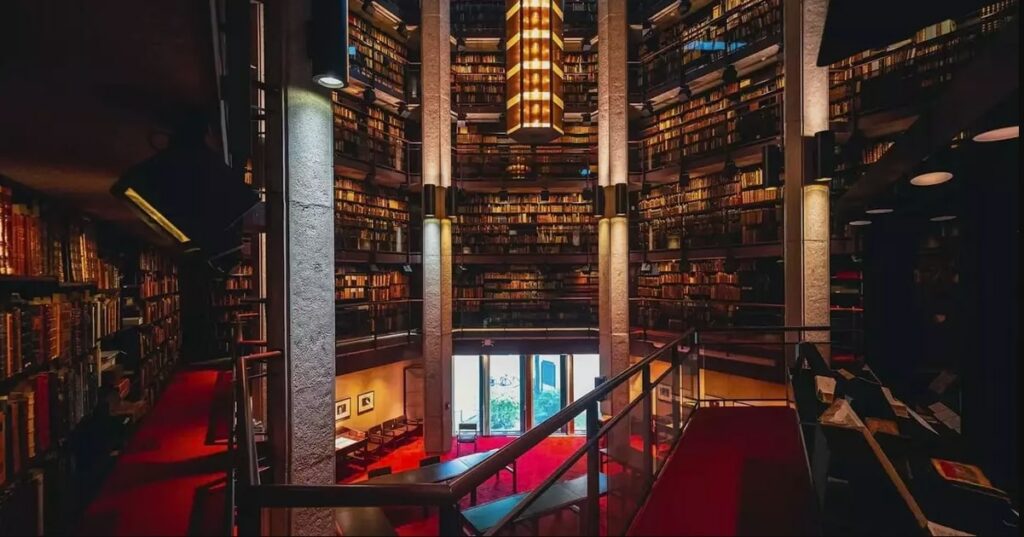 Website: https://www.toronto.ca/explore-enjoy/festivals-events/doors-open-toronto/
Ticket Price: Free
Doors Open Toronto is an annual event held during the Victoria Day long weekend that opens the doors to over 150 of Toronto's most remarkable buildings and sites, giving you a chance to explore their hidden treasures, all for free!
Here's the scoop: These buildings are usually off-limits to the public, and if they were open, they would charge an admission fee. But during this event, you get exclusive access without spending a dime.
Pro tip:
There are over 150 participating locations, so make sure to save a whole day if you want to see the tour through the last stop.
The Canadian International Dragon Boat Race Festival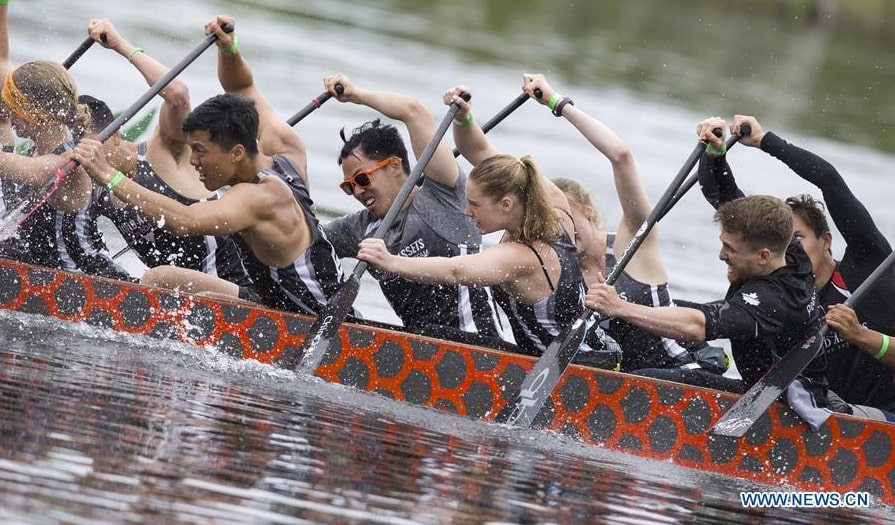 Website: https://mldb.gwnevents.com/toronto-island
Address: Center Island, Toronto Islands
Ticket Price:
The event is free but you'd need to pay for the ferry to Centre Island, which costs $7.50 for adults and $5.25 for children
The Canadian International Dragon Boat Race Festival happens every year on Centre Island in Toronto during the Victoria Day long weekend. It's actually one of the biggest dragon boat festivals in North America, attracting teams from all around the world.
There are different race categories, from competitive divisions for experienced teams to recreational divisions for beginners who just want to give it a shot. The festival also puts on some cultural performances that really showcase Toronto's diverse communities.
Pro tip:
If you're looking for a less crowded viewing spot, head to the back of the festival grounds. You'll still be able to see the races, and there will be fewer people around.
TCS Toronto Waterfront Marathon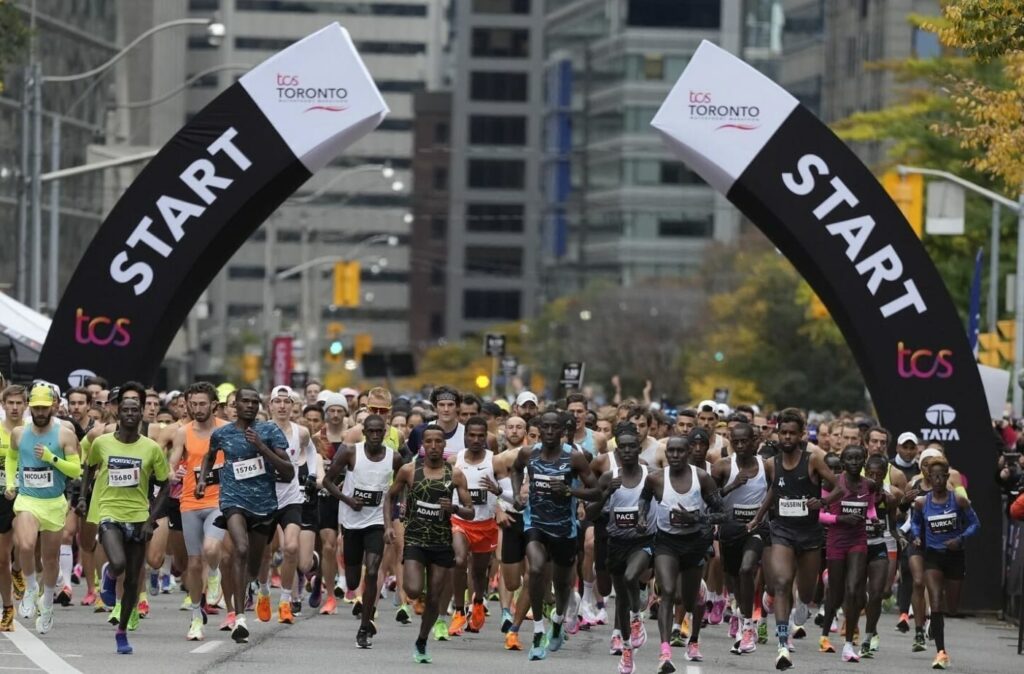 Website: https://www.torontowaterfrontmarathon.com/
Address: The start and finish lines are located on Bay Street, just north of Queen Street
Ticket Price:
Marathon: $130
Half Marathon: $105
10K: $80
5K: $65
The Toronto Marathon takes place on the Sunday of Victoria Day weekend and offers different distances to suit runners with different abilities and goals. The full marathon is 42.195 kilometres but they also have half marathons, 10K races, and 5K races.
Oh, and they even have a wheelchair division too, which is awesome.
Pro tip:
Finding a parking spot can be a nightmare on Victoria Day so if you're planning to join activities, we suggest taking public transportation instead.
Go to a food festival
What's a celebration without a scrumptious feast? Loosen your belts and get ready to indulge in a diverse range of culinary treats at the Victoria Day food festivals in Toronto.
Toronto Ribfest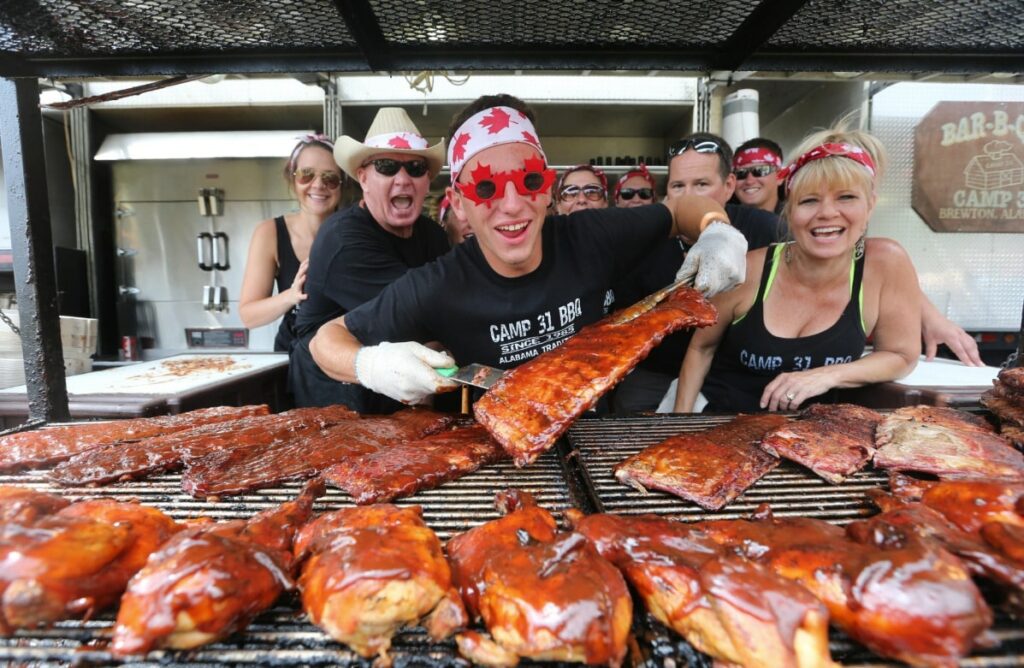 Website: https://ontariofestivalgroup.com/event/torontos-largest-ribfest-2023/
Address: Centennial Park, 250 Centennial Park Rd, Etobicoke, ON M9C 5K5, Canada
Ticket Price:
$15 for adults
$12 for seniors and youth (6-12 years old)
free for children 5 and under
Toronto Ribfest is a multi-day festival that started in 1996 and is dedicated to celebrating the art of barbecue and, specifically, mouthwatering ribs. With top rib vendors from all across Canada and the United States, you know you're in for a treat.
Over 100,000 visitors flock to this meaty extravaganza each year, making it a true highlight on Toronto's culinary calendar. The best part is all the proceeds go towards supporting local charities, so you can chow down for a good cause.
Pro tip:
Consider bringing a blanket or folding chairs for comfortable seating, as seating areas can fill up quickly.
Spring Beerfest TO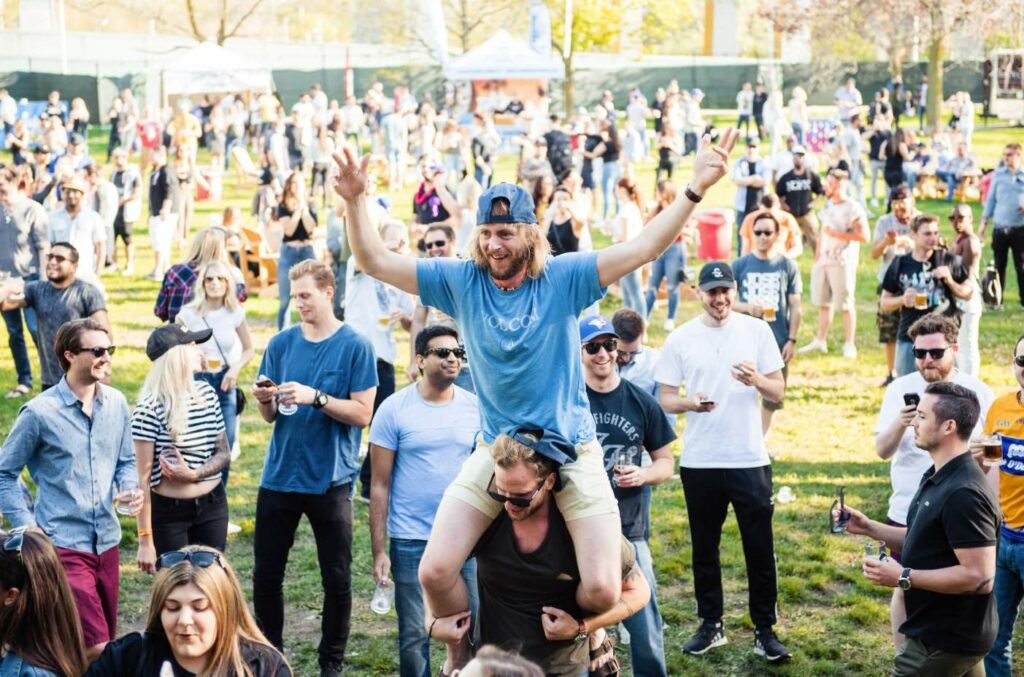 Website: https://springbeerfestto.com/
Address: Fort York Garrison Common, 250 Fort York Blvd, Toronto, ON M5V 3K9, Canada
Ticket Price: $24 for adults
Since Spring Beerfest TO's debut in 2016, this annual event has been the ultimate celebration of craft beer in Toronto. Over 100 breweries from across Canada and the United States come together to quench your thirst and tickle your taste buds.
With a staggering selection of brews, you'll have the chance to explore a bevy of flavours and styles. Local food vendors and food trucks also dish out a mouthwatering array of bites, ensuring your beer is complemented by delicious meals.
Pro tip:
Victoria Day is also known as the unofficial start of the summer season in Canada. So, if you don't want to spend a lot on food, this is also the perfect long weekend to enjoy a picnic and backyard barbecues.
Explore local markets
The long weekend celebration is also a great opportunity to explore local markets. While these are not specifically tied to Victoria Day, many Torontonians choose to celebrate this annual event by supporting local vendors.
Here are some markets you can check out:
Leslieville Farmers Market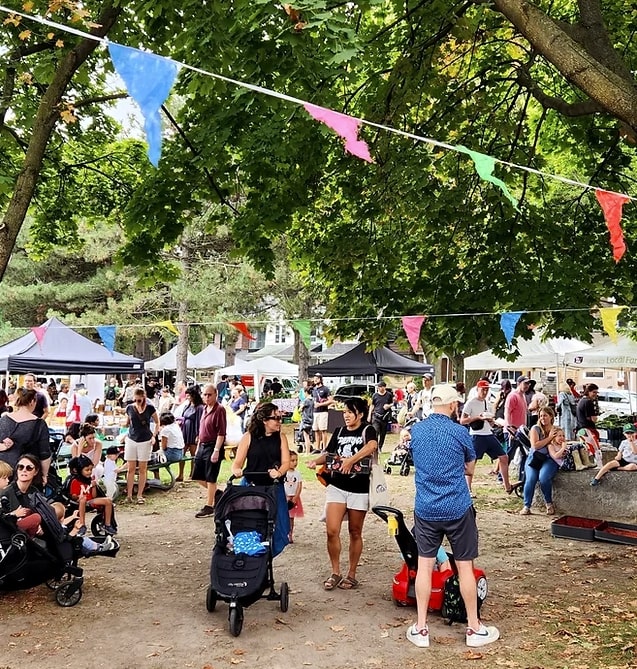 Website: https://www.leslievillemarket.com/
Address: Greenwood Park, 150 Greenwood Ave, Toronto, ON M4L 2R1, Canada
Ticket Price: Free
Leslieville Farmers Market operates on Sundays, including those during the Victoria Day long weekend. They're all about celebrating the local food scene, so you can expect to find an abundance of farm-fresh produce here.
You'll also stumble upon local artisans showcasing their handmade creations. There are a variety of homemade jams, delectable cheeses, artisanal bread, small-batch chocolates, and more to choose from.
Pro tip:
The bread and pastries often go on sale by the end of the day so try to time your visit then if you want some cheap goods.
Evergreen Brick Works Farmers Market
Website: https://www.evergreen.ca/
Address: 550 Bayview Ave, Toronto, ON M4W 3X8, Canada
Ticket Price: Free
Held every Saturday, including the Victoria Day weekend, the Evergreen Brick Works Farmers Market is a must-visit for health-conscious food enthusiasts.
Here you'll find an array of organic fruits and vegetables, locally sourced meats and cheeses, and freshly baked goods. You'll enjoy the lively atmosphere and take home some delectable goodies!
Pro tip:
Don't forget to bring your own reusable bags or baskets as many vendors here encourage reducing waste and being eco-friendly.
Kensington Market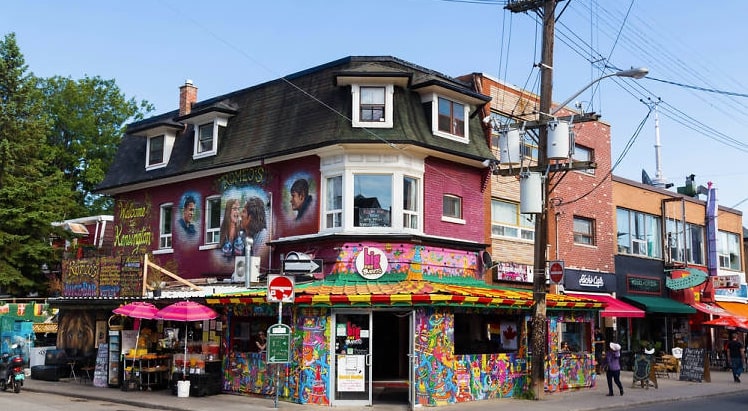 Website: https://kensingtonmarket.to/
Address: Kensington Ave, Toronto, ON M6H 1A6, Canada
Ticket Price: Free
While not exclusive to the Victoria Day weekend, a visit to Kensington Market is always a treat. It's a food lover's paradise, boasting an impressive array of international cuisine and specialty food shops.
But Kensington Market isn't just about the food, it's a feast for the eyes too! You can stroll around the market's narrow streets and adore the vibrant street art.
Pro tip:
Many vendors give discounts and purchase deals for their products during the Victoria Day long weekend, so watch out for those!