Toronto's Annual Festivals & Events  
In the 230-odd years since Toronto incorporated and changed it's name back from "York" (apparently so as not to be confused with any of the other "Yorks" that were "New") this town has developed some of the most enduring and exciting annual events in North America.
There's hardly a moment in the calendar year when you can't find something exciting to do. Here's an overview of what's always on, every year, rain or shine.
JANUARY
TORONTO INTERNATIONAL BOAT SHOW
The largest indoor boat show in North America with its own indoor lake.
This free show in the historic Distillery District lasts for 45 days (!) and features dozens of local and international light artists.
A free city-run winter festival since 1967 featuring live performances, light installations, and the lighting of the city's official Christmas tree.
Everything design, including furniture, industrial and urban desig. Enoy window installations, exhibitions, in-person and online events and many free talks.
Participants design temporary winter art installations across the city's Kew and Woodbine beaches at this annual competition that's free to the public (and accesible 24/7).
Winterlicious (and its summer counterpart, Summerlicious) features prix-fixe menus at some of the most exciting restaurants in the city at discounted prices, so you can try them all.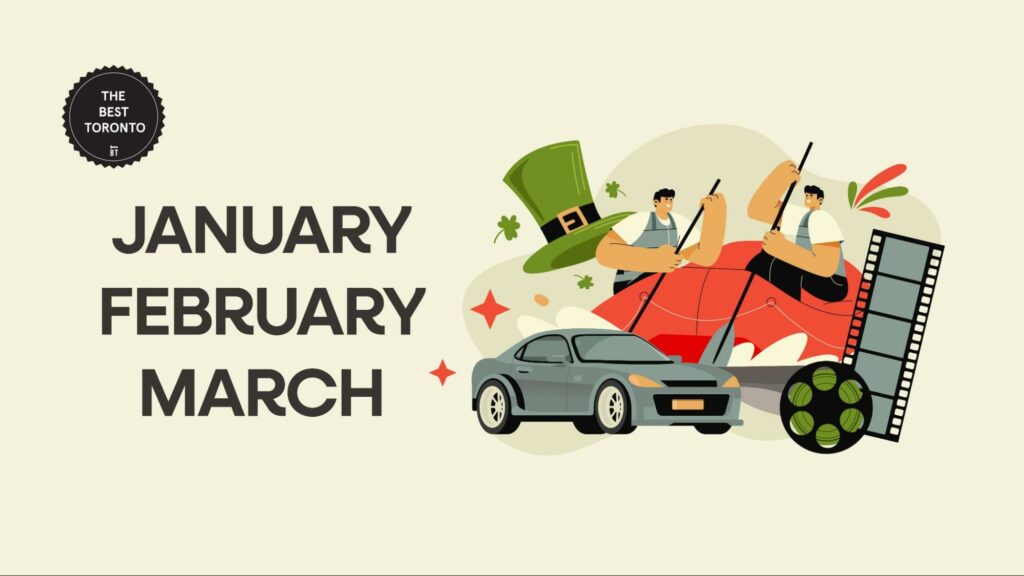 FEBRUARY
Since 2013, the Toronto Black Film Festival has been showcasing Black films and encouraging discussion about the most pressing issues of our time.
Rhubarb is Canada's longest-running new works festival: go for experimental, exciting, thought-provoking theatre.
Right in the heart of winter, rain or shine, this all-ages fest is for anyone with a love for blues, rock, jazz, country, folk and roots.
Since 1974, Toronto's auto show has drawn major crowds from auto industry folks and enthusiastists alike.
MARCH
10 days of sketch-com, featuring a diverse range of comedic stylings and performances.
Monsters, anime, Star Wars, oh my! This convention celebrates everything pop culture, sci-fi and fantasy and comic-book.
ST. PATRICK'S DAY PARADE
Every year the St. Patrick's day parade celebrates Irish culture and heritage as it marches merrily along Bloor street, down Yonge street to Queen.
Ten percent of Ontario's francophone population live in Toronto, where they have access to this superb showcase of French-language films from around the world.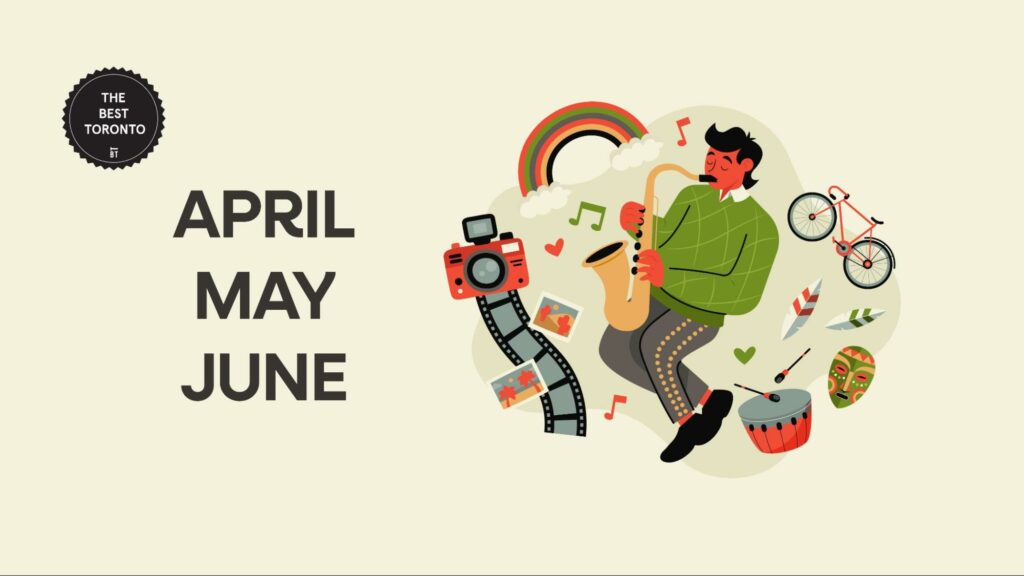 APRIL
This renowned festival showcases and supports homegrown and international documentary filmamakers.
MAY
A two-day event during which the city opens significant buildings up to the public for free, so you can finally go poke around in the R.C. Harris water treatment plant
Eleven days of talks, installations, parties and diverse film and video created by and for the 2SLGBTQ+ community from Canada and around the world.
A city-wide exhibition of contemporary photograph with exhibitions produced in collaboration with museums, galleries and artist-run centres, the festival also commissions site-specific outdoor works.
Authors and readers come from all over Canada for parties, presentations, book signings, readings, and other bookish things.
JUNE
Hobnob with rising stars and industry types at this annual festival featuring nightly showcases of up and coming musical acts.
This art festival was conceived of as a boundary-pushing multi-disciplinary arts extravaganza with music, dance, theater, literature, film, workshops, artist talks and more.
Canada's answer to SXSW. Discover emerging (and about to emerge) bands and major musical acts, as well as talks, art, comedy and more.
The Toronto jazz festival has been inviting amazing jazz artists to play venues across the city, including concert halls, outdoor stages and public spaces since 1987
Bigger and better every year, Pride always features a multitude of events across the entire month, including films, talks, movie nights, parties and, of course, the big parade.
An annual event, the Toronto chapter of the WNBR promotes sustainability, body acceptance and positivity and awareness of vulnerability of cyclists. And people go naked on their bikes.
Held at the Fort York National Historic site in downtown Toronto, this festival celebrates First Nations, Inuit and Métis artists and culture with musicians, dancers and actors, vendors and cuisine, and a traditional pow-wow
JULY
Located outdoors at Nathan Philips Square, this contemporary art fair features hundreds of artists, and programming that runs the gamut from installations and live painting to craft beer.
Gerrard street east comes alive with musical performances and traditional dances, market stalls and food vendors, all in celebration of the rich cultural tapestry of South Asia.
One of Canada's largest free jazz festivals, with concerts in the park and along Queen street east. See internationally known jazz musicians and local talent over the course of a whole month of jazz.
Vroom, vroom! The Honda Indy features a 2.84 km (1.755 mile), 11-turn temporary street course in and around Exhibition Place for racing and admiring.
Expect Latino music, dance, and culture (including salsa dance parties!) on this St. Clair Street turned party and marketplace.
H9 AUGUST
Dating back to 1879, this 18-day festival known locally as "the ex" is beloved for its midway rides and games and crazy food vendors, but it also has agricultural exhibits, an air show, concerts and a food building!
Otherwise known as the Rogers Cup, this prestigious tennis tournament comes to Toronto every second year and is part of the ATP Tour and WTA Tour.
Held along Danforth Avenue, this annual Greek fest features music, performance and food: sample souvlaki, gyros, moussaka, baklava and much more.
Locally known as Caribana, this is Toronto's answer to the Carnival festivals across the Carribean. Expect roti, doubles and callalloo, amazing street parties, cultural programming and of course, the unforgettable masquerade parade.
Like all the Fringe Festivals across the world, Toronto's is all about independent and alternative theatre and performance – shows are often in small theatres, pubs, warehouses, or outdoors.
Fans love this celebration of comic books, anime, science fiction, horror, and gaming; they show up in droves to do cosplay and attend panels and Q&As with celeb guests.
SEPTEMBER
Magicians, contortionists, juggling, comedy, sword swallowing, hula hooping (with barbed wire), acrobatics, fire juggling, breakdancing, strong men, clowns … it's all at Buskerfest!
The Just For Laughs festival was too funny to stay cloistered in Montreal. Now you can enjoy barrels of laffs at venues across town.
This one night only affair starts at sundown and goes till sunup – and the city turns into a giant gallery with performances and exhibits all over town: all free.
On land and on water, this festival welcomes a fleet of tall ships to Toronto every three years, but lately it's also been welcoming a giant rubber ducky. Free.
A seriously literary festival featuring big name authors. Meet, greet and learn from some of the world's most respected talents.
TORONTO INTERNATIONAL FILM FESTIVAL
One of the most important film fests in the world, Torontonians and tourists alike come for the celeb and red carpet sightings, the galas and oh yeah, the films!
Oohs and aaahs abound at this annual aviation event, as vintage planes, fighter jets and aerobatic teams swoop through the sky. Take note: it's loud.
This fundraiser honours the Canadian cancer research activist who set out on a cross-country run for cancer awareness, despite having already lost a leg to the illness. Participants run, walk, or bike to raise funds.
Kelbasa, pierogies, and bigos, yum! This west-end fest celebrates Polish culture and community: a super family-friendly event in the well-heeled Roncy neighbourhood.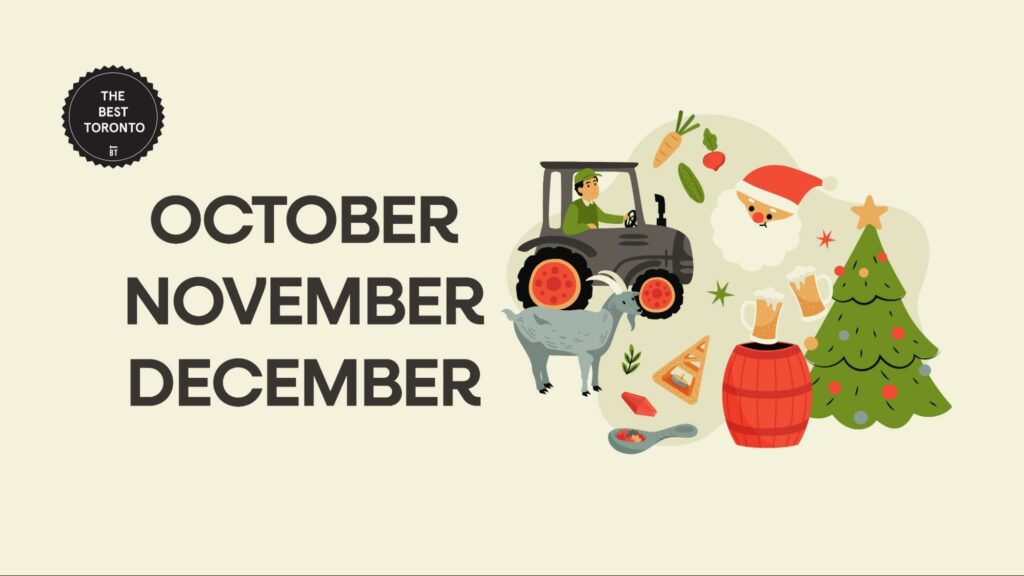 OCTOBER
Beer, benches and bratwurst. That's the trifecta of excellence you can expect at this annual event celebrating German culture and tradition. Oh, and lederhosen (which you don't have to wear unless you want to).
Toronto is well known for its diverse food offering and it's film festival: now the best of both have come together in a multi-day film festival all about food from around the world.
Whether you're running the marathon, half-marathon or the 5KM, you're bound to enjoy this fast, flat course and scenic race route along the water. This race is a Boston Marathon qualifying race.
TORONTO AFTER DARK FILM FESTIVAL
Another film festival, this one screens at the Scotiabank Theatre downtown and is devoted to horror: five whole nights of it to be exact!
imagineNATIVE supports Indigenous media, empowering artists to express voices, perspectives, and cultures.
NOVEMBER
The One of A Kind Show is a long-running craft fair with a plethora of Canadian vendors from showcasing handmade and artisanal products from artists, designers, and makers.
Mooooove over, film buffs! This one is for the farmers, breeders and horse lovers. Farm animals, crops and machinery are on show plus equestrian competitions and horse shows.
Toronto's Santa Claus Parade has been a holiday tradition since 1905, featuring costumed characters, marching bands, colourful floats and of course, jolly ol' St. Nick himself. Expect crowds.
Every year the Cavalcade starts with the lighting of Toronto's official ChristmasTree at Nathan Phillips Square and features a fireworks show, live performances and skating at the outdoor skating rink.
DECEMBER
KENSINGTON MARKET WINTER SOLSTICE FEST
The Kensington Market Winter Solstice Festival started in 1988 and was originally named the Kensington Market Festival of Lights. It happens on the evening of the winter solstice every year.
ST: Toronto's annual festivals and events all in one place
MD: Events and festivals in Toronto that happen every year, rain or shine.