20 Things to Do in Toronto During Autumn
In autumn, Toronto turns into a leafy sea of warm and vibrant hues. But as with every season, the city never fails to come through with exciting events, activities, and festivals that will blow you away.
If you're too distracted by the fall colours to make an itinerary, don't sweat it because you can read this list of fun things to do during autumn.
20 Things to Do in Toronto During Autumn
1. Go for a drink at Oktoberfest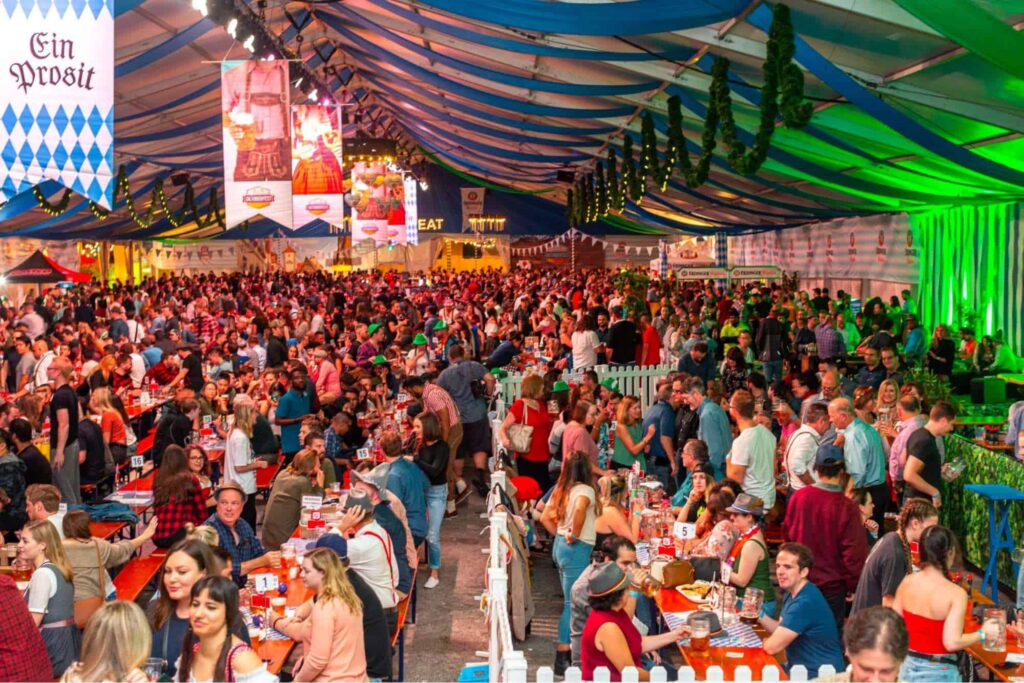 Address: 100 Garrison Rd, Toronto, ON M5V 3K9, Canada
Price:
Early Bird General Admission: $27
Early Bird VIP: $75 per ticket
Autumn is the perfect time for parties and dancing the night away, and there's no better place to do this than at Oktoberfest. This Bavarian-themed event is perfect for friends and family looking for fun, as it's teeming with booze, great food, singing, and dancing.
It's one of the liveliest festivals of the season where you can watch dancing Schuhplattlers and a comedic theatre-esque cabaret show. The two-day event is also set to have live DJs and exciting contests – so get your best lederhosen ready!
Pro tip:
You should come early to this event if you want a free pint of beer. The festival will be handing glass beer steins to the first 500 people who arrive early – which is also the best time to find a table.
2. Chomp down on some food at Fall N' Leaves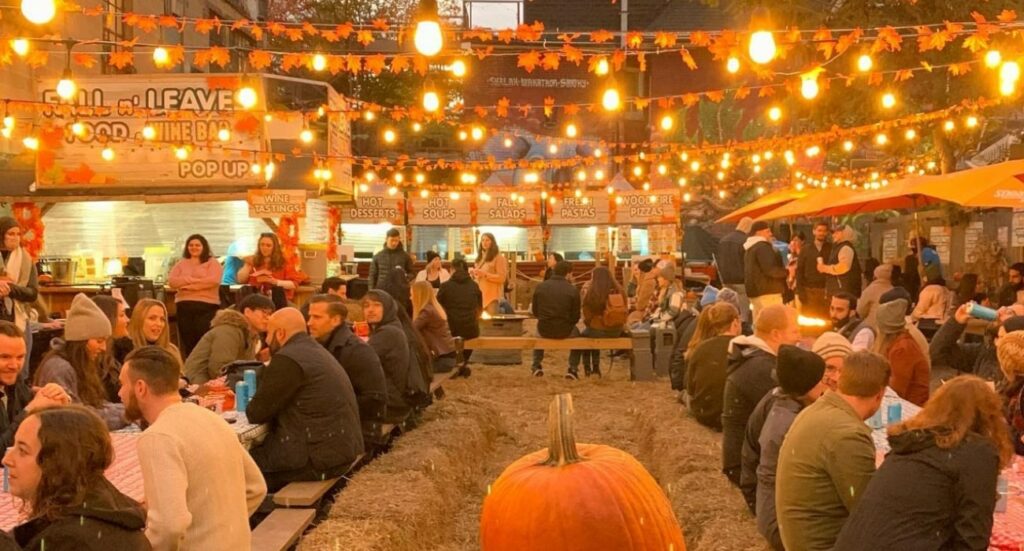 Address: 164 Bathurst St, Toronto
Confession: we also love autumn in TO because it's the only time the annual Fall N' Leaves pop-up store opens. During this time, you'll find vendors cooking up fall-inspired dishes in barbecue pits and masonry ovens that provide a smokey taste.
There's lots of food options here, some of our must-tries are the creamy pumpkin spice margarita and the cheesy Thanksgiving poutine. You can also play a quick game of pumpkin bowling or unwind to the sound of acoustic music with a glass of wine.
Pro tip:
You can find a massive hay bale couch on site, it's one of the best spots to relax and enjoy a glass of wine. You can also use it to create some funny and creative photo shoots.
3. Explore Japanese culture at the Festival of Sake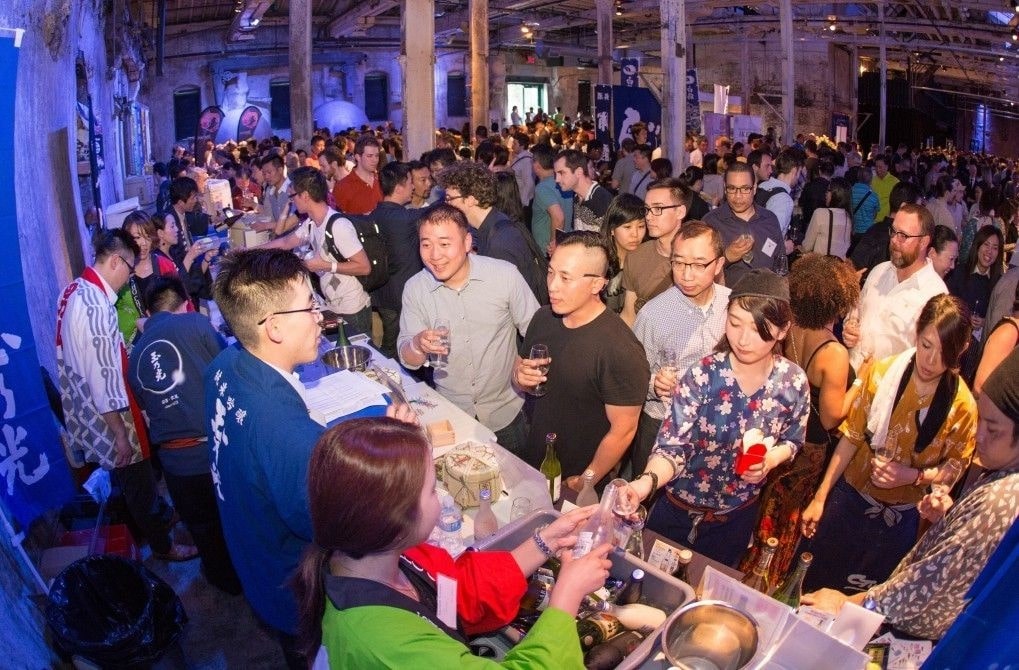 Address: Japanese Canadian Cultural Centre, 6 Garamond Ct., North York, ON M3C 1Z5
Price: Per person – $32.84
The Japanese say the best time to have a drink of sake is during autumn; thankfully, you can do that in TO at the Kampai Toronto! As the name suggests, this annual festival is all about Japanese sake but there's also a variety of Japanese food like yakitori here.
Here, you'll come across 200 types of sake imported from Japan. Besides sampling drinks, one of the best things about this festival is being able to learn the rich history and methods of making sake.
Pro tip:
If you're a fan of sparkling wine then we suggest sampling Masumi Origarami Sparkling Junmai Ginjo. This sparkling sake is full of texture and has a mix of fruity and tangy tones to it!
4. Check out the art at Nuit Blanche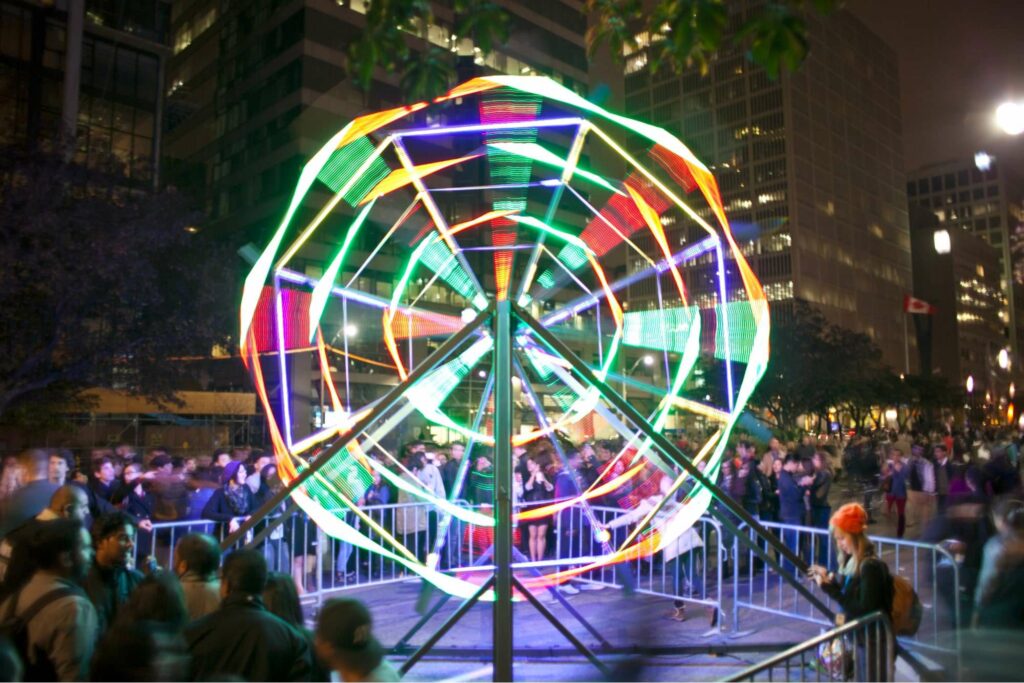 One of the coolest things about Toronto is its rich art scene that never fails to impress the world with unique concepts! A perfect example of the city's love for art is Nuit Blanche Toronto, which turns the entire city into a giant art gallery.
This annual celebration features thousands of works from national and internet artists from around the world. There's also tons of live artistic performances and shows that aim to bring a wow factor to the city's vibrant community.
Pro tip:
One of our favourite places to go for Nuit Blanche is Nathan Phillips Square! During this event the square is transformed into one of the most vibrant places in the city with murals and sculptures lining the location.
5. Watch a film at Toronto After Dark Film Festival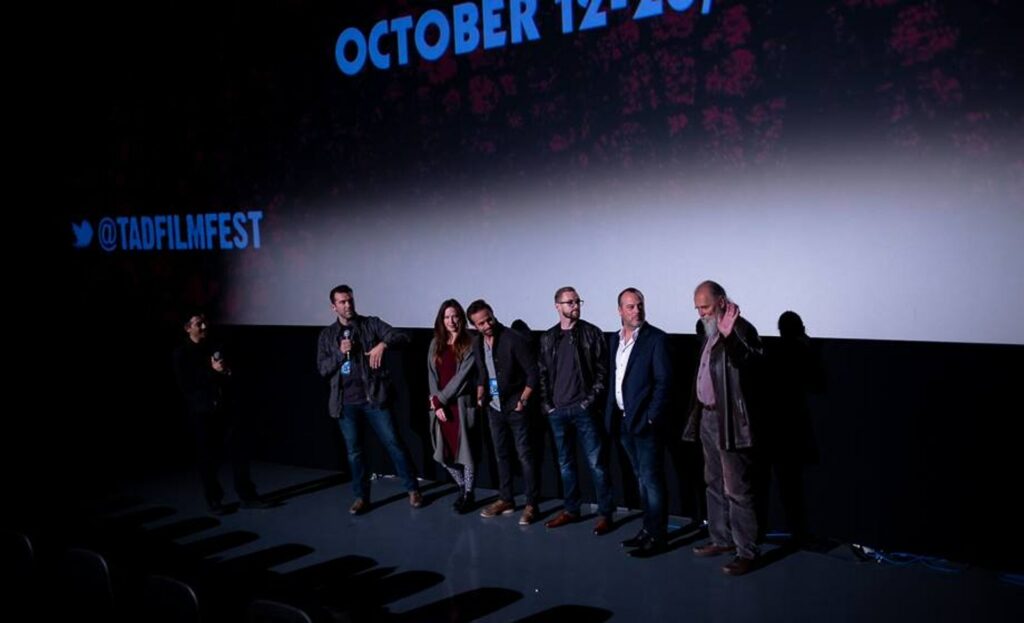 Address: Scotiabank Theatre, 259 Richmond St West, Toronto, Canada
Price:
Regular: $14.99
Multipack Bundle: $12.99
If you're a major cinephile or just looking to binge watch some fantastic films, then grab some popcorn and visit the Toronto After Dark Film Festival! This annual festival is one of the world's leading displays for all films sci-fi, action, and horror.
This 5-day film screening is one of the most popular events of the autumn season, with over 10,000 attendees each year. It's a great way to see the latest upcoming films early, while also providing you with the chance to meet and bond with the film's directors.
Pro tip:
Before you leave, we suggest taking some photos of the Scotiabank Theatre's wacky architecture. This place features a glass-like construction and has a giant cube sticking out of one corner – which interestingly plays videos.
6. Have a fun day at the Royal Agriculture Fair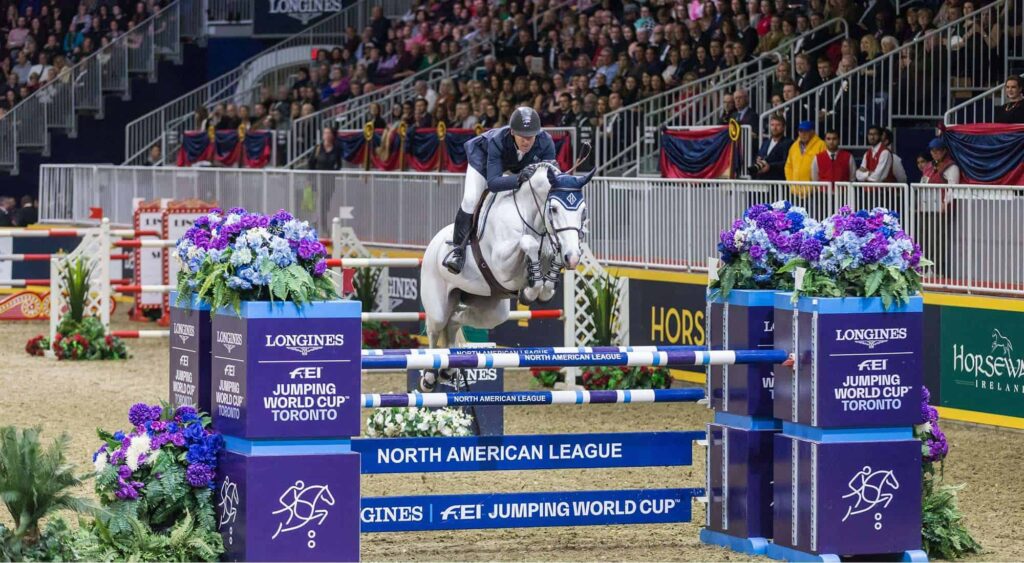 Address: 115 Cumberland St, Toronto, ON M5S 2W7, Canada
If you're looking to experience the farm life in Toronto's urban jungle, make sure to stop by the annual Royal Agriculture Fair. This event is all about celebrating great food, the finest livestock, and admiring the beauty of equestrian sport's most breathtaking horses.
As the biggest indoor agricultural and equestrian event in the world, you'll find vendors tasty food and various craft beers. One thing you don't want to miss is the Royal Horse Show, which showcases athletes performing a series of leaps and jumps on horseback.
Pro tip:
This festival also has an animal theatre, which features an exciting dog show where border collies perform tricks – and even herd sheep!
7. Get spooked at Casa Loma Legends of Horror
Address: 235 Queens Quay W, Toronto, ON M5J 2G8, Canada
Fall often heralds the spooky season, so expect lots of events, carnivals, and horror houses to pop up in Toronto. Casa Loma Legends of Horror is a top pick for frightening activities, ghoul filled corridors, and awesome live performances.
This heart-racing event will have you walking through a two-kilometre trail where you'll come face to face with frightening monsters. However, the real horror isn't the monsters but having to walk through the castle's dark and creepy tunnels filled with scares.
Pro tip:
One of the unique things about this event is that it provides access to tunnels, and rooms that are usually off limits. That said, these places provide unique once in a lifetime photo ops so it's best to bring a camera with you.
8. Check out the goods at Leslieville Farmers Market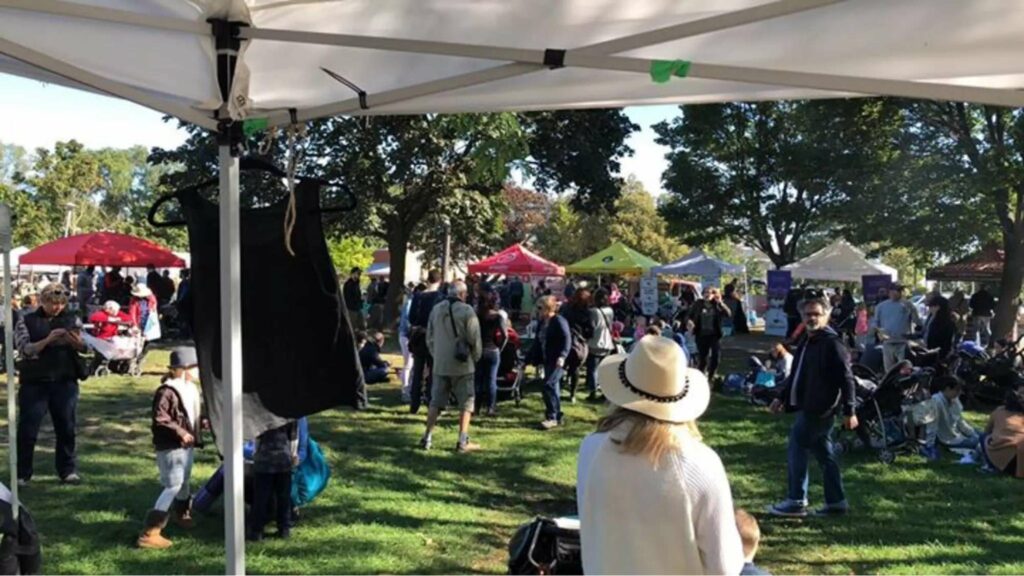 Address: 150 Greenwood Ave, Toronto, ON M4L 2R1, Canada
Want the freshest produce in the market but aren't too keen on going to St. Lawrence Market? We suggest visiting Leslieville Farmers Market, where you'll find vendors selling fresh produce, artisanal goods, and a whole lot of food.
This Sunday market is the best place to grab cheap quality summer-produce before they're gone. There's also lots of food vendors on site; we recommend visiting Hooked for delicious fish tacos, cabbage slaw, and fish cakes.
Pro tip:
If you have children with you, we recommend bringing them to the kids' corner. It has lots of playground equipment that children can play on, which is great if you need to take a break after all that Sunday shopping.
9. Watch sparkly lights at Halloween Night of Lights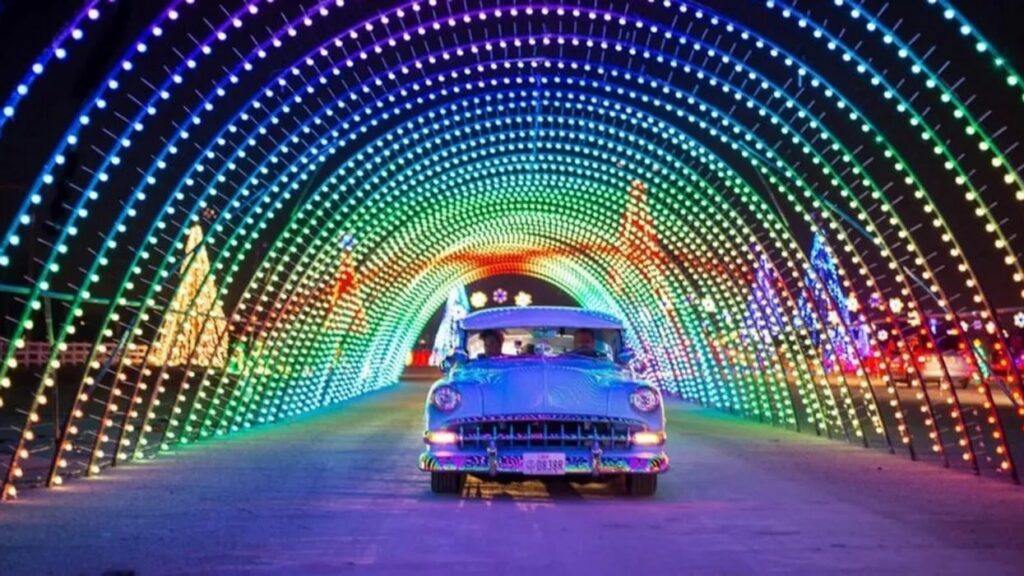 Address: CF Sherway Gardens, 25 The West Mall, Toronto
Halloween Night of Lights is an electrifying experience that'll have you gazing at vibrant lights, as you drive through numerous light displays and scenes.
The colourful light installations display spooky, mischievous, and playful imagery to capture the Halloween spirit. It's a fun way to spend the spooky season with the family, as you pass by tunnels of visually captivating motifs of ghouls made of gleaming lights.
Pro tip:
Since this event requires a car, we recommend filling up before you come here! You have to remember that the routes are quite long, so fill up to avoid breaking down and creating traffic in the narrow tunnels of light displays.
10. Go for a fun hike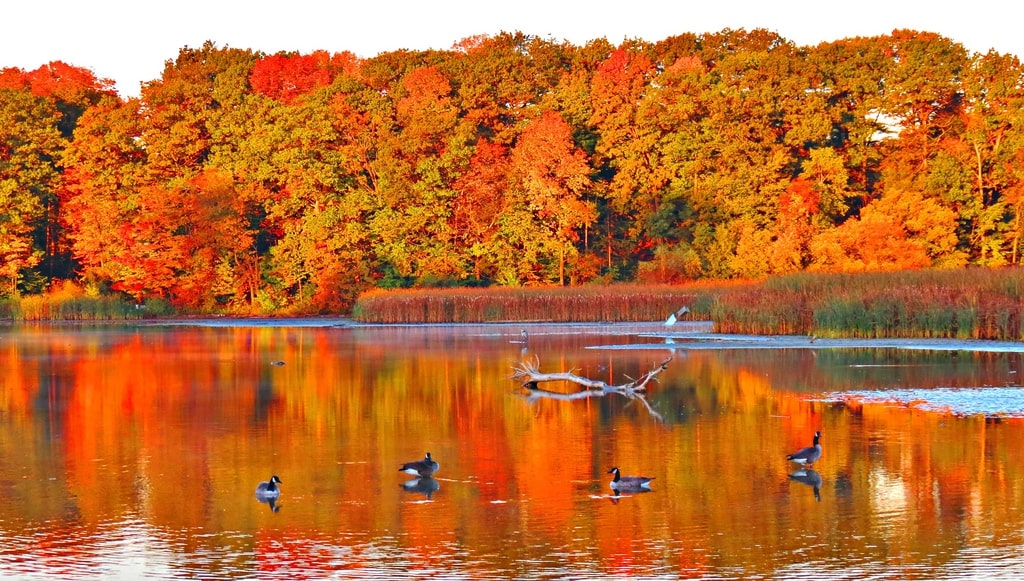 One of the tried and tested ways to enjoy the fall season is to go for a long hike around Toronto's best green spaces. The city offers lots of beautiful places to go for a hike, where you'll find scenic trails and forests glowing in a sea of warm scarlet-like colours.
What makes going for a hike in Toronto's green spaces special is the stunning display of fall foliage that litters trails in warm vibrant colours. Our favourite place to hike is Rouge Park, where you can find various coloured foliage.
Pro tip:
One place you don't want to miss during autumn in the park is Rogue Pond! This massive pond is shaped like a sphere and it's lined with huge trees that sport a mix of green, orange, and reddish colours.
11. Admire visual art displays at Geary Art Crawl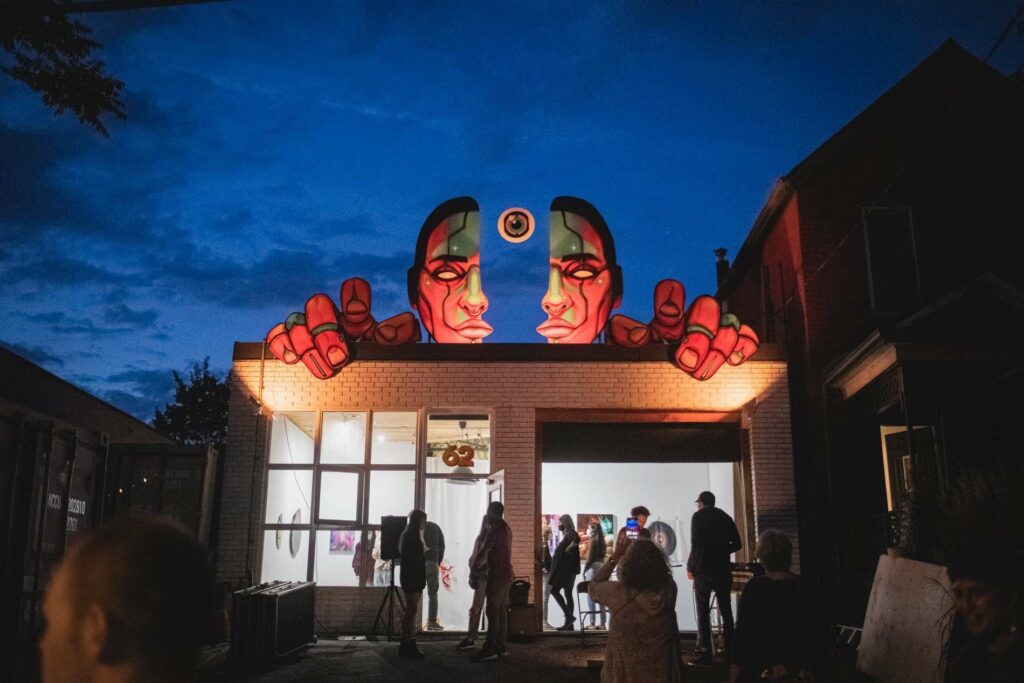 Address: Geary Street between Ossington and west of Dufferin, Toronto
For art and food lovers, one of the must-visit festivals of the season is the annual Geary Art Crawl. This 2-day festival is teeming with great food, visual art installations, pop-ups, and live musical performances that will have you moving your feet.
Taking place at Geary Avenue, this event is all about celebrating TO's art scene while supporting local businesses! It showcases a wide range of contemporary art, such as giant cubes that light up and giant sculptures of humanoids laying down.
Pro tip:
One of the best places to eat in this festival is the Geary Food Court. This food court boasts live music, aesthetic picnic tables, and warm lights that create a vibrant atmosphere.
12. Join a ghost tour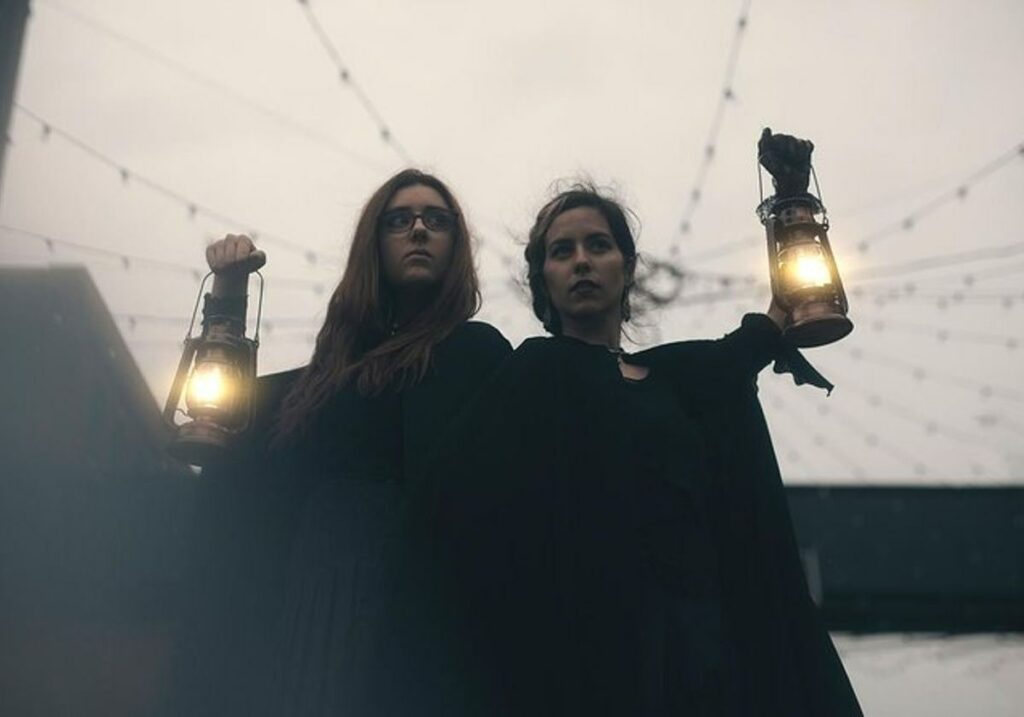 Address: 11 Gristmill Lane, Toronto, ON M5A 3C4, Canada
One of the more bone-chilling experiences you can have during autumn is going on an ominous ghost walk at night! The Original Haunted Walk of Toronto ghost tour is one of our favourites, as it takes you to the city's darkest and most haunted places to date.
On this tour, you have the choice to visit the Distillery District, University of Toronto, or Black Creek Pioneer Village in the dead of night! As you walk through dark paths, you'll hear heart-pounding stories, disheartening facts, and dark histories of these places.
Pro tip:
If you want to add more chill factor – both figuratively and literally – we recommend going on a rainy day. Tours operate regardless of the weather, and the rain really adds to the ominous feel, especially in the Distillery District.
13. Attend Halloween Haunt at Canada's Wonderland
Address: Vaughan, ON L6A 1S6, Canada
Price:
If you're going to Canada Wonderland, you'll be happy – or frightened – to know the park has turned into a ghoulish scream park! Halloween Haunt is an annual event that fills the park with creepy attractions, games, and rides that take you to the underworld.
The event has thrilling performances, you can catch a band of skeletons playing music or watch an executioner put on a fire show. For the tough guys, visit Cornstalkers, which will have you crying as you're stalked by ghouls while you traverse a hellish corn maze.
Pro tip:
If you're too scared to go on any of the rides, we suggest watching The Skeleton Crew. This intriguing show combines comedy and mind-boggling acrobatics, as performers defy gravity with daring flips and balancing acts.
14. Stop by Pumpkinfest at Downsview Park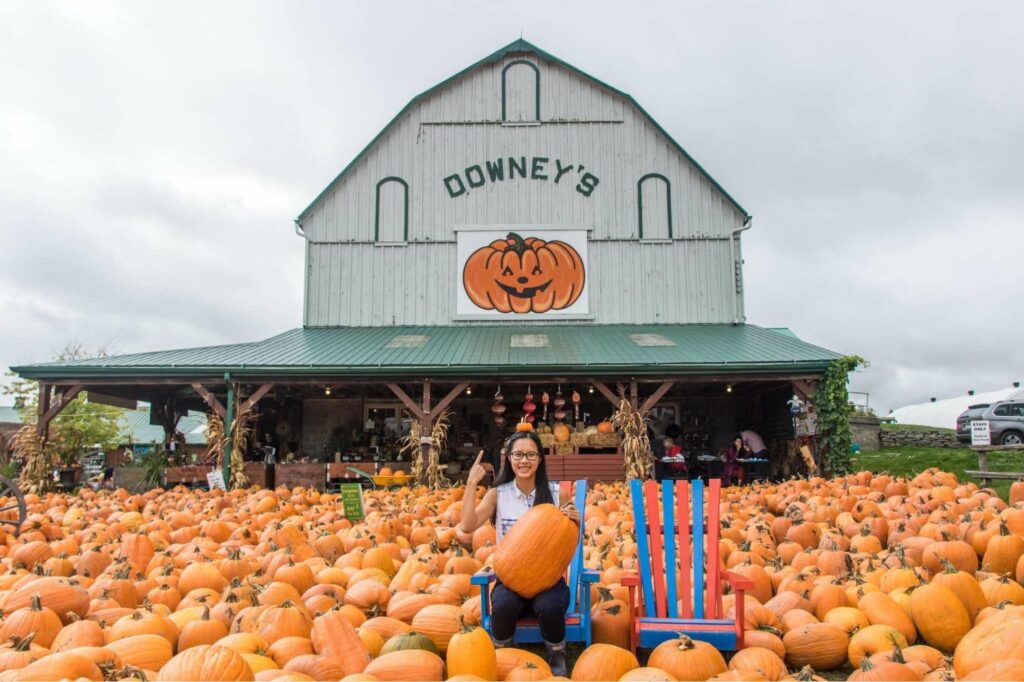 Address: Downsview Park, 35 Carl Hall Road Toronto, Ontario M3K 2B6
Another fun annual event that gets a lot of buzz during fall is the 3-weekend long Pumpkin Fest! It's the perfect place for family fun activities with its slew of pumpkin-themed attractions, such as a giant pumpkin patch, midway rides, and games.
Pumpkin Fest is known for its entertaining magic shows and the SuperDog show, where you can watch dogs do cute tricks. Likewise, the festival is a photo op galore, with its cute pumpkin sculptures that are sure to deliver a priceless family photo for the books.
Pro tip:
If you want to feel like a child again, we suggest walking through the inflatable corn maze. Not only is it bouncy but it's also fun to jump around as you try to traverse it.
15. Order a Pumpkin Spice Latte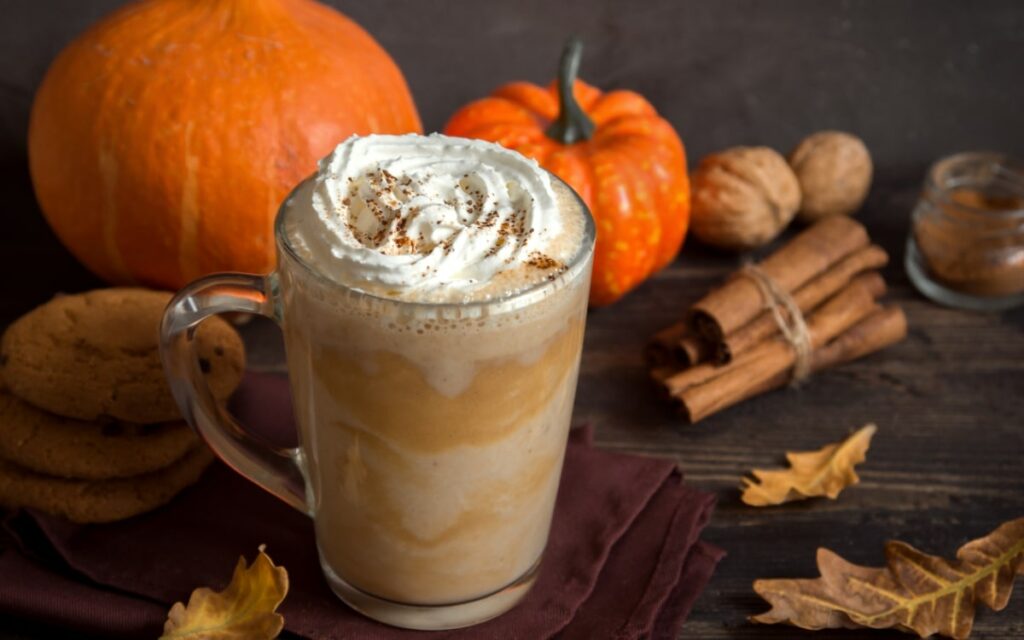 There's a bunch of great things about autumn, but one of our favourite seasonal wonders is a hot pumpkin spice latte. This sweet, creamy, and slightly spiced drink only comes out during fall and it's the bevvy to sip while staying bundled up.
With its popularity, it's no surprise that you'll find this drink being sold by numerous cafes and coffee shops around the city. We love Fika Cafe's version; its creamy texture and mellow spice really go well with their nutty chocolate cookies!
Pro tip:
If you're not that big on pumpkin spice lattes, you can also try Fika Cafe's cardamom-spiced latte. This drink is perfect for the cosy atmosphere of autumn, as it's packed with cardamom bitters, espresso, cinnamon, and milk.
16. Get lost in a pumpkin patch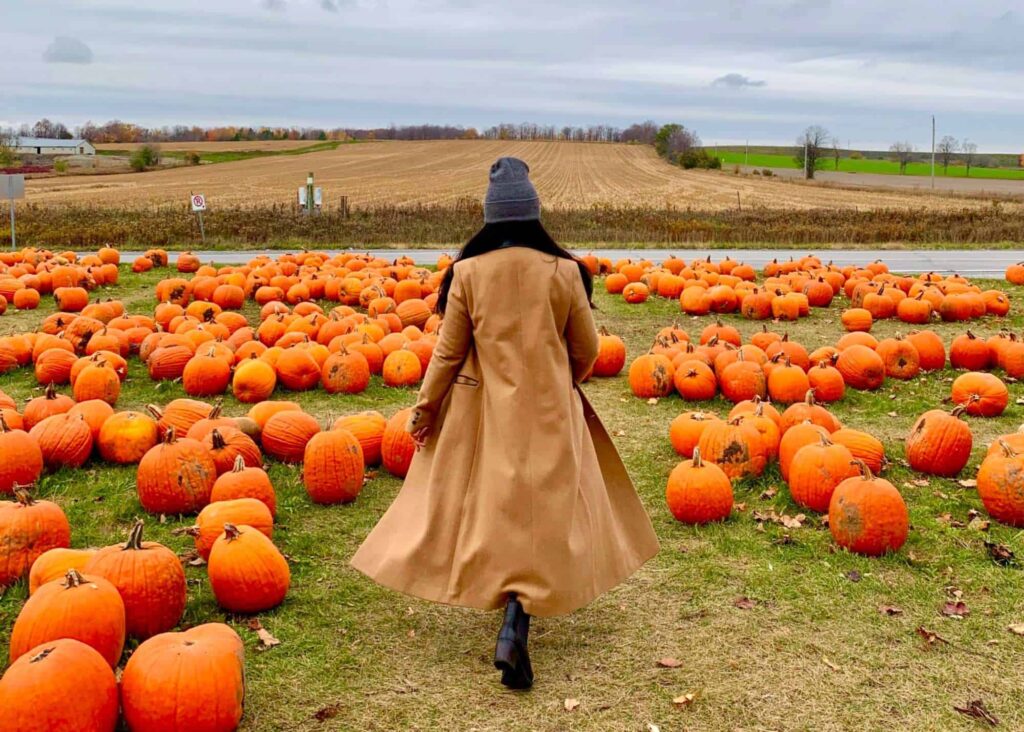 Autumn is the season when pumpkins rapidly start to grow, so it's only natural that TO would have lots of pumpkin patches. The feeling of being surrounded by seas of orange pumpkins is close to none; it's a fun experience everyone should try at least once.
Any pumpkin patch in Toronto is a great destination for families and friends who want to have fun picking out unique pumpkins. Reesor's Farm Market is our favourite, though, because it has hundreds of bright orange pumpkins that are great for photo ops!
Pro tip:
If you decide to visit the pumpkin patch at Reesor's Farm Market, you should try their fun corn maze. It's free and is open throughout October!
17. Watch leaves fall at Toronto Island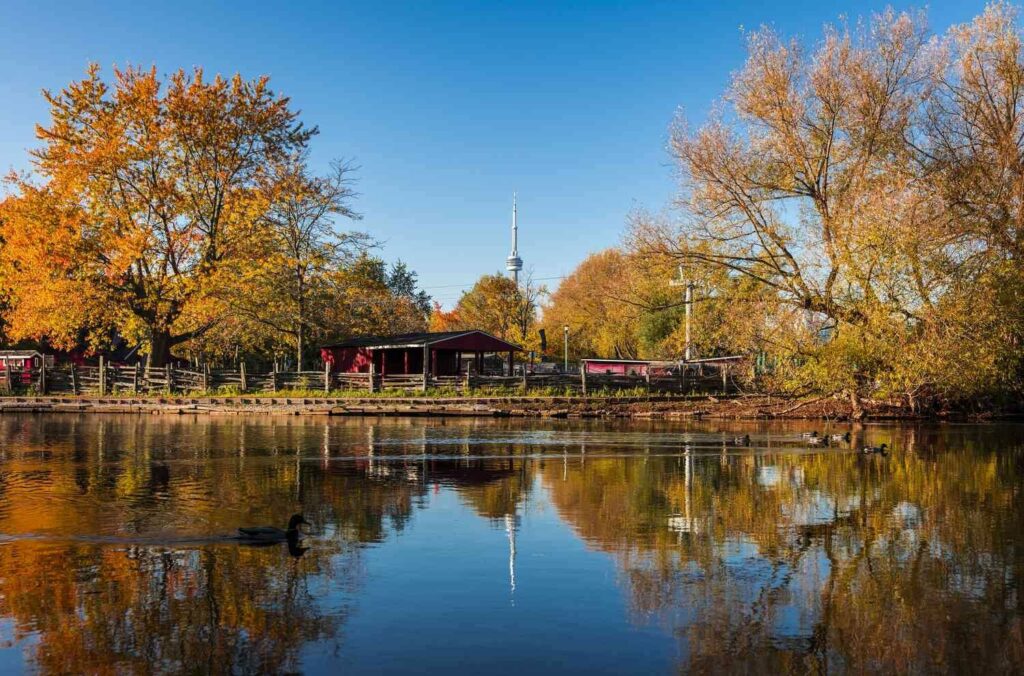 If you're looking for the best place to take in the autumn colours and gorgeous weather, then we suggest a visit to Toronto Island. During fall, the island transforms into a vibrant paradise, lit up by a tapestry of red, orange, and yellow leaves.
Toronto Island's attractions and facilities are usually closed during fall, which also means the island sees less crowds. This makes it the perfect time to have a relaxing walk around the island's leafy paths or unwind under a tree as leaves fall on your lap.
Pro tip:
If you want some of the best photos of the cityscape, head to Sunfish Cut. This place offers a unique view of the cityscape as it's surrounded by warm trees and bordered by Snake island.
18. Gaze at the stars in Terra Lumina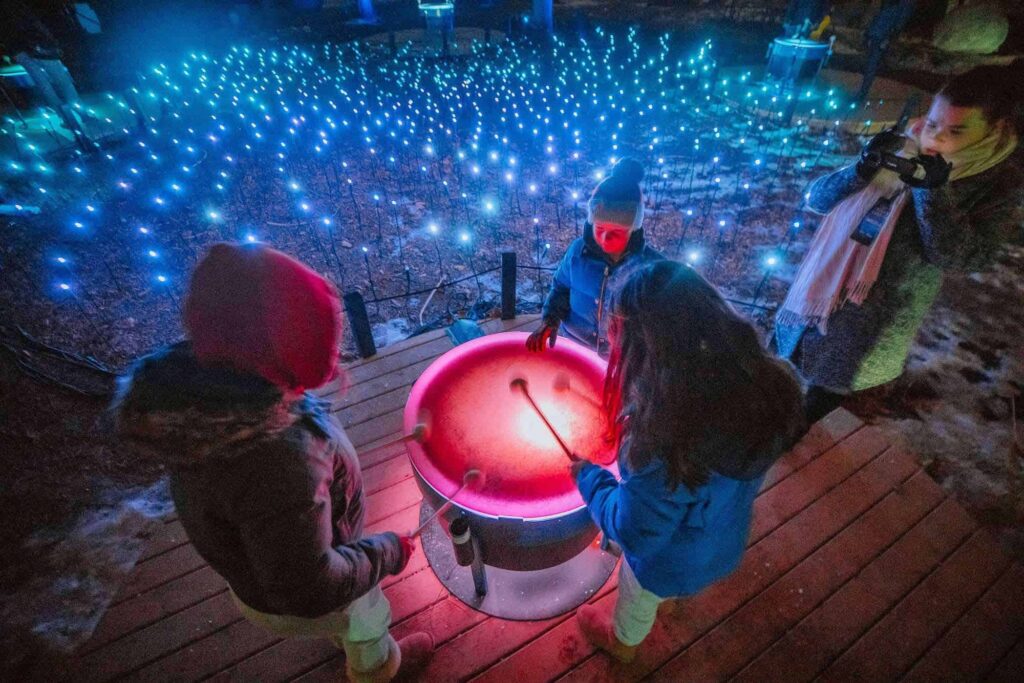 Address: 2000 Meadowvale Rd, Toronto, ON M1B 5K7, Canada
Toronto Zoo hosts an awesome light show in fall known as Terra Lumina. This nighttime event transforms the classic zoo into an alien-like world filled with luminescent lights that'll make you feel like you're on another planet.
The event aims to transport people – figuratively – 80 years into the future to show the possible effects of climate change through light displays. The vicinity of the zoo is shrouded in lights and holograms that depict spirits of animals in vibrant colours.
Pro tip:
One notable part of the event you don't want to miss is the golden cocoon. Nestled in the forest, a glowing cocoon tells a short tale about treasuring every species on earth and why each organism is important to the environment.
19. Watch the annual salmon run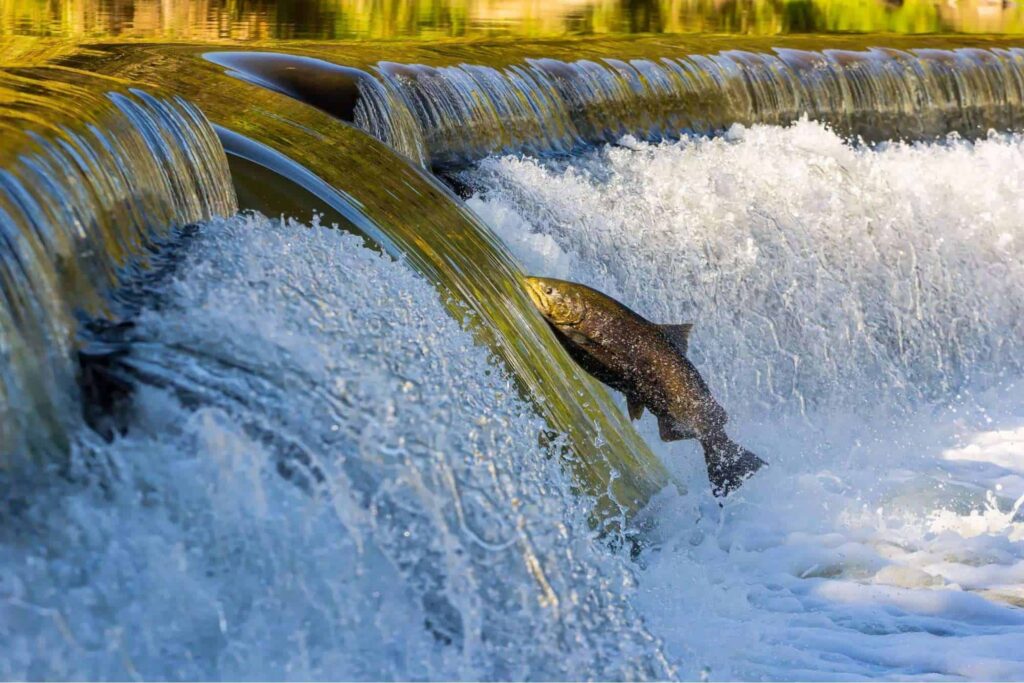 Fall's best spectacles aren't just its warm colours and falling leaves; it's also about the annual salmon run! From September to November, you can catch thousands of salmon migrating from Lake Ontario to freshwater areas in order to lay their eggs!
The city has tons of spots to watch the salmon migration; you can visit places like Raymore Park, Humber Bay, and Highland Creek. It's fascinating to watch a variety of salmon make their way upstream and jump over dams just to arrive at fresh waters.
Pro tip:
We really recommend you watch the salmon migration at Étienne Brulé Park. This is the only place to see salmon make a metre and a half jump over Old Mill Dam!
20. Visit Toronto Zoo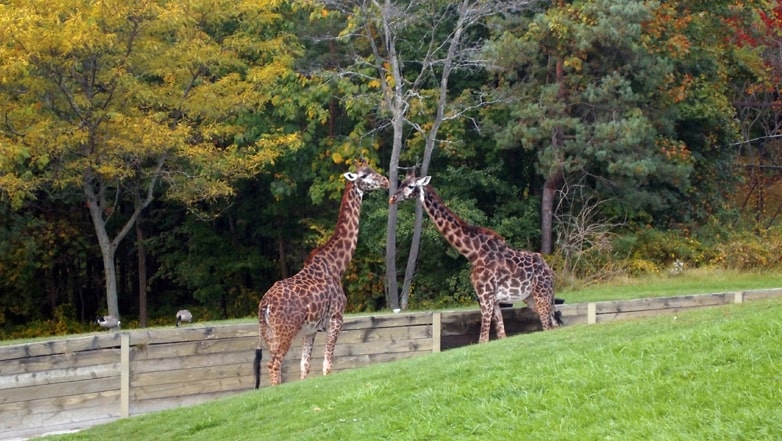 Address: 2000 Meadowvale Rd, Toronto, ON M1B 5K7, Canada
If you ever wanted to visit Toronto Zoo without all the huge crowds then you should visit in autumn. The zoo sees less crowds during this season which makes it easier to walk around the venue.
Aside from the picturesque environment, it's interesting to see animals like bears grow thicker fur and grow more active during fall. The zoo also serves as a great place for photo ops; you can capture both the vibrant colours of the season and animals together.
Pro tip:
Toronto Zoo has several exhibits during fall season like Hay-lloween Town. This cute exhibit features a mix of fall decor and Halloween themed painted hay bales – our favourite one is the cute tiger that you can also sit on.