TO's Overlooked Treasure: Moss Park
Toronto is a city with a rich history and beautiful attractions, and one of the best places to find these things is Moss Park! This neighbourhood is teeming with fun activities, historic sites, parks, and much more.
If you're planning on visiting Moss Park or happen to be in the area, try out these fun things to do in the neighbourhood.
TO's Overlooked Treasure: Moss Park
1. Play basketball or skateboard at Underpass Park
Address: 29 Lower River St, Toronto, Ontario M5A 0H3 Canada
Contact: +1 416-214-1344
Hours: Open 24 hours
Have you ever been to a park underneath a bridge? Well, now you can visit one—the awesome Underpass Park, which has a few recreational spaces and a basketball court.
Once a boring underpass, the city turned this space into a vibrant park where people regularly come to play basketball, rollerblade, and skateboard on ramps. The underpass also has a lively aesthetic with hippy-like murals by Paul Raff Studios.
Pro tip:
This is one of the best parks to visit with kids because there is a sizable playground in the area. The park's playground comes with a jungle gym that kids can climb on and a set of swings.
2. Explore one of the oldest churches in Toronto
Address: 425 King St E, Toronto, ON M5A 1L3, Canada
Contact: +1 416-367-0272
If Moss Park is known for one thing, it's having lots of remarkable historic sites like the Little Trinity Church. This historic structure was built in 1844, making it the oldest surviving church in the city, and it's also renowned for being one of the most beautiful.
The church features a Gothic Revival design, and it was built with a mix of red and tan bricks, which look crisp to this day! Inside, the church has lovely stained glass windows, which illuminate the interiors with purple, yellow, and bluish lights.
Also, the church has 400 seats, so you won't have a hard time looking for a chair if you plan on attending mass here.
Pro tip:
One thing you don't want to miss in this church are the stone plaques located on each side of the church's interior. There are 4 plaques in total, which commemorate old parishioners of the church and each features carved floral and Greco-style motifs.
3. Stop by Toronto's First Post Office
Address: 260 Adelaide St E, Toronto, ON M5A 1N1, Canada
Operating Hours:
Monday – Friday: 9:00 AM – 5:30 PM
Saturday: 10:00 AM – 4:00 PM
Sunday: 12:00 PM – 4:00 PM
Contact: +1 416-865-1833
If old churches aren't your thing, maybe you'll enjoy a fun little trip to Toronto's First Post Office. It still functions as a post office while being an awesome museum!
The museum houses temporary and permanent exhibits that feature quills, penknives, and currency from the 19th century. You'll come across hundreds of letters by 19th century Torontonians and rare books depicting the early postal system in Canada.
Pro tip:
One interactive experience we recommend trying out in the museum is writing letters on parchment using antique-like quills. It's a fun way to experience what life was like in the 19th century, and you can have a seal stamped on it and have it sent home.
4. Learn about fossils at Prehistoria Museum
Address: 397 Dundas St E, Toronto, ON M5A 2A7, Canada
Operating Hours:
Monday – Tuesday: Closed
Wednesday- Sunday: 1:00 PM – 7:00 PM
If you're looking for an awesome museum to visit, look no further than the Prehistoria Museum and Skullstore Oddity Shop! This museum is about all things prehistoric, so expect extensive collections of fossils and ancient artefacts from millions of years ago.
The museum has a bit of everything on display; you can find ancient Viking axes, carved human skulls, a whale skeleton, and even dinosaur eggs!
Some of their most interesting items are a two-headed goat skull and a Baird's tapir skull.
It also has a mini zoo that houses cockatoos, poison dart frogs, frilled dragons, and even endangered tortoises, among other animals.
Pro tip:
If you're into collecting archaeological materials, you can actually buy bones and fossils from the museum's oddity shop. The shop sells a variety of bones coming from animals like bears and even human teeth!
5. Grab a drink at the Stout Irish Pub
Address: 221 Carlton St., Toronto, ON M5A 2L2, Canada
Operating Hours:
Monday – Thursday, Sunday: 11:00 AM – 11:00 PM
Friday – Saturday: 11:00 AM – 12:00 AM
If you're tired of walking around the neighbourhood and need a drink to freshen up, then head over to Stout Irish Pub! This pub's cosy wooden interior will have you feeling at home as you sip on Belialed bourbon.
The pub has tons of beverages that you can enjoy, from ciders to rotational beers and drinks straight from the tap! If you're ordering a drink from the tap, we suggest getting Raven dry Irish stout, which is smooth and has a delightful coffee aroma.
Also, try their delicious Halifax donair, which is basically a shawarma wrap with spiced beef and onions.
Pro tip:
If you're exploring Moss Park at night, we suggest coming here for an after-drink. The pub hosts nightly trivia games and also has several board games that you can play with your friends or strangers.
6. Feel like you're in a Netflix show at Kim's Convenience
Address: 252 Queen St E, Toronto, ON M5A 1S3, Canada
For any sitcom lover, here's your chance to visit the actual convenience store where the hit Netflix series Kim's Convenience was filmed! The iconic store run by Mr. Sang actually exists.
The store features tons of memorabilia from the show. You'll find pictures of the cast and even a staff t-shirt signed by the cast of the hit online series!
The location also actually functions as a real store, so you can grab some drinks during your visit too.
Pro tip:
If you're a mega fan, you can purchase a tote bag that features the Kim family from the hit comedy show.
7. Have a trippy experience at the Museum of Illusions
Address: 132 Front St E, Toronto, ON M5A 1E2, Canada
Price:
Adult – $25.50
Senior – $23.50
Child – $19.50
Operating Hours:
Monday – Saturday: 10:00 AM – 7:00 PM
Sunday: 10:00 AM – 8:00 PM
Contact: +1 416-889-2285
Visit the Museum of Illusions for some brain teasers! This museum is home to hundreds of mind-boggling illusions that will have you second-guessing reality.
It provides some really unique photo opportunities you can't get elsewhere. One of our favourite spots for funny and wacky photos is the reversed room, which makes you look like you're standing on the ceiling!
Pro tip:
Take pics at the cloning table room too. This place gives the illusion that you're dining with 2 clones of yourself, which is great for wacky pictures, especially if you're visiting the museum alone.
8. Smell the flowers at Allan Gardens
Address: 160 Gerrard St E, Toronto, ON M5A 2E5, Canada
Operating hours: Monday – Sunday: 10:00 AM – 5:00 PM
When it comes to the most beautiful greenspace in Moss Park, nothing comes close to Allan Gardens Conservatory. This garden houses hundreds of species of plants, flowers, and trees that create a picturesque environment.
The garden is filled with collections of lovely blossoms like red orchids, purple tulips, and even yellow dandelions. There are also several greenhouses in the garden where you can find small trees, tropical plants, and winter flowers.
Pro tip:
Before you leave, make sure to visit the iconic glass-domed Palm House! It's the garden's most iconic building, and it houses a variety of palm trees, as its name indicates.
9. Enjoy sports at Moss Park
Address: 140 Sherbourne St, Toronto, ON M5A 2R6, Canada
Hours: Open 24 hours
Enjoy sports in Moss Park, and by that, we mean an actual park in its eponymous neighborhood. This 3.4-hectare green space features several free-to-use sporting facilities like tennis courts, a ball diamond, and much more.
Sports lovers will have a fun time joining pick-up games at the basketball court or playing a fun game of diamond ball with their children. On the other hand, if you're not looking to play sports, you can rest and watch hockey matches at the Moss Park Arena.
Pro tip:
Before you leave, you can grab some vegetables at the Fred Victor Community Garden inside the park. This community garden is teeming with flowers, vegetables, and fruits planted by the local community for the use of its residents.
10. Marvel at the historic St. Paul's Basilica
Address: 83 Power St, Toronto, ON M5A 3A8, Canada
Operating Hours:
Monday: Closed
Tuesday – Friday: 4:00 PM – 5:30 PM
Saturday: 3:30 PM – 5:30 PM
Sunday: 7:00 AM – 12:00 PM
One of the most beautiful sights that you should visit in Moss Park is St. Paul's Basilica, which was founded in 1822. It's known for housing some of the oldest Catholic congregations in Toronto and is a must-visit for anyone who loves architecture.
The basilica's brick construction has Italian Romanesque architecture that features bold arches around windows. The interior of the basilica has leaf designs, murals showing religious events, and stained glass windows depicting religious figures.
Pro tip:
One thing you do not want to miss is the Casavant organ located inside the cathedral! This antique organ has been around since the early 20th century, and it features around 7,500 pipes!
11. Get a taste of China at Bamboo Kitchen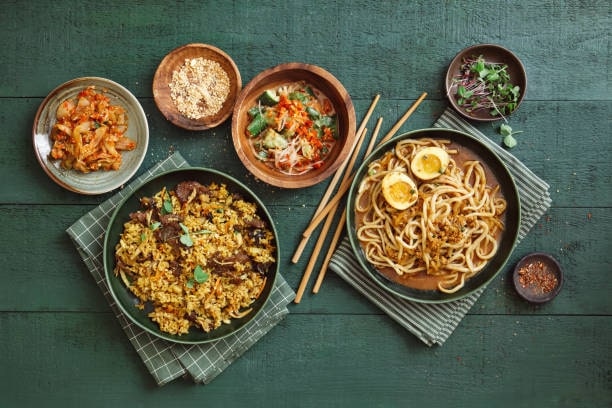 Address: 432 Parliament St, Toronto, ON M5A 3A2, Canada
Operating hours:
Monday – Friday: 10:00 AM – 4:00 PM
Saturday – Sunday: Closed
If you're craving Chinese food, then there's no better place to eat in Moss Park than at Bamboo Kitchen. This restaurant serves authentic Chinese food like brisket noodle soups that come in huge servings for an affordable price.
The restaurant is loved by locals for their spicy Schezwan sauce that pairs perfectly with their sweet braised spare ribs. Some of our favourite dishes are their creamy chicken curry and savoury stir-fried beef with green beans.
Pro tip:
If you're looking for a light but hearty soup, we recommend ordering their seafood udon soup. This healthy dish comes with shrimps, clams, and veggies, which really emphasizes the broth's rich and herby flavour!
12. Buy some cakes at MyPandanCake
Address: 215 King St W, Toronto, ON M5V 3G2, Canada
Operating hours:
Monday: Closed
Tuesday – Sunday: 11:30 AM – 7:30 PM
After your visit to Allan's Gardens, we suggest you grab some delicious cakes at MyPandanCake, which is close by. This cute bake shop serves delicious pastries and chiffon cakes that are soft and fluffy and have the perfect amount of sweetness.
Aside from chiffon cakes, they also serve tin cake and cheesecakes, which have fruit flavours like durian and lemon. Some of our must-tries are their custardy durian chiffon cake topped with white chocolate and their sweet chocolate cream puff.
Pro tip:
Try their Vietnamese coffee, which has a bold and nutty flavour that goes great with most of their cakes, especially their durian chiffon cake!
13. Get a glimpse of the past at Enoch Turner Schoolhouse
Address: 106 Trinity St, Toronto, ON M5A 3C6, Canada
If you're looking for a historic site and a unique museum to visit, you should visit the Enoch Turner Schoolhouse. The oldest standing school in Toronto, this site boasts a Gothic revival design and houses rare educational artefacts from the 19th century.
The museum exhibits memorabilia from the Turner family and educational artefacts like books and old reading material. The museum also has different exhibits where you can find documents and photographs of Toronto in the 19th century.
Pro tip:
One thing most people don't know about this place is that you can actually rent it out for an event! The schoolhouse is a popular venue for weddings and parties. All you have to do is schedule a booking.
14. Appreciate the scenery at the Don River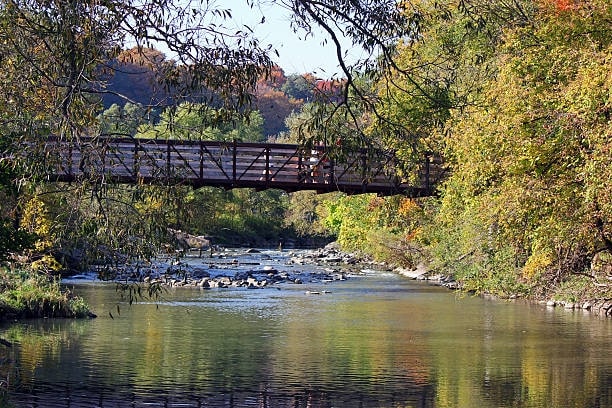 Address: Don River, Toronto, ON, Canada
The Don River offers some of the best views of Moss Park's environment. This scenic walkway is perfect for anyone who wants to go for a long walk while admiring the city's natural beauty.
As you stroll along the river, you'll catch picturesque views of Corktown Common and the Don Valley Parkway. The walkway is quiet and has few visitors, which makes it a great place to admire the river's beauty in peace.
Pro tip:
One thing we recommend doing while on this trail is snapping some shots of wildlife. The river has an abundant population of ducks and birds that you can observe swimming along the lake!
15. Snap photos of Victorian architecture at Cabbagetown
Address: Cabbagetown, Old Toronto, Toronto, ON, Canada
There is an abundance of Victorian architecture in Toronto, and there's no better place to see this than at Cabbagetown. This small neighbourhood is known for having the most Victorian houses in the nation, and it's also a great photo op spot.
The neighbourhood boasts rows of beautiful and colourful homes, including several modernized worker's cottages. You'll also find many mansions sporting mansard roofs and Italianate windows.
Pro tip:
Check out the plaques on some of the houses indicating where noteworthy people, such as the artist Toller Cranston, used to live!
16. Have coffee at Moss Park Espresso
Address: 185 Queen St E, Toronto, ON M5A 1S2, Canada
Operating Hours:
Monday – Tuesday: Closed
Wednesday – Sunday: 12:00 PM – 86:00 PM
If you love coffee and are looking for an underrated cafe, we suggest Moss Park Espresso. This quaint cafe serves a variety of refreshing beverages like iced lattes, cortados, and affogatos.
They also have biscoitos that come in flavours like cranberry and lemon, which really complement their strong doppio espresso. Also, you can order delightfully creamy homemade gelato.
Pro tip:
If you love jazz music, visit the cafe on a Sunday. Every other Sunday, the cafe has live jazz performances!
17. Visit the old Alumnae Theatre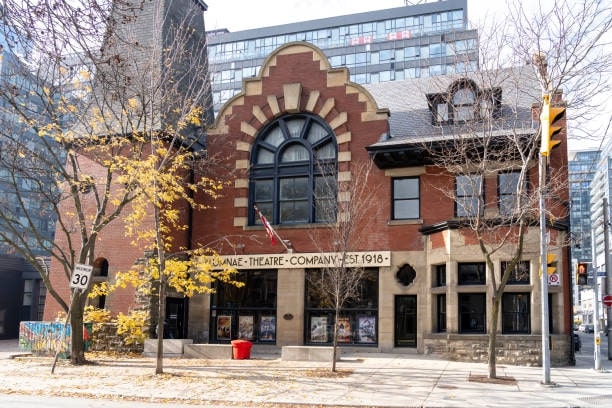 Address: 70 Berkeley St, Toronto, ON M5A 2W6, Canada
Contact: +1 416-364-4170
One of the most treasured buildings in Moss Park is the iconic Alumnae Theatre, which was built way back in 1905.
The theatre was once a firehall but has now become one of the oldest functioning theatres in Toronto.
It's regarded as one of the best theatres in the city for its lovely architecture that sports classical Edwardian elements. Aside from that, you can enjoy fresh and adventurous plays by upcoming playwrights, like If We Were Birds and Better Living.
Pro tip:
If you plan on putting on a live performance, you can rent out a theatre space here. There are 3 stages to choose from, namely, the huge Mainstage Theatre, the Studio Theatre located in the attic, and the quaint ​Heritage Lobby.
18. Grab some grub at Umi's Kitchen
Address: 346 Dundas St E, Toronto, ON M5A 2T4, Canada
Operating hours:
Monday – Friday: 11:00 AM – 8:00 PM
Saturday – Sunday: Closed
If you're looking for some of the best and most affordable Caribbean food in Moss Park, then head to Umi's Kitchen. They serve generous amounts of bean rice, goat curry, and much more!
Umi's kitchen has a menu that consists mainly of beef, chicken, ox, and rice dishes. They're known for their red pea soup that has strong earthy flavours and their juicy jerk chicken that's perfectly spiced.
Pro tip:
If you're not a big fan of jerk chicken, you can always try their BBQ chicken. It's the perfect mix of sweet, smokey, and tangy, and it's one of their most underrated dishes that's worth trying.