Dundas West 101: Everything You Need to Know
Originally known as West Toronto, Dundas West changed its name in the early 1900s after the construction of the Dundas Street West streetcar line. It's home to several landmarks, including the Gladstone Hotel and Trinity Bellwoods Park.
Planning a trip to Dundas West? We'll tell you everything you need to know before your visit like how to get there, which hotels are the best, and which restaurants to try out.
Dundas West 101: Everything You Need to Know
Time Zone
Eastern Daylight Time (GMT-4)
Best Time to Go
It's best to go to Dundas West during summer when the weather is warm and sunny, perfect for outdoor activities and enjoying nature. The neighbourhood is also beautiful during fall when the leaves change colour and the streets are vibrant.
Shopping and visiting galleries are more convenient during weekdays when the streets are less crowded and it's easier to get around the neighbourhood. Dining out and attending social events are more popular during weekends.
Things to Know
Currency: Canadian Dollar
(Check the current exchange rate)
Languages: English
Calling Code: +1
Where is Dundas West in Toronto?
Located in the west end of Toronto, Dundas West is bordered by Ossington Avenue to the north, the Gardiner Expressway to the east, Queen Street West to the south, and Dufferin Street to the west.
Here's a map of the neighbourhood and its surrounding area: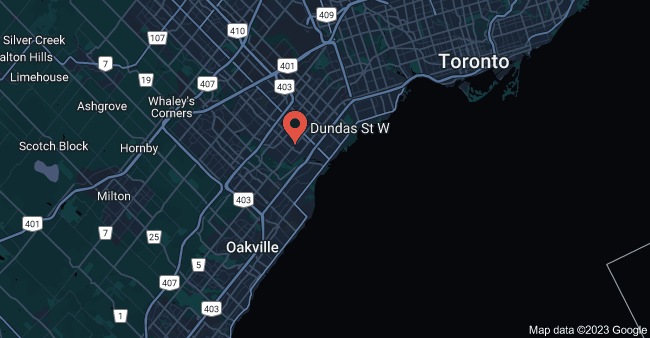 How to Get There
— From: @blackotruck.pov
Train: The TTC's Bloor-Danforth subway line runs through Dundas West, with its nearest station located at Dundas West and Ossington Avenue.
Streetcar: The 504 King streetcar has a stop located at Dundas West and Spadina.
Bus: Several bus routes serve Dundas West, including the 66 Bay, 101 Queen, and 144 Dufferin.
Car: The neighbourhood is easily accessible by car from the Gardiner Expressway and the Allen Expressway.
Where to Stay in Dundas West
Ode
Address: 1417 Dundas St W, Toronto, ON M6J 1Y4
Pricing: $$
Housed in a restored 1910 Edwardian building, Ode is a boutique hotel known for defying traditional expectations. The owner decided to not include a front desk, valet parking, and room service to keep their rooms affordable.
The family who runs the place aims to make their guests feel like they're staying in a more comfortable version of their cool friend's crib. It has a gorgeous rooftop patio where you can see the eclectic neighbourhood.
What to Do in Dundas West
Admire art at MKG127
Address: 1445 Dundas St W, Toronto, ON M6J 1Y7
Phone: 647-435-7682
Founded in 2017 by Michael Gibson, MKG127 is an art gallery that features a rotating exhibition of contemporary art. It aims to support and promote new and emerging artists.
It features works by Deanna Bowen, Adam David Brown, Laura Kikauka, Kristiina Lahde, Jayce Salloum, and many others. Admission to the gallery is free, and they're open from Wednesday to Saturday, 12:00 PM to 6:00 PM.
Relax at the Trinity Bellwoods Park
— From: @poseidonnolan
Address: 790 Queen St W, Toronto, ON M6J 1G3
Phone: 416-338-2614
Originally known as Gore Vale, Trinity Bellwoods Park is a 14.6-hectare public park that has a canopy of over 400 trees. In the early 1800s, the land was used for agriculture before the area became a residential neighbourhood.
The park was officially opened in 1876, and it continues to be a popular spot for picnicking, swimming, sunbathing, playing sports, and walking pets. It's also used for various festivals and events.
Get a tattoo at Okey Doke Tattoo Shop
— From: @tattooer_ericnewstead
Address: 1229 Dundas St W, Toronto, ON M6J 1X6
Founded in 2011 by longtime Toronto tattoo artist Eric Newstead, the Okey Doke Tattoo Shop focuses on tattooing without a specific style to make everyone feel welcome. The owner was an artist at a different shop for 10 years before opening his parlour.
Their three veteran artists prioritize their clients' freedom to choose any design they want. The place has a vibrant and friendly vibe, making it a popular spot for tattoo enthusiasts and first-timers.
Where to Eat in Dundas West
Enoteca Sociale
Address: 1288 Dundas St W, Toronto, ON M6J 1X7
Phone: 416-534-1200
Pricing: $$
Known for its classic Roman dishes and extensive wine list, Enoteca Sociale is a Roman-style osteria located in Toronto's Little Italy. They have a collection of over 300 wines from Italy and around the world.
Here are some of their signature dishes:
Cacio e pepe: a simple spaghetti dish with Pecorino Romano cheese and black pepper
Saltimbocca: veal cutlets topped with prosciutto and cooked in butter and white wine
Tiramisu: a classic Italian dessert made with ladyfingers dipped in coffee
Saving Grace
— From: @hitormiss.toronto
Address: 907 Dundas St W, Toronto, ON M6J 1V9
Phone: 416-703-7368
Pricing: $$
Saving Grace is a popular brunch spot known for its delicious breakfast meals and quirky atmosphere. Its walls are decorated with vintage art, and it has a small outdoor patio perfect for warm summer days.
Some of their signature dishes include classic brunch food such as French toast, hashbrowns, buttermilk pancakes, and eggs Benedict. They're open from 8:00 AM to 3:00 PM, seven days a week.
Old School
— From: @caitlinmariedasilva
Address: 800 Dundas St W, Toronto, ON M6J 1V1
Phone: 416-815-8790
Pricing: $$
Old School is a laid-back diner known for serving all-day breakfasts, American comfort food, and barbecue. It has a bar that serves not only cocktails but also hand-stirred sodas made from Organic Fair Soda Syrups.
Some of its signature dishes include indulgent pancakes, saucy ribs, and classic American desserts. It's open 24 hours daily but only serves brunch items from 9:00 AM to 3:00 PM.
Sukhothai
Address: 1442 Dundas St W, Toronto, ON M6J 1Y6
Phone: 416-792-2432
Pricing: $$
Known for its authentic Thai cuisine, Sukhothai serves iconic Thai dishes such as pad thai, tom yum goong, and green curry. Chef Nuit Regular operates the restaurant with her husband and his family.
Apart from their specialty cocktails, they also serve famous Thai beers such as Chang and Singha. It's a popular spot for tourists and locals due to its affordable food and generous portions.
Where to Shop in Dundas West
Penny Arcade Vintage
Address: 1177 Dundas St W, Toronto, ON M6J 1X3
Phone: 647-346-1386
Penny Arcade Vintage is a clothing store known for its selection of retro and funky apparel, accessories, and jewellery. It features clothing and home decor items from the 60s, 70s, 80s, and 90s.
It opened in 2008 when Sheehan, the owner, didn't find selling vintage items on eBay satisfying enough. Sheehan realized that selling clothes online didn't feel the same since the customers couldn't try them out to see the fit.
Grasshopper Records
— From: @big.chantelle
Address: 1164 Dundas St W, Toronto, ON M6J 1X4
Phone: 416-534-0180
Founded in 1992 by Dennis "Grasshopper" Kim—a well-known figure in the Toronto music scene—Grasshopper Records specializes in rare and imported vinyl. They also sell music-related books, magazines, and shirts.
If you're looking for new releases, used records, vintage turntables, and old cassette tapes, this is the place to be.
FAQs on Dundas West, Toronto