The Best Pest Control Services in Toronto
Is your house infested? From termites to rats, the best pest control services in Toronto can get rid of those pesky critters for you.
Of course, different companies offer different services. That's why we've come up with a nice selection of companies that can cover the most common household pest problems.
It's time to take your space back! Let's get started.
How Much Do Pest Control Services Cost in Toronto?
Some pests are harder to get rid of than others, so expect varying prices for different pest control services.
For example, getting rid of bed bugs can be difficult and would most likely need chemical intervention and structural fumigation. These methods are costlier than, say, setting up traps.
Aside from the type of pests and treatment methods, you also have to consider the size of the infestation. Has it spread throughout the house, or is it contained to one or two rooms?
Lastly, the number of necessary treatments can affect how much you're going to pay. For example, a rat infestation could take multiple visits to get rid of completely.
Check out the table below for the average cost of standard pest control services:
2 Rooms
3 Rooms
4 Rooms
Bed bug
$500 – $600
$600 – $800
$800 – $1000
Cockroach
$250 – $300
$350 – $380
$400 – $450
Rat / Mouse
$275 – $350
Ant
$275 – $350
Centipede
$275 – $350
Millipede
$275 – $350
Silverfish
$275 – $350
Earwig
$275 – $350
Sow bug
$275 – $350
Flea & Tick
$400 – $500
Wasp, hornet, bee
$350 – $500
Spider
$350 – $500
Raccoon, squirrel, skunk
$500 – $800
Bird
$100 – $300
The Best Pest Control Services in Toronto
Now that you know the cost of getting rid of each type of pest, let's look at a list of the best pest control companies around.
1. Quality Affordable Pest Control Toronto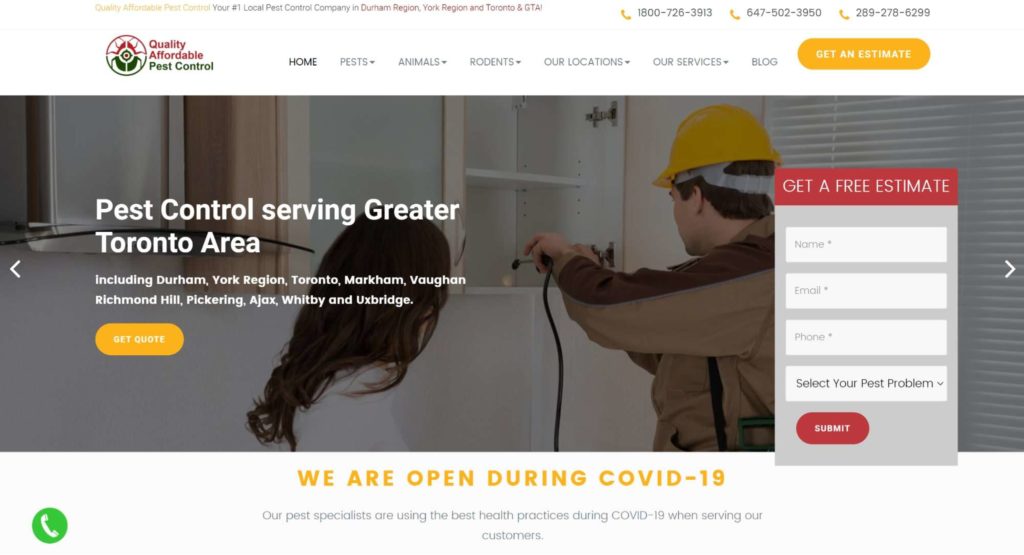 First up on our list is Quality Affordable. With over 20 years of pest control experience, Quality Affordable has left countless homes and commercial spaces clean and pest-free.
They can remove over 100 different species of pests from your spaces, including bed bugs and seasonal ants. That pretty much covers any kind of infestation you might have.
On top of being able to remove regular rodents like rats and voles, Quality Affordable can also remove wild animals like sparrows and squirrels in a humane way.
Rest assured that their methods are eco-friendly, family-friendly, and pet-safe. You don't have to worry about chemicals harming your family members and pets after chemical intervention.
Best of all, Quality Affordable's lines are open 24/7, meaning they're great in emergency situations. This kind of convenience doesn't mean you have to pay a premium, though.
True to its name, Quality Affordable brings pest control services at reasonable and competitive prices. For most of their services, you only have to pay a fraction of the fees that other companies charge!
If by some chance you're unsatisfied with their work, they have a 100% money-back guarantee.
Can exterminate 100+ species of pests
Humane animal removal
Eco-friendly and pet-safe practices
Desired booking times are sometimes unavailable
Customer Reviews
Check out what these past Quality Affordable clients had to say about their services:
"Yosef was extremely professional, knowledgeable, and thorough. He came on Saturday and laid traps throughout my mom's home. He also walked me around the house's exterior to find cracks and entry points which need to be filled to prevent the mice from returning. Great job, Yosef!"
– Bryan Miland
"Rocky to the rescue! Thank you for your professionalism and getting the job done! Rocky took the time to explain everything and answer all our questions. He then proceeded to inspect the house, fill in any suspicious holes, and set traps in the right spots. All done in no time! Thank you."
– Amin Osmani
2. Pesticon Pest Control Toronto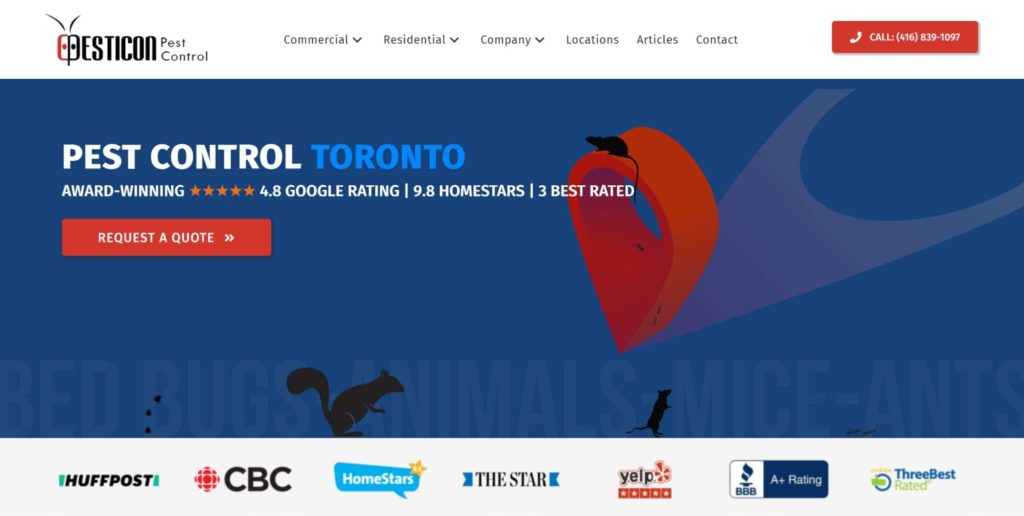 PRODUCTS
Home protection plan, pest removal, animal removal, rodent removal
WEBSITE
https://www.pesticon.com/
ADDRESS
100 Rexdale Blvd #301 Etobicoke, ON M9W 1N7
CONTACT DETAILS
(416) 839-1097


[email protected]

OPERATING HOURS
Monday to Sunday: 8:30am-10:00pm
Winner of HomeStars' Best Pest Control Company for four years in a row, Pesticon is officially an industry leader. But there's one main reason why Pesticon made this list.
Aside from the usual pest control services, Pesticon also offers home protection plans. Those are pretty good value.
For these plans, first off, the Pesticon Home Protection Plan includes the removal of most types of pest infestation multiple times a year for less than the cost of two pest control visits. Yes, you get unlimited visits without having to pay thousands of dollars.
Next, subscribers of the Pesticon Home Protection Plan have the option to schedule preventative pest control services. Should you find yourself dealing with an unforeseen infestation, Pesticon also has emergency services.
With this kind of plan, you can be confident that your home is protected from pests all year round.
Lastly, if it's important to you to keep your pest control projects under wraps, Pesticon has unmarked service vehicles so they can discreetly carry out their duties. This kind of consideration is what you'd like if you're in the food industry, for example.
Has commercial and residential services
Discreet service vehicles
Visits happen immediately after scheduling a consultation
Uses chemicals that are harmless to humans and pets
Higher rates than average
Customer Reviews
Here are two glowing Google reviews for Pesticon:
"Had Jason from Pesticon come out and treat my home for cockroaches, and I'm happy to report the roaches are all gone. This was very disturbing to me, but he got them. I know if they do come back I am protected as the service has a 6-month warranty."
– Tony De La Cruz
"We're had ants come into our house before, but not like this year. Andre and his team were available on the day that we called and they arrived at the time of our appointment. Their services are reasonably priced and very effective–most of the ants were gone within a day and the rest were gone soon after.
I feel like a bonehead for not having used them before when ants got into our house–there's no reason to try to get rid of them with Raid. Those products work only a bit or not at all. I will not hesitate to call Pesticon if we ever have a pest problem in the future. They are great people and they take pride in the service that they provide."
– Vincent Huntington
3. Greenleaf Pest Control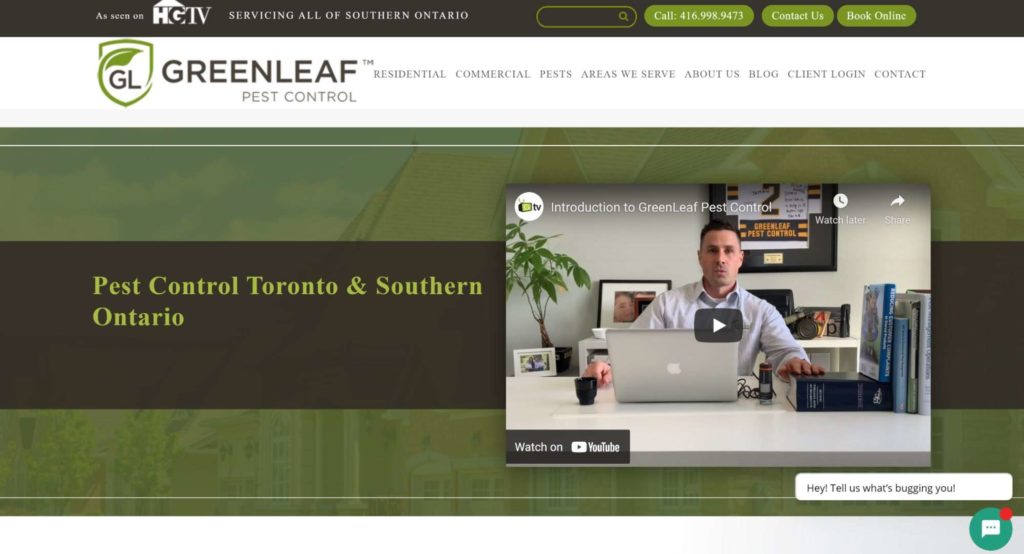 | | |
| --- | --- |
| PRODUCTS | Commercial service, chute foaming, facility audits, odour control, residential service, home protection plan, |
| WEBSITE | https://www.greenleafpestcontrol.com/ |
| ADDRESS | 2 Toronto Street, Suite 246, Toronto, ON M5C 2B5 |
| CONTACT DETAILS | (416) 998-9473 |
| OPERATING HOURS | Monday to Friday: 7:30am-5:00pm |
Greenleaf is our top pick for commercial pest control services. We like that they go beyond the cookie-cutter approach to clearing out commercial spaces.
How? The specialists over at Greenleaf are always up-to-date with the industry's best techniques because they all receive ongoing education.
If you decide to go with Greenleaf to deal with your space, you get a customized pest control program since all locations are slightly different. You also get a designated manager who can handle your account exclusively.
When Greenleaf handles a case, clients receive constant updates through electronic reporting. You get 24/7 access to trend reports and customer service, ensuring full transparency.
Having your place of business pest controlled also automatically gets you a logbook, device map, licenses, and safety sheets. This is a plus because businesses need this kind of documentation.
There's almost nothing negative to be said about Greenleaf as a company. They provide unique, high-quality work that you can't get elsewhere.
Constantly updates their methods
Adheres to third-party audit requirements
Round-the-clock trend reports
Tailored programs
Customer Reviews
Take a look at these reviews from Greenleaf clients:
"Greenleaf is the only pest control company I recommend. My business uses this company for their monthly preventative measures as well as any insect or rodent concerns at the moment. GreenLeaf's staff are kind, reliable, and true experts in the field of pest control!"
– Rcc Manager
"I have to say that the level of service, care, and empathy that was demonstrated by every person that I had contact with was amazing. Amanda (at the office) was especially lovely, understanding, and supportive throughout our interactions. The guys that came out to do the work were also fantastic, thorough, dedicated, and knowledgeable. I highly recommend this company for any pest control needs."
– Pati Pazos
4. Addison Pest Control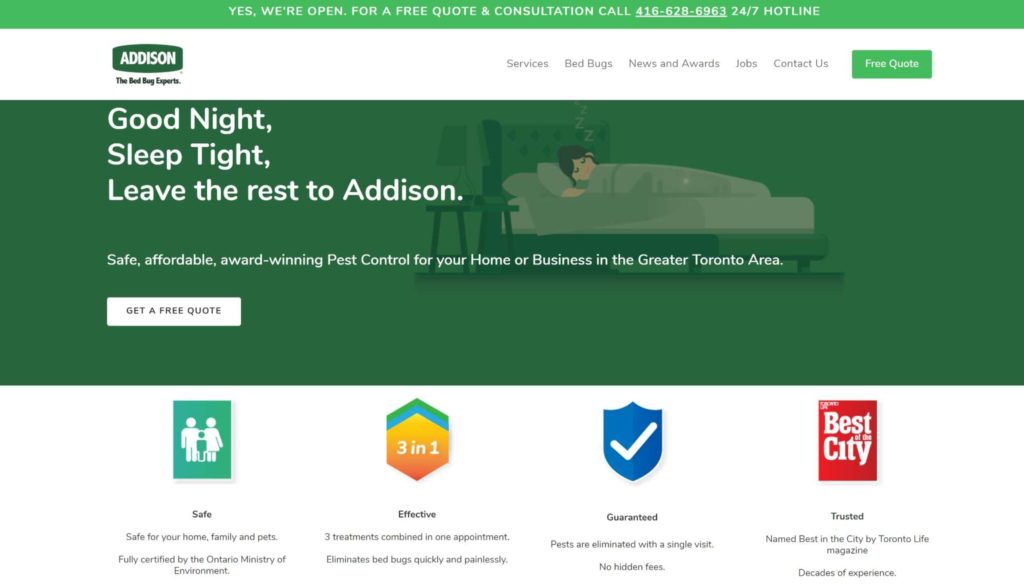 | | |
| --- | --- |
| PRODUCTS | Pest removal, animal removal, rodent removal |
| WEBSITE | https://www.addisonpestcontrol.com/ |
| ADDRESS | 41 Baldwin St. Toronto, ON M5T 1L1 |
| CONTACT DETAILS | (416) 628-6963 |
| OPERATING HOURS | Open 24 hours |
If you're inexplicably getting swollen, itchy welts all over your skin, you might be dealing with a bed bug situation. In this case, we think your best solution is hiring Addison Pest Control.
Addison has dubbed itself "the bed bug expert," and that title is pretty hard to contest. We think it's safe to say that they are the authority on bed bugs if they can eliminate a bed bug infestation in just one visit.
They manage to pull this off because their method is a lot more thorough than most services. All on the same day, they'll perform heat, crack, and residual spray treatments.
If by some crazy chance one visit won't cut it, Addison guarantees return visits until your pests are completely gone. And no, you won't have to pay for these return sessions.
Addison also has every other common pest control service, including ant and rat removal. Check out their site for an in-depth rundown of processes for each pest that they can get rid of.
If accolades matter to you, Addison does pest control on UN planes, is considered "best in the city" by Toronto Life, and is a prominent figure in the Global Bed Bug Summit Conference. More than enough reason to consider them, we think!
Flexible scheduling with 24/7 same-day service
Free no-obligation quotes
Flat-rate pricing includes multiple visits
No hidden fees
Large clientele means tied-up lines sometimes
Customer Reviews
Curious about what Addison customers had to say about their services? Here are two reviews:
"My partner and I were very happy with our Addison Pest Control experience. Connor spoke with us for nearly half an hour via phone answering all our questions about our moth problem, the treatment process, and how to prepare.
On the day of the appointment, Michael and Cam arrived on time. They were super friendly, professional, reassuring, and made us feel like they would take good care of our home. We're very happy with the job they did, and wouldn't hesitate to recommend their services to friends and family."
– Matthew Braga
"Thorough, efficient, informative, knowledgeable, discreet, effective. After consulting many companies, I could not be more thankful that we chose Addison to take care of our pest issue. It is a company that stands by their product, and rightly so. From start to finish, Connor and Rob were professional and helpful. Worth every dollar! Have not had any issues since receiving treatment. Would highly recommend."
– Tonni W
5. Provincial Pest Control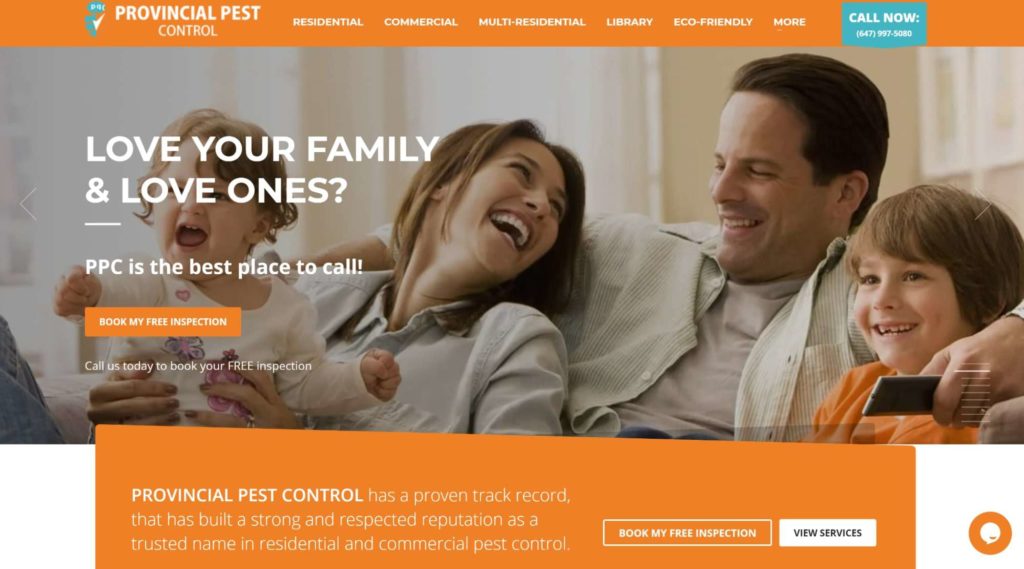 | | |
| --- | --- |
| PRODUCTS | Residential service, commercial service, multi-unit residential service, disinfection service |
| WEBSITE | https://www.provincialpestcontrol.ca/ |
| ADDRESS | 940 College St. Unit 1, Toronto, ON |
| CONTACT DETAILS | (647) 997-5080 |
| OPERATING HOURS | Open 24 hours |
Provincial Pest Control definitely deserves a spot on this list just because they have disinfection services. Yes, they have standard domestic and commercial pest control services, but we love the fact that they can get rid of your home germs and viruses too.
They use state-of-the-art 7-in-1 cleaner technology that leaves spaces 99.999% sanitized. Their hospital-grade disinfectant cleaner can kill the Rotavirus, Influenza A, MRSA, Salmonella, and Canine Parvovirus, just to name a few.
So while they get rid of ordinary pests, you might as well get your home disinfected as well. These services are particularly beneficial because of the times we're living in now.
Being Winner of the HomeStars Best of Award in 2019, it's not hard to see why Provincial Pest Control has a solid 5-star rating on Google Reviews. If you decide to go for this company, you're in luck because first-time customers get 10% off!
Has multi-unit residential services (condos)
Disinfection service and strict COVID-19 practices
24-hour emergency line
Higher than average rates
Customer Reviews
Check out these recent reviews for Provincial Pest Control:
"Efficient. Didn't have to leave the house. Great service! Non-toxic."
– Janelle Falconer
"I contacted the company regarding a mice issue. Vald responded immediately. He was very professional, knowledgeable, and easy to communicate with. Came by shortly after our conversation, gave me helpful tips regarding the problem, and came up with the solution. Also remembered to follow up in a month to ensure everything is still good. Great service! Very pleased!"
– Kat R
Things to Do before Pest Control Treatment
Of course, pest control chemicals are poisonous to some degree. However, they're unlikely to harm humans and pets, provided that you take the necessary precautions.
Your chosen pest control services will likely fill you in on these details, but we thought it best to give you some idea of what kind of preparation you'll do before you avail of their services.
1. Use plastic wrapping to protect your stuff.
Make sure you cover valuables, toys, toiletries, furniture, etc., with plastic wrapping to avoid chemical contamination. Using cloth sheets and masking tape would not be ideal because they absorb sprayed chemicals.
All food items have to be sealed in plastic containers and in the fridge. Even stuff like snacks and spices should be put away too.
2. Vacate the premises.
Unless your pest control provider says otherwise, it's best if you leave the area that is to be treated. Of course, take your furry friends with you.
If you're having your home treated for a tick and flea infestation, you might as well take your pet to the vet for treatment too.
If you've got pet fish, cover the aquarium with plastic. Make sure your fish has adequate food and the air pumps are shut off because they will suck in air-borne chemicals.
Make sure you're out of the house if you have allergy problems or are pregnant. You don't want to be exposed to chemicals even though they're generally non-lethal to humans.
3. Make easy access to infested areas.
Make it a little easier for exterminators to examine and move around in your home by moving furniture away from walls and doors. It's easier to inspect for signs of insect activity in uncluttered spaces.
The pest control guys will be focusing on baseboards, corners, cracks, and crevices. Make sure these things are unobstructed.
4. Clean infested areas.
Cleaning won't get rid of infestations, but you'll be required to do so to increase the efficacy of some pest treatments. Vacuums and mops will be treated afterward.
After the treatment, you can avoid future infestations by maintaining the cleanliness of your spaces.
FAQs about Pest Control
---
We hope this list narrows down your choices for the pest control company you're going to hire. Remember, it's always better to have professionals get the job done right than try to manage infestations yourself.
If you need help to clean your home before the exterminators come, check out this guide for the best cleaning services in Toronto.