THE 5 BEST COUNTRY CLUBS IN TORONTO
Looking for some next-level recreation? There's nothing quite like the perks and comforts of a country club. Once you swing those golf clubs and indulge in those cocktails, a week's worth of worries just goes away.
If you have an urgent need for a Saturday or Sunday escapade, check out the R&R options at these picturesque country clubs!
How We Chose the Best Country Clubs in Toronto
How Much Does It Cost to Book a Country Club in Toronto?
Initiation fees in these country clubs run between $30,000 to $100,000. Meanwhile, annual dues usually run upwards of $3,000.
Factors that affect the pricing include amenities offered, as well as the facilities that the club needs to maintain.
1. The Boulevard Club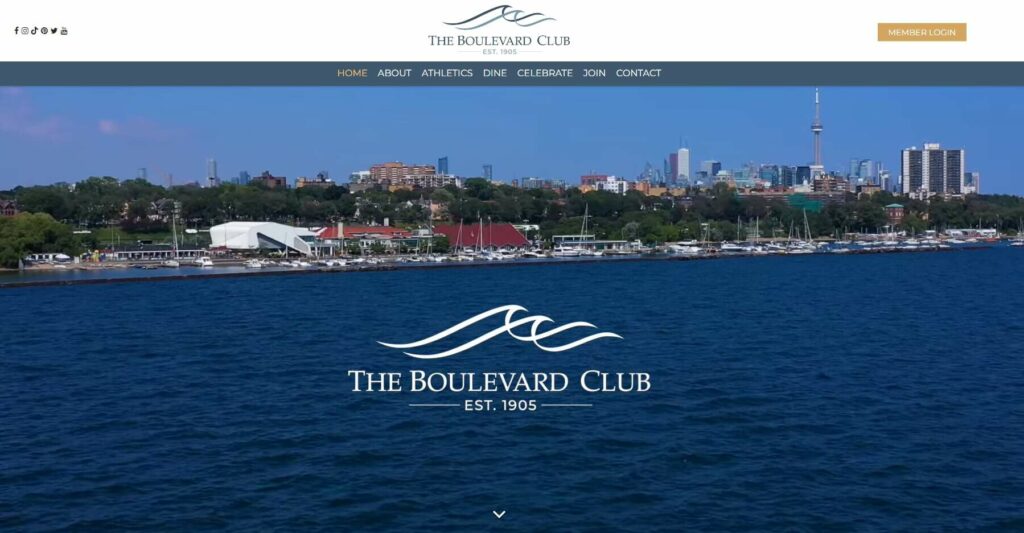 Situated on the shores of Humber Bay, The Boulevard Club is a site for special occasions, athletic pursuits and—of course—lakefront endeavors.
This establishment traces its roots back to 1905, when a number of enthusiastic paddlers convened to share their passion. Over time, their little club expanded its membership and accommodated other physical activities like hockey, softball, and bowling.
Today, The Boulevard Club is a full-fledged recreational spot where folks can stay fit, enjoy classy dishes, and ride a sea vessel along Lake Ontario. Lifetime membership costs over $31,000, not counting the $293 that you'd have to pay in monthly dues.
Emphasis on sports and fitness
Aquatic activities like yachting and dragon boating
Reports of litter strewn along nearby trail
Some reports of dissatisfaction with food
Great decision for us
Beautiful private Toronto club by the water. Lots of water activities in the summer and endless activities during the winter season. We hosted our wedding here 15 years ago and had the best time. 10 years after that night we joined and it was a great decision for us and our kids. Many younger families of late and a very robust programming for kids. We always enjoy our time there as a family.
Abby Daoud, Google Reviews
You are in for a treat
One thing for sure: the food doesn't disappoint. Casual, relaxing dining, great for families with kids as well, serving some delicious plates and drinks. Good portions as well. You are in for a treat.
Ellie P., Google Reviews
2. Donalda Club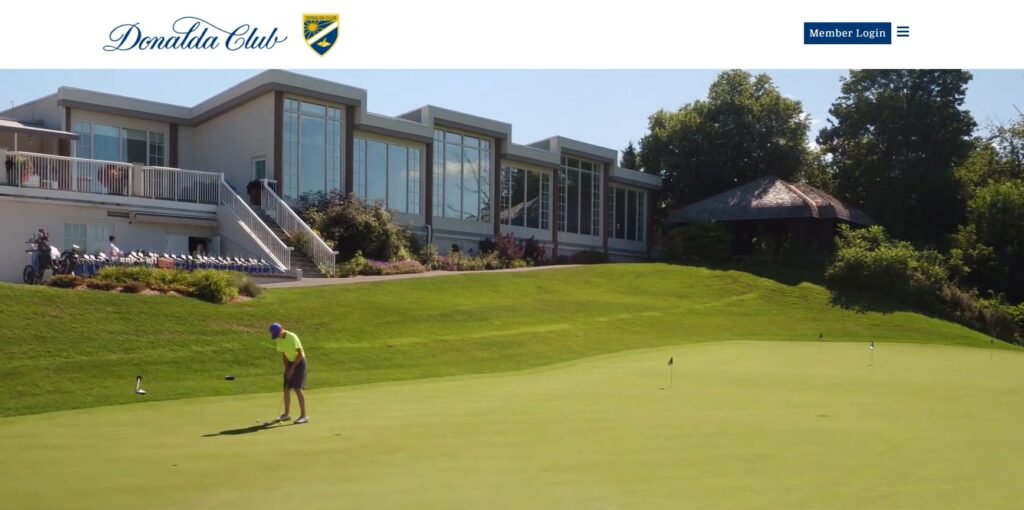 | Test | Info |
| --- | --- |
| WEBSITE | https://donaldaclub.ca/ |
| ADDRESS | 12 Bushbury Drive |
| SOCIAL MEDIA | INSTAGRAM |
| CONTACT INFORMATION | Phone: (416) 447-5575 |
| OPERATING HOURS | Mon-Sun: 7:00am – 10:00pm |
Donalda Club is a member course that offers indoor and outdoor delights alike for its members. Those who crave the sunlight can dive into a 25-meter pool or enjoy rounds of golf at a USGA-standard course. Meanwhile, folks who prefer indoor amenities can enjoy squash courts, golf simulators, and a fine-dining experience in a log timbered facility.
Donalda has a fascinating history that spans over a century. The original Donalda structure was a farmhouse owned by David Dunlap, formerly the treasurer of a mining company. Dunlap had purchased other parcels of land adjacent to the farmhouse, and it was this surrounding area that his family remodeled as a country club.
Since the 1960s, Donalda has been a recreational haven for sports enthusiasts and vacationers. Whether you're into the ice sport of curling or you simply want to get away from the urban jungle, Donalda is the place to be.
Good facilities for various sports
Rustic experience in a farmhouse setting
Excellent customer service
Inconsistency in food quality
A real gem
It's a real gem – a beautiful hidden country estate in the heart of the city. Great friendly members, beautiful McBroom redesigned golf course, excellent tennis facilities and unique & beautiful setting for special events.
S Graham, Google Reviews
Extraordinarily accommodating
The Donalda Club hosted a very important business meeting for us. They did such a great job, the staff was friendly and extraordinarily accommodating. The food was absolutely fantastic and very well presented, and the wait staff were incredible. We won't hesitate to return in the future!
Blu Razzberri, Google Reviews
3. St. George's Golf and Country Club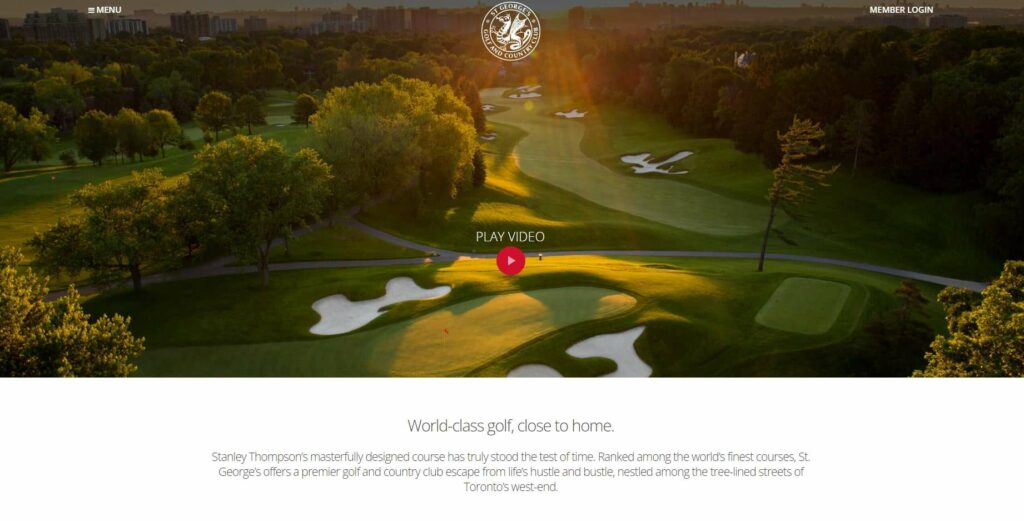 The core of St. George's Golf and Country Club is its sought-after golf course, which has hosted the Canadian Open on multiple occasions. St. George's last hosted the 2022 edition of the tournament, which was won by Rory McIlroy.
That's one of the latest milestones in the history of this clubhouse, which opened back in 1930. In the decades that followed, St. George's would also become a hub for fine dining, training and fitness, and special events.
There's an argument to be made that this Club's strongest suit is actually its wine list. Duly recognized by the World of Fine Wines, the wine selection at St. George's is a real ace in the hole.
Prestigious golf course
Highly celebrated wine selections
Preferred setting for weddings
Long wait for food and drinks
Absolutely stunning
Came here for a corporate event. The views were absolutely stunning and the grounds were well maintained. The food was well seasoned and prepared. The servers were polite, friendly and attentive.
Great venue for upscale events or weddings. The indoor decor is quaint, classic and regal. Outdoor is majestic, relaxing and scenic.
Winston, Google Reviews
Gorgeous all on its own
We had our wedding at St George's in November and it was absolutely incredible!! The venue is stunning – we barely had any decorations, only 2 flower arrangements, because the elegant building was gorgeous all on its own. The food was delicious and we received so many compliments – especially on the late-night fish-and-chips stand: people are still raving about it! Alyssa the event coordinator was an absolute dream: she was so prompt and helpful, she answered my millions of questions and she made us feel so comfortable throughout the whole process. I knew that our wedding would go off without a hitch because Alyssa and the rest of the St George's staff would be able to handle it.
In truth, I miss going to St George's now that our wedding is over and we aren't members – it is such a warm, inviting place, perfect for a classic, romantic wedding.
Rebecca Toda Worden, Google Reviews
4. Weston Golf & Country Club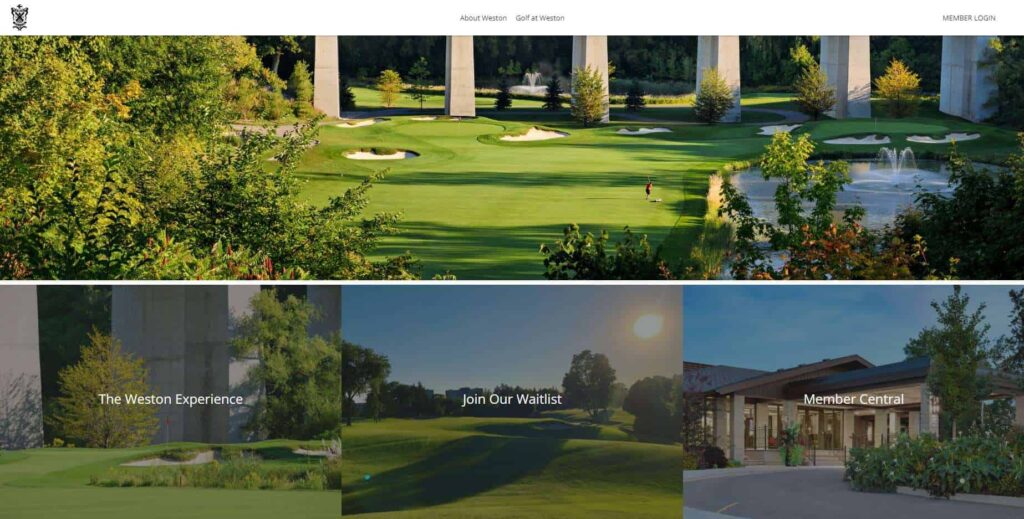 For over a century, Weston Golf and Country Club has staked its claim as one of the finest recreational facilities in the Greater Toronto Area. Boasting a design crafted by the reputed architect Willie Park Jr., Weston offers a premier golf course along with multiple indoor and outdoor amenities.
Weston also happens to have the stamp of approval of golf icon Arnold Palmer, who secured his very first PGA tour win on Weston's course. Palmer once famously commented, "It was like I was in my hometown, or playing at my home course, when I was at Weston."
Aside from milestones in the sport of golf, Weston has been the venue of weddings, gala dinners, and other functions. Weston's catering team works closely with clients to ensure that all food and beverages served during these events are up to standard.
Highly cooperative staff
Variety of food options
Facilities for health and wellness
Visually appealing location for weddings
Reports of overpriced, subpar food
Very pleased with the service
We hosted our daughter's wedding on August 20, 2022 at this lovely golf course. The staff were very helpful, polite and made our big day run smoothly. The food was excellent, they were able to accommodate food allergies and preferences. The grounds and gardens are beautiful. We are very pleased with the service provided by the Weston staff and our guests enjoyed themselves.Jane and Paul Turner
Staff and facilities are awesome
I've had the opportunity to be a guest at Weston a couple times. The course is wonderful and the staff and facilities are awesome. I was particularly impressed by how the club's staff treated me like I had been a lifelong member. I loved my visits to Weston G&CC and hope to be able to visit again soon.
Jeff Vogan, Google Reviews
5. Scarboro Golf & Country Club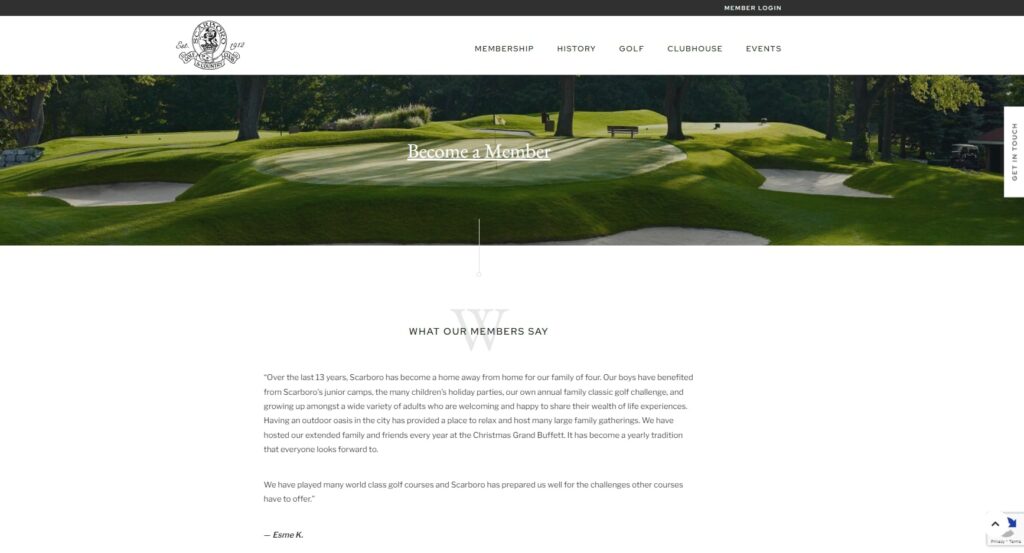 Test
Info
WEBSITE
https://scarborogolf.com/
ADDRESS
321 Scarborough Golf Club Road
SOCIAL MEDIA
INSTAGRAM
CONTACT INFORMATION
Phone: (416) 266-4546
OPERATING HOURS
Mon-Sat: 8:00am – 10:00pm

Sun: 8:00am – 7:00pm
Since 1912, Scarboro Golf and Country Club has been the site of several high-end functions and intimate gatherings, such as weddings and dinners.
This country club offers sleek function rooms and dining halls that can accommodate a variety of events. To assist clients in the planning stage, Scarboro offers assistance with suppliers of resources like cakes, flowers, decor, photography, and music.
Romantic couples have also turned to Scarboro's golf course as the breathtaking scenery for their matrimonial ceremony. This is a golf course, by the way, that has hosted several tournaments, including the Canadian Tour Championship and the Canadian Open.
Elegant golf course
Assistance with suppliers
Appropriate for many types of events
Reports of hidden fees
Customers' dissatisfaction with food
Made our special day stress-free and joyful
We've had our wedding here on June. The venue was beautiful, the food was delicious and the staff was very friendly and professional. I couldn't be more happier.I would like to give special thanks to our event coordinator Bozena and Nico for all their help and for made our special day stress free and joyful.
Honya kordnejad, Google Reviews
The course is always perfectly presented
I've played golf all around the world and Scarboro is well up there on my top courses.
It's really well designed (Tillinghast) and the greens staff really have a strong appreciation for the course, greens and nature around the course. The greens are lightening fast during the peak of the summer and are a real test. The course is always perfectly presented.
This has been my sixth year as a member and the course continues to be fun and challenging to play!
Adam Lorenti, Google Reviews